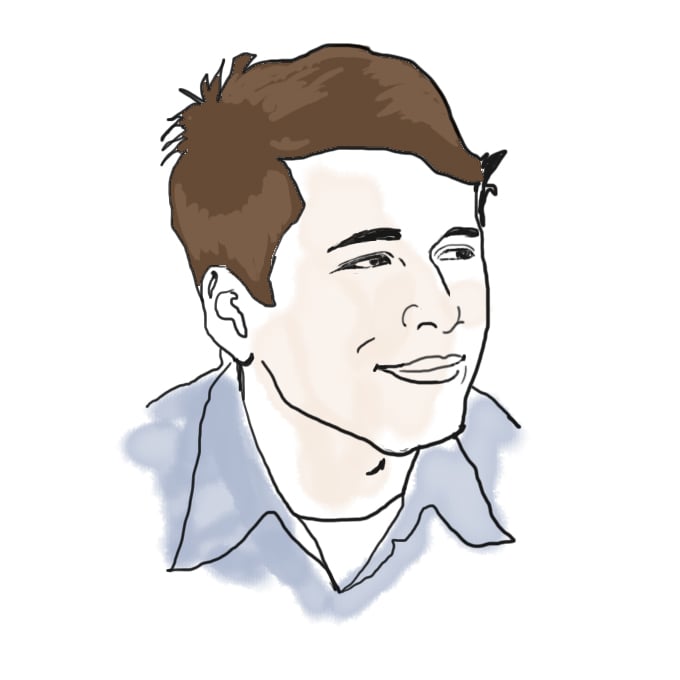 Introducing the Class of 2013: Henrique '13, Chika '13, and Qinxuan '13

by Matt McGann '00
The seventh in a series of articles about the incoming MIT class.
As Orientation quickly approaches for the Class of 2013, let's continue our series Introducing the Class of 2013. Today, since time draws near, we'll introduce three members of the class. The students include Chika '13 and Qinxuan '13, but we'll beging with the following article about Henrique '13, translated by the terrific Elaine L, one of our Educational Counselors in Brazil.
---
Bags packed to the United States, where he will study at the renowned MIT (Massachusetts Institute of Technology), Henrique de Oliveira Pinto Pondé takes with him a gold medal that he recently won in the International Mathematical Olympiad, which took place in July in Bremen, Germany.
To achieve such a result in this competition, which is considered by UNESCO the most important in the field, Henrique had to undergo two intensive exams. Each exam was composed of three problems that should be solved in four and a half hours. There were two problems on geometry, two on algebra, one on theory of numbers, and one on combinatorics. Each problem was worth seven points, totaling 42.
"It's really challenging. None of the problems is given in context. But, all problems have simple solutions because the leaders and coordinators, who grade the problems, do not require any absurd theory that nobody knows. We only need to practice," he says. Henrique obtained 35 points in the exam. Other contestants, who obtained similar points also won gold medals. "I do not know the minimum score required, but it is high."
At eighteen, Henrique is a veteran in this type of competition. He has participated in national Olympiads since 5th grade and won gold in all of them. This was his third participation in the International Mathematical Olympiad, and his first gold medal. In the two previous editions of the competition, Henrique won silver medals.
His interest in math comes from his father's influence. "My father has always liked math; he used to show math logic challenges to me and my brother, who has just majored in Applied Math at Unicamp (University of Campinas in Sao Paulo, Brazil). I think it runs in our blood."
His moving to the United States does not make Henrique insecure. "Of course I will miss my family very much, but, since I have been through an intermediate stage, I believe I will adapt well," he says referring to his moving from Salvador, where he was born, to Sao Paulo in 2008. "I moved to Sao Paulo early in my last year of high school because I would have more opportunities to train and be better prepared for the Olympiads," Henrique tells.
---
Laurel High graduate follows in sister's footsteps
Student named recipient of scholarship program her sibling received
by Timmy Gelles | Staff Writer
Thursday, June 4, 2009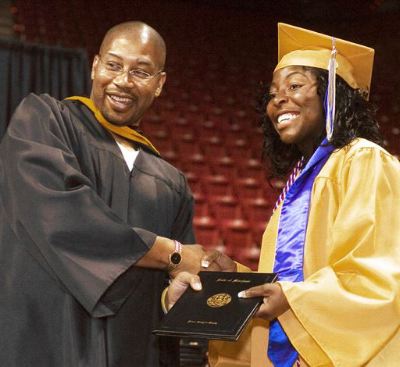 Laurel High School principal Dwayne A. Jones presents graduate Chika Ugboh, 18, with her diploma Tuesday at her school's graduation ceremony, held at the Comcast Center at the University of Maryland, College Park. Ugboh was selected as a Gates Millennium Scholar.
A friendly sibling rivalry drives Laurel High School graduate Chika Ugboh and her five brothers and sisters.
"Everyone is doing something so I have to do something, and my brother has to follow me behind that," said Ugboh, 18.
Ugboh and her family immigrated to the U.S. from their native Nigeria in 2001, settling in New Carrolton before moving to Laurel in 2007, when Ugboh entered Laurel High School as a junior.
Last month Ugboh received the Gates Millennium Scholars Program, a nationwide scholarship for minorities that began in 1999.
The program awards minority students with financial need and who want to study in the fields of computer science, education, engineering, library science, mathematics, public health and the sciences.
Ugboh, who will be attending Massachusetts Institute of Technology majoring in chemical engineering, is among seven Prince George's 2009 Gates recipients and just the second Laurel High recipient in at least the past 6 years.
The award will help pay for Ugboh's studies at M.I.T., which after attending an engineering program there last summer she labeled her "dream school."
"When I got the Gates [scholarship] I knew MIT was where I going to go," she said.
She is the second in her family to receive the award, as her sister, Florence, won the award in 2005 at Parkdale High School in Riverdale.
"Our parents told us to work hard and it was going to pay off," said Florence Ugboh, 21, who recently graduated from the University of Maryland, College Park. "I feel like she's reaching more than I would reach, and that makes me more proud of her."
Ugboh said she wrote eight different essays as part of the application. Florence Ugboh said she reviewed some of her sister's application essays for the scholarship, but said her sister didn't need much coaching.
"Whatever you can give her she excels in," Florence Ugboh said.
Proving her sister's point, Chika Ugboh was captain of the girls soccer team, a Student Government Association senator and National Honor and French Honors societies member. She was also involved with the school's mock trial team and bible study.
While at Parkdale, she won the 2007 county North District and Region III girls' doubles tennis titles.
Outside of school, Ugboh volunteers at Prince George's Hospital Center in Cheverly.
Monique Graves, Ugboh's guidance counselor, said she couldn't be more proud of Ugboh.
"She's very, very driven. I don't know of a student in my career that's been as focused as she has been, but as pleasant to do it with," she said.
Although the county requires students to record 36 hours of community service to graduate, Graves said Ugboh has logged more than 800 hours.
Principal Dwayne Jones said Ugboh has made a name for herself.
"Anybody and everybody she comes into touch with realize she is a genuine lady," he said. "She's accomplished a whole lot in the two years she's been here. You hope all the kids can be as successful."
---
Piano Student Qinxuan Pan Shows it's Never Too Late to Play
By: Solia Kem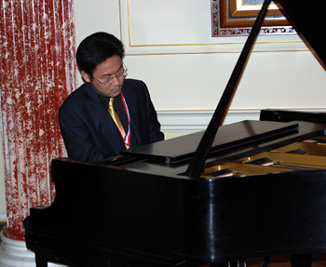 In the music room of Strathmore Mansion on June 5, eighteen year old Qinxuan Pan is seated at a black piano, glossy in the soft yellow light.
He leans into the piano as though pulled by some magnetic force of the keys while releasing the works of Bach and Brahms, Liszt and Schubert, Bach-Busoni and Shchedrin.
His eyebrows furrow sporadically in concentration, his head nods in fervent agreement to the swelling harmonies, and, on occasion, his eyes lift slowly to the ceiling as though watching the notes rise like clouds of steam through the air.
A recent graduate of Wooton High School, this is Pan's senior concert. For Pan, it is both a showcase and celebration of how much he has accomplished in the past three years.
Pan's musical journey, under the direction of Dr. Dmitri Nazarenko, has culminated in awards from regional piano competitions including the Maryland Spring Festival, Gottlieb Piano Competition, the Doris Chase Sonata Competition, and the Maryland Piano Concerto Competition, among others.
Hard to imagine that three years ago, Pan emigrated from Shanghai and decided to pick up a beginners guide to piano playing.
Why the piano?
Pan answers with relative ease. "I think maybe because it was only instrument my grandfather introduced me when I was eight years old and I never had any experience with other instrument. But I also think with piano you have more range."
What is it about the act of playing the piano that gave you the passion to learn seriously at what might be considered a late age?
After momentarily grappling with his own thoughts he says simply, "Music allows you express emotion more than words."
Is that when it comes to English because it is your second language or would you be able to express emotion better in Chinese?
"Even for Chinese," Pan continues, "Maybe express a little more but still can not express everything."
For ten months, upon arriving in the United States in June 2006, Pan spent his time "learning the basics," he says. Pan's grandparents were baffled by his sudden interest in learning piano.
"My grandparents at first thought it would be big distraction for me," he said, "and my father also but not as much. I agree with their concern because when you emigrate from another country it is very hard. I have to worry about school work and college and we are still learning English as well. So, it is very unusual to begin piano this late," he admits.
With his mother's support, Pan looked for a tutor to further his ability although with little experience, Pan's application was rejected by tutors several times until he came across an advertisement for Dr. Nazarenko in a local Chinese newspaper.
Pan played pieces by Beethoven and Chopin from memory during his audition with remarkable accuracy for a self-taught student, according to Nazarenko.
"When I asked him how he was able to stay in such good performing form without a piano, he told me that for the last 3 months he had been practicing on a table! That was what made me immediately recognize his amazing determination," says Nazarenko who usually doesn't accept late beginners.
During his first year with Nazarenko, Pan explains that he focused primarily on the movement of his fingers.
"I thought my hands were rather big and slow," he says, "Like most people, I think that your fingers must be long and dexterous to play well. But Dr. Dmitri surprised me very much," Pan continues, "He tell me that it was not a big deal. I did not believe him."
Nazerenko agrees that Pan's first year was the hardest because of his deep concern for correctness, evenness, and cleanness of the notes.
"Right away I realized that this young man has amazing potential and I tried to develop his imagination to go beyond a correct but boring performance." Nazarenko says, "It took me years when I was young to realize that the fingers have to follow overall design – the emotional image of the piece. Without that clear image even the most precise performance will feel flat and unimpressive. With the clear image though, the performance can be so exciting that some small mistakes will go unnoticed."
Pan says that halfway through his second year, something happened, and he began to listen to the music.
It is why, tonight, the wooden floor of the music room becomes the stage for a delicate waltz to Brahms Intermezzo in A Major Op. or why the gloomy gray skies just beyond the window panes become an ominous backdrop for a sailor doomed to life at sea in Liszt's Ballade No. 2 in B minor.
Pan stands, bows, and smiles shyly at the end, his forehead shiny in perspiration. This is perhaps one of his last few concerts before attending M.I.T. in the fall. With a career in mind that will allow him to use his skills as a gifted math student, Pan still hopes to further his music studies.
"I hope he can find a very good and nurturing piano teacher, who will not only help him with his school, but help him to develop into a true artist," said Nazarenko, "I hope that his equal passion for math and music will not contradict but help him to find a healthy balance in life. I hope he'll get many chances in performing in public."
23 responses to "Introducing the Class of 2013: Henrique '13, Chika '13, and Qinxuan '13"