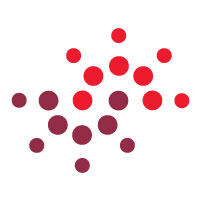 Public Service Fellowships enable MIT students to travel all over the world using their skills, talents, and education to make contributions to underserved communities.
This PSC Fellowships group blog will share with you the experiences of five MIT Public Service Fellows! Public Service Fellowships enable MIT students to travel all over the world using their skills, talents, and education to make contributions to underserved communities. During the past 5 years, more than 200 Fellows have served in 22 countries.
This blog will first take us across the Atlantic to Uganda, where MIT sophomore Biyeun Buczyk has started a computer refurbishing center. Biyeun is helping to set up "InterConnection Uganda" in an area where computer access is sparse.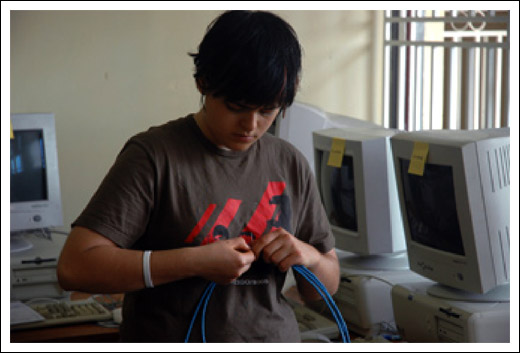 Biyeun says, "In addition to being a computer refurbishing business, InterConnection Uganda will also act as a community hub for information. We hope that sometime within the next year we can get a curriculum up and running, inviting university students from both the U.S. and in Uganda…"
She has been working hard to set up the new computer refurbishing center from scratch, and things are progressing well: "Tomorrow I'll mostly be finishing up the huge InterConnection Uganda logo that will go on the warehouse door. It'll look awesome. Trust me." [read more]
You can read an introduction to Biyeun and the project here.
Recently, Biyeun met the Ugandan Vice President who invited her to a party! To read that entry, click here.
Nearby in Tanzania, two Fellowship bloggers are working to bring wheelchair technology to the developing world. Tish Scolnick, a sophomore in Mechanical Engineering, and Shirley Fung, a graduate student in EECS, both took the class "Wheelchair Design in Developing Countries" this past year at MIT. This summer, they are working at wheelchair design workshops and helping them grow – Tish with new engineering designs, and Shirley with new marketing materials.
When Tish arrived a month ago, she wrote, "The [wheelchair] workshop is so cool! It's a beautiful building with great machines and tools inside, and the other people are so nice! …Mobility Care has a beautiful piece of land, with banana plants, papaya trees, and even avocados growing on it…" [read more]
Since then, she has been building a wheelchair prototype that she recently got to test: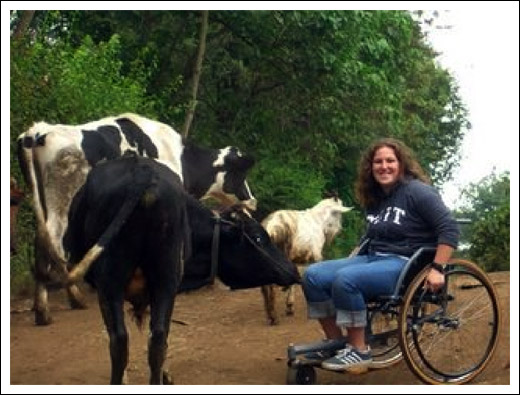 "Daniel accompanied me on his wheelchair and we ventured out in search of some rough terrain. Luckily you don't have to go more than 20 feet to find the potholes of your dreams. I wheeled that chair over the biggest bumps and down into the biggest holes that I could find and it was as sturdy as ever. We rode up and down the road for quite some time, until my arms were thoroughly exhausted… Early next week we will be giving [the wheelchair] to somebody to test, and I'll be anxiously awaiting his feedback."
You can read more here about Tish and her adventures here.
Shirley arrived in Tanzania on the 4th of July. She is making her website from an internet cafe, so we only have this photo of her so far. It is not… too recent… but it is quite cute!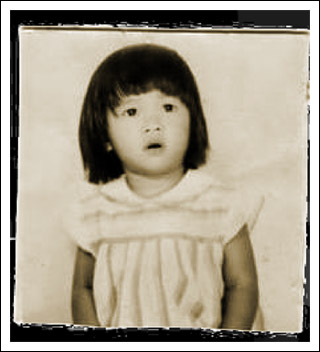 Like Tish, Shirley also noticed the people and the vegetation right away. "En route, I saw a bunch of maasai women, men, and children. Of course the women carried heavy baskets on their heads! …My host sister informed me that farmers like to grow sunflowers here so that they can sell it to someone to make oil. Also, I found out that this region has the best bananas and plantains!" [read more]
To read the "about" page for Shirley's weblog, click here.
Finally, we will share blog entries from a team of MIT students in New Delhi, India. Cat Tweedie, a graduate student in Materials Science, and Jessica Lee, a rising senior in Biological Engineering, are among 5 students who arrived there in June for a team fellowship. They will be working with the Rai NGO to try to improve sanitation in the area with a garbage bin program.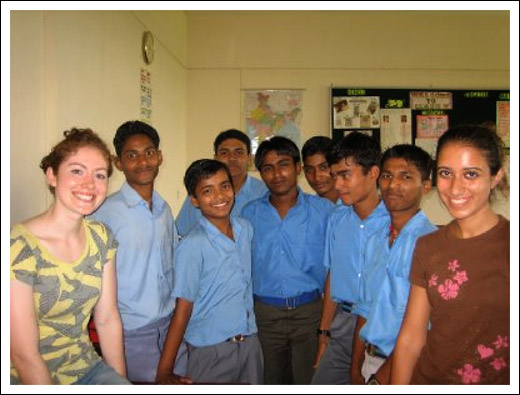 Cat (left) describes that she has been gathering information from local people in New Delhi:
"Today our group team from MIT and the Rai Foundation split up to gather data for our study on information tranfer within slum communities …Here [above] are pictures from the NGO-run school located near several slums. These children's families have to pay for the uniforms and books themselves, which are expensive compared to the government schools (although there is still a large gap between the education at these schools and the education at private schools)…"
You can read more here about the data Cat has gathered.
It is not all work, all the time, though. Cat recently visited the magnificent Taj Mahal (with photos!). [read more]
Her blog homepage for the New Dehli fellowship is here.
The photo below is from Jessica's fellowship; she and Cat are teammates. This is a photo of families that they interviewed in a New Delhi slum. Jessica says, "There we were able to survey 10 households and try to gain an understanding of the hurdles a family has to go through to educate their children and the reasoning behind why they may not educate their children or why their children may drop out of school… The next day, Thursday, we visited a J.J. colony (J.J. stands for "thatched roof" in Hindi) which supposedly is much worse off. Though there was a greater amount of garbage and mosquitoes and perhaps more cramped conditions I was still wowed by the sense of community and cheerful color that pervaded the settlement." [read more]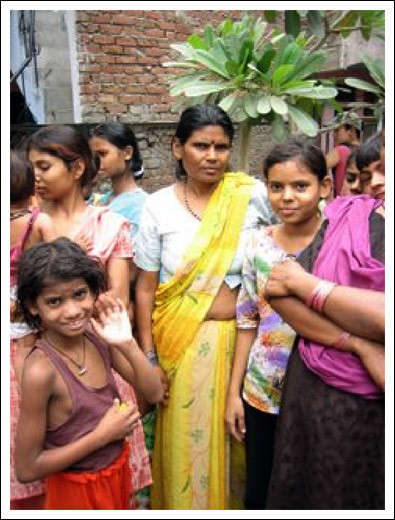 Below, Jessica drinks a traditional Indian beverage, a yogurt lassi.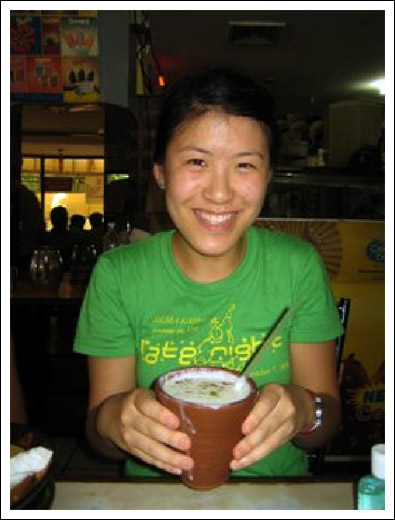 Stay tuned for weekly updates from Biyeun, Tish, Shirley, Cat, and Jessica!
To find out more about Public Service Center fellowships, visit web.mit.edu/mitpsc/fellowships/.
5 responses to "Public Service Fellows Weekly Update #1"