Last month, tragedy hit MIT.
That week was chaotic and emotional. Rhythms were broken, routine thrown for a loop (or many loops), and I spent way more time in my dorm than usual. Sean Collier's memorial service was scheduled for Wednesday, and classes were cancelled in anticipation of security craziness and what would inevitably be a very emotionally difficult day. Events had unravelled very quickly; we found out on Tuesday that Wednesday's classes would be cancelled, and student organizations immediately jumped into action. Early in the morning, dorm presidents (like me) received an e-mail from the Undergraduate Association (MIT's student government) asking if we wanted to host a community barbecue in our dormitory. I sent out a few e-mails to gauge interests, then replied "yes." At a meeting that evening, I found out that "host a community barbecue at 5pm tomorrow" meant "have 520 hamburgers, 68 dogs, a corresponding number of buns, and a bag of charcoal delivered, and have a barbecue ready to go by 5pm tomorrow."
The UA and DormCon had pulled together. They were ordering all the supplies, and arranging to have them delivered to each dorm. I gave student organizers my cellphone number, and they told me to expect a meat delivery late that night.
I could not open gmail quickly enough. Feeling giddy, I sent a flurry of e-mails to New House exec, to New House as a whole, asking for volunteers. I needed grills. I needed people who knew how to grill. I needed people to help carry all the meat in, and store it in fridges (New House has nine living groups, each with their own fridge space.) I REALLY needed people to help barbecue the food the next day, particularly since I've never touched a grill. I needed people to help clean up. There were less than 24 hours before the barbecue, and I admit that I was despairing a little. There are almost 300 people in New House, and the thought of having to feed all of them, plus visitors from other dorms, the next day…well.
Almost immediately, Spanish House said that we could use their grills. People from various living groups started signing up to volunteer, or e-mailing me offering their support. iHouse, French House, Spanish House all responded, saying that they would make space in their fridge.
We had a New House exec meeting that night (by fortunate coincidence) so I was able to get the individual house presidents on board. The New House 3 president asked me where we were planning to get charcoal from; I had no answer. Turns out that the UA was delivering a bit of charcoal, but not nearly enough. My vice president and I made a 11:30pm run to Shaw's, and carried back one 20 lb bag of charcoal each. I learned that my body is really not designed to carry a 20 lb bag of charcoal.
By the time the food delivery arrived that night (one hour earlier than anticipated) I had a list of names and numbers of people who had offered to help. I called them all, and we gathered at the front desk. Familiar faces from iHouse, German House, New House 3, New House 4. Familiar, and so so comforting to see. The truck arrived, we rushed outside in the dark. A UA rep hopped out of the truck, hollaring directions to a bunch of other students, who were standing inside the truck and tossing the food out to us.
Turns out that 520 hamburger patties and 68 hot dogs are actually not very much, volume-wise. By the time four of us had gone out to the truck and returned, there was no more left to carry in; some volunteers didn't actually get to carry anything. I felt a little bad, but mostly astonished that we were actually over-staffed. We all trooped into the iHouse kitchens, and put the food away.
Next step: delivery of utensils, napkins, buns. That was scheduled for 5am the next day: five hours after I went to bed, following the Shaw's trip.
My body is not designed to get up at 5am.
To my COMPLETE shock, four brave souls volunteered: a French House neighbor, my Vice President, and two resident of Desmond (House 5). They gave me their numbers, and said to call when the delivery arrived. I got up at 5, and waited around – and waited, and waited. And made pancakes, for myself and one of the volunteers. My VP took a nap. FINALLY, at something like 8am, I got a call saying that the delivery had been delayed – and now the truck was trying to find its way through security (good luck.) When it was determined that it couldn't make it through, we were asked to get some kind of cart and go meet it at the end of the street. That day (Wednesday) security was so tight no one was allowed to walk around without an MIT ID card, and of course that day I couldn't find my ID card – so my VP, one House 5 volunteer, and an iHouse volunteer got a cart and went out to meet the truck.
Phew.
Wednesday was beautiful, sunny, and the warmest day in months. The memorial service took place on Briggs field, which is framed by West Campus dormitories.
That morning, this was the view out my bedroom window: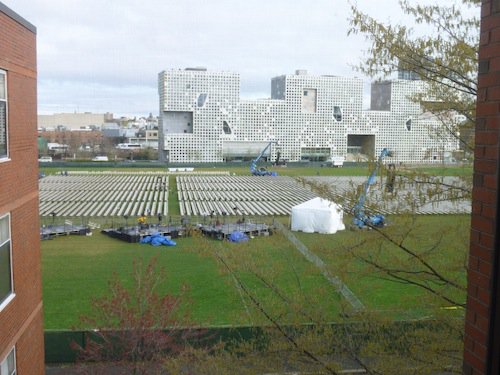 and this was the view out the kitchen window: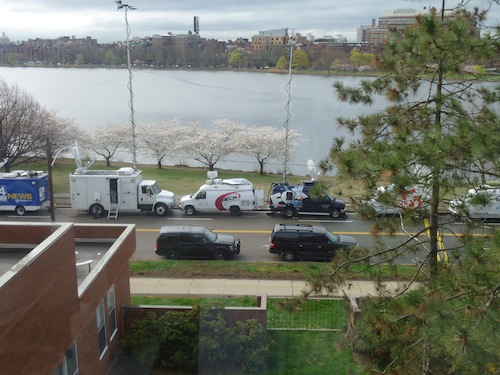 It was totally surreal.
The memorial service started at noon, and lasted until around 2pm; I got badly sunburned, and it became A Thing on campus to see sunburned people and say "hey, you must have gone to the memorial service!".
At 3pm, it was time for business. Volunteers mobilized – we carried tables and chairs out to the New House courtyards, cleaned the grills, retrieved boxes and food from storage, laid out cutlery, and started grilling. Will '15, who had been one of the New House CPW chairs, contributed a whole bunch of their leftover serving supplies – this saved our butts, since we actually had nothing to serve the food in. A couple other volunteers made runs to nearby shops, to buy drinks. Another resident went to her living group, and returned with a gigantic water dispenser for us to use. Other volunteers brought sports supplies.
At 5pm, we were ready. The next couple of hours were chaotic, as people lined up in their dozens and we struggled to grill fast enough. Visitors came from Next House, and Simmons Hall. I have zero grilling skills, so I rushed back and forth from grill to serving table, loading up empty dishes and retrieving new bags of supplies when necessary. At one point, we ran out of charcoal – AHHHH. I ran to MacGregor, the next dorm over, which was also hosting a barbecue. The grillers there included the then-DormCon President, Edward, who was kind enough to hand over a bag of charcoal. I shuttled it back to New House.
At around 7, volunteers arrived for clean-up. We finished quickly; a number of people turned out to help.
That night, in a sleep-deprived, post-intense-stress haze, I wrote a bunch of thank-you cards and put them in the appropriate mailboxes – and felt so proud and happy that I live in a dorm that can mobilize within 24 hours, to go from 0 to "fully-functional barbecue event for hundreds of people."
You rock, New House.