This summer, I'm doing MISTI-Germany and living in Berlin. I've been enjoying it a lot for a number of reasons: not least because in Europe, everything is close, which allows for easy travel to different cities and countries. I've had friends visit me from different MISTI cities and countries, and I have a bunch of weekend trips planned for myself. Two weeks ago, I flew to Greece for a couple of days to spend time with my parents (who were there for my dad's work) and chill on the beaches of Chalkidiki. I had a great time, the scenery was gorgeous, the food was delicious, and I did a lot of reading and relaxing. That in itself isn't a particularly interesting story, though the photos are really pretty.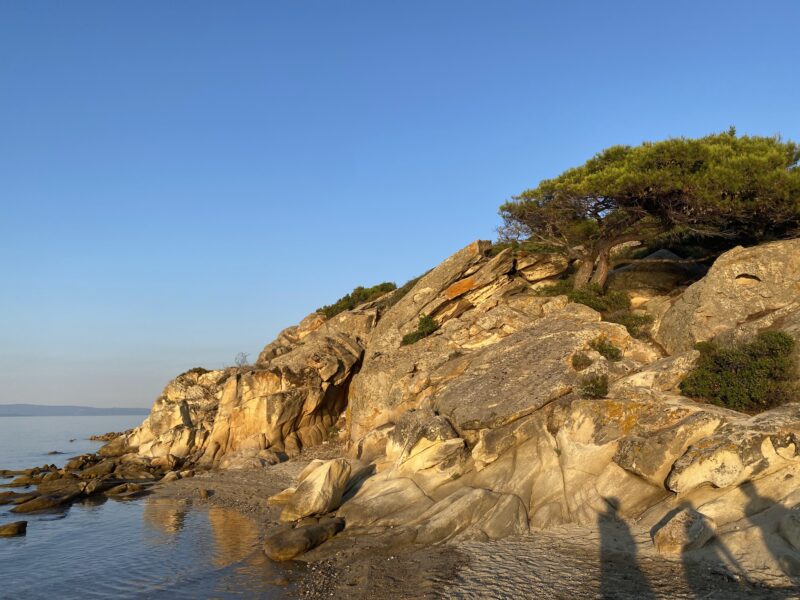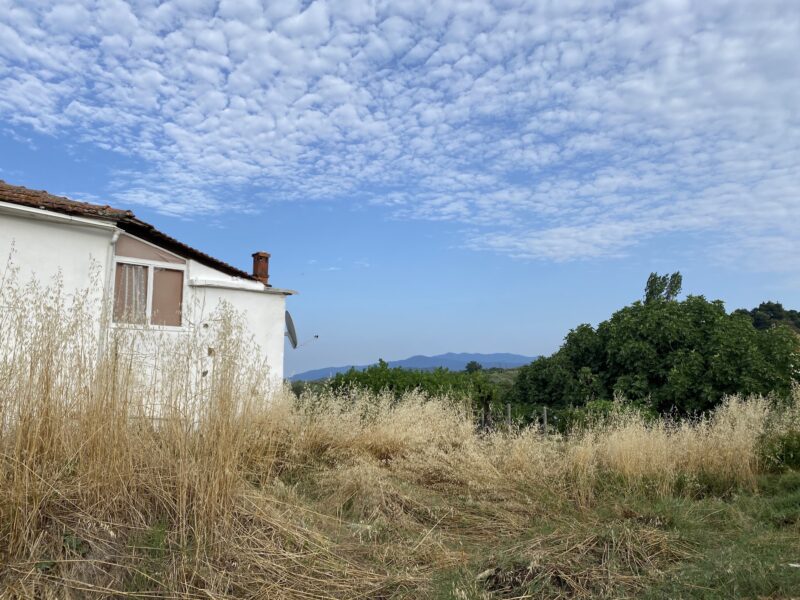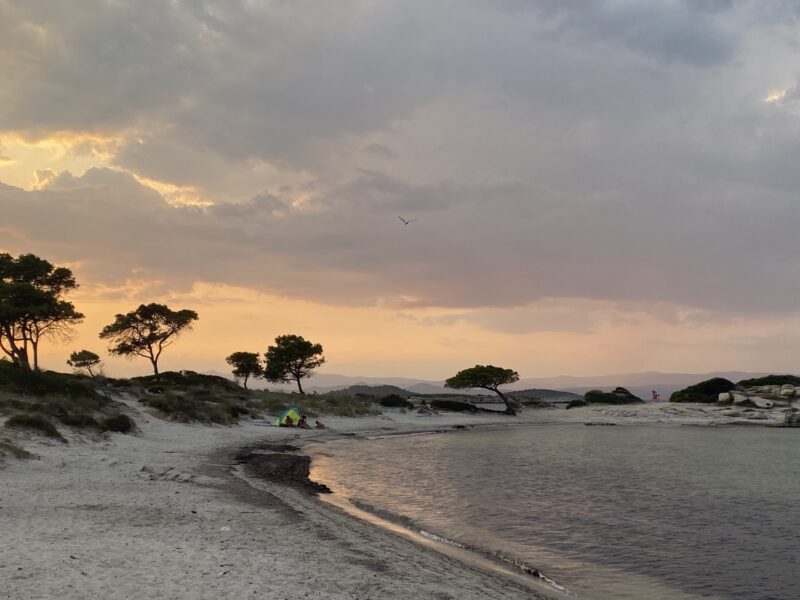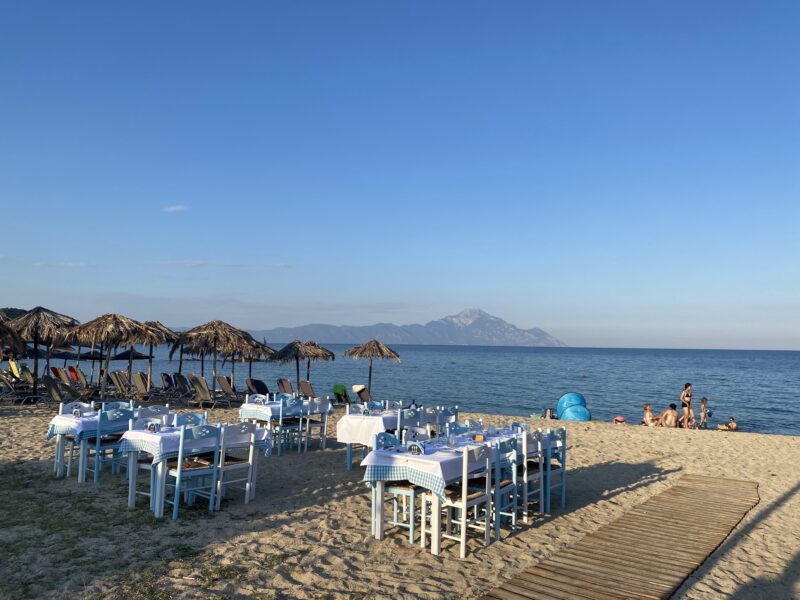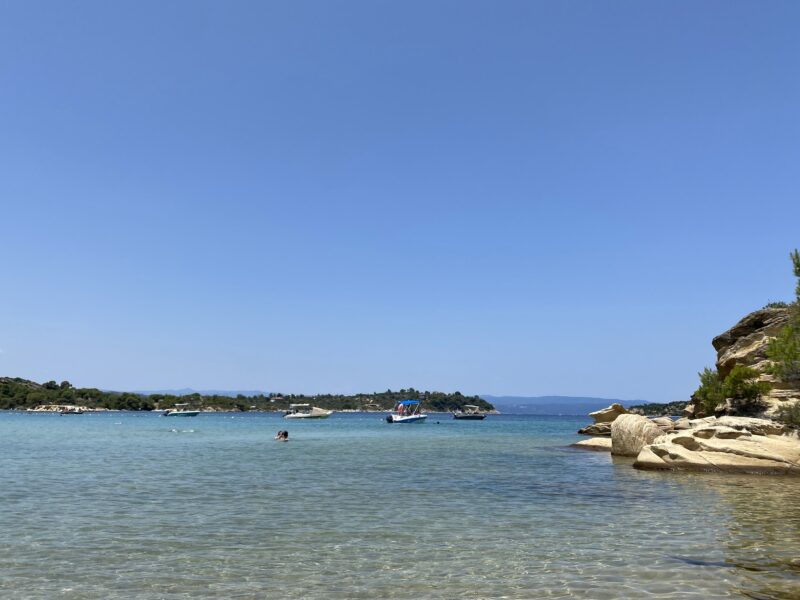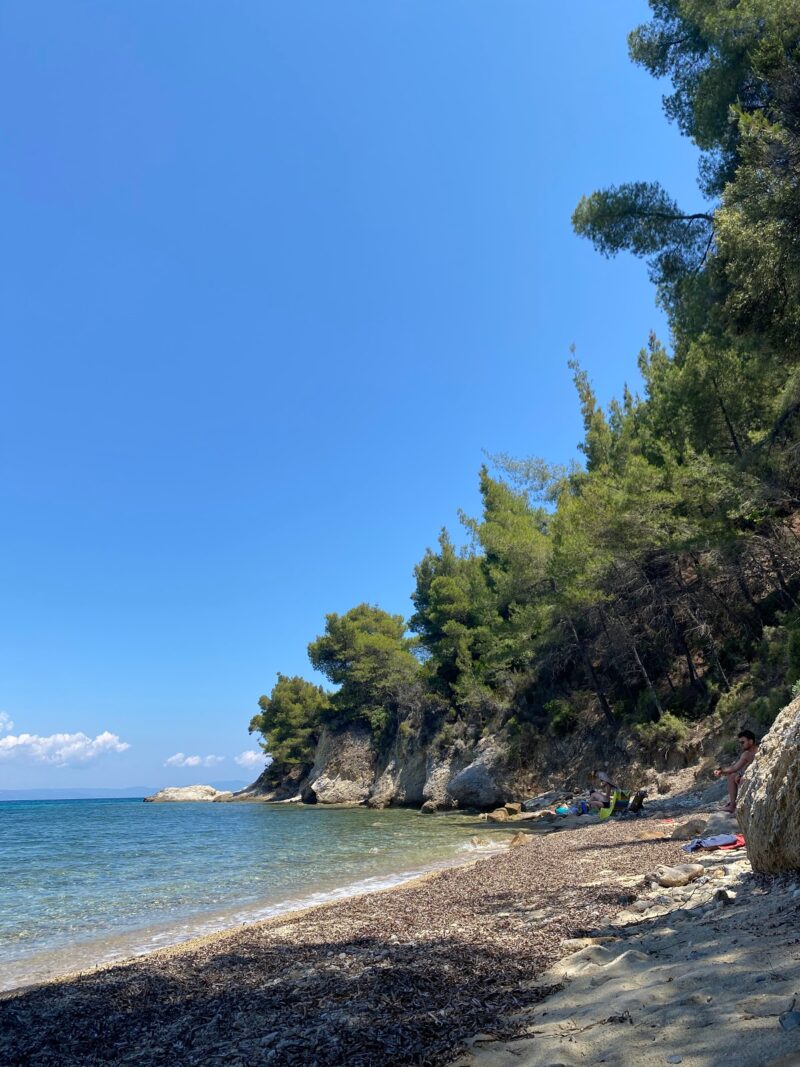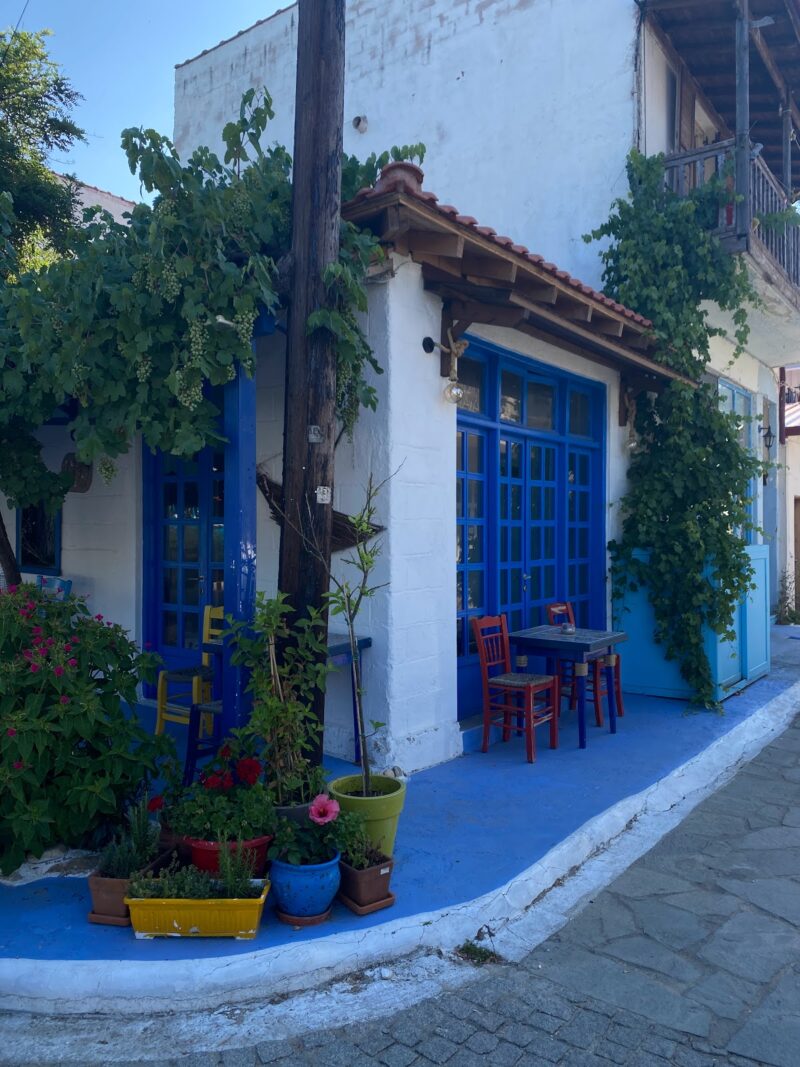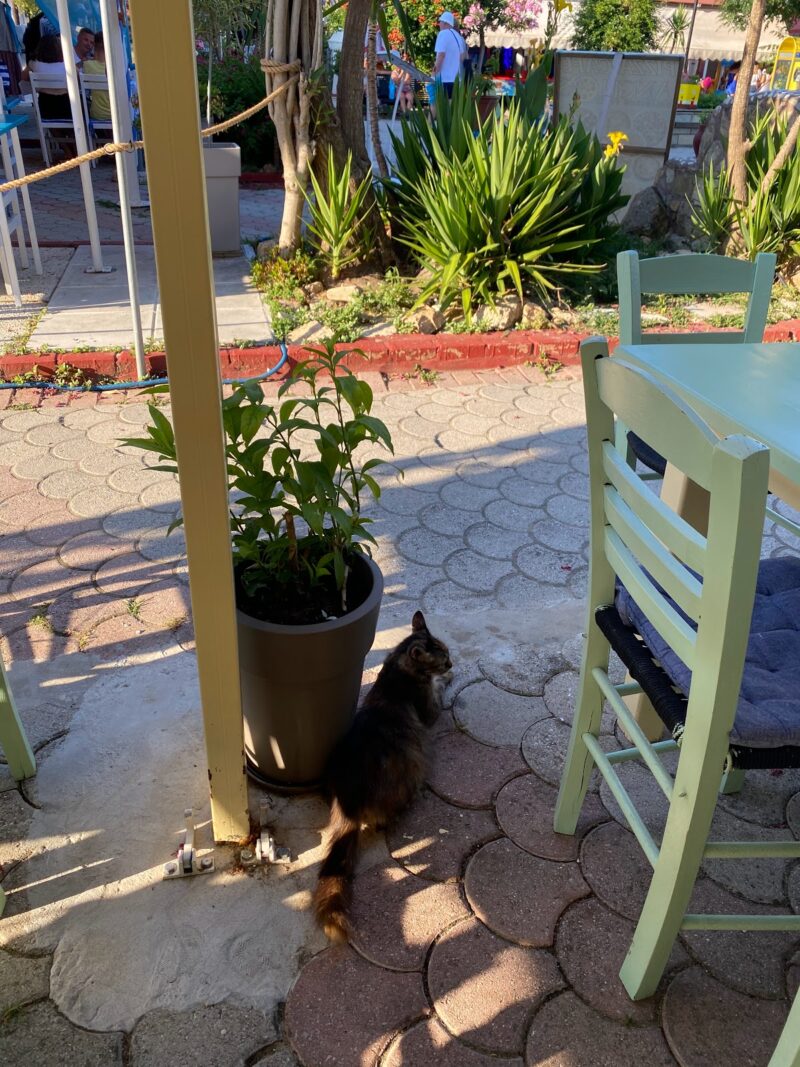 Things got interesting on my way back to Berlin. I had booked a flight for Thursday night, since the research group I'm working at for MISTI has a weekly meeting⁠01 and since I had spent the past several days working remotely, I didn't want to miss the big meeting on Friday mornings, and I had scheduled another one-on-one meeting with a colleague for Friday afternoon. The plan was pretty sound – my flight was supposed to get into Berlin around 11 PM, leaving me plenty of time to get home and get almost a full night of sleep.
Of course, nothing is that simple. If things had gone according to plan, I wouldn't be writing this post. When I first got to the airport and had gone through security,⁠02 they took away my jar of kumquat jam, it was really sad I checked the departures board for my flight. It read "delayed." Bummer, but no problem, I could afford to wait for a little bit. Problem was, it didn't say until when it was delayed. For other delayed flights, the new departure time was clearly marked next to the notice. For mine, it only said that it was delayed. I didn't think too hard about it, since I still had almost two hours until the original departure time. I decided to go smell perfumes at the duty free shop, since I'm currently looking to buy a ~new scent.~ My friend is a big fan of perfumes and she's been taking me to shops in NYC to smell different ones; I can feel myself developing a sense for what I do and don't like. I did end up buying something small and on sale – it's a little boring but has been serving me well for daily wear.
By the time I left the duty free shop, I had about an hour left until departure. We were supposed to start boarding soon, but the display board still read "delayed" with no further information. Finding it strange, I sat down to wait at the gate so that I wouldn't miss any announcements. The boarding call time came and passed with nothing happening, then the departure time itself. The board still read "delayed." I was getting concerned. I tried talking to the airline representatives at the gate next door but no one had any information. It then occurred to me that perhaps the plane wasn't here yet, or maybe it hadn't left its previous destination. So I checked the arrivals board and, sure enough, the plane hadn't landed yet. Weirdly enough, it also just said "delayed," with no estimated arrival time. I was beginning to be very concerned. Next, I checked the Berlin airport timetable, since that is where the incoming flight originated. There, of course, I found that it had not yet departed from Berlin. So, not only was my plane not at my gate yet, it hadn't even departed its previous airport!
At least the Berlin airport website had an estimate on when it would leave. I quickly did the math and figured that without any more additional delays I would only be home in Berlin three or four hours later than originally planned – not ideal, but not terrible, either. Definitely less of a hassle than figuring out a different flight or something along those lines. So I sat and waited. Once I saw that the plane had departed Berlin (a little later than promised, of course), I relaxed, and went to get a coffee from the cafe near my gate. This gave me an excuse to sit at one of the cafe tables and do some writing.⁠03 I was actually working on my previous blog lol The time passed quickly, and soon enough I saw that the crowd at my gate was becoming active. I noted on the arrival board that the plane had arrived, and that the departures board was finally showing an estimated time for my flight.
In the end, I boarded my flight without issue, and we departed with a total delay of just over three hours. I wish the story ended here, but, no, it gets even better. About half an hour before we were supposed to land the intercom system comes on for the pilot to make an announcement. Apparently, Berlin has an air curfew in place, where no plane is allowed to land in the city between the hours of midnight and 5 AM. Of course, this was originally an evening flight, and the three-hour delay would put our arrival at well past midnight. So, instead, they would land us in Hannover, a city roughly three hours west of Berlin by train.
Now, I pride myself on being a pretty calm person and taking these kinds of external inconveniences in stride. In retrospect, I am a little furious at the airline for not announcing the rerouting until we were in flight. There's no way they didn't know about the curfew! They could have at least told us about it, and I would've been able to plan ahead. At the time, though, I figured there's nothing I could do, and spent the remaining flight time racking my brain for ways to make the best of the situation. By the time we landed, I had a plan: I would talk to the airline representatives, try to get them to pay for a hotel overnight, and then spend the following morning exploring Hannover. My MISTI supervisor had messaged me that my morning meeting was cancelled, and I could move my afternoon meeting, so coming into the office wasn't urgent.
My plan fell apart as soon as we landed. For one, my airline didn't normally fly to Hannover, so they didn't have a service desk and there was no one to talk to. The cabin crew had given us no advice or instructions on how to proceed next, just waved us off the plane and into the quiet⁠04 I use the word 'quiet' here quite liberally, since we were already the third rerouted flight to land that night of the 2 AM Hannover airport. The next problem came up when I checked the weather forecast and saw that it would be raining on and off for the next twenty four hours, and that it was pretty chilly. I had just come from the beaches of Greece, with only my sunburnt self and one duffel bag filled with light linen shirts. I was not dressed for the weather, and in any case exploring Hannover in the rain didn't sound appealing.
So, getting back to Berlin as soon as possible seemed to me the best option. A connecting flight was, of course, out of the question, so my options remained a bus or a train. Checking the available trips, I saw that all the bus tickets to Berlin had been booked until after 7 AM. Makes sense, since we were the third flight to find ourselves in this predicament. Still, I didn't want to pay for a hotel out of pocket, and I didn't want to spend the night at the airport or bus station. Looking at trains, I saw that there was one leaving at 2:40 AM, then the next one at 5:30 AM. Neither of those were ideal, since the clock was quickly ticking, and at 2:20 I was still at the airport with no obvious way to get to the railway station in the city center. The local trains to city center weren't running due to the weather; there were also busses, but a) they only came every hour and b) I couldn't find where they left from. I wasn't feeling too hopeful that I would be leaving the city, or even the airport, before morning.
I went to talk to the airport general information desk, and the guy at the counter recommended I find a group of people to split a cab to Berlin with. I didn't particularly like this idea, because it seemed expensive and because I don't really like talking to strangers. Still, I was out of options, so I went to the taxi area, not really knowing what I was looking for. Luckily, there was no deficit of confused people looking for a cab. I found a guy who was in the same situation as me and started talking to him. Turns out, we were both going to Berlin, and for both of us taking a cab all the way there was out of the question. We decided to just get a cab to the Hannover train station and go from there. After some confusion with some other passengers, we found a cab that would take us for only thirty euros.
At that point, it was around 2:50 AM, so I assumed we were aiming for the 5:30 train. My travel buddy⁠05 whose name I didn't get :( quickly noticed that the 2:40 train had gotten delayed, and was now set to pass through Hannover at 3:12. We could realistically make it, so we explained the situation to the driver and asked him to kindly press it. "No problem!" said the driver in a vaguely Eastern European accent,⁠06 this is how I knew the guy was a pro "we make it in no time." Soon enough, though, he stopped at a gas station. Understandable, if a little stressful. While we wait in the car, I ask my travel buddy about where he's from. Turns out, he's originally from Hungary, but now lives in Berlin. I tell him that I'm from NYC, to which he says that he lived there for three years, but moved back to Europe for the labor laws.⁠07 I found this... too real. the lifestyle in europe really is so much more relaxed At some point, we noticed that the driver had been gone for a while, and wasn't at the gas pump. Within a couple more minutes, though, he came back with what seemed like a bag of groceries? From the gas station mini market? Whatever. We have fifteen minutes before the train leaves, google maps tells us that it's a five minute drive, should be fine. Except, within minutes of leaving the station, we turned to some side street and stopped in front of a plain multi-story residential building. With the words, "this my house! just one second guys! I be right back!", the driver dashed out of the car, grabbed his groceries from the trunk, and ran up the stairs of the building, presumably with the goal of putting his groceries away. At this point, it's just funny. It's 3:05, the train is at 3:12, the driver is in his apartment going through his fridge. He keeps his promise of being back quickly, though, and soon we're driving towards the empty streets of Hannover at a terrifying speed, while he curses at the pedestrians in his way.
We ended up making it to the station with a whole three minutes to spare. Except, as soon as we got there, we found that the rush was unnecessary – the train was delayed by another half hour. This wasn't ideal, but at least it gave me time to buy a sandwich. I found a spot to sit on the railing on the platform in the chilly night air, and got to waiting. At this point, my phone was at around ten percent, so I switched it off and kept reading my book.⁠08 Sirens of Titan by Kurt Vonnegut, I recommend! Every fifteen minutes or so, there would be another announcement, saying that the train was being delayed even further. It would be leaving at 3:45, then at 4:15, then at 4:40… The reason for the delay? "Animals on the track." I can't make this up.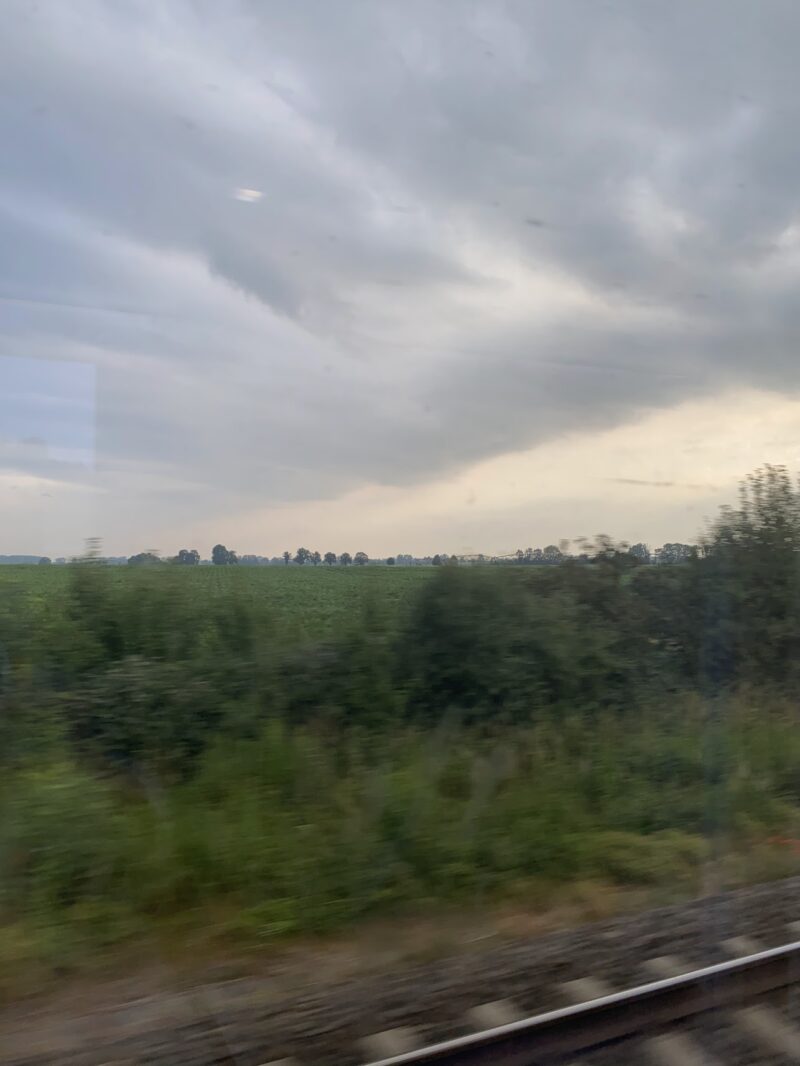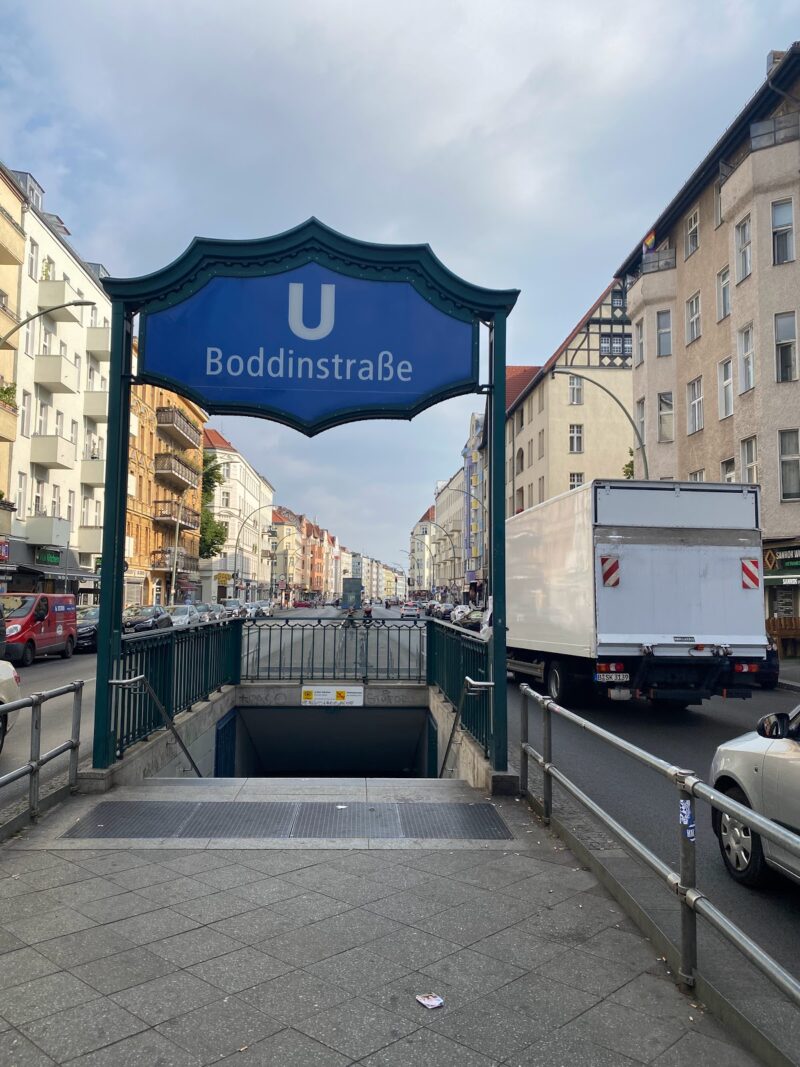 Slowly, the hours ticked by. I was cold, but I didn't want to leave the platform for fear of missing the train. I was making good progress through my book. The sky was becoming light again, and sunrise was just a handful of minutes away. Finally, at close to 5 AM, the train pulled into the station. I pushed my way towards the front of the crowd, and somehow managed to grab a seat by the window. It was fully morning by then, and any sleepiness had left my body, leaving behind only exhaustion. I'll be honest, I enjoy that second wind of wakefulness that comes on when the sun rises after a sleepless night. Everything seems to beautiful, and calm, and perfect in the morning light. I settled in to watch the scenery and kept reading my book. Thankfully, the rest of the trip passed uneventfully. I finished my book, charged my phone, and resolved to cancel my meeting and just spend the day sleeping in. At around 8:30 AM, we pulled into Berlin central station. I shuffled my way through the crowd of commuters, bought some tea and two fresh pretzels,⁠09 for breakfast and lunch, respectively and made my way home. I was in bed by 9 AM.
What's the moral of this story? I don't know. Avoid evening flights to Berlin, don't trust the Deutsche Bahn to be on time. Take whatever you want from it – I honestly just think it's funny.