On Valentine's Day, (boy/girl)friends of MIT students have a unique opportunity to mortify their loved ones. Three student performance groups – the Logarhythms, the Muses, and the Shakespeare Ensemble – can be hired to burst into a lecture hall or classroom and serenade a lucky individual. Last year, the Logs burst into my Quantum Lecture, and sang to a boy in the first row, who kept yelling MY FRIENDS ARE SUCH TROLLS! MY FRIENDS ARE SUCH TROLLS!
This year, the Logarhythms – a male a cappella group – offered these options:
1. Signed, Sealed, Delivered by Stevie Wonder
2. Can't take my Eyes Off You by Frankie Valli
3. Never Gonna Give You Up by Rick Astley
4. If I Ever Fall In Love by Shai
5. Somebody to Love by Justin Bieber
6. Do You Believe in Love – Huey Louis
7. Let's Stay Together – Al Green
The Muses – a female a cappella group – offered these options:
1. I Touch Myself – Divinyls
2. I Wanna Have Your Babies – Natasha Bedingfield
3. 1, 2, 3, 4 – Plain White T's
4. As Long as You Love Me – Backstreet Boys
5. From Me to You – The Beatles
6. Love You Madly – Cake
7. Rescue Me – Fontella Bass
The Shakespeare Ensemble e-mailed out the following advertisement: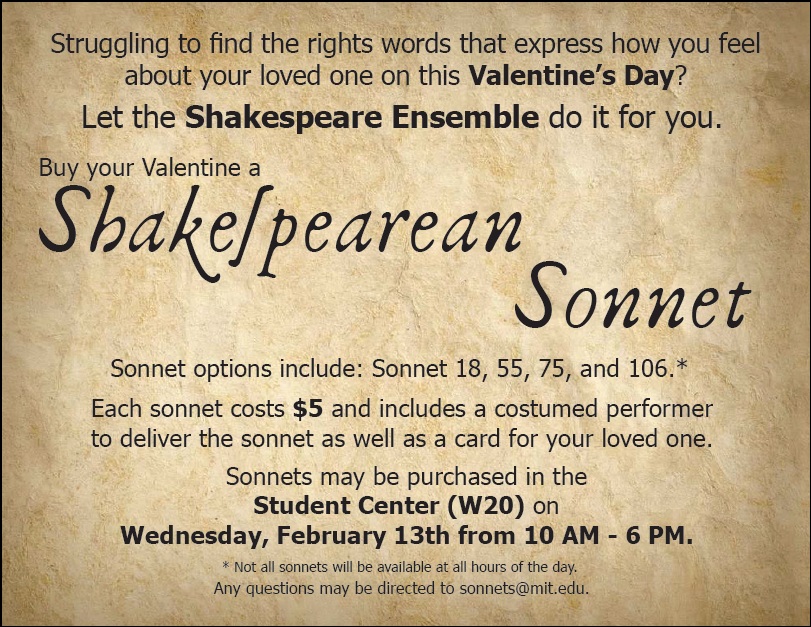 In other words, there's something for everyone.
–
From 10:30am-noon on Tuesdays and Thursdays, I have Science Essay class. My professor is
Seth Mnookin
, a science writer and co-director of
MIT's Science Writing graduate program
. Professor Mnookin, four other students and I sit around a square wooden table, workshop essays, and discuss the reading;
The Panic Virus
by Professor Mnookin, for example, or
The Field Guide to Science Writing
, or an Annie Dillard essay (I'm a big fan) or a NYTimes article about autism. The room has a high ceiling, and a window fills one wall; at this time of year, it could be mistaken for a painting of the snow-tufted grey stone of Killian Court.
Valentine's Day fell on a Thursday. I'm obsessed with color-coding, and wore a bright pink wool sweater, a pink hair-tie, a sparkly pink headband, and earrings with little pink beads. At 10:45am, my Science Essay class was discussing 
Chapters 1-6 of A
 Field Guide for Science Writers,
 when the door opened. It was the Muses, dressed in matching purple shirts. Their leader beamed at me in recognition.
Oh, no.
"We have a song," she said, "for Anna Ho."
OH, NO.
She handed me a little plastic bag of chocolates with pink wrappers.
The rest of the troupe filed in behind her, clustered behind my seat, and began singing. I pursed my lips and glanced at my professor, who looked delighted. I glanced around at my classmates, who weren't too busy laughing to think to film it. Two of them, and my professor, pulled out camers and smartphones. As the Muses sang, I looked at my desk, looked at the ceiling, looked behind me at the singers, looked at my feet, looked back at my desk, trying desperately to lower the temperature of my face. No luck. I fiddled with the crinkly plastic of the candy bag.
After class, I told my professor that I blog for MIT admissions, and thought that the Internet might be amused by the video he took. So, you have him to thank for this: