I've lived near Boston my whole life, but I had no idea that there are a ton⁠01 34, in fact of beautiful islands located off the harbor. You can kayak between them, as students in the kayaking⁠02 FOP: first-year outdoors program, essentially a five-day-long kayaking/wilderness survival adventure FPOP⁠03 first year orientation program do, but since you won't have the opportunity to do that this year, you can access them through other means.
That's right—until October 12th, you can take a 20-minute ferry to Spectacle Island! I visited the island on Saturday and, let me tell you, it's super worth 25 bucks. On the weekend, ferries are available at 10 am, 12 pm, 2 pm, and 4 pm, although the last ferry leaves at 5, so I'm not sure why anyone would want to spend only an hour there…The boat leaves from Long Wharf, which is a ~10 minute walk from Downtown Crossing, which is on the Red Line.⁠04 if you're not comfortable taking the train like me, then you can just blue bike. super doable! If you go, try to get there more than 15 minutes early so you can get a spot on the middle deck for the best views. (I arrived at the wharf literally two minutes before the ferry left, so don't be me)
Boston Harbor Cruises says "getting there is half the fun," which is only a bit of an overstatement. The ferry ride is indeed beautiful; it's super nice to see Boston by water.
A note on boat etiquette—why is it that people will wave at you if you're on a boat?? No one waves at you if you're on land…regardless of where passerby are (on a boat or on land), they will wave at you if you are on a boat.
Me: "what about boats makes people act so friendly toward you?"

My boyfriend: "I don't know, but I wish I could ride in a boat that's being towed by a truck constantly so people have to wave at me wherever I go"
Anyways, as we approached the island, I started to notice how tiny it is. It's only 105 acres!! It has a 150-foot high hill, though, so it still looked fun to explore.
When my boyfriend and I disembarked, we decided to check out the smaller, right side of the island first so we could leave the bigger half for later. We trekked up a path and found a bench near the top of the hill to look at Boston from. The view was absolutely incredible.
Then, we hiked around the side of the hill and descended to the water on the seawall side of the island. The water was stunning.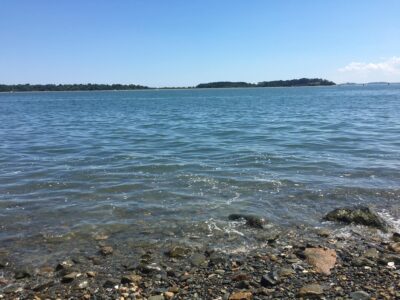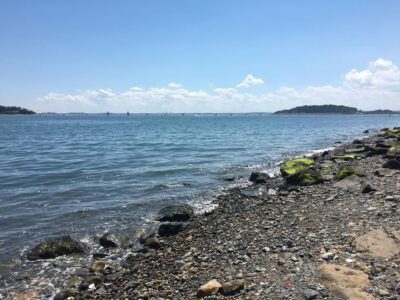 After hanging out there for a bit, we headed towards the other side of the island but decided to follow an unassuming trail to see where it led.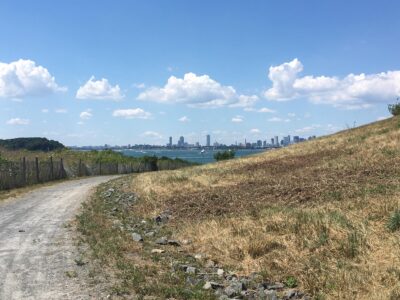 It brought us straight to a beach where the majority of other visitors to the island (around 10 people) were hanging out.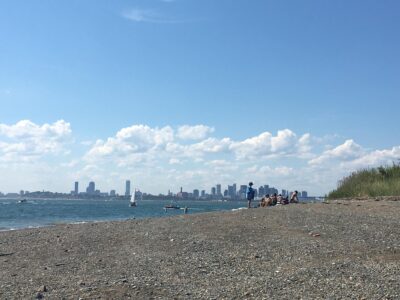 The view of the skyline was gorgeous, so we decided to hang out there for the rest of our few hours on the island. We didn't make it to the larger side of the island that we had saved for later…oops
It was such a great experience! I'd definitely recommend hitting up Spectacle Island if you have a free weekend. Social distancing is maintained since there are so few people on the ferry, and it's pretty much impossible to be in close quarters with people while on the island. I didn't feel unsafe a single time during my visit.
So…if you're tryna to have a summer beach experience but really don't want to be around more than 10 people, you know where to go :)