It's an ordinary Thursday! I'm living at an apartment in Cambridge and working two jobs⁠01 one UROP and one job, technically remotely. Here's what my day looked like.
8:57 AM
I wake up three minutes before my alarm. I've been waking up before 9 every day for the past week, probably because of the abundance of natural light that filters through the windows each morning and shakes my unruly circadian rhythm into obedience.
9:15 AM
I feel up all the avocados in my pantry. They're all way too squishy, but I make myself an exceedingly well-seasoned piece of avocado toast with one.
9:32 AM
I start work. My UROP is data analytics and research for the MIT Center for Information Systems Research, a Sloan lab that I stumbled upon during a desperate mid-April I need-to-get-the-fuck-out-of-my-house-and-find-a-UROP frenzy. I really like the work and enjoy feeling useful. I haven't ever had a job where I feel competent and yet learn things so frequently. It's great!
11:13 AM
I configure some accounts for my other job, being a Communications Assistant for the MIT Teaching and Learning Lab. I found this job last minute after one of my two 20-hour UROPs didn't receive direct funding. I'm glad that I can finally work 40-hour weeks now!
12:35 PM
LUNCH TIME
I make a smoothie and put cacao nibs, which are essentially chocolate chips in their purest form, on top. #helth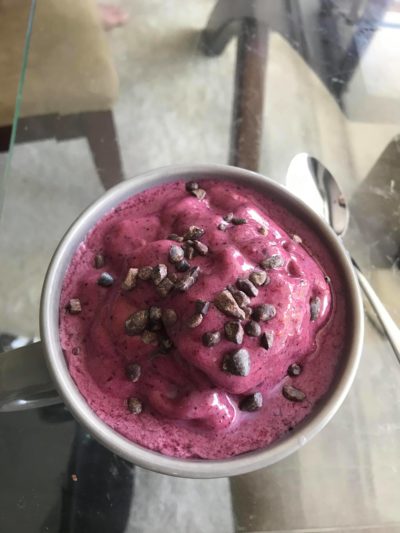 1:03 PM
My dorm, Burton-Conner, is making a video that illustrates our different floor cultures, and I'm one of the people organizing my floor's video. My friend sends me some clips for me to filter through, and I start going through them, writing down timestamps of quality content as I go. It's really nice to see the videos; I miss my living community so much!
2:00 PM
Back to work. My code stops working ¯\_(ツ)_/¯
3:30 PM
I have a daily check-in for my Teaching and Learning Lab job. After the meeting, I start working on some tasks but get distracted with making a Japanese Spotify playlist for my roommate, who's trying to branch out of just English and Spanish music. I'm more than happy to help…
Eventually, I get back to work. I have to fill out a weekly reflection for my job, and since tomorrow is Juneteenth,⁠02 the oldest nationally celebrated commemoration of the ending of slavery in the United States an institutional day off for staff, today counts as my last workday. Filling out the reflection makes me feel super fulfilled…I love making concrete, tangible progress on projects.
5:00 PM
Time for Japanese tutoring! I love teaching, especially Japanese, so the hour elapses quickly.
6:07 PM
I read Infinite Jest on the porch of my apartment. It's a perfect day out, and even though the book is depressing as hell, I feel like everything is alright.
7:30 PM
I make quinoa to eat with some mapo tofu I ate yesterday. It shlaps.
8:00 PM
It's time for the weekly Burton-Conner exec and floor chair meeting. We discuss the dorm's role in COVID-19 developments; e.g. how the dorm will be utilized in fall, whether or not our students should get priority in selecting housing, etc.
9:00 PM
I go hang out with an MIT friend who lives in Kendall Square. We were close during the school year, but now that we're been seeing each other regularly in summer, we're even more tight :) we walk to Star Market to get a pint of ice cream and end up with two pints of Ben and Jerry's and tiramisu Oreos. Ah, youth…
11:57 AM
I head home. Biking at night used to scare me, but now that I'm familiar with the sensation of the wind whipping through my hair, of the creamy glow of the streetlights that dances across the road in front me, I love every bike ride back to my apartment. Cambridge is lovely, and now that I've spent a good number of months here, it feels like home.
one UROP and one job, technically⁠

back to text

↑
the oldest nationally celebrated commemoration of the ending of slavery in the United States⁠

back to text

↑