January 11
Hostel Colonial House, Quito
I'm currently wearing two t-shirts and two sweaters. We
are
at 10,000 feet, so I guess the cold temperature shouldn't have been a big surprise, but I'm having trouble reconciling how I feel with the fact that we're almost right on the equator. Fortunately, the hostel bed is very cozy and has lots of wool blankets and a big comforter. There's a beautiful woven tapestry on the wall, depicting two indigenous women wearing Panama hats (fun fact: Panama hats are actually from Ecuador!) and gazing at
Cotopaxi
.
t
When I finally dragged myself out of bed and left the room this morning, CL was reading on a couch just outside. He flew in late last night (way after Raphael and I went to sleep) and fortunately made it to the hostel without too much difficulty.
Our hostel ("Colonial House") serves a $3.50 breakfast: fresh scrambled eggs with tomato, coffee, yoghurt and granola, a cup of all kinds of fresh fruit. At breakfast, we met Feyi (a young woman from San Francisco) and an older couple from Bruges who are going to spend the next few months volunteering (teaching English I think?) They told us about volunteering in Cambodia, at a center for children with disabilities. They felt particularly drawn to that organization because they have a child with Down Syndrome.
After eating, we left our hostel and found ourselves in a fruit and vegetable market.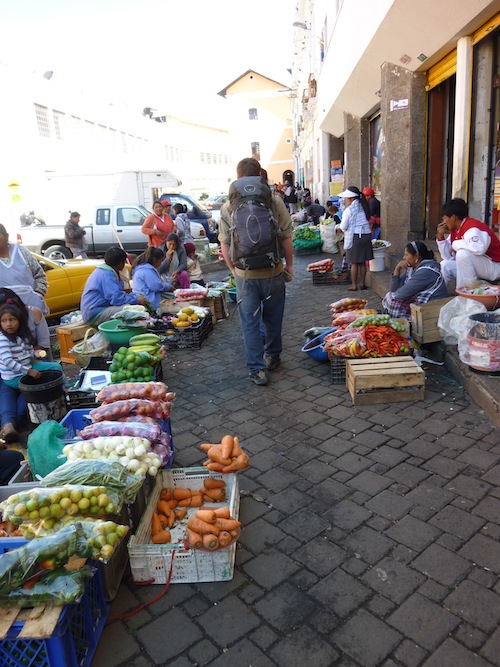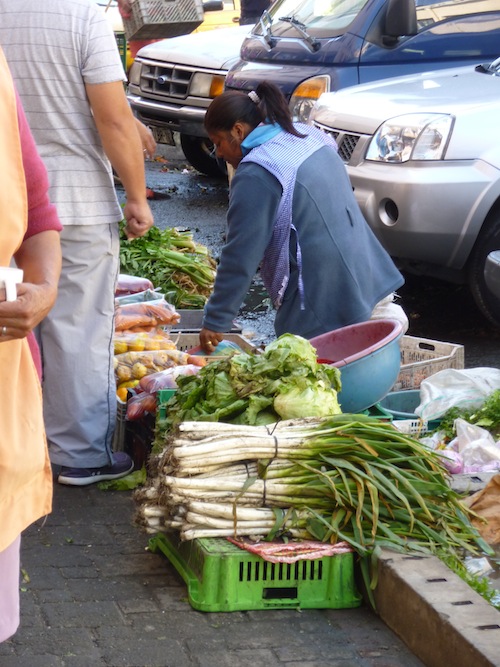 We promised to come back to exotic fruit later, since we were impatient to explore Quito's Old Town. Quito is the capital of Ecuador, and in 1978 its Old Town was declared the first UNESCO World Cultural Heritage Site (along with Kraków). It's full of crowded streets, shops blaring music, old cars flying around corners with reckless abandon, and beautifully-preserved Spanish colonial architecture. For example,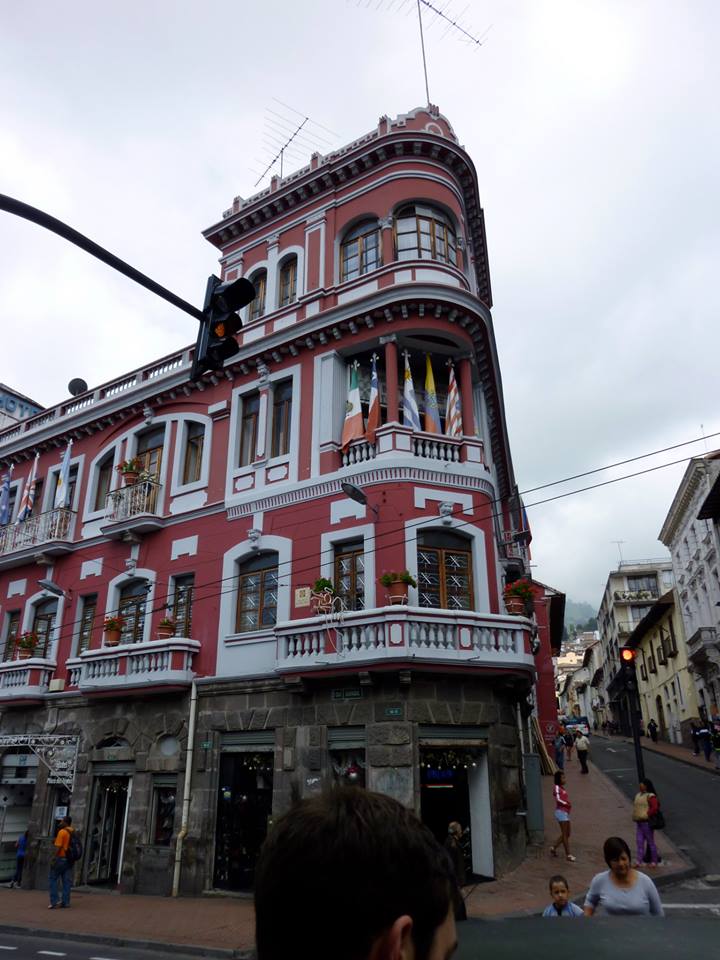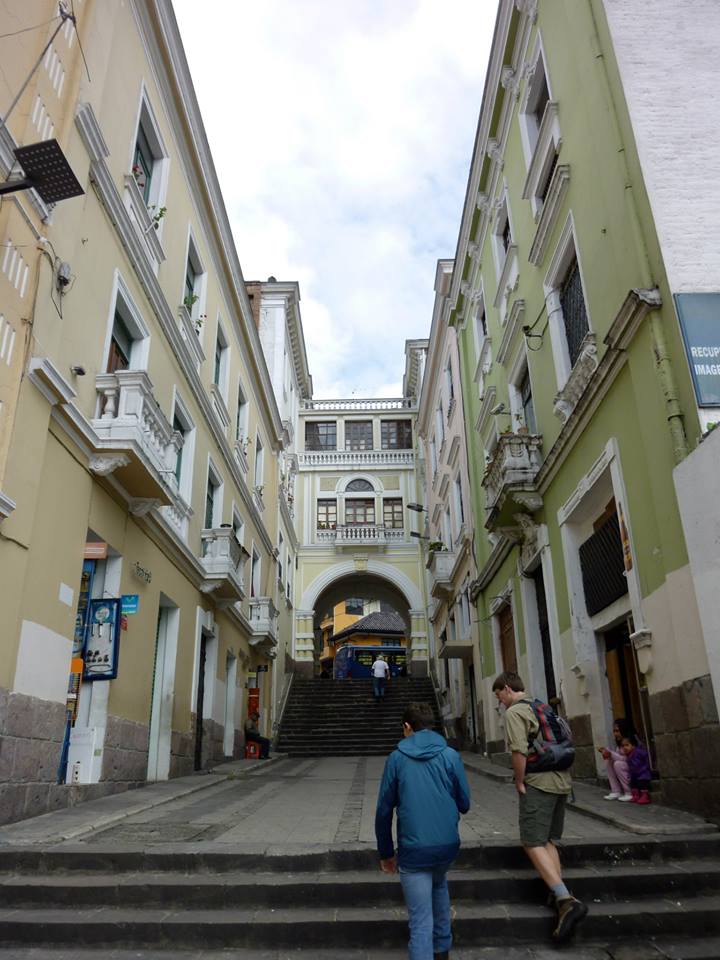 (Look how smiley Raphael is! And look at his sweet NASA bag!)
This is CL's first time traveling outside of the US, and he remarked that "this feels very foreign."
After wandering around for a while, we stopped at the Basílica del Voto Nacional, enormous and neo-Gothic.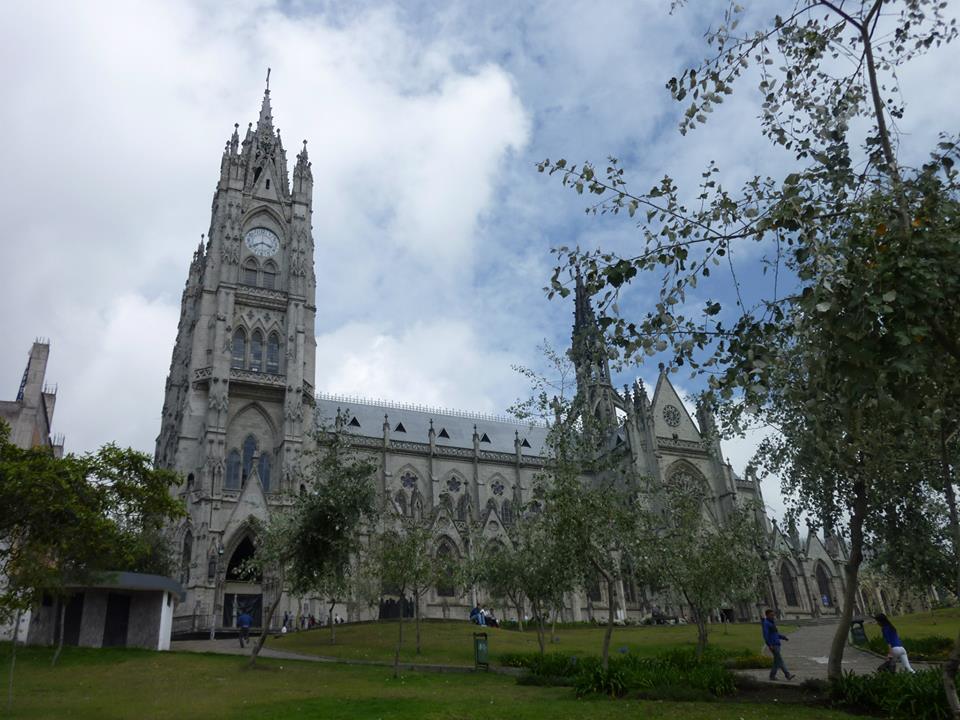 The  $1 to go inside was well worth it: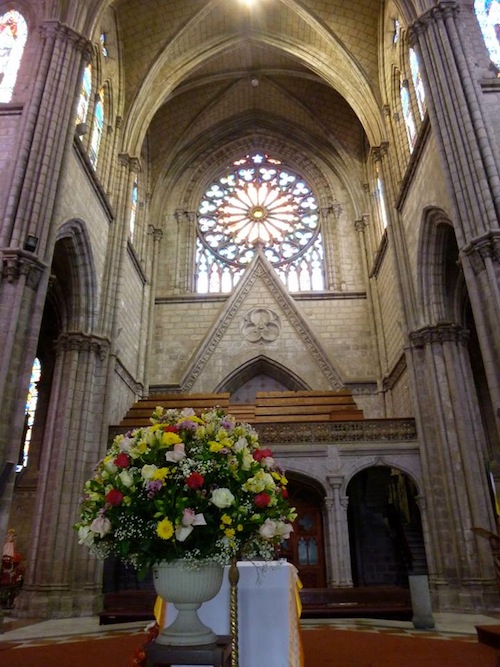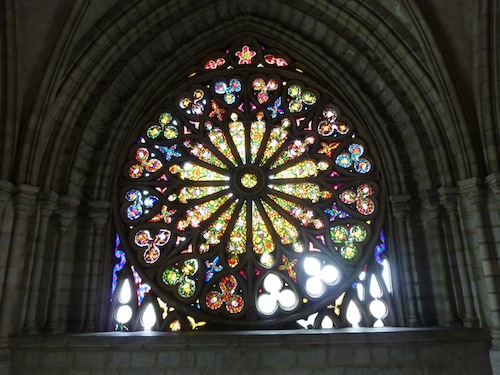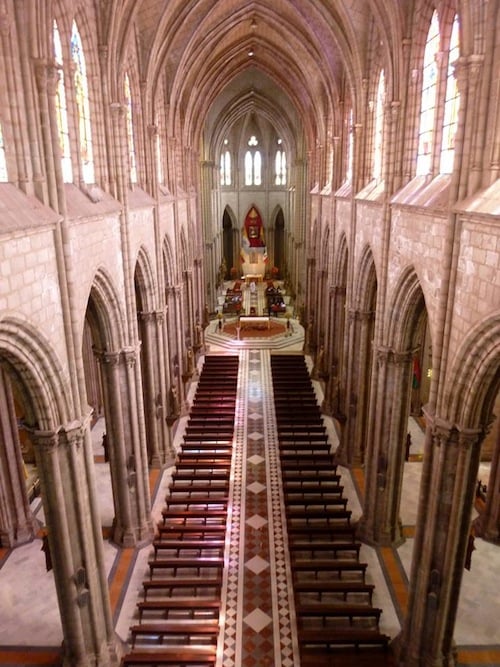 We also paid $2 to climb to the top of the clock tower. This would not have been worth it for the faint-hearted; we climbed dizzyingly steep ladders, traversed wooden bridges with questionable structural integrity, and circled up spiral staircases. You know those ladders you sometimes see on the sides of old buildings, presumably there so that people to do maintenance? We climbed those ladders. Here's CL leading the way: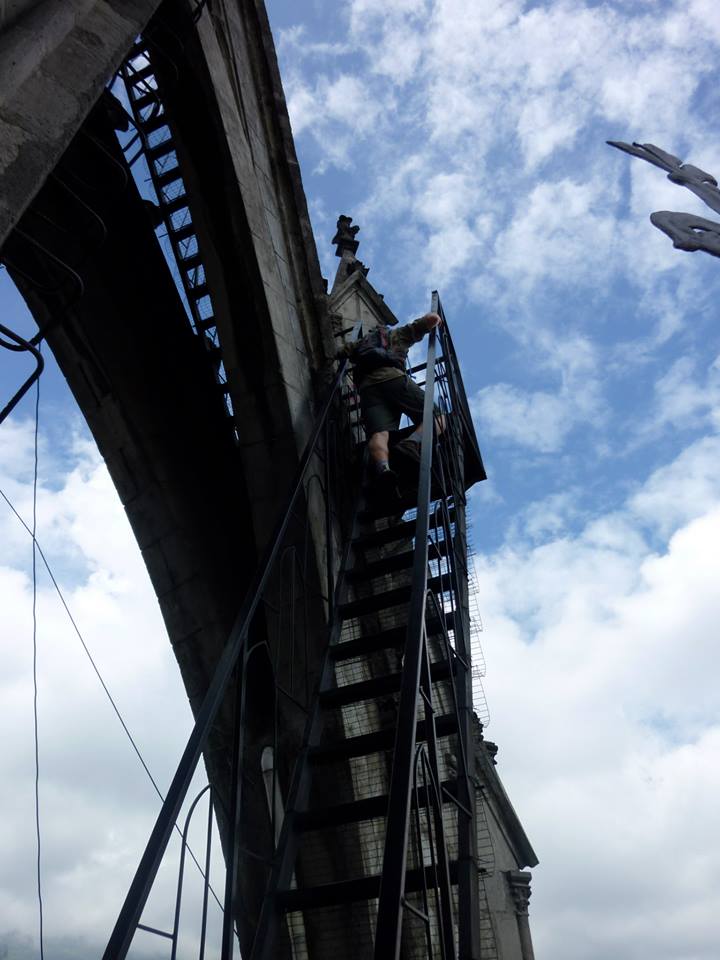 Here's the sketchy wooden ramp, which took us across the basilica's buttresses: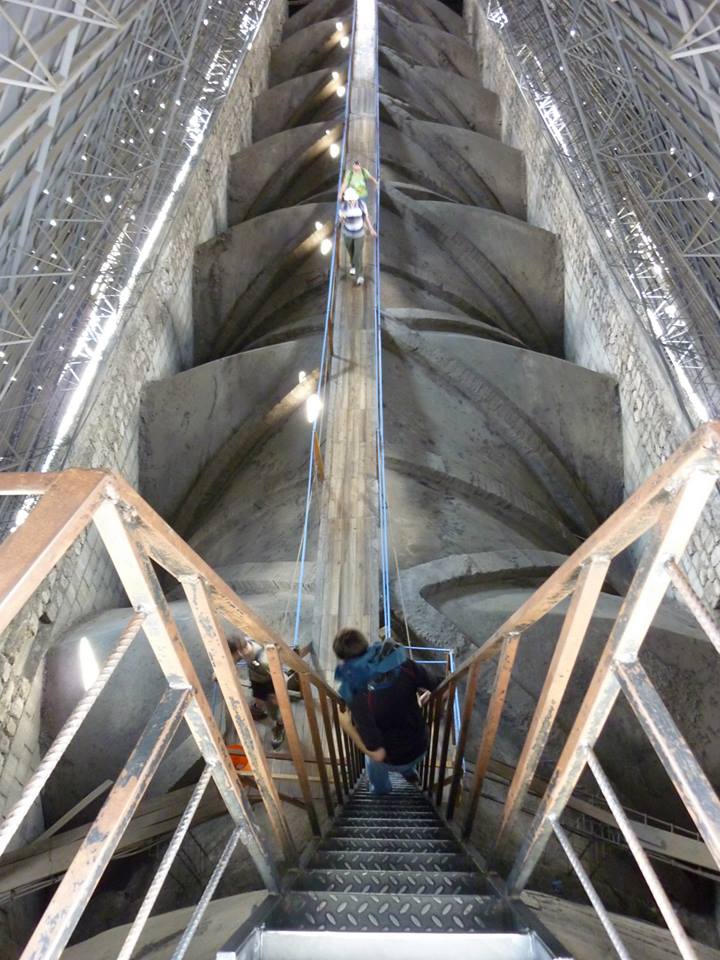 Here are the boys on one of several spiral staircases: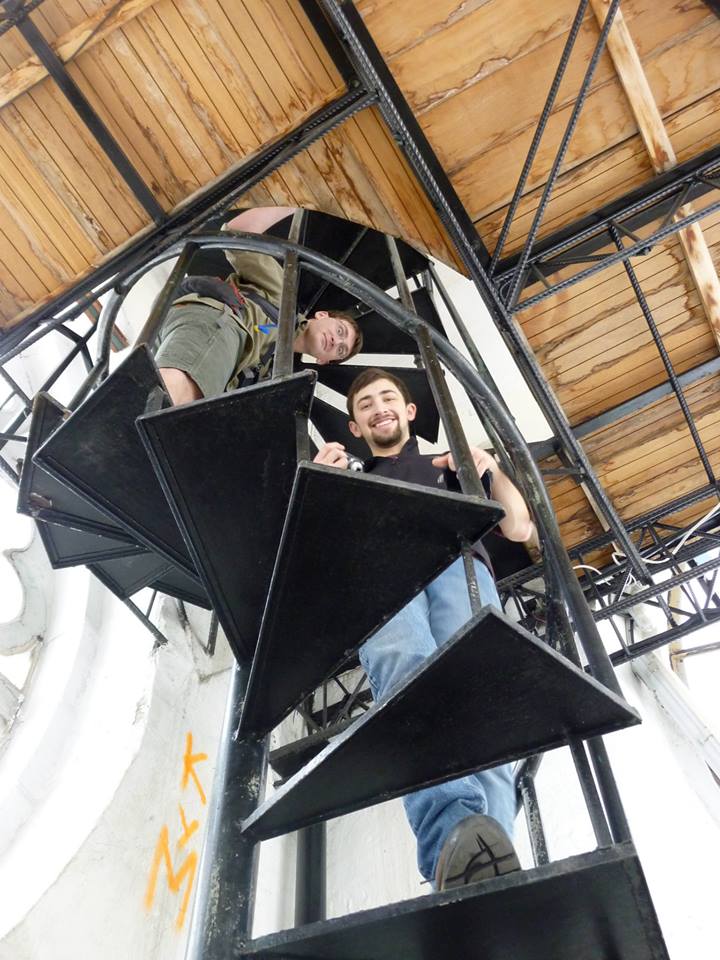 and here is the inside of the clock tower, which we finally reached.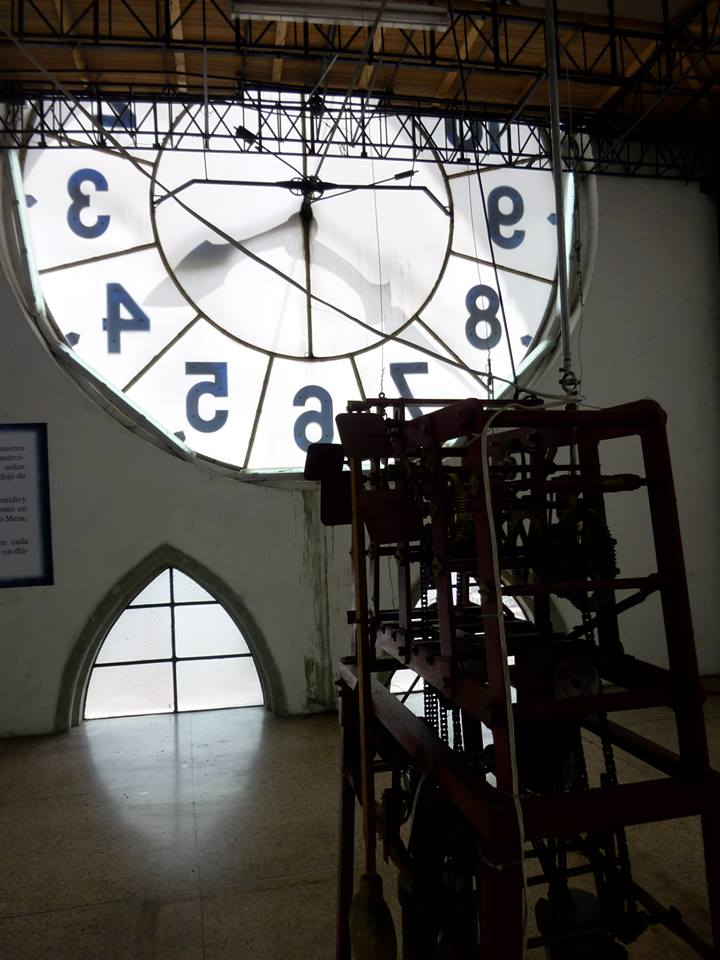 The staircases and ladders took us up to beautiful views. Of course, the feeling of being up there can't be captured on camera, but here are a few attempts: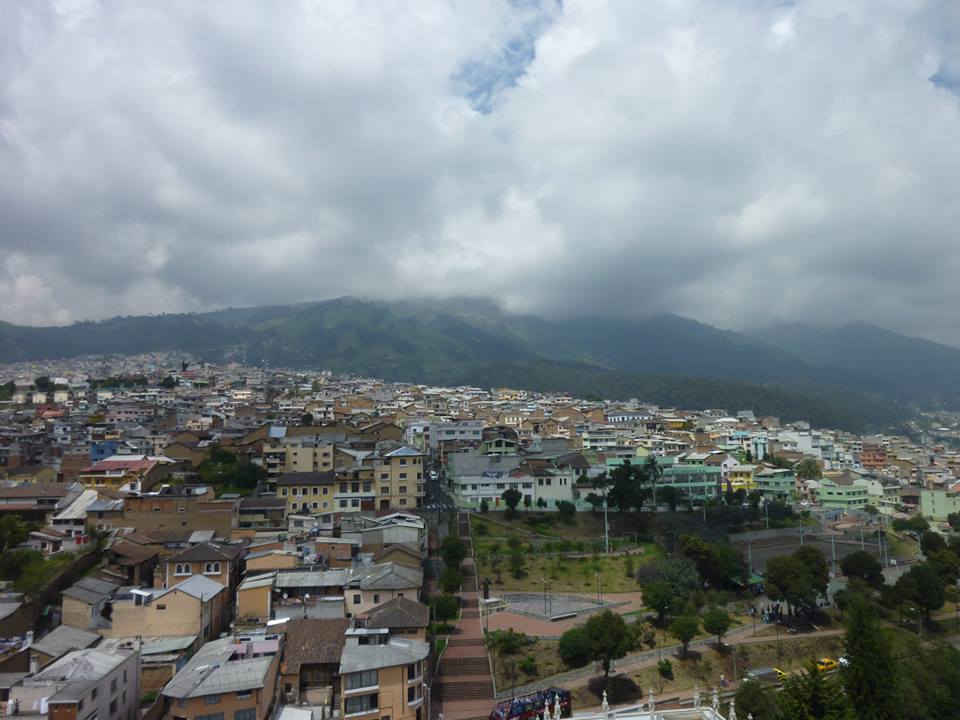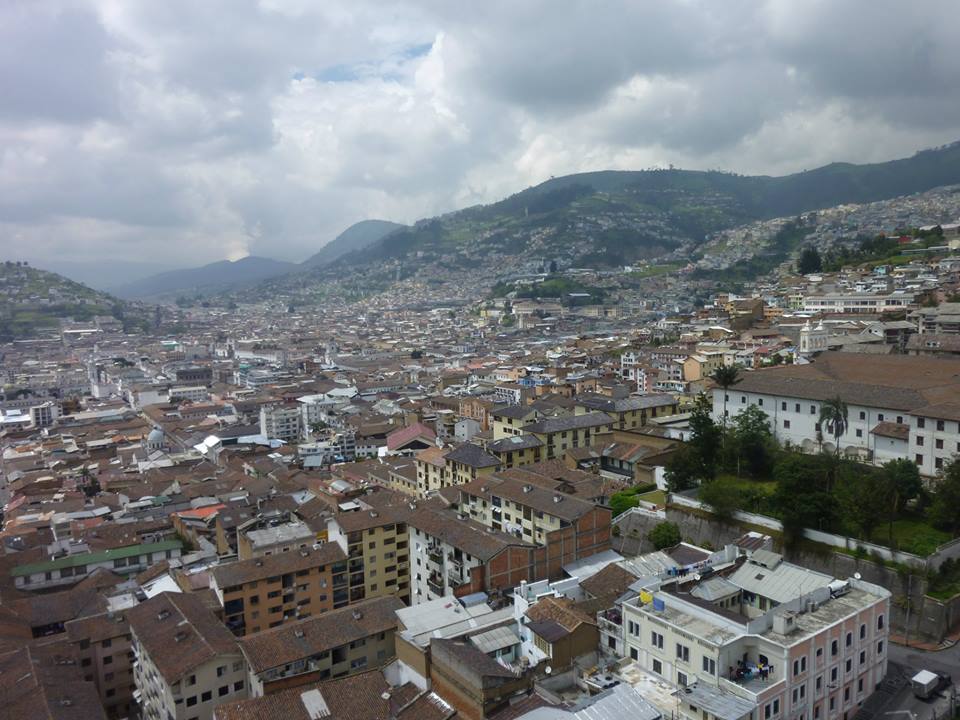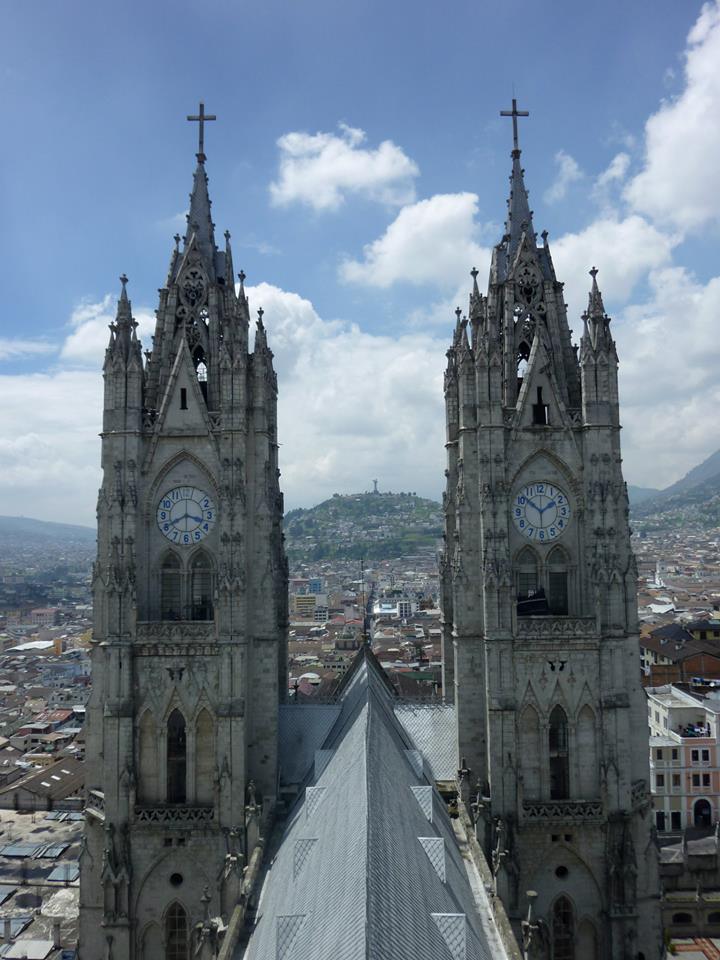 Between the two clock towers, in the distance, you can see a little figure sticking out on top of the hill. That's a gigantic statue of Jesus. After we returned to ground level and ate lunch, we set out to hike up to the statue. Near the bottom of the hill, we paused to examine a map — and suddenly, a local starting yelling to us from the opposite side of the street. We were startled to hear someone speaking to us in English (there isn't much English spoken here) and even more startled to hear "DON'T GO THERE. IT IS TOO DANGEROUS. TAKE A TAXI AND LEAVE THIS PLACE, NOW!" Um, okay. We obliged, and found out later that the hike up to Jesus is infamous for robberies. Thank you, stranger!
By this point, it was raining, so I suggested that we go to the Museo de Ciudad since it came highly recommended by my guide book. Raphael took a pass to read the guide book and CL and I wandered through the exhibitions. A museum attendant told us that there was going to be a special workshop, and from the confusing gesticulation and Spanglish we gathered that it was a workshop on making indigenous face masks.
COOL!!!!
We showed up, and found out that it was actually "learn to draw caricatures of people like Jack Black." We said "no, graçias" and left.
Someone has put a
lot
of work into that museum. It used to be a nun-run hospital; the old gynecology ward and surgery units now display (primarily through diorama) the history of Quito from the 1500s to the 1900s: conquistadors, revolutions, independence around 1823. Some of the floors had exquisite dark wood art – usually maps of the city. For example: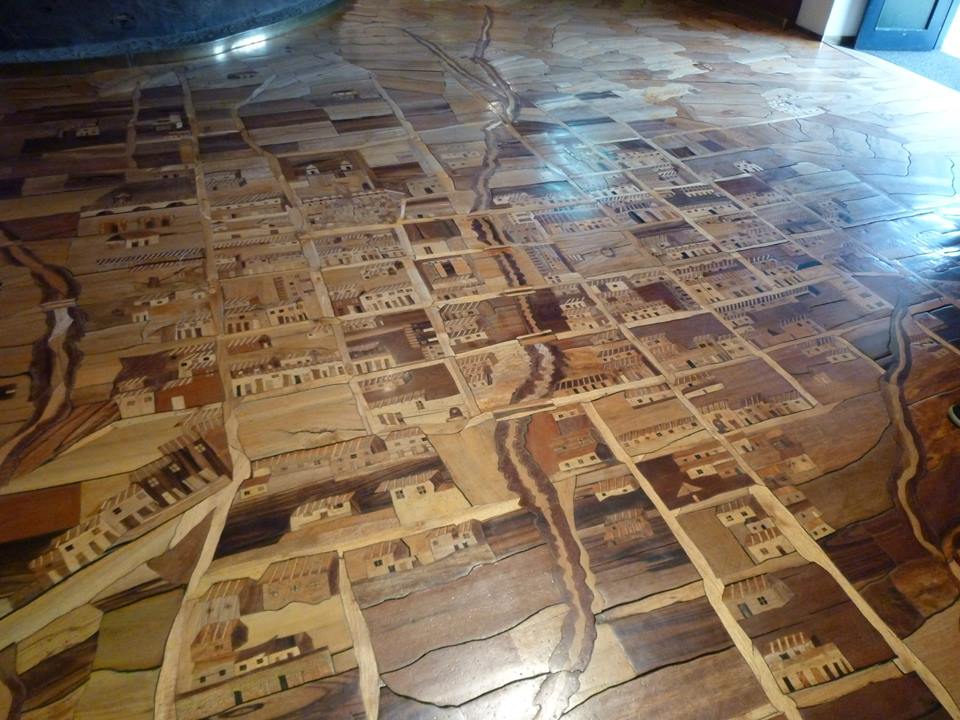 Following our museum visit, Raphael navigated us back to the hostel (I literally have no idea where I would be without Raphael's sense of direction…) since we were all in the mood for some R&R. We added Feyi to our travel crew and drank some very mediocre beers at a local brewery, then took a (cheap! taxis here are SO CHEAP!) taxi to La Mariscal for dinner. The restaurant we chose, La Cafecito, was the site of Embarrassing Spanish Exchange #2:
Me: "Hola! Buenos tardes! Uh, cuatro…"
I turned to Feyi, who actually speaks Spanish. "How do you say, 'we would like to sit outside?'"
The waiter, who had been silent up until that point, raised his eyebrows and asked "you want to sit outside?" in what sounded to me like a completely American accent. Turns out that his name is Tony, he's from Ottawa, and he went to a Canadian school in Jamaica for a couple of years. Everyone laughed at me.
Dinner was yummy but very filling: fried plantains topped with salsa and cheese.  And now we're back at the hostel! Raph, CL and Feyi are playing pool but I declined in order to record my adventures from the day.