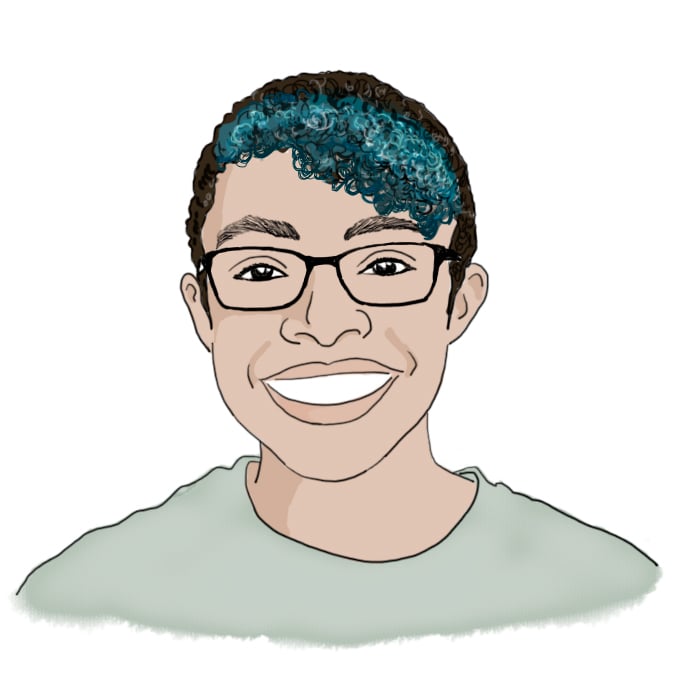 flailing around in a sea of adjectives trying to find the noun
Part I
August 2020: I read a stray comment in the blogger slack that sets off a chain of thoughts in my head. Pulled by some force I can't name, I open up a blank WordPress file and start typing. It barely feels like I'm writing. It feels like words are appearing on the page. When it stops I look at the words I've typed and I see my own vomit on a screen. "I can't publish this," I think, "I can't even look at it." I close the tab and don't reopen it for a year.
i've been thinking a lot about race lately.
for a lot of reasons. one is that, well, being black in America⁠01 Am I black in America? Well, that's one of the things I'm thinking about. means that you think about race, like, a lot. another reason is, you know…. *vaguely waves hands* everything. the compounding murders of so many innocent black americans, the protests about them, the police brutality.
another reason is much more tangential: just a stray comment in the blogger slack about the diversity of the bloggers that stuck with me. such things tend to stick with me. we were talking about representation and one blogger mentioned that they felt a little weird when they looked at the other bloggers and realized they were the only person representing their ethnicity (despite there being lots of other people with that ethnicity at mit). i realized that like… well, that's my life. sort of. there are white bloggers, and there are black bloggers, and there are mixed race bloggers. but there's pretty much never another Me.
i'm white, technically, from my mom; and black, technically, from my dad. but i'm not african american — not really in any sense of the word. literally, african american refers to people who live in or are from america, and whose ancestors are from africa (and typically were enslaved within the US in the past). my father and his family are from the caribbean, and even that culture i barely know anything about. figuratively, a lot of the time (too much of the time?), african american just means "black people who fit the American stereotype of how black people act". and that is a stereotype, sometimes; but it's also a way that black people can relate to each other and speak to each other – it's a culture. and it's a culture i, a canadian jew who went to majority white and asian schools, didn't grow up with.
there's kind of a lot of things i didn't grow up with.
i've spent a lot of time at mit having an amazing time, hanging out with my friends, making memories and relationships and becoming a better person. i've also spent a lot of time feeling on the outside of a lot of communities.
i remember a time i was running the sign-ups at the activities midway. i asked the girl at the front of the line the same quick question i asked every person before her.
– "what group are you signing in for?"
– "beewa"
– "sorry, which group?"
– "B. W. A."
– "what does that stand for, sorry?"
– "black women's association"
And she looked at me like, hello! You are a black woman. What are you doing?
I remember a time I was walking along the infinite, chatting with an acquaintance. (Unrelatedly: god, I miss doing that.) She also happened to be mixed race and black.
– "hey, why aren't you in gosko?"
– "in what, sorry?"
– "gospel choir"
– "oh, i'm already in an a capella group, actually, asymptones."
it was only later that i realized that gospel choir is a christian group – i'm a jew, and, apparently, a clueless jew.
someone added me to a black students' chat at the start of freshman year, and i watched terms and slang flying that i barely understood. i realized that if i tried to chime in and say what everyone was saying… i would sound like the white people who try to seem cool, misuse words they don't understand, and get made fun of.
so i didn't try.
i hang out with my friends, my diverse friend groups; i'm not the only black person, not the only mixed person. but i'm the only Me, and even though that's true for everyone, sometimes it feels like being the only Me puts me kinda extra far away from everyone else. there are other mixed race jewish canadian kids out there, i'm told, but they seem pretty darn hard to find.⁠02 Are you one? Wanna talk? Email me! i think even if we tried, we might not be able to hire another blogger to write about my experiences. and honestly i don't even know what "my experiences" are. my experiences are mostly, just being a human. i can rarely relate to other people when we're talking about our cultural traditions, our family histories, our experiences with race and ethnicity in the world. but at the same time i struggle to put my experiences out in the world for another person in my position to potentially relate to. what are my experiences? mostly the lack thereof.
Part II
June 2021: I am going through my blog drafts. I reopen this one and the feelings come rushing back, but they're more distant now, less strong. I reread the post and I think, "maybe I could actually publish this…" I send it to a friend to see what they think. They agree that I could. But they also tell me I'm wrong. They tell me I do have experiences. Like a fish in water I've missed them, but they're there. I don't go back to the blog post for a few more weeks. But I think about it.

Maybe I do have experiences.
A parade of people asking me where I'm from, no, where I'm really from; I have that. I have the one time someone at a math competition asked me where I'm from and I got flustered but really he meant what school did I go to.
People asking me if I curl my hair, people asking me how I curl my hair, people asking me why I curl my hair; I have that.
Somehow it comes up in conversation that for a full year an acquaintance of mine, a nice guy, thought I was Indian. And that I curl my hair.
I show up to Hillel shabbat dinner⁠03 Hillel is a worldwide Jewish organization that has chapters on most college campuses. MIT Hillel serves a free Shabbat dinner every Friday night, and lots of Jewish people gather there, sometimes bringing their non-Jewish friends. freshman fall, once, twice, three times. The fourth time they serve hamentaschen⁠04 Hamentaschen are a filled pastry typically made during Purim, a Jewish holiday in the early spring. and I laugh, "Hamentaschen? In October?" The boy next to me, a friend of mine now, a nice guy, says, "Wait, you're Jewish?" I say, "This is Shabbat dinner!" He says, "But sometimes people bring their friends!" I make a face but not too much of a face: enough to show him he's in the wrong but not enough so that it can't be funny, not enough so that the rest of the table can't laugh and move on. I don't say what I am wondering, because I know that would be too much, wouldn't be funny, would be Making A Big Deal Out Of It. But what I am wondering is that if I looked a little different would his assumptions have been a little different, would his surprise have been a little less pronounced?
A few times, not often, maybe twice in Toronto, once in Boston, I think that maybe a store employee is following me around the store. "Can I help you?" they say over and over as I turn into each new aisle. "No, I'm all right, thank you," I repeat. I buy my stationery quickly and get out. I'll never know why they chose to ask me so often. And I was a teenager with a backpack, and I've heard even white teenagers with backpacks get followed around stores. I'll never know, but I guess I'm still wondering.
I see mixed children all the time now, more and more. The median age of mixed-race people is 21, the age I'm about to be, the youngest median of any group in the US. The mode age is only three years old, the youngest by far. 05 Source: https://www.pewresearch.org/fact-tank/2019/07/30/most-common-age-among-us-racial-ethnic-groups/ I look at those children I see on the street and the subway and I think about the world we're making for them. I used to be obsessed with getting old, a long time ago. I was a little depressed, so I think that was part of it, but also what got me was the uncertainty. What will I look like when I'm 50, when I'm 60, when I'm 70? Many mixed race Americans who are turning 55 or older this year were born as crimes, before 1967 and Loving v. Virginia. I grew up knowing that my existence used to be illegal, that there was a limit on how far back a magic time machine could take me, that the path my body was travelling was obscured by thick branches I would have to clear away myself. I see mixed children all the time now, usually ten or fifteen or twenty years younger than me, and I always try to put a lot in my smile when I smile at them.
My roommate drags me to the art fair, where I have an excellent time. While we're watching a dance performance in the audience in front of us I see a woman with a haircut that looks like mine — but cooler. She could be 28 or she could be 40, and her skin is maybe just barely one shade lighter than mine. She's busy watching the dancers, and I stare, just a little bit, trying not to be weird, but taking in every part of her face, that could be me that could be me. I poke my roommate. I whisper, "Look over there… that woman in the plaid… I could have that haircut." I've been wanting a new haircut. What I have now is OK, it's cute, but it feels a little young. It's hard to find ideas for new ones, though. It's hard to find pictures of hair that looks like mine. I look back at the woman in plaid. The dance performance is ending, we're clapping, she's starting to walk away. I whisper, "Should I ask her where she got it?" "Yes! You should! Go ask!" My roommate's enthusiasm isn't quite enough fuel and I watch her for ten, twenty more seconds, before my resolve hardens and I gather up all my social capability and start walking towards her. I ask her. She tells me.
I walk home with my roommate thinking about a new haircut. Thinking about turning 21 and turning 40. Thinking about all my experiences that I didn't know I had piled up inside me. I feel like I got a new glasses prescription and shook water out of my ears, both at the same time. I feel like light is coming through the branches on the path and letting me see through the leaves, forward and back. I find I am humming the same Taylor Swift lyric over and over: I haven't met the new me yet… you haven't met the new me yet. I feel like myself.