Note: Posting a lighthearted blog in the midst of everything that's happening right now is…uncomfortable, to say the least. Given the circumstances, I can't help but feel that the tone of this blog is strange and unprecedented, but I hope you can read and enjoy nonetheless
Ever since I moved to this apartment in Cambridge, I've started to cook more, and I'm loving it. Deciding what I'm going to make in the next week, buying ingredients, and putting it all together is so satisfying, especially when I can feel like I'm taking charge of my health. Discovering new recipes and bringing them to life is infinitely fulfilling and I feel like such an adult!! Yay!!
Breakfast/Brunch
I like eating two meals a day because of my sleep schedule. For breakfast/brunch, I tend to go with avocado toast, something egg-related, or chia pudding.
Cream Cheese Eggs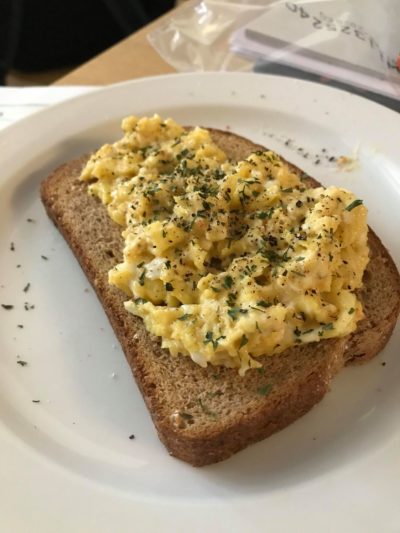 This absolutely SLAPS. I didn't use a recipe—I kind of just used Gordon Ramsey's scrambled eggs tutorial and threw some cream cheese in. The trick is to 1. make sure you either cook the eggs slowly or regularly take them off the heat so they don't overcook. I like Ramsey's technique of pushing all the curds to the side of the pot so they cook slower. I use just a bit of olive oil instead of butter because #helth, and throw the cream cheese in during the last ~2 minutes of cooking. It's so filling and gooooooooood ugh
Goat Cheese Omelette
Super easy and indulgent :) Just sauté some spinach (I use frozen) in a pan, add 2-3 eggs
and your spices of choice (I like Trader Joe's umami salt, garlic powder, and cayenne pepper), put some goat cheese in the middle, and then fold it over. It's so freaking good I can't even tell you sdhfuishfiusdf
For something healthier, I go for chia pudding. I just put chia seeds, milk, and a sweetener (usually stevia or maple syrup) in a jar and then refrigerate it overnight. Super doable! I like adding pureed strawberries at the bottom for some extra sweetness.
Dinner
For dinner, I go for something more substantive. Due to my proximity to H Mart, I've been making a lot of Asian recipes! It's convenient since a lot of ingredients translate across most recipes I've been meaning to try.
Stage 1: Finding Recipes
I've been obsessed with food YouTubers for as long as I can remember, so this is always a fun part of the process for me. My go-to channels are Maangchi for Korean food, Jenn Im for healthy and easy daily recipes, and Binging With Babish for…everything else. Preppy Kitchen is great for desserts, too.
I organize things I'm planning to make by putting videos in a playlist; that way, they're easy to find and access while I'm cooking.
Stage 2: Buying Ingredients
Baseline⁠01 aka things I use in pretty much everything I make Ingredients:
Garlic
Ginger
Green onions
Soy sauce
Sesame oil
Oyster Sauce
Green chilis⁠02

i put these in everything
I make sure I'm always well stocked with all of these since they're a key part of nearly every dish!
Important Ingredients:
Tofu
Pork/beef
Onions
Miso paste
Gochujang⁠03

hot pepper paste

Broccoli
Bell peppers
Carrots
Brown rice/noodles
Aka ingredients that I switch around depending on the recipe.
Stage 3: Putting It All Together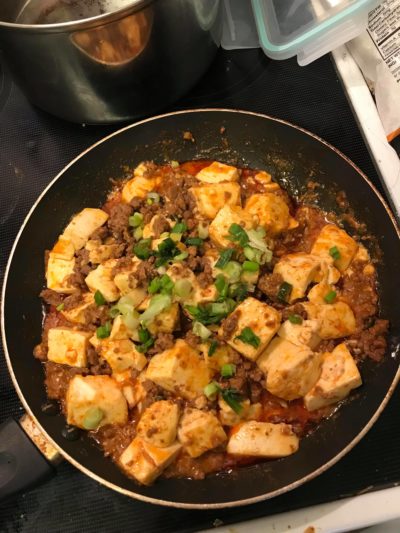 This one was beautiful. I used ground beef instead of pork to switch up my meat usage, and DAMN. It slapped.
I couldn't find Doubanjiang⁠04 fermented broad bean and soybean paste and thought I was doomed, but I used Gochujang and it turned out just fine. I also didn't use mirin since I don't have it, and subbed flour for potato starch…yeah, I'm not sure if that did anything, but the dish came out great.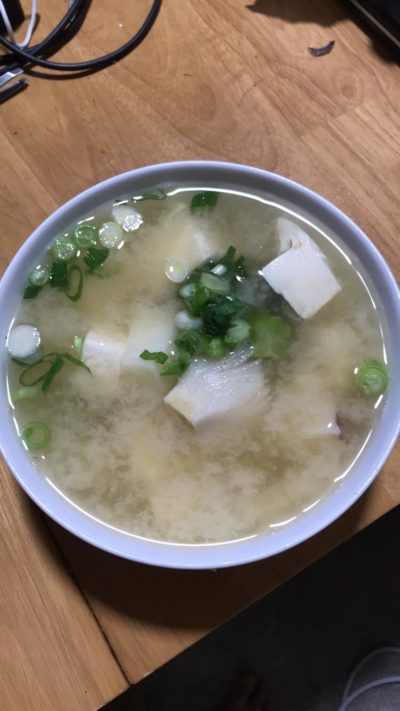 Found this recipe on Jenn Im's channel! It's a delicious and healthy Korean soybean paste soup. I used broccoli instead of zucchini due to preference, and also decided to leave out the anchovies because I was too lazy to get them. I used white miso instead of red miso—not sure if that makes a difference.
This soup was great because the quantity I made was huge and lasted a while, so I definitely will make this again in the future!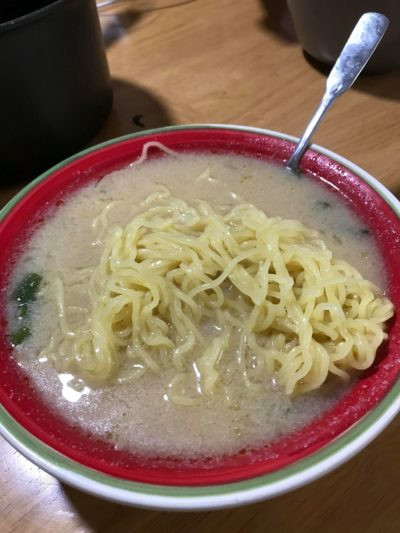 Ramen is so easy to make, y'all! You just kind of throw everything in a pot, add water, and then add noodles. It was so doable and delicious! I didn't use La-Yu Chili Oil or Chicken powder, but felt that the dish was flavorful enough. For the noodles, I grabbed some random egg ones I found from H Mart, which worked out great. 10/10 would make again soon!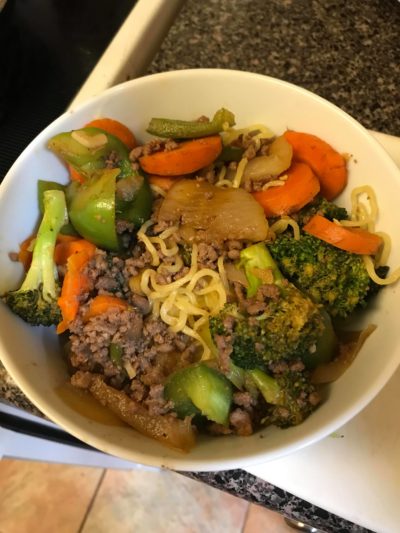 By far the easiest thing to make; just chop everything up and throw it in a pot with some soy sauce, oyster sauce, honey/brown sugar, and spices. I made a hugeeee amount and switch it up by using either egg noodles (the same ones from the ramen) or brown rice as a base. What a bomb way to consume vegetables, truly.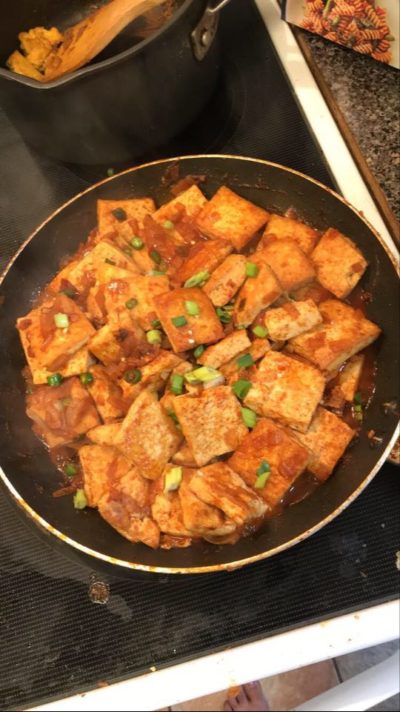 This was really freaking good but quite time-consuming; I attribute this to the size of the pan I had and the amount of tofu I had to fry. Each side takes 7-8 minutes to turn golden brown and I could fit maybe 10 of the 40 pieces of tofu in a pan at a time, so…you do the math. I ended up having to use two pans to cook the tofu in batches, which kind of sucked. Even so, this recipe was so worth it! It was crispy and juicy and just spicy enough for me. I'd definitely make this again!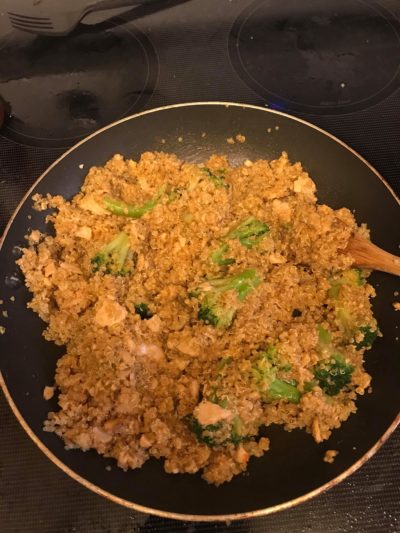 This was my go-to recipe while I was living at MIT since it's so easy, healthy, filling, and storable. Quinoa is a great base for a lot of things! I switch it up by using different condiments like General Tso's Stir Fry Sauce, Coconut Aminos,⁠05 a low-sodium alternative to soy sauce. i prefer this, honestly and sriracha. I also try to use different vegetable mixes/meats. For this one in particular, I used canned salmon and broccoli because it was what I had in hand at the time.
I used to make huge quantities of this on weekends so I wouldn't have to worry about cooking when I got home from classes at 5 pm every day.
Anddd that's where I'm at so far! More (potentially non-Asian) recipes coming soon?