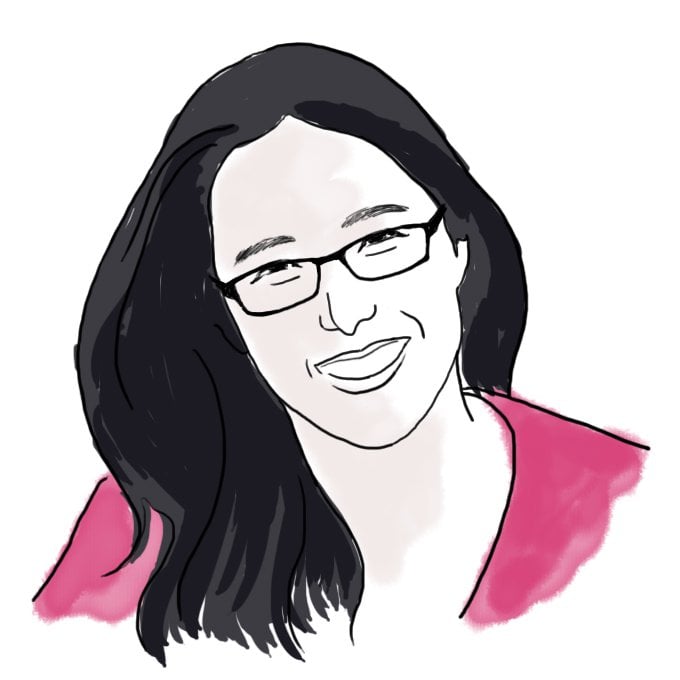 IAP in China through MIT's China Development Initiative

by Anna H. '14
A week-long mentorship program in Xiamen, Fujian
IAP 2013 was a logistical (and medical) nightmare but a fantastic adventure.
I broke my big toe into a bunch of pieces, then flew home to London for winter break, then flew back to Boston and got an x-ray at MIT Medical. After the x-ray, MIT Medical forgot I was there (I realized something was probably wrong after I had been sitting alone in the x-ray room for over twenty minutes…) so the doctor left and I wasn't able to get the results. Oh well. Next, I spent a week in California at my first astronomy conference, then flew back to Boston (I got the results of my x-ray this time) and onwards to China. When I got back to MIT at the beginning of February and classes began, I wrote a summary about my adventures and was full of ambitions to write all about my time in China. I guess I got distracted by zumba and not-zumba, though, because after  publishing Saul's guest blog post about (extensive) MIT-supported China travels, I realized that I never wrote about mine.
Mine began on whim.
I sent the following e-mail to my mom on December 2, 2012:
"So, I spontaneously applied to this service leadership program taking place in China from Jan 16-20…and apparently got a spot."
"This service leadership program" is officially called the Service Leadership Program and was organized by MIT's China Development Initiative, a student-run group. Here's the official description:
"A one week long project held in Xiamen, Fujian, where a team of MIT students will mentor distinguished Chinese high and junior high students on the subjects of leadership and service through a series of workshops, activities, and community service opportunities."
I found out about it from a random e-mail (probably sent to all of the dorm mailing lists, since that's how a lot of MIT student groups advertise). I figured hey, why not, and filled out the online application. For the in-person interview, I had to talk about myself and my particular interest in China and teach a five-minute lesson on the spot.
After getting accepted, I had a few discussions with family and took a good hard look at my calendar. The consensus was that it would be a big logistical nightmare. A week later, I sent this e-mail to my mom:
"I'm going to go, even though it's…logistically inconvenient. I think it's something I'd regret not doing later…"
If I could go back in time, I would high five myself, then say "don't wear your big pink slippers the next time you do your laundry." Unfortunately I can't time travel, so two days later I tripped in my large pink slippers and fractured my big toe while walking up the New House 5 stairs.
Anyway, Xiamen. Our MIT crew (~5 undergrads) were hosted by 3-4 local high school students. They were our friends and our tour guides: they took us around town, shimmying through little alleyways I would never have thought to enter in order to get to their favorite restaurants. After a couple days of touring around, we began running our program. This involved organizing leadership training activities during the day, and taking our ~50 kids on volunteer trips around the city. Here's a picture I took while standing on a school balcony, watching one such training activity: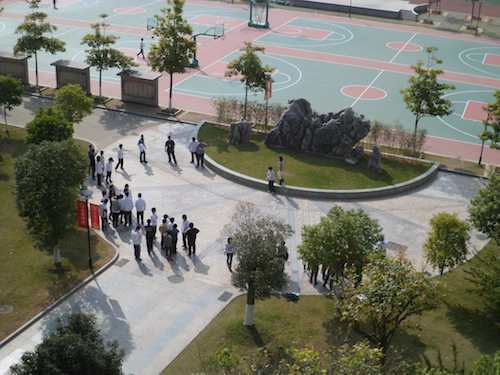 Unfortunately, I wasn't very disciplined about keeping a journal. But I still have what I did write down, so here are some excerpts.
"At one point, I was looking out at the water, and there was a lot of foam floating around. One of our hosts, Peter, asked "do you like bubbles?" I said yes, and he replied, 'bubbles are something you can look at all day and not do anything else.'"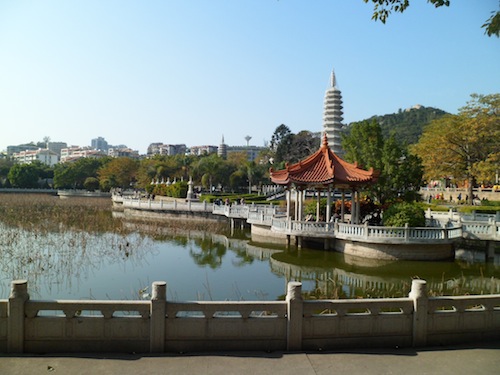 "We went to a restaurant that sold noodles from the north west of China. It was very good…I had mine with beef. SO MUCH FOOD – it looked like I hardly made a dent. Also, there was this soup that was absolutely delicious that they kept refilling over the course of the meal…SOO GOOD."
"We walked through Xiamen University, which was beautiful. Took lots of pictures (not me, though…ugh. Forgot my camera charger!) After that, we went to a temple, which was one of the most beautiful complexes I have ever seen. We picked up incense sticks, and Lucy (one of our hosts) gave me a primer on how to pray…Lucy said we pray in our heart, so I did."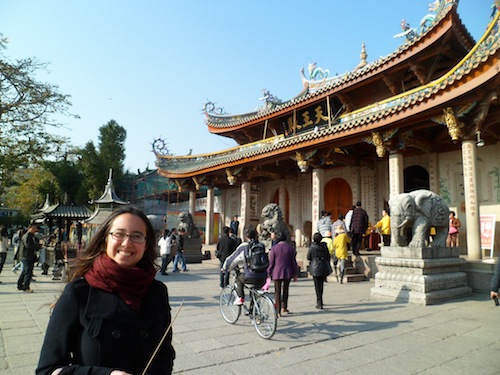 "After the temple, we hiked up the mountain…stunning scenery. More pictures. Also, nice conversation. Feng Long was part of a group of singers for a school competition, and they called themselves the 21 gongs. They sang a song called the Three Gongs. He said, "the three gongs, sung by…the 21 gongs!" I said "so, 7 gongs each," and Saul found that very funny. Feng Long didn't seem to notice, though."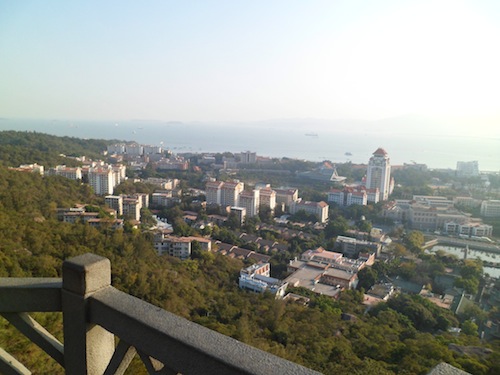 "A conversation with our host Peter:
Peter: I only know one French song…
Me: What's it called?
Peter: "My name is Elaine."
Me: Elaine?
Peter: Elaine.
Me: Any idea who the artist is?
Peter: …maybe Elaine?"
"Our driver didn't speak any English, but seemed like an interesting character. He only just arrived so doesn't really know his way around…so we had to stop for directions a bunch of times."
"One of our students said that his dream is to study history at Oxford, but he "is practical" about his future so he's not going to pursue that."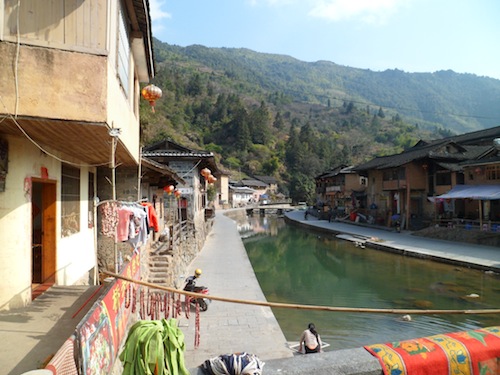 "There was a banner at the opening ceremony! The president of the school spoke, and a student translated after every sentence. She got a word wrong ("experience" instead of "hope" I think?) and the president corrected her. Then Maia (the SLP group leader) spoke and we started for the day."
"Maja gave a short spiel, then each of us introduced ourselves. Shuhan talked about never having the opportunity to do a program like this while she was a student in China, and that it would have been helpful. Saul mentioned being from Guatemala. I said that I lived near the Beatles crossing in London, which the kids LOVED. They all freaked out. I told them about being half-Chinese, said my Chinese name (they loved that too), told them they were always welcome to come ask us questions."
"a few of the kids from came up to talk with me…they were all interested in Physics. Henry was there, I think, and Brian, and Ben. They wanted to know about MIT, and my research, and they taught me that in Chinese there are "capital" numbers and lowercase numbers. They drew the characters for me."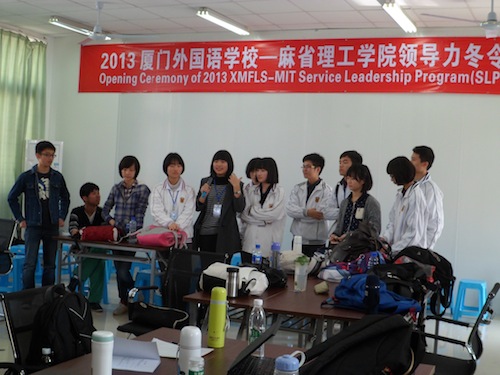 "While we were cleaning up the tables (wiping them down) a girl came up to me and asked: "would you like me to smash the tables?" I knew she meant wipe."
"First: the tennis ball-throwing game, which was a little chaotic. I think I did a good job with my group, but that was only because I improvised and made up extra rules and was jumping around."
"At dinner, I sat with a few of the kids and they asked me about MIT, math/science education, what I want to do when I graduate, whether I want to teach. They told me a little bit about math/science education in China – students are good at it, but most don't like it, because they're forced to memorize stuff rather than learn to do problem-solving."
"Last night, one of our hosts taught me how to say "I will never love again"; he says it's common for Chinese people to say this if they're tired, etc. "Wo bu hui zie ai" I think. I said this to him, which he thought was hilarious, then to our other hosts, who all went into hysterics. One called him a bad influence. She asked me if I know what it means, and I said yes."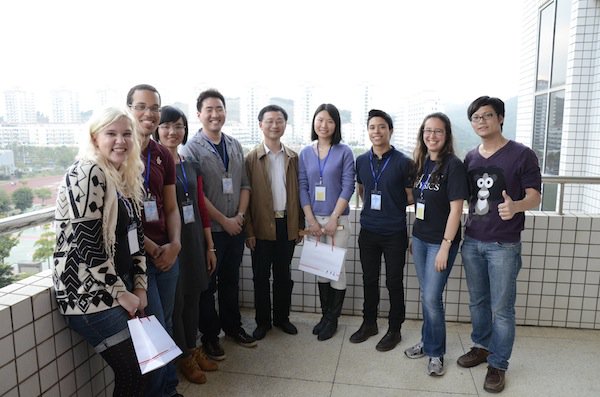 (The MIT SLP IAP 2013 team, + the principal and a teacher from the school in Xiamen)