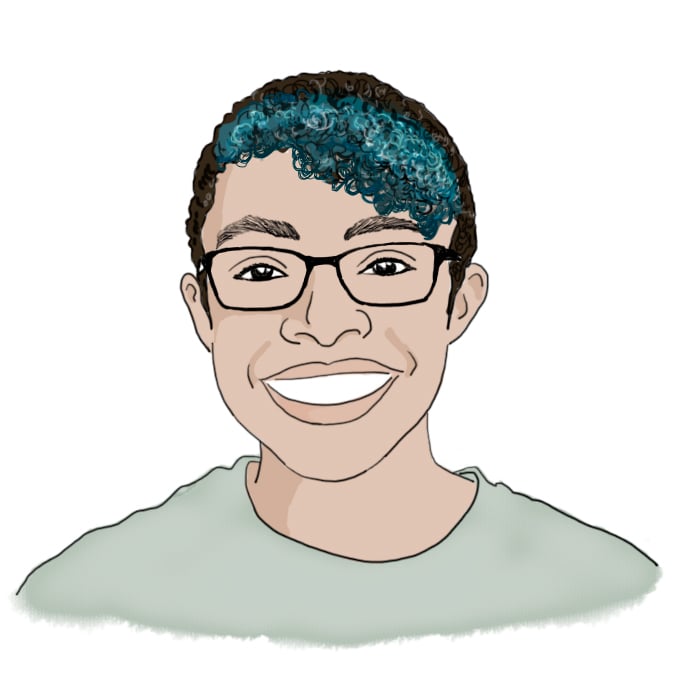 turns out nature's history is pretty cool
MIT's Independent Activities Period is cool because campus has lots of different unusual classes and events that you can sign up for — but it's also cool because there's so much more time to do the kinds of things that you don't need to sign up for. I went into this IAP with no plans except to have as much fun as possible. Having an empty calendar meant I had so much more freedom to be spontaneous than during the semester, where all too often, fun longer than half an hour has to be either scheduled around psets or paid for in punted psets.
One such spontaneous event was my weekend trip with some EC friends to the Harvard Museum of Natural History. When my friend asked me if I wanted to go along, I said "sure, why not?" In fact, I was labouring under the very mistaken impression that I had already seen the museum and it wasn't that great. It was true that I had already seen it; for some reason it was the museum of choice for several trips I took to Boston in high school, and we never got to go anywhere else. But, it was very much not true that it "wasn't that great". I said sure to my friend because doing stuff with your friends is pretty much always fun, but I distinctly recall saying, "I'll come, but I don't really want to see the glass flowers [more on these later], I've already seen them like four times." Ha ha ha how I was wrong! It turns out that even a museum you've seen "like four times" can blow your mind.
We started with the glass flowers, because everyone else hadn't visited the museum before and was super excited about them (like I should have been!) If you haven't heard of the glass flowers (which is what everyone calls them), their official name is the "Ware Collection of Blaschka Glass Models of Plants". They're a large group of extremely detailed and accurate flowers and plant parts made out of glass, created over the course of 50 years by a father and son, Leopold and Rudolf Blaschka, working together. The majority of them genuinely look exactly as though they are real plants, frozen in time.
The last time I saw the glass flowers, I think I was a semi-sullen teenager, who was maybe not exactly thrilled to be on a trip to Boston. I had about thirty seconds of, wow, you can't even tell those are glass! And then I was like, well, you can't even tell they're glass. So, it was basically a whole gallery of… plant models. I wasn't that into plants, so it felt pretty meh.
But three things improved the glass flowers a lot for me this time around:
The docent: on my previous visit, there hadn't been anyone in the exhibit to guide us. This time, there was a super helpful docent who gave us information that wasn't available from the exhibit itself. In particular, we learned a lot more about the lives of the Blaschkas: how they got an initial 10-year contract to make the flowers and then kept renewing it for 10 more years, and how Leopold was originally a general "lampworker" (which means people who work glass by using a lamp to melt it) who made glass eyes, lab equipment, and sea creatures.
An additional display: since my last visit, the museum had added a display that showed how the glass flowers were constructed. The display had flowers in varying stages of construction, so that you could see the glass before it was painted (when it actually looked like glass) and how all the pieces of the flowers were connected to each other with wires. One of my favorite parts of going to any art museum is thinking about how the art was made; on my previous visit, I hadn't realized that not having that information was one of the reasons the exhibit felt unfulfilling to me.
My companions: the people I was with thought the glass flowers were super cool, and their perspective was very infectious! After talking to the docent, we had a lot of interesting discussion about what it must have been like to be the Blaschkas: to just keep renewing ten-year contracts, working intensely on the same thing for fifty years, and never returning to the varied work you'd done before. As a group of juniors and seniors thinking about jobs, we spent a while contemplating the idea of what it means to have a "life's work". These conversations and my friends' perspectives, which I couldn't have had if I had visited alone, really brought life to the exhibit.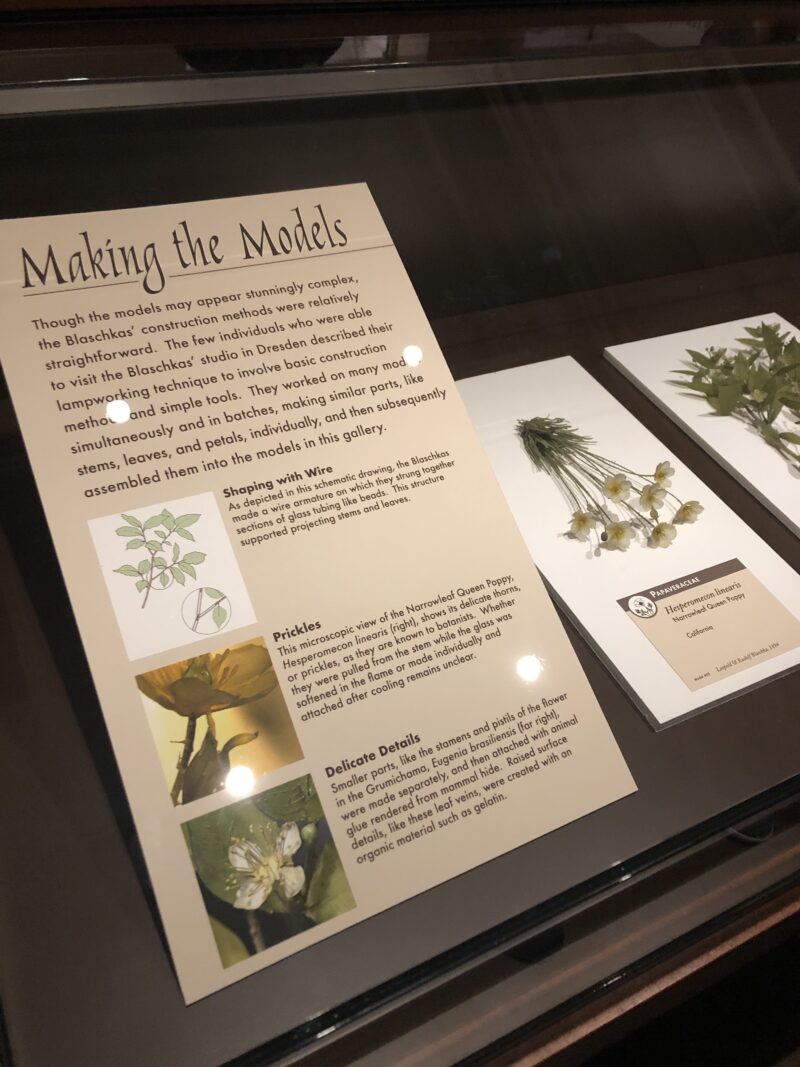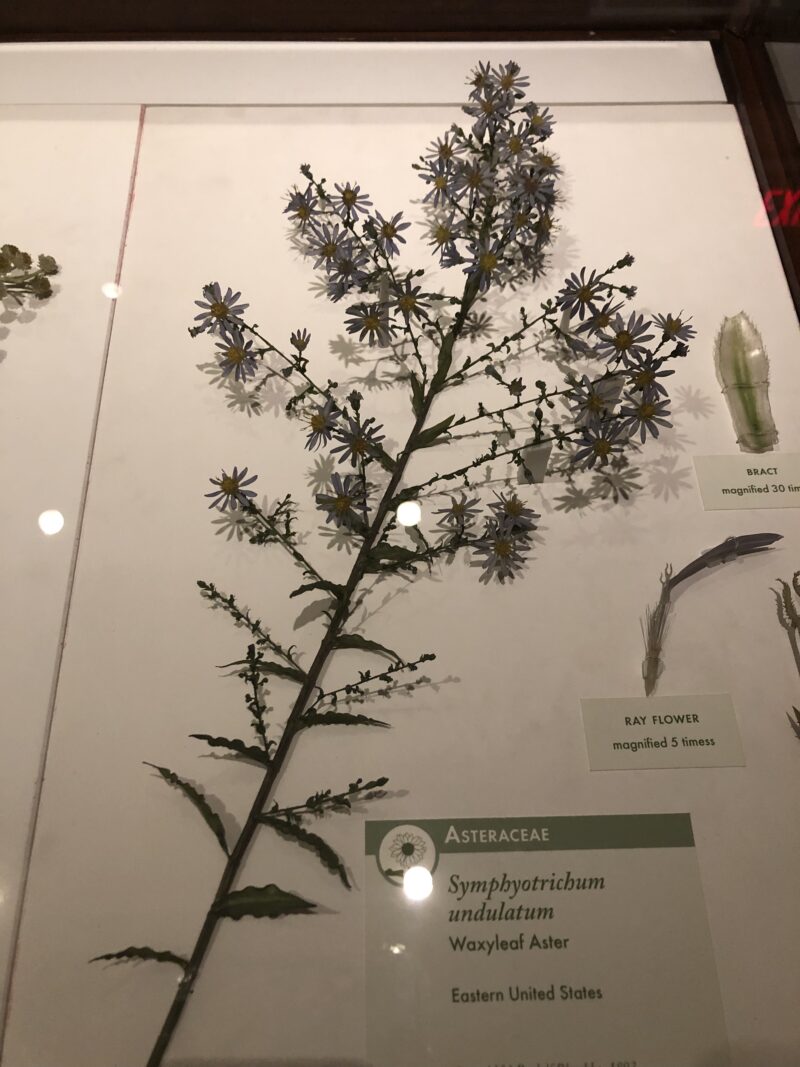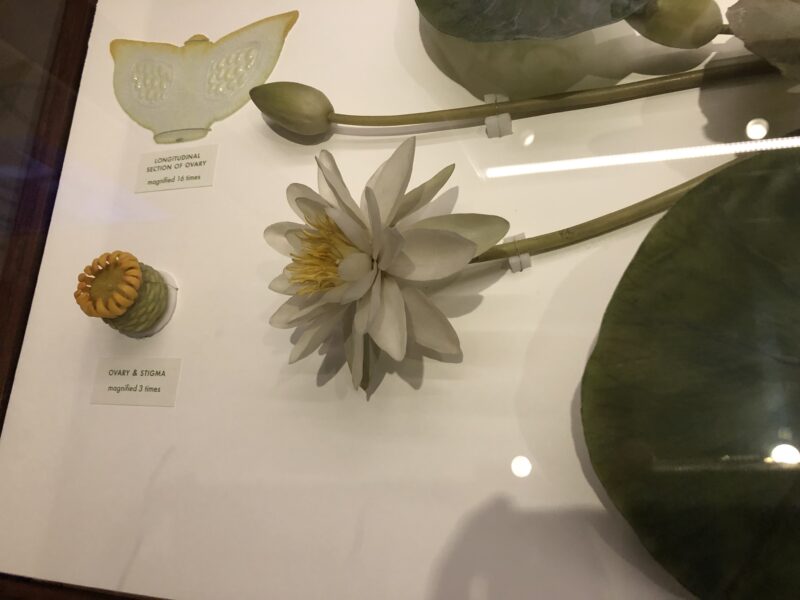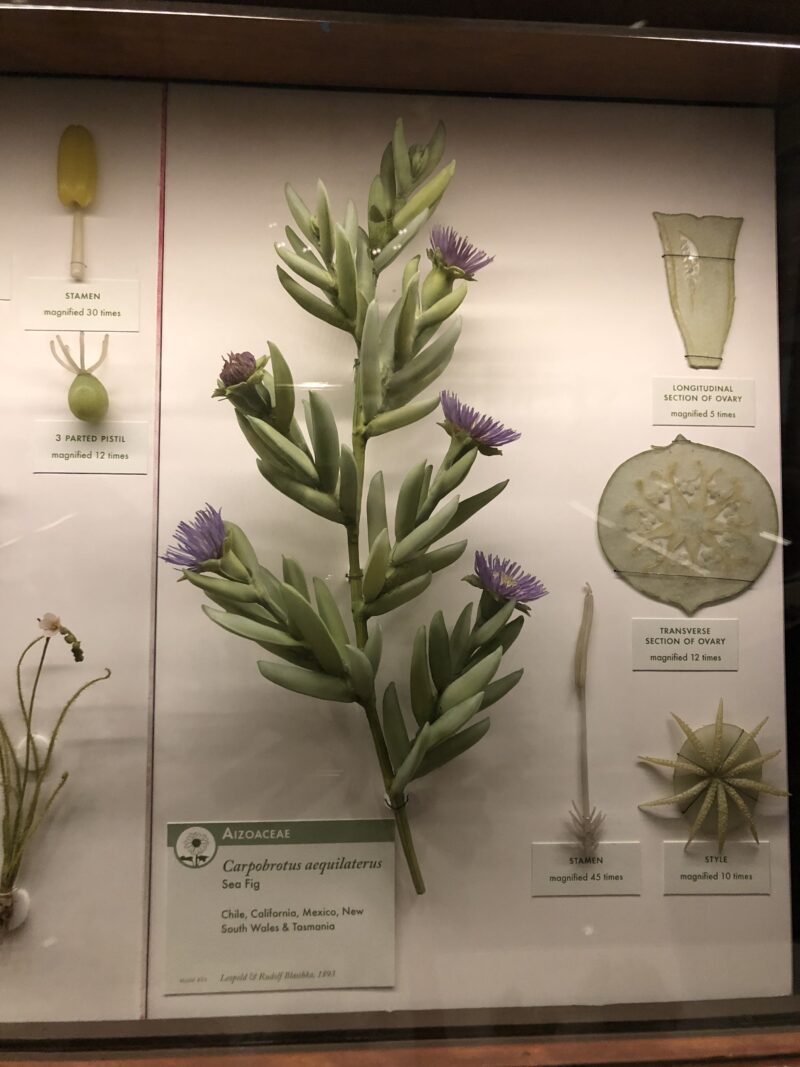 More flower photos also courtesy of Lisa.
After the flowers, we wandered through a hallway without really knowing where we were going. We ended up in the geology exhibit, aka the world's coolest rock collection. We had some questions about the rocks that we couldn't really find answers to, so a docent would've been nice; and in contrast to the glass flowers' new display, the geology exhibit was smaller than usual because it was being renovated. But the people I was with made it feel truly mind-blowing. We moved around together marveling at how it was possible for nature to produce so many rocks that look so different. There were crystals made of cylinders and ones made of spheres; rocks that were a pure bright blue and ones that somehow held every color; lots of perfectly smooth rocks, but also, some that were spiky or even furry (?!?). We spent a while matching the rocks to objects in our lives: one looked like lipstick, one like the beach, one like grass growing in the forest. Then we spent a while longer marveling at the human urge to say that things look like other things. (There was a lot of marveling to be done.)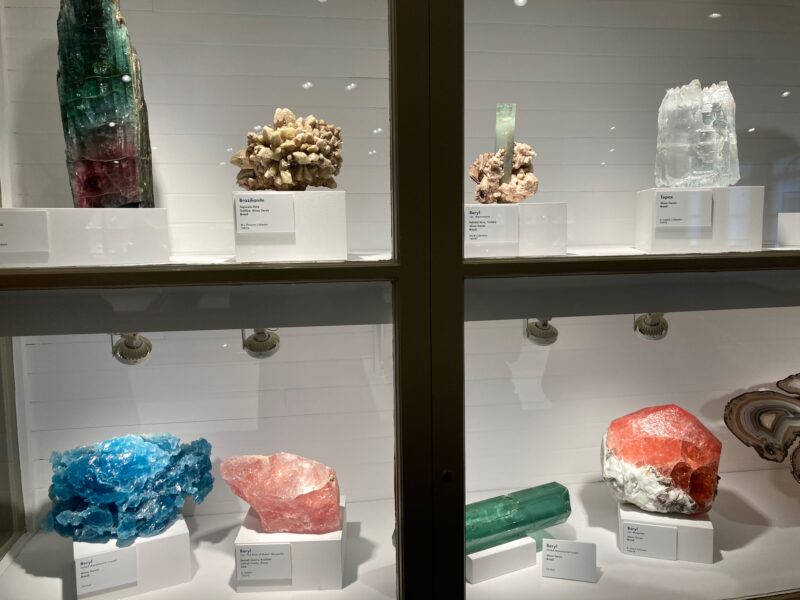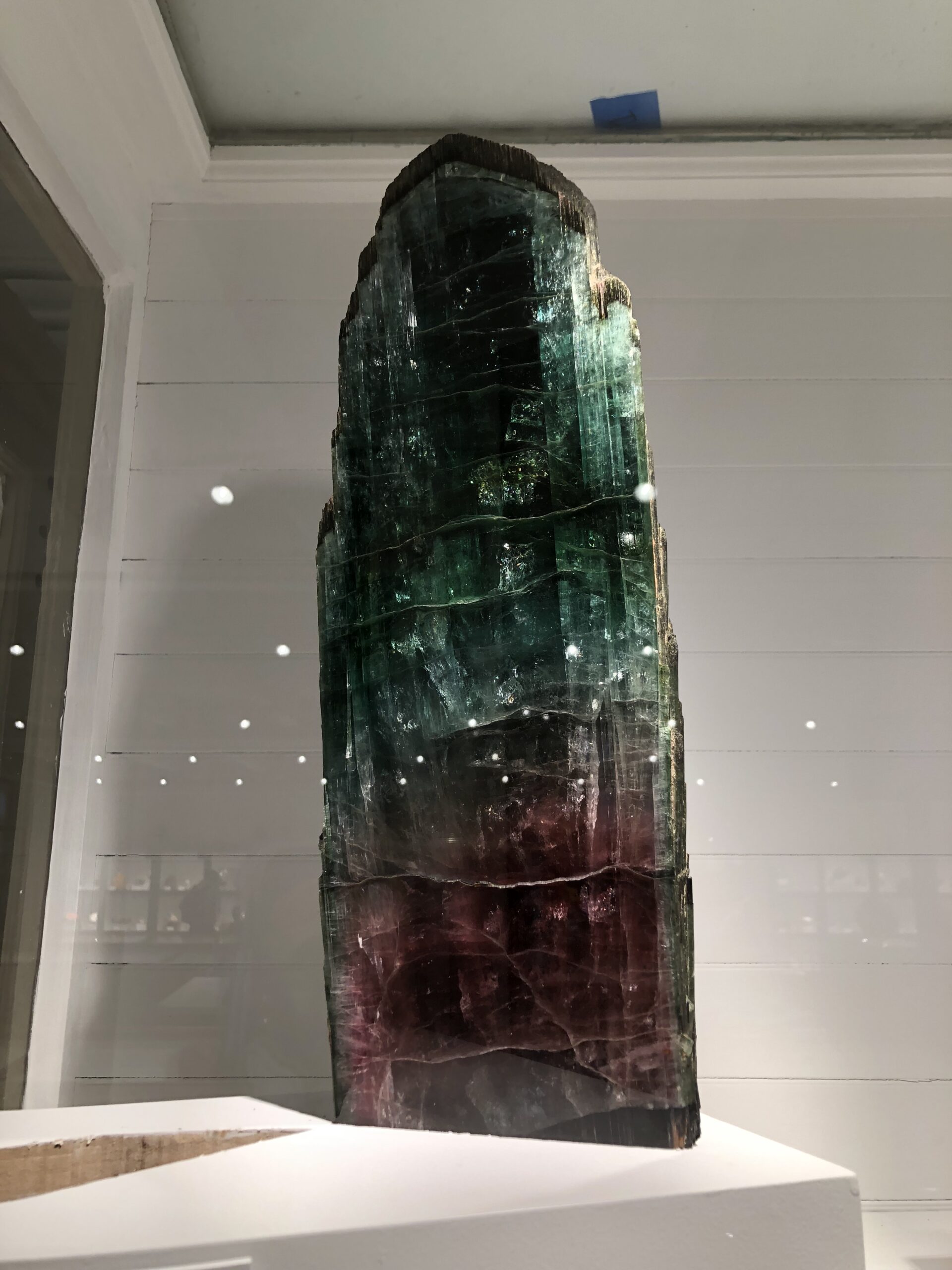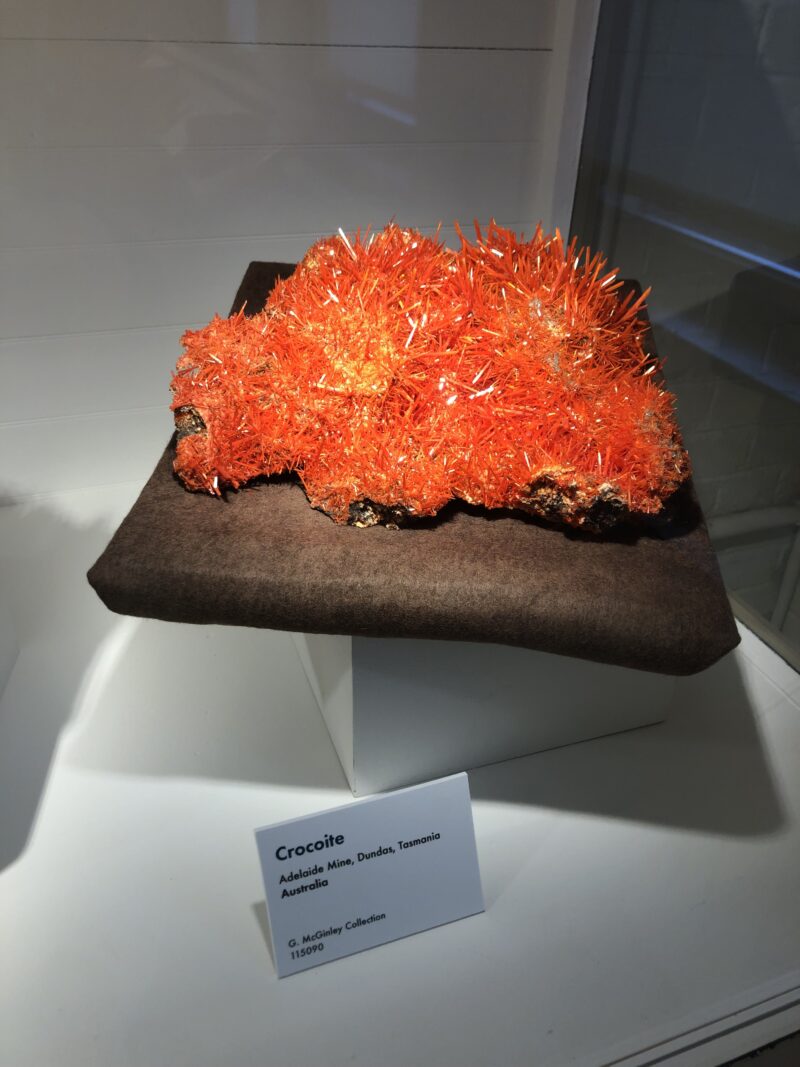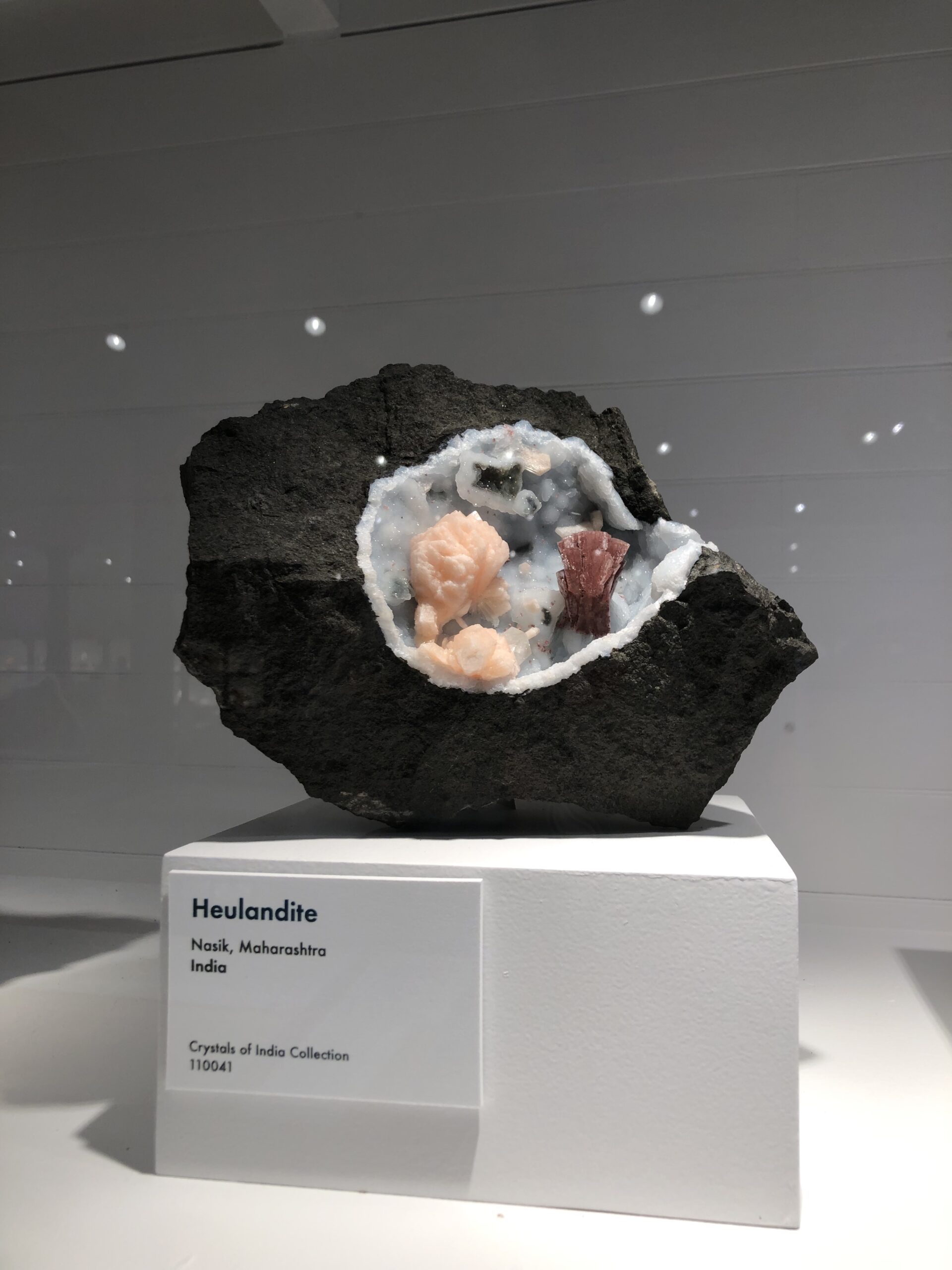 I would have to have taken a photo of every single display case if I wanted to truly showcase the stunning variation in rock color and shape — this is only a tiny portion.
By the time we were done in the geology exhibit, we were pretty tired, so we moved through the rest of the museum kind of quickly. There are lots of very cool animal exhibits as well, including skeletons, stuffed animal bodies (which were kinda creepy tbh), and habitat replicas. But just ("just") rocks and flowers were more than enough to blow my mind for one day.
It was a pretty humbling experience to revisit something I'd seen as a teenager and written off, and realize that it held so much more than I had thought. And I was really surprised by how much the people I was with shaped the experience for me: I felt like my friends' perspectives added an entirely new layer to everything I looked at, giving things depth they hadn't had before. When I walked out of the museum, my head was full of thoughts about humans, and nature; about how beautiful things can be both found and made; about rocks that look like someone must have invented them, and human creations that look like they grew straight from the ground. The world can hold so many things in it. Sometimes it's good to take a few hours to see just a tiny slice of them, and remember that more is possible than you could ever imagine.