On the second last day of classes my freshman spring, I wrote a blog post about everything I did that day. I recently remembered this and thought it would be pretty cool to do it again — and by coincidence, the day when I was the free-est to blog was also the second last day of classes! That day, dear readers, was today. So here's a post all about everything I did today.
I think it's pretty cool to see what's changed and what hasn't since that blog post almost exactly three years ago. The trees are all flowering just like they were, and the weather is sunny but chillier than May feels like it should be. I walked a little further this day than that one, but not by much. I was pretty hosed then and I'm pretty hosed now. My classes are all different, of course, and so much else is too. But ultimately, it kinda just feels like another day in the life.
Location: East Campus
9.50 am: My partner's alarm goes off. I feel like I could sleep for a much longer time. I roll over to cuddle with them and go back to sleep instantly.
10.00 – 10.10 am: The snooze goes off. I feel, surprisingly, much more awake than I did 10 minutes ago. I checked my email and "social media" (by which I mean uh… Slack? Tumblr? let's not talk about what that word means to me) and we chat a little bit.
10.10 am: I get out of bed to get ready (bathroom, brushing teeth, etc.). Making it out of bed in 20 minutes is unfortunately pretty good for me these days.
10.25 am: I gather up my stuff and walk back to my room to get dressed. My a cappella group, the Asymptones, had our end-of-semester concert yesterday evening, and there is a lively discussion in the chat about what else we still need to do before everyone leaves: pick our songs for next semester, hold elections, have a party, you know, all that crucial stuff. I text as I walk and try not to drop anything.
10.28 am: I check the weather and put on some clothes. It's kind of mediocre outside right now; it's supposed to start getting actually warm in a few days, which I hope comes true. I really need to do laundry, which means that all my usual shirts are gone: I have the option of choosing between my favorite shirts that I love too much to wear, or the ones I don't actually like. Usually I would go with the latter, but since there's only a few days left in the semester and I want to make them special, I put on my very favorite shirt instead.
10.35 – 10.54 am: I'm dressed with some time to spare. This is an unusual occurrence, caused by my surprising wakefulness when the snooze went off. I sit down to start this blog post (and multitask by texting the other Asymptones, who are still popping off in the chat).
10.54 am: I throw on a light jacket and head to class. This year my earliest class is at 11 every day, which means I usually skip breakfast: when lunch is just an hour away, there doesn't really feel like a point to eating again. It's actually much nicer outside than I expected! Although it is a little chilly, it's sunny and it seems like everything has finally started to look green and spring-y.
Location: Building 4
11.02 am: I am actually early⁠01 We run on MIT time, which means that classes start five minutes after the hour and end five minutes before. That gives you ten minutes to get from one class to the next. to class, for the first time in possibly over two months. It is unfortunately not helpful because for the first time in possibly ever, the class beforehand is running over. I hang out outside the room and attempt to find the latest version of the Asymptones constitution using only my phone. (It appears to be a mostly-but-not-completely-finished draft, written by me, living in an email from May 2019. Oof.)
11.04 am: We've collected a small pile of students. We walk into the back of the room, but none of us have the courage to actually ask the previous class to leave. I notice an acquaintance in the room and we say hi. The professor realizes we are awkwardly lurking and gets the previous class to leave.
11.06 am – 12.26 pm: Our professor starts talking. It's the last class of the semester (somehow. the passage of time shocks me) so instead of lecturing on a pre-set topic, he's answering our questions. This class is 24.903, aka Semantics, aka how we know the meanings of sentences, and we talk about a whole bunch of interesting stuff. Some of the questions have easy answers, but a lot of the answers are "we don't know yet but we're working on it", which I think is pretty cool.
12.26 pm: Class ends. I thank my professor for a good semester and leave. I have a 1 pm lunch meeting, but it's also the day of Course 6's monthly food truck event: any student majoring in EECS can line up to get free food. Usually I stick around afterwards to eat my food and hang out with my friends (which is pretty much the purpose of the event: to "build community"). Today, my plan is to just grab the food and put it in the fridge to eat for dinner later.
Location: Hockfield Court
12.31 – 12.40 pm: I arrive at the food truck and the line is suuuper long. I'm a little nervous about making it to my 1 pm on time, but I get in line. Luckily, it moves faster than I expected and by 12.40 I'm walking away with a Bon Me box in hand.
Location: East Campus
12.42 pm: Living in EC is so freaking convenient. I quickly walk over from Hockfield Court and stick the food in my floor's communal fridge. I actually don't need to leave for my meeting yet (it's at Maseeh, about an 8-10 minute walk away), and my phone is at 2% from all of that a cappella texting, so I sit in my room and charge it for a few minutes.
12.52 pm: Caragay and I head out from EC. Our lunch meeting is for DormCon, aka the Dormitory Council. We're the outgoing president and vice president, and along with the incoming P & VP, we're meeting with one of the dorm Heads of House to discuss a new initiative that DSL is hoping to implement for students. She's also swiping us into Maseeh's dining hall, which means we get free lunch. The day has only gotten more beautiful, so we take the outside route and walk along the river on the way to Maseeh.
Location: Maseeh Hall
1.02 – 2.28 pm: The Head of House swipes us in and we grab food. I thought it would be a relatively quick meeting, but it turns out we all have a lot of thoughts about the new initiative! We have a really good discussion, but I have to duck out early to get to my 2.30 pm class on time.
Location: Building 24
2.37 – 4.08 pm: I pull up to class slightly late (which has unfortunately become the norm for me). It's 24.910, aka Morphology, aka how parts of words combine to make words. This semester, I'm taking two course 6 (electrical engineering & computer science) classes and two course 24 (linguistics) classes. I'm actually finished with my course 6 undergraduate major, so those two classes will count towards the master's program I'll be pursuing next year. The course 24 classes are to finish my linguistics minor for my undergraduate degree. It's a quirk of my schedule that my 24 classes are both Mon/Wed and my 6 classes are both Tues/Thurs.
As I sneak into the room (although to be honest it's hard to sneak into an eight-person class), the two postdocs who teach the class are just finishing saying that we're going to start by reviewing the midterm we took last week, and then they're going to give us time to work on our final projects. I'm extremely relieved, because a) my project is nowhere near done b) I have a lot of questions I want to ask them about how to do it.
Over the course of the 90-minute class, I make a lot of progress on the project. It's an analysis of a morphological problem in a language I don't know, and I'm happy to hear that the teachers think my analysis plan is worth pursuing. (Even if I feel a little bad that I'm asking them for feedback on my analysis plan when the full explanation of how I pursued it is due tomorrow at midnight. Oops.) At the end of class, we get our midterms back, and I did a lot better than I expected! I thank the teachers for a good semester and leave with a spring in my step.
Location: Building 4
4.08 pm: I'm on my way to hang out with a friend in the Rainbow Lounge, but first I want to stop by the glassblowing lab (in the basement of building 4) to pick up the piece that I made last week. To work with glass and shape it, it has to be extremely hot: between one and two thousand degrees Fahrenheit. Cooling a finished piece down to room temperature immediately would put a ton of stress on its internal structure, and cause it to break or even explode. So instead, finished pieces are brought down to room temp slowly over the course of 24 hours in an annealer, and glass lab students can drop by anytime the next day or later to get their work. This was my last piece for this semester, and I'm super pleased with how it turned out.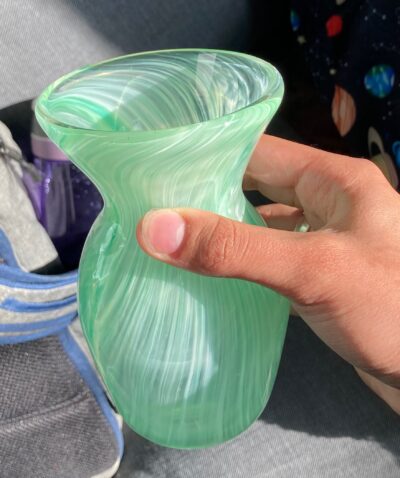 Location: Building 50
4.19 – 5.05 pm: I arrive at the Rainbow Lounge in Building 50. It's a beautiful space on the second floor, and the sun is low enough in the sky that the room is filled with light. We have a nice time chatting, but both have to head out at 5 because we are hosed, me with final projects and my friend with studying for finals.
Location: East Campus
5.05 – 5.40 pm: That hangout was my last official commitment for the day, so now I am free! I leave Building 50 fully intending to go to my room and work on my final projects, but I spot a group of my friends hanging out in the EC courtyard. It's a delightful mix of people who I saw just yesterday and who I haven't seen in a couple weeks, so I walk over to say hello. And, oops, of course I end up saying a lot of other things too. We hang around and talk for a while, and although we're all supposed to be doing work, this is just so much nicer.
5.40 pm: Everyone I'm talking to lives in the East Parallel, so I follow them up the stairs, where I end up on Slugfest with Caragay. We eat a snack! Then Caragay has a meeting that doesn't involve me (unbelieveable! so rude /s) so I leave to go back to my room and get some stuff done.
5.50 – 6.39 pm: I settle down on my couch and update this blog. I definitely intended to do some other things as well, but they do not happen. It turns out documenting everything you do, as you do it, takes quite a bit of time. Who could've guessed?
6.39 – 7.08 pm: Caragay comes back and we eat dinner together on Slugfest, before splitting up again to go get our respective forms of exercise (Taekwondo and weightlifting). I actually decide that I want to get a bit of work done first, so I don't have to worry about it the whole time I'm lifting.
7.08 – 7.57 pm: I get back to this blog, bring it up to date, and start uploading and arranging all my photos.
7.57 – 8.37 pm: I'm finally up to date on the blog, so I switch to working on one of my final projects. This is for one of my course 6 classes, for which Caragay and I are partnering on a group project. We're all done with the project itself, but we have to turn in a very extensive writeup all about everything we did. The paper is currently at 8 pages and we have a good bit left to write.
8.37 pm: My computer is about to die and I'm tired of writing. That means it's time for exercise! I haven't exercised in more than a month due to getting several illnesses in a row. I'm really excited to get back to it, but definitely a little nervous, too, because it's been so long. On my way to my room, I remember that I also need to do laundry — and the laundry room is right next to the gym in the EC basement, how convenient!
8.37 – 9:00 pm: I get my laundry ready and toss it in.
9:00 – 9:34 pm: Workout time! I feel so happy to be back on the grind. I keep it lighter than usual since I want to ease myself back into it, and not feel like a flat pancake when I wake up tomorrow.
9.34 – 9.36 pm: Campus laundry machines take 36 minutes to run a load, and my workout was 34 minutes. This serendipity delights me for the entirety of the two minutes I spend waiting for the laundry machine to finish.
9.36 – 9.52 pm: I hang up the parts of my laundry that need to hang dry and jump into the shower.
9.52 – 10.58 pm: I head back to Slugfest and Caragay and I almost finish our project writeup. It's due tomorrow⁠02 Notice a theme? Tomorrow is the last day anything can be due, which means tomorrow is the day <em>everything</em> is due. at 10 pm and I have my whole afternoon free on Tuesdays, so I make a plan to finish the last little bit and proofread it tomorrow.
10.58 – 11.20 pm: Slugfest has cocoa every school night at 11 pm. Since this is the second last day of school, it's the last school night and therefore the last cocoa! Caragay and I reach a nice stopping point right before cocoa and agree that it seems like the perfect study break. We go to the lounge and chat with people for a while.
11.20 – 11.27 pm: I zip over to the laundry room real quick to grab my finished laundry.
11.27 pm – 12.31 am: I head back to Caragay's room and finish this blog post.
12.31 am: It's bedtime! It always takes me a while to get ready for bed and fall asleep, but I don't have class until 11 so I have plenty of time to get some good rest. I have one final project almost done and one about half done. Both are due tomorrow, and maybe this should worry me more than it does… but if I've learned one thing in my eight semesters at MIT, it's that things always work out in the end. I go to sleep with a happy heart.
We run on MIT time, which means that classes start five minutes after the hour and end five minutes before. That gives you ten minutes to get from one class to the next.⁠

back to text

↑
Notice a theme? Tomorrow is the last day anything can be due, which means tomorrow is the day everything is due.⁠

back to text

↑