I'm writing this blog sitting on an Amtrak train speeding from Boston back home to New York. I took my last final exam, for 18.600,⁠01 probability and random variables just this morning, after spending the night frantically studying in a Green building lounge, fueled by energy drinks and naps on a very cozy couch. The exam still went rather poorly, which by that point wasn't really a surprise. I could go into details as to why or how and what lessons I'm taking away from that, but I don't want to write yet another blog about my academics.⁠02 though I undoubtedly will write one soon... this semester was a wild ride in all respects Instead, I want to write a blog about… everything else?
Let's start with this: I have been told that I have "main character syndrome." I agree. I think my sense of self is a little too acute; I blame it on being an only child and growing up in NYC. This is all to say that at some point in last night's studying, around 3 AM, I went outside to take a break and get some fresh air. It was, however, raining, so I found myself standing under the widest part of the Great Sail monument, listening to "Things Fall Apart" by ayokay on repeat to the backdrop of the rain. It was abnormally warm – maybe as high as 15ºC⁠03 70ºF – and there was not another soul around; and in that moment I thought to myself that if my life were a movie that moment would be the profound, climactic scene, where the music swells and something twists in the viewer's chest. The main character is at their lowest point, the rain is falling, things can't really get worse from there. It's comforting, in a way – when things can't get worse, it means they can only get better. I would take my final, one way or the other, and that would be the end of it; and the end of sophomore fall.
Standing under the monument, framing myself in a movie, I realized just how crazy it all is. That I go to MIT, that I can wander to the Charles river at the three in the morning to look out at the foggy Boston skyline after the rain dies down, that I was just taking a nap on a couch in a random lounge and my friend had brought me a blanket from my room and some tea for the rest of the night. How unlikely, how special, how wonderful, even in its lowest moment. So, in the same spirit, let me romanticize my life some more, reflect on my semester, channel the energy of a movie character taking a train to NYC.⁠04 there's something ironic about writing a blog about main character syndrome, for the whole world to see, while on a train to New York
There was a weekend around the middle of the semester, just after the second round of midterms, that my friends and I decided we absolutely needed to get out, away from campus, away from Boston, even. Two thirds of the way through a semester is a cursed time. Things are getting really hard, the work is piling up, and yet the end isn't quite in sight. That weekend, some other plans had fallen through, so we spontaneously decided to just… go to Cape Cod. Why not? It was off-season, so a hotel room in a random port town was cheap, the drive isn't too long, and we all needed a break.
Amber drove us down in a big black car, which made her happy; while the very act of driving anywhere with my friends made me happy, unaccustomed city kid without a driver's license that I am⁠05 I call this feeling of wonder 'exotic suburbia', and my friends make fun of me for it, though I think it's a perfectly valid thing . This was November, so we got there after dark, but we wandered around the town nonetheless through the mist and intermittent rain. We sat around the hotel room and talked about our lives. We sat on a dock at night and watched the sparse lights ripple in the water. We sat on the beach, the next day, and basked in the weirdly warm weather, and collected sea shells, and walked along the shore. We ate good seafood, and we didn't do psets or study for tests.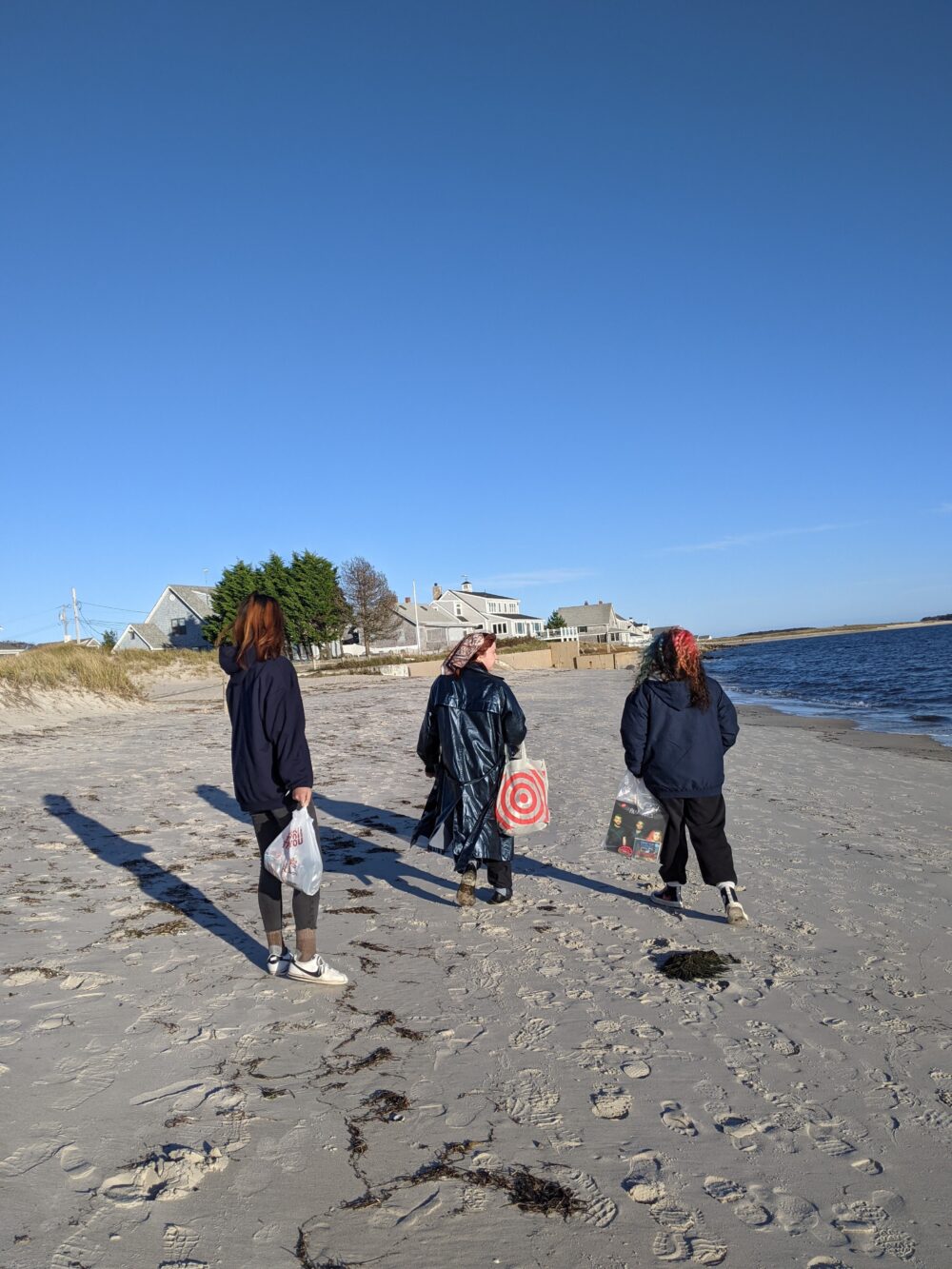 A different time, a couple weeks ago. Amber texted me in the last half hour of my French class,⁠06 21G.325, New Culture of Gender: Queer France asking if I was free. No, I said, I get out of class at 10 pm. Is everything okay? Not really. Okay, meet me by the Great Sail at 10, you'll tell me about it. And so we found ourselves wandering first through the tunnels under the infinite corridor (she wanted to go to a makerspace that ended up being closed for the night), then around Vassar street, then through building 46⁠07 the relatively new and shiny brain and cognitive sciences building (because I wanted to find a specific lounge with palm trees⁠08 I was unsuccessful, but will try again next semester I had seen on someone's Instagram story); all while I listened to her describe the circumstances in detail.
At some point, though, there's only so much you can say, and sometimes there really isn't a way to look at a situation that can make it better. I didn't have anything urgent that night, and I thought Amber needed a distraction from her problems and her psets, so around midnight, I suggested we walk to Bova's bakery in Boston's North End. Bova's is open 24/7, which makes it perfect for late-night escapades like this, and they have the most delicious Italian desserts. We walked through the empty streets of Boston in a comfortable silence, sometimes talking about other things, but mostly taking in the quiet of the city at night. Amber bought some sort of fruit-filled pastry, I bought myself some hot chocolate and a tiramisu cake for breakfast the next day, and some cannolis for my friend whose birthday it had just become as the clock passed midnight. For an hour or two that night, life felt still and tasted sweet.
Last Friday, the first day off after the last day of classes, I let myself sleep in. I spent the morning drifting in and out of sleep, watching the light change through my window with each time I would touch wakefulness. After finally getting up at around 2 pm and walking to get a peppermint mocha from Starbucks, I started tidying a little bit – only to realize that so many of my friends' things had accumulated in my room.
A.'s water bottle standing on my dresser, waiting to be picked up. It had been there for over a week, even though she had visited my room several times since originally leaving it. P.'s winter coat, which she left in my room before heading down to the party the previous night. She'd said she'd come get it at some point in the day, but had yet to show up. Amber's earrings on my bed stand,⁠09 which is just an empty box with books piled on top of it left behind from where she fell asleep on my bed while I had passed out from exhaustion on my rug. At some point in the night, she had woken up and went down to her own room, and I had reclaimed the comfort of my bed. Amber's shoes under my desk, which she neglected to put on for her drowsy walk from the fifth floor to the second. S.'s black thigh high boots in a Target bag in front of my dresser, from when my other friend borrowed them from her for her Ariana Grande Halloween costume. I had only just brought the boots back from New Vassar, and S. said she'd come get them in the next few days.
That Friday morning, I counted all of these foreign items in my room and laughed. Eventually, these things would get picked up or returned. A.'s big⁠10 as in, her big in our sorority would take her water bottle when passing by my room, P. would pick up her coat while telling me about her night, I would drop off Amber's stuff when I go to meet her for dinner. But in the moment, it all felt so warm – to see these things, these little pieces of the people I surround myself with, and to remember the nights on which they were left behind.
It's a recurring theme, a running joke among my friends, that there's always someone's something in my room, left by accident. I live on the fifth floor in EC, where there's no elevator, so people are often lazy to come and get their things. But they keep coming back anyway, for other reasons – to drink tea, to sit on my rug, to get ready for a party, to relax after a long night. For some reason it's this, more than any of the other stories, that feels like it defines my semester. After so many evenings spent with friends in my room, there are always new things being left on my floor, on my dresser, hung up on my bedpost. I'll complain about it, but I'll smile when I do. I'll give it back them, and they'll leave something else.