I — all of Class of 2019 — had been looking forward to this day all semester. I even downloaded a countdown tracker on my phone, reminding me every time I turned on my phone the number of days until Delivery. It's motivated me to get through some hard weeks — "It's almost time," they said.
Day-of, I still had a pset due at 10pm. Delivery started at 7pm. I finally committed the last of my code at 7:15p, and hastily dressed up and headed over to the State Room. Luckily, groups of people were still flooding in, packing a thousand or so 2019s into two floors overlooking Downtown Boston. It was indeed a gorgeous view.
After picking up my rings — I ended up going with a gold and an Ultrium companion, not an easy choice considering all the options! — and snacking on some food, I went off to take pictures, lots of pictures. An entire night worth of pictures.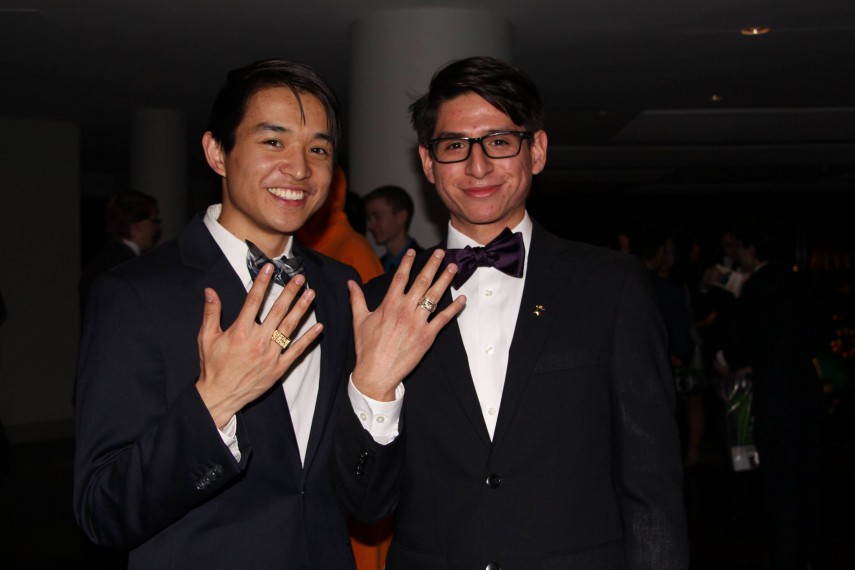 Luis G. '19 and I met during our summer preorientation program. Been best of friends ever since. Photo creds: Burhan A. '19.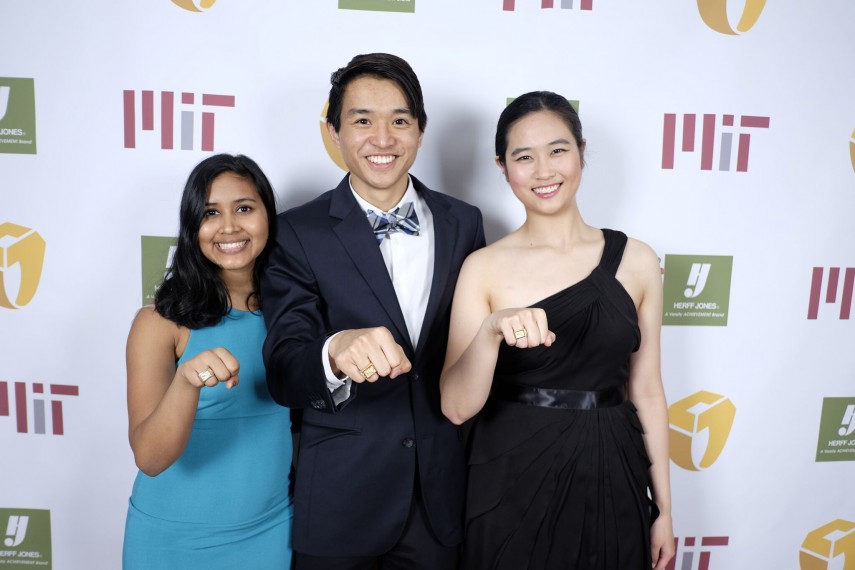 Skating friends, Ananya N. '19 and Diane Z. '19 — we're all from the Bay Area but didn't meet until we got here! Our group chat is also more affectionately called, "We eat a lot." Many weekends spent brunching in and exploring Boston. PC: Alden J. '20.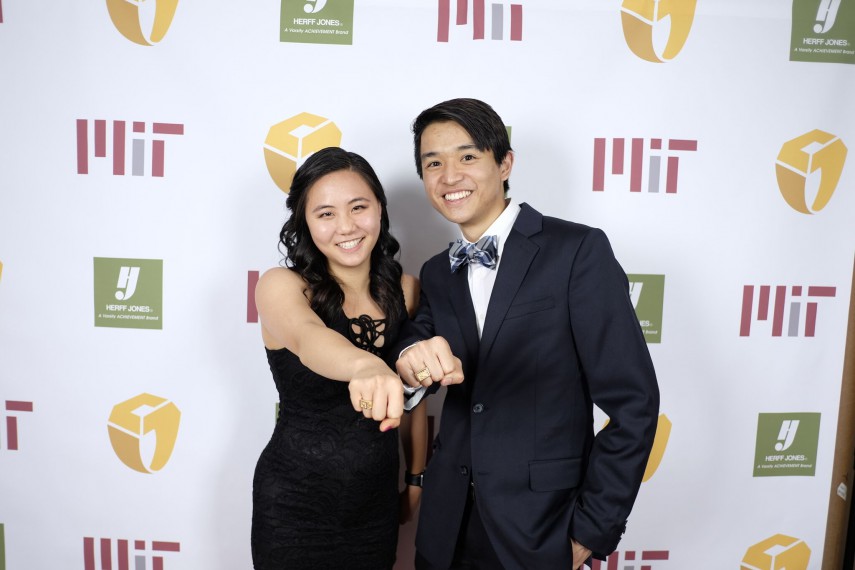 Jenny X '19 and I met during orientation week, and were TechX xFair Logistics, then SpecialX Committee, buddies! Our friendship relies on tagging each other in as many memes as possible. PC: Alden J. 20.
Photobooth pics with the freshmen-year Burton Conner crew. PC: automatic camera.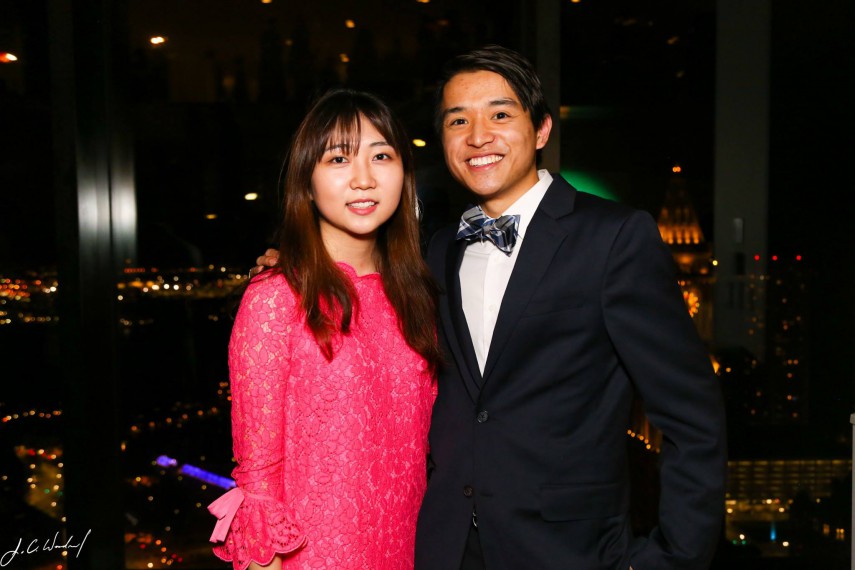 Julia L. '19 and I sat at the same 8.02 table — and have continued to take classes together ever since! Both 6-3's and possibly Design minors, too. Many late night snacking and psetting sessions in the libaries and the Student Center. Oh, and office hours too. PC: JC Woodard.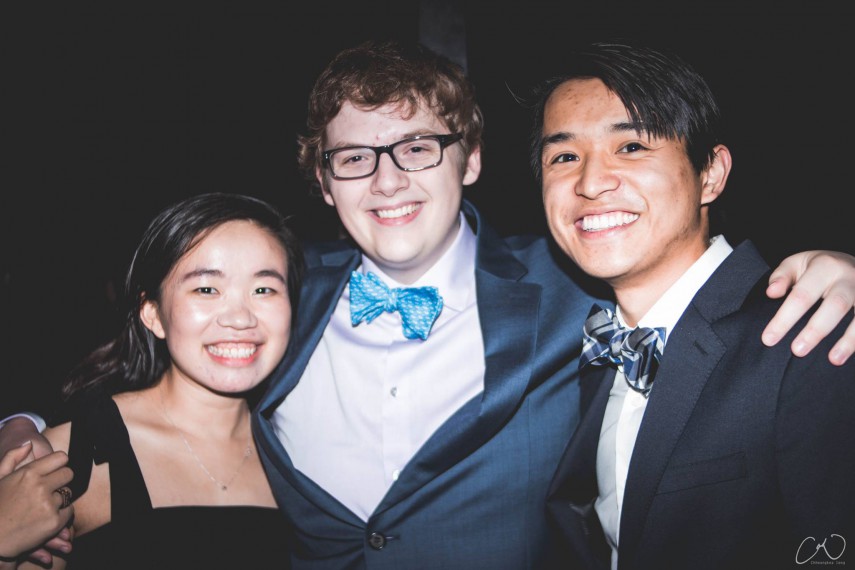 8.02 TEAL group, also known as "team rocket." We've kept our group chat going ever since. Nan T. '19, left, and I were Day Ones — she was one of the first people I met at MIT. We've been best of friends ever since. Bill P. '19, middle, was in my Media Lab advising group and seminar with Professor Michael Bove. Throwback to Orientation! Still haven't gotten around to eating cheesecake together as promised after two semesters of planning. Something to look forward to in the next two years. PC: Chheangkea Ieng.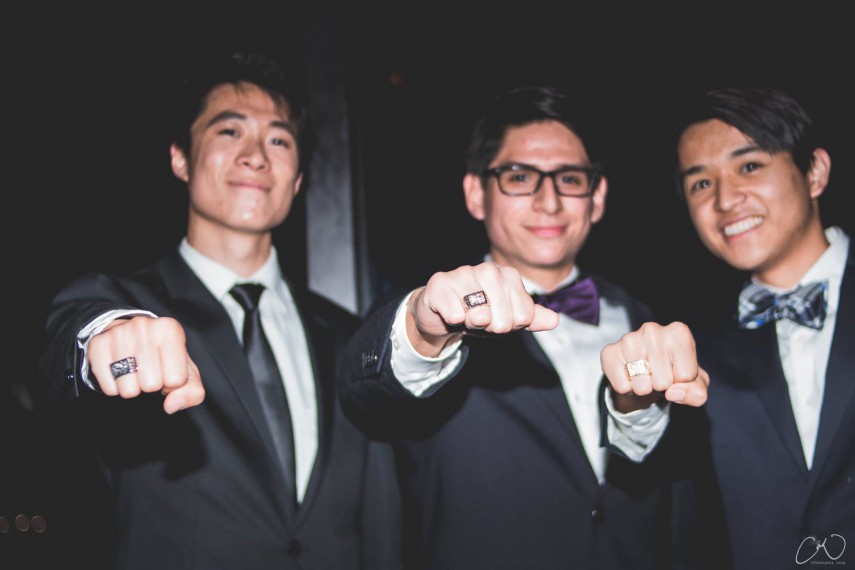 Best friends, David W. '19, Luis G. '19, and I, flashing and flexing our brass rats. PC: Chheangkea Ieng.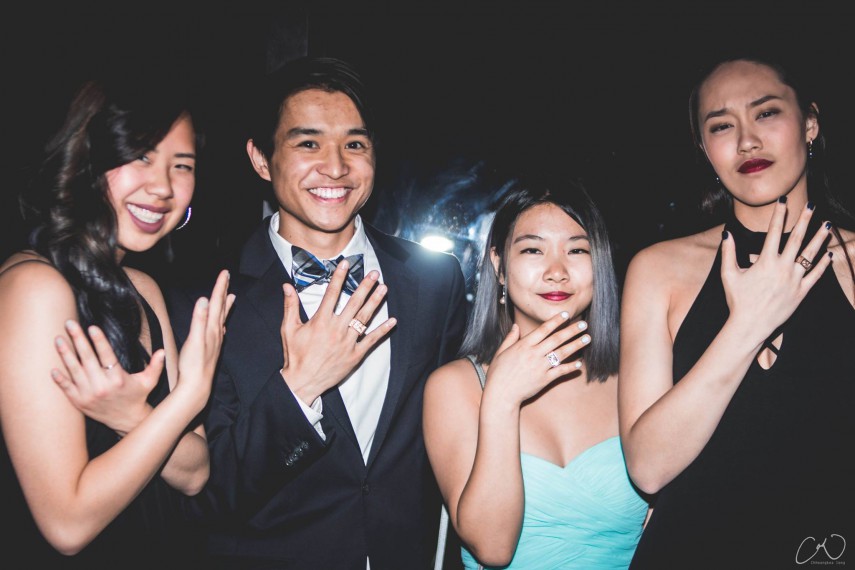 The Fierce Four? From left to right, Megan F' 19, me, Jessie W. '19, and Vivian Z. '19. Can't even remember how we all met, but we've been known to holler "aiyah" to one another ever since freshmen year. PC: Chheangkea Ieng.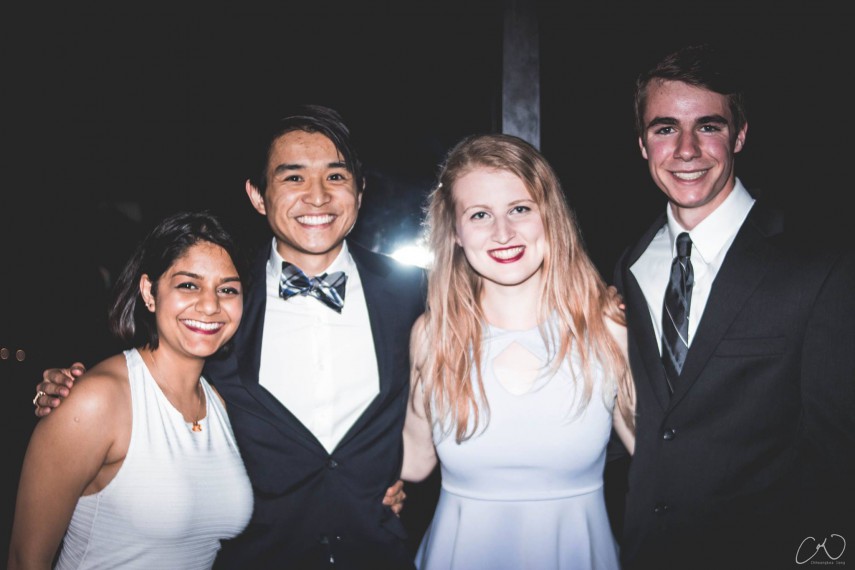 Conner 511 freshmen suitemates, reuinited. From left to right, Madiha S. '19, me, Lily J. '19, and Scott C. '19. Spent an incredible two semesters, including some of my most memorable moments at MIT, with them. PC: Chheangkea Ieng.
———
This semester has been by far the toughest, most challenging to date. Psets take twice as much time — often even more than that. I've left lectures bewildered, more confused than I've ever been, witnessing more esoteric diagrams, numbers, and concepts than I can keep track. Exams are harder than I have ever imagined. The workload stops for nothing. Not CPW, not Spring Break, not Marathon Monday, not even Ring Delivery.
Getting through to this point of the semester made this night all the more special.
———
Looking back at my last two years here, I've constantly reminded myself that I didn't come to MIT expecting easy. It was by choice. Though, there have been many nights this semester where I've questioned why I'm here. Why I gave up full-ride scholarships and Ivy leagues. Why I gave up the opportunity to go to school in the same department as my older brother close to home. Why I left everything I knew and migrated to the other side of the country. Why the weather here sometimes sucks when instead I could've be basking in sun taking naps on the quad in 75 degree weather year-round.
Then I always come to the same conclusion: because MIT. Committing here wasn't easy. But I knew that by choosing MIT, I was choosing discomfort — four years of constantly pushing myself, challenging myself, and making the most out of my time here. Building up myself, coming out more robust, more resilient, more confident, with the tools I need to take on anything.
Would I have felt the same way at a different institution? Maybe. Knowing myself, I probably would have pushed myself in the same way. But there's something so unique and invigorating, this energy and buzz, that the campus, the communities, the people that make MIT, MIT, projects. The incessant grind, it's electrifying. So, too, are the classes and professors, labs and research, projects and depth of opportunities.
Now, every time I see a brass rat, I think about all that, and how far I have — and every other Engineer before me has — come to get to this point — the celebratory halfway mark.
The brass rat means so much more than the hardware — or even the designs and the work of art that it is. "Frightening, humbling, and empowering," as Anelise N '19 puts it, and I wholeheartedly agree. Inspiring, too, I'll add.
Nearly two years of the Institvte, I can't see myself wanting to be anywhere else. It's been a journey. It's been one heck of a roller coster ride. It hasn't been easy by any means, but it's been an exhilarating, most rewarding ride. A worthwhile one. I'll be carrying all those emotions on my ring finger far beyond the next two years.
———
Yet, we are only halfway there. There's still much left to learn, more people to meet, more things to tackle.
I can't wait to see what two more years of the Institvte will offer. One thing's for certain: wherever I go, my brass rat will follow.