At the beginning of September, I moved into a new house! It's 10 minutes away from MIT by foot and dope as hell. There's an upstairs and downstairs with two sets of fridges, washing machines—sans WashLava,⁠01 the laundry app we used in dorms the bane of my existence—and living spaces. It's pretty litty.
My group started moving in on September 1st, which is the day classes started. Yeah, it was pretty unideal. We had some people come in the day after, so we rented a UHaul for the 3rd and spent the majority of the day lugging all our boxes from the storage locker we'd used to hold things from our previous apartment. It was a long, tedious process that I wasn't a part of since I had class from 10 am to 4 pm.
Since everyone in the house has classes and work, it took a few days to get the essential furniture set up. Boxes were so strewn across the common areas that we could barely move…
Thankfully, on Friday night, a few days after we'd moved in, some of us had a cleaning-up party. Picture four college students blasting 100 gecs and Cardi B while deep-cleaning an entire house and moving furniture up and down flights of stairs at 1 AM.
It took us a good while to get our common spaces more together, though. The living room was in disarray for two weeks, but we decided to move its furniture around once we realized that having a movie night was not possible with just a single wooden chair in front of the TV…It looks pretty good now, though, and we've had dozens of movie nights since. We do still need another couch, however. I guess we'll get it whenever one of us feels un-hosed enough to take the initiative and hop on Craigslist to look for one.
As for my own room, I have a single now! Inspired by my housemates' rooms, I decided to put some effort into decorating my room, aka I went full college girl and ordered a tapestry and fairy lights.
So…my room went from this…
To this!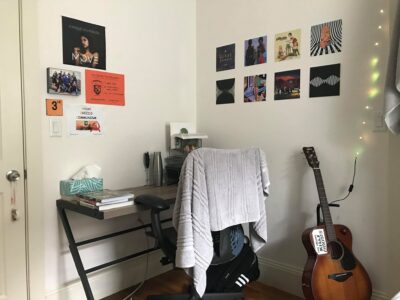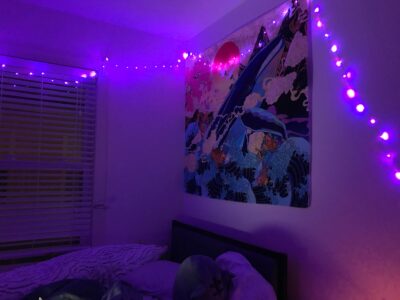 Featuring: album covers, some nostalgic pictures from my freshman year (like my dance team and living community), and a gorgeous ukiyo-e style tapestry that I adore.
I was so distracted with my classes that it took me almost a month to get my hands on a desk; thanks to my initial order being canceled, shipping took WEEKS. I managed to keep up with my classes despite working on my bed all day, which is quite an incredible feat for me. Having a desk is a game-changer, though—there's so much space to put things!!!
The joy of having a single is unprecedented. I can plaster pictures all over the walls, get a freaking body pillow if I so desire, start a growing collection of Digimon plushies at the foot of my bed, and cultivate a ~vibe~ that's uniquely my own. It's great!
The rest of the house is steadily accumulating more furniture and decor, so I'm excited to see what it'll look like in a few weeks. We're going to be here for 11 more months, so…there's a lot of potential for it.
I'm really happy about my living space right now, and I feel like all my needs are accommodated. Setting up the house took ages since we're all tired and hosed, but things are looking pretty great! I miss living in a dorm, but having a place like this is IT, y'all.
the laundry app we used in dorms⁠

back to text

↑