During my first pass through the Logan Airport security line, I was wearing my purple MIT Splash t-shirt.
TSA Agent: Why does your shirt say "Splash" on it? What is "Splash"?
Me: "
Splash
" is a teaching program.
TSA Agent: So you teach people how to swim?
TSA Agent: …Whatever you want?
Me: Yeah! So…I guess you could teach people to swim if you wanted to.
TSA Agent: Oh. Huh. and mitt!
Me: Hah hah. Yeah. Mitt.
TSA Agent: Let me guess. You're…engineering?
Me: Nope.
TSA Agent: Computer Science.
Me: Nope.
TSA Agent: Physics?
Me: Yep!
TSA Agent: Wow, physics. Great time to be a physicist, with all the stuff going on nowadays. Great time.
Me: Uh…yeaaaah!
TSA Agent: And you're a…junior?
Me: Well, I was. I guess I'm a senior now – I only have a year left, as difficult as that is to believe. It's kind of scary to think that I have no idea where I'll be after next year. I should try to enjoy this stage of life while I can – when I really don't know what's right around the corner.
TSA Agent: Ah, well. Life gets better, don't worry!
Me: …great!
TSA Agent: In some ways.
Me: Great! Well, here are my bags.
TSA Agent: Have a good flight.
Me: Thanks!
TSA Agent: And welcome to adulthood!
After I made it through security, I found myself right back where I started – at the check-in counters. Turns out that my gate has a SEPARATE security line at Logan airport (beware, those of you who are ever assigned to gates 40-42!!!) So, I had to go through security AGAIN. At this point, I was wearing
my MIT 2014 track jacket
instead.
TSA Agent 2: Do you have DNA in your ears?
Me: ….excuse me?
TSA Agent 2: DNA!
Me: I…yesss? I…I guess so?
(I guess I have DNA in all parts of me, right?)
TSA Agent 2: …
(I suddenly remember that I am wearing DNA strand earrings.)
Me: OH! Oh, YES! Yes!
TSA Agent 2: I'm guessing from your outfit that you really like chemistry.
Me: Haha, yeah!
Good start to the summer. I missed MIT already – a place where I receive e-mails like this:
"hey all,
i'm sorry for the noise coming from the kitchen bathroom – i'm playing sine waves in the shower. i sincerely apologize and if you need me to stop please just let me know and i would be happy to do so. at any rate i will be done in the next 15 minutes.
again, thank you so much for your patience, its for 2.671.
Hugs,
E"
Playing sine waves in the shower. Why the heck not?
Anyway, I missed that quirky place already, but at the same time was thrilled to have a change of scenery (finals period doesn't allow for a whole lot of off-campus adventuring.) I landed in DC, to stay with Monica (my best-friend-since-middle-school) and her family for the weekend.
That was yesterday. Today, we woke up late, spent a few hours cooking food for an elaborate picnic, then brought it all to the park and lay in the sun. Monica's friend brought along her baby son, who is ADORABLE, even when he was drooling all over my camera. It felt…like summer. Like a real vacation. Spring break doesn't count as vacation, because one always has a million assignments to work on. IAP usually doesn't feel like a vacation to me, because I'm still ridiculously busy. But today was relaxing, and it made me SO happy.
Me and Monica: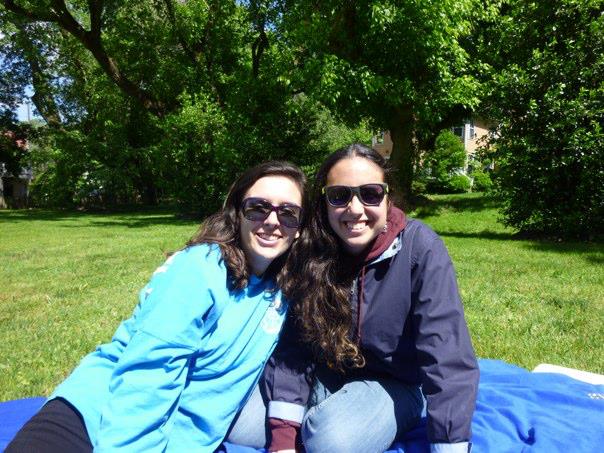 And me lounging in the grass: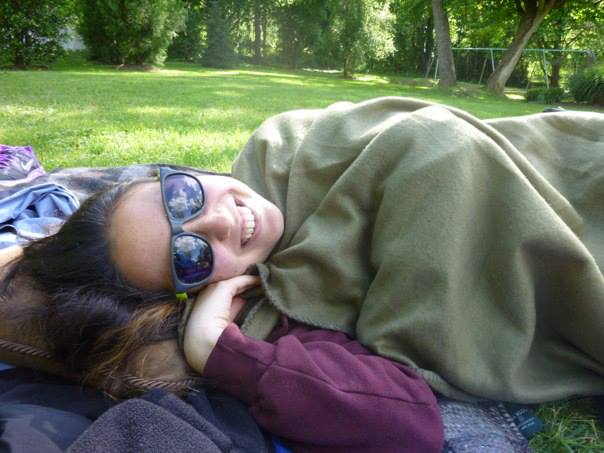 I need to do that way more often.
Plans for the rest of the summer:
Monday: Train to Charlottesville, VA.
Tuesday: Internship at the NRAO begins. I'm going back to work on pulsars again, with the same mentor, to finish my project. Finish my project! I am SO excited.
Second week of June: Week-long trip back home to London, to watch my little sister's graduation.
Rest of the summer, until August 17: More internshipping.
August 20: Beginning of PhysPOP, the Freshman Pre-Orientation Program run by students in the physics department. I'm going to be a counselor for the program this year!
August 23ish: Beginning of freshman orientation. I'm one of the French House admissions chairs, so will be very involved with the summer application process and welcoming our freshmen during orientation. Hey, prefrosh: you should come live in French House! :)
Anyway, that's a quick update. I'm currently sitting in a big lounge chair in Monica's room, listening to music and slowly falling asleep. Having the luxury to sleep whenever, no looming assignments – ahhhh.
I am totally worn out from the semester. More on that, and my summer plans, later. But right now, I feel very relaxed, and very happy. :)