Two weeks ago, after a long day of committee was complete, I headed over to the student center to a different committee, this time to judge current MIT students at the annual Trashion Show.
The MIT Trashion Show is a fashion show that celebrates creative fashion design while promoting waste reduction and sustainability. Student designers from MIT and other schools in the Boston area create pieces made of trash and recycled materials, which are then modeled on our runway. Trashion was founded in 2011, is an annual event run by the MIT UA Committee on Sustainability.
I blogged about judging Trashion last year, and, for some reason, the organizers invited me back to judge again this year, along with Professor John Fernandez of Architecture, Professor Martin Hackl of Linguistics, environmentalist & filmmaker Jennifer Galvin of the Thoreau Foundation, and Bina Venkataraman, who directs global policy initiatives for the Broad Institute and teaches in STS.
Trashion Show 2015 Promo Video
from
MIT UA
on
Vimeo
.
DSL posted a gallery of the event, including pre-event prep, performances by musical and comedy groups, and the judging ceremony. Cathy Z. from Technique sent me some photos as well. Here is an overview of the trashion pieces:
Designer: Virginia W. (Wellesley)
Model: Caitlin M. (Wellesley)
Title: Untitled
Description:
Everything used in the dress was found around Wellesley's campus: spam, old magazines, newspapers. One of the most fun and surprisingly useful materials I used were bread bag twist ties to add detail along the neckline. This is supposed to be a fun yet striking dress that is beautiful from a distance and up close. I hoped to achieve a look that seems like fabric from afar but up close really honored the "trash" I found.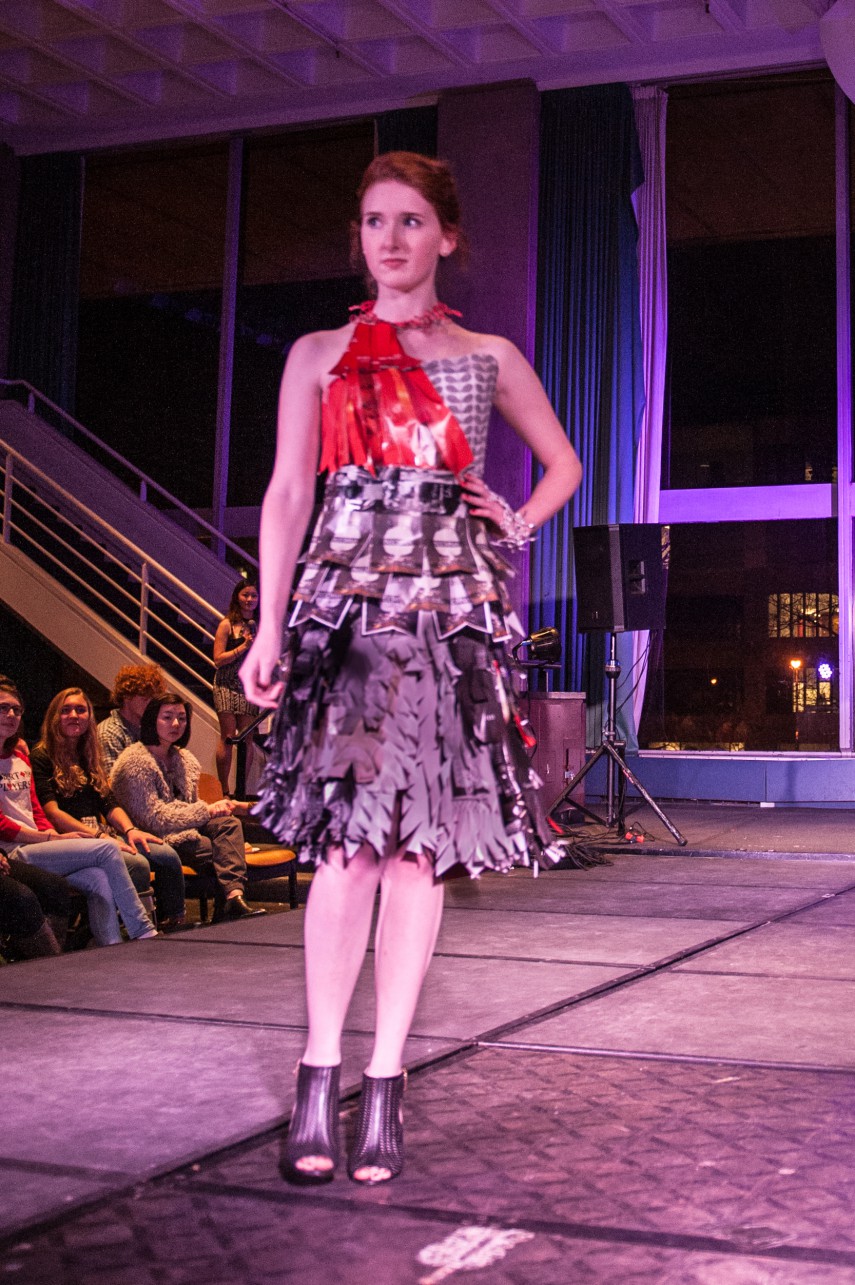 Designer: Kathleen Z.
Model: Zeynep E.
Title: Chromatree
Description:
Chromatree is a black and white midi-dress made from recycled tablecloths and trash bags. It is decorated with trees made from paper bags, folded candy wrappers, and bits of random plastic. The accompanying headpiece consists of colored plastic bottle flowers connected with recycled wire.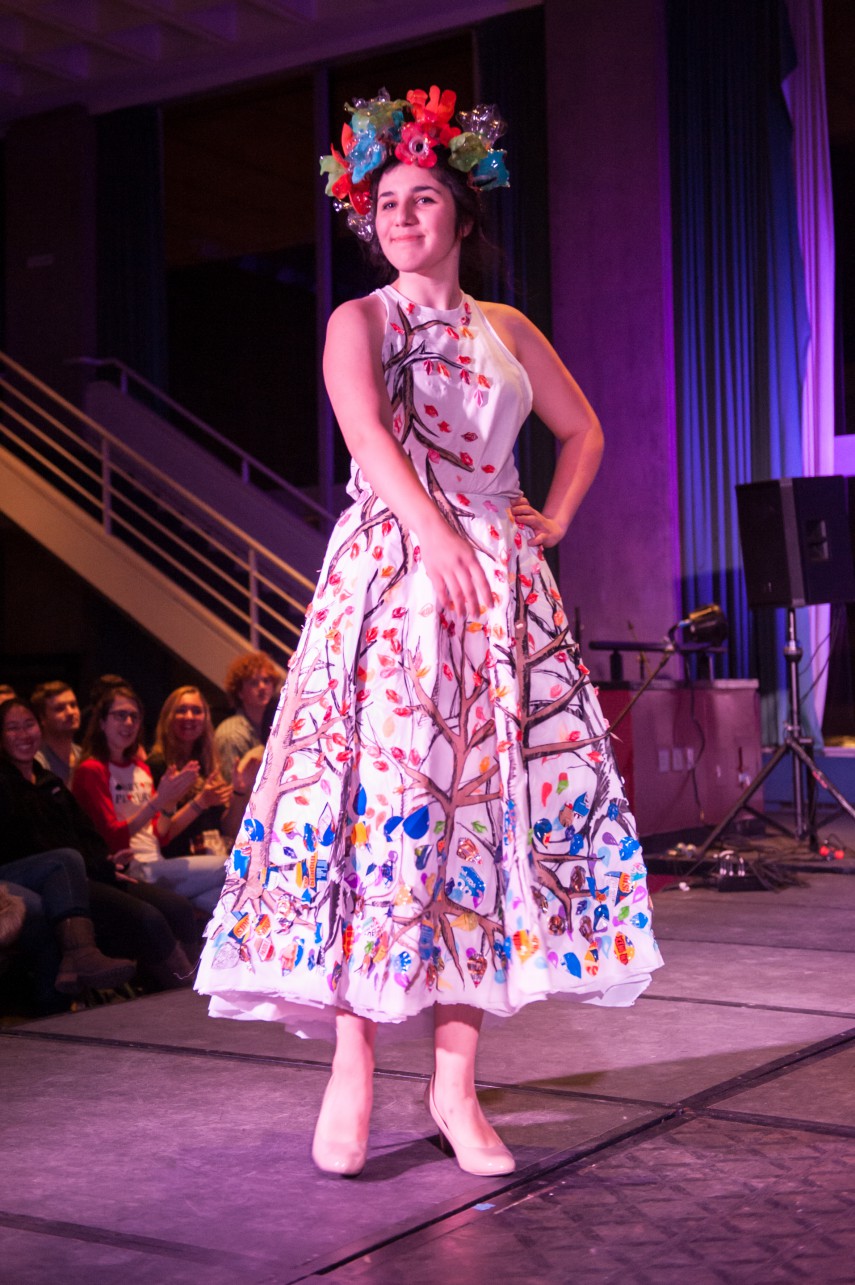 Designer: Samantha R.
Model: Samantha R.
Title: If a Robot Wore a Dress
Description:
Inspired by low-budget, unrealistic, and yet surprisingly entertaining sci fi films of the 70s and 80s, the following design strives to capture the charm and cheesiness of motion pictures from this era. Materials used include onion sacks from a local grocery store, textured cardboard from ceramics packaging, and electrical wiring.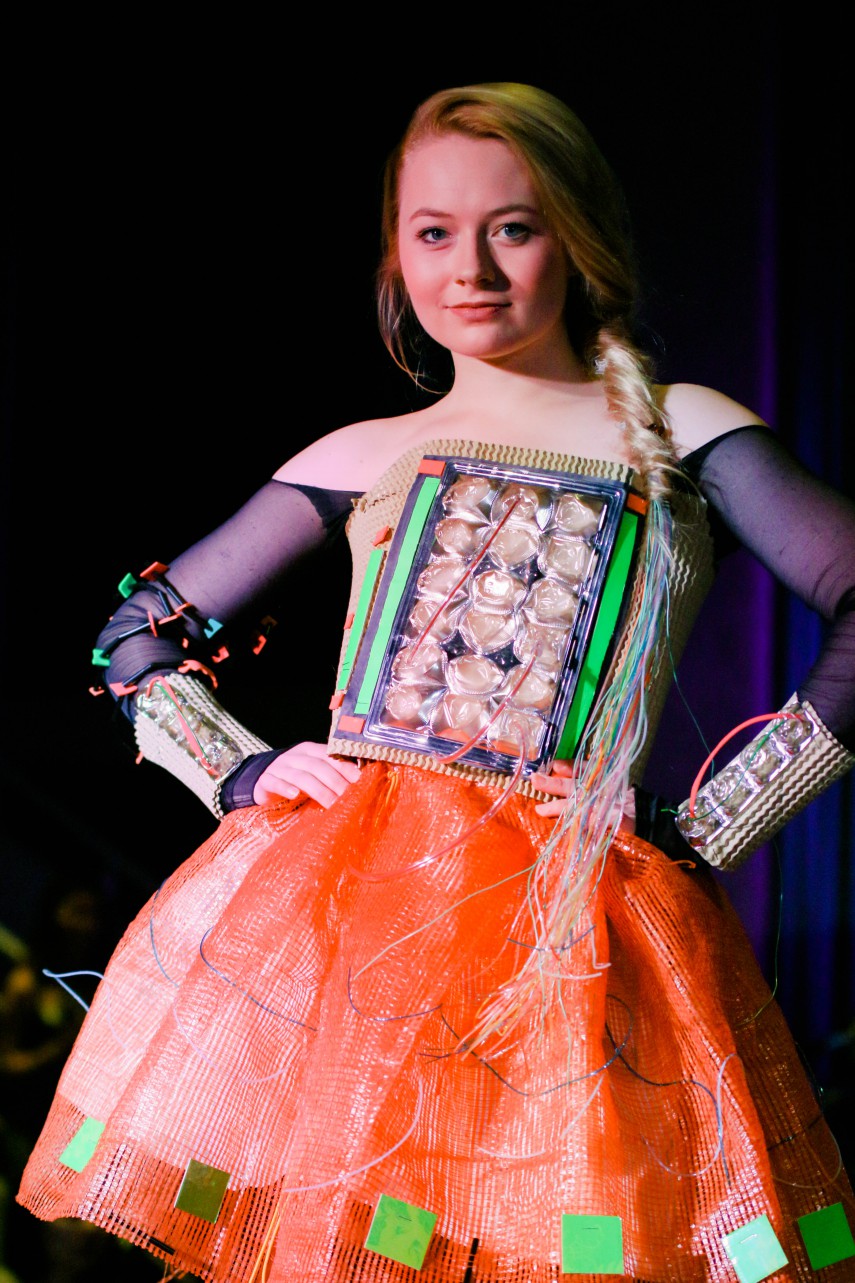 Designer: Francesca M.
Model: Sophia L.
Title: The Duchess of Cans
Description:
The dress Duchess Sophia is wearing contains one used storage bag, two old posters and nearly 250 soda cans. The latter were donated by the highly caffeinated residents of first east in East Campus over the course of around seven weeks. This material was chosen due to its variety in color and reflective properties, which creates the ghost of a rainbow if looked at carefully. This dress describes how feminine power CAN transform a culture characterized by obesity and waste.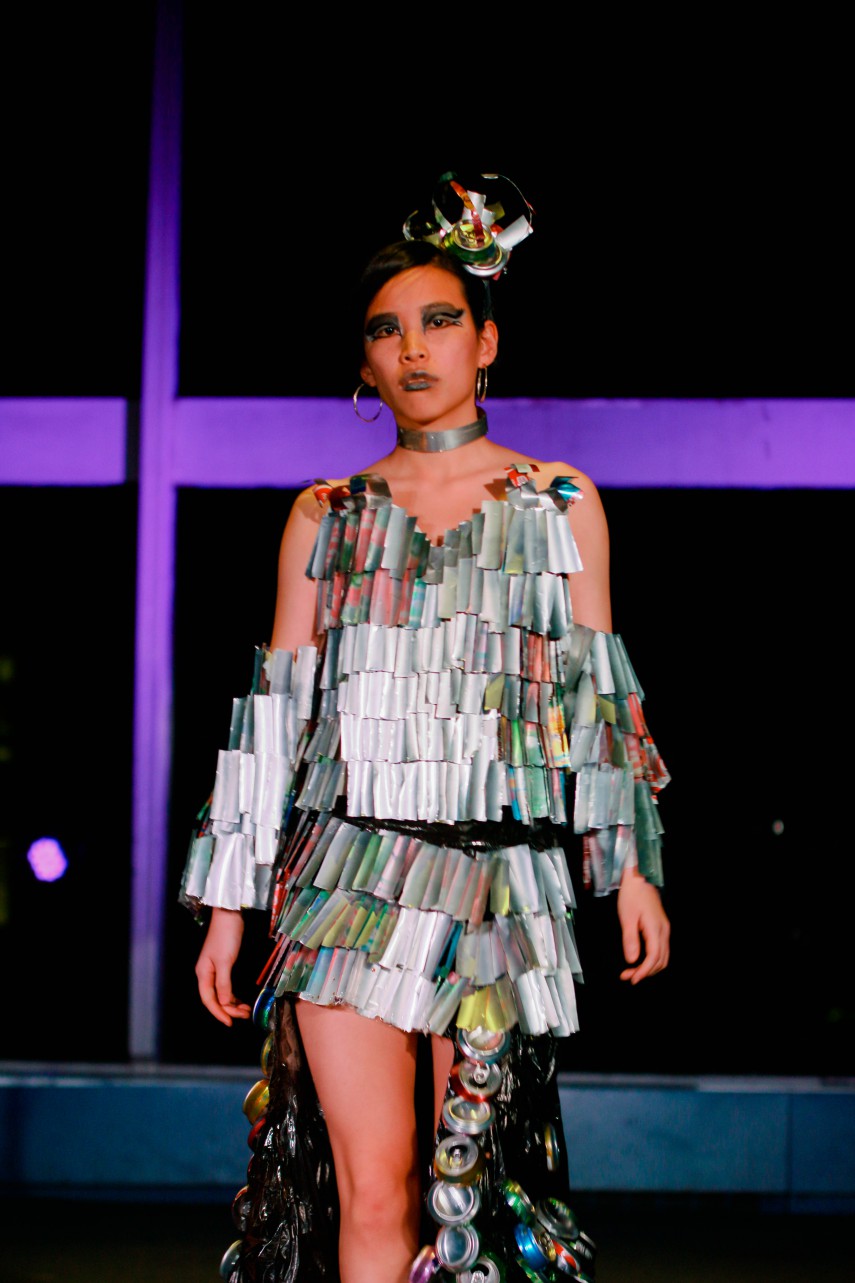 Designer: Larkin S.
Model: Larkin S.
Title: Offcuts
Description:
This dress was inspired by Larkin's course 2 projects. While working on her summer UROP, she realized she had a ton of cool materials that she didn't want to throw away. What better way to re-use than make a Trashion piece? Make sure to look out for parts of her deconstructed 2.007 robot!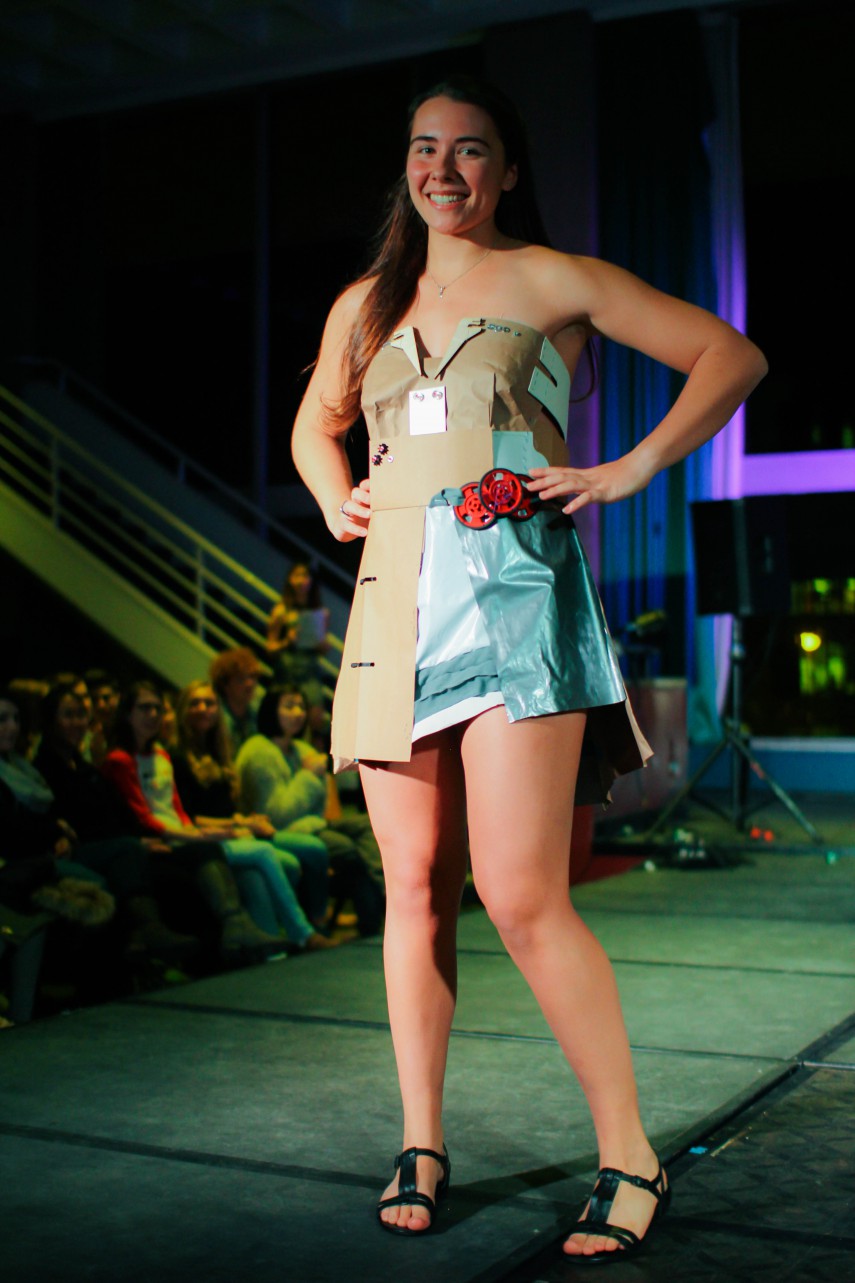 Designer: Laura B
Model: Jenny Y.
Title: Continued on Page B13
Description:
This dress is made out of newspapers and paper tablecloths. The bodice features lace made out of newspaper, while the skirt is made from the front pages of the New York Times. Both the newspapers and tablecloths came from around MIT's campus. The paper lace pattern is inspired by Moroccan tiles.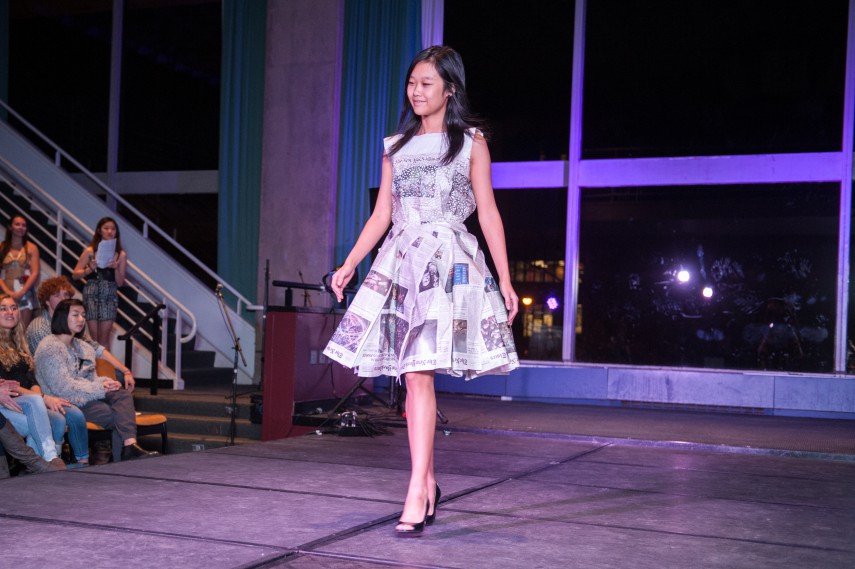 Designer: Page U.
Model: Page U.
Title: I Shop at Trader Joe's Too Much
Description:
This piece became a reality thanks to the designer's excessive grocery shopping at Trader Joes and her inability to remember to bring reusable bags. She tore up the bags, added a bit of glue and velcro and here we are! Enjoy.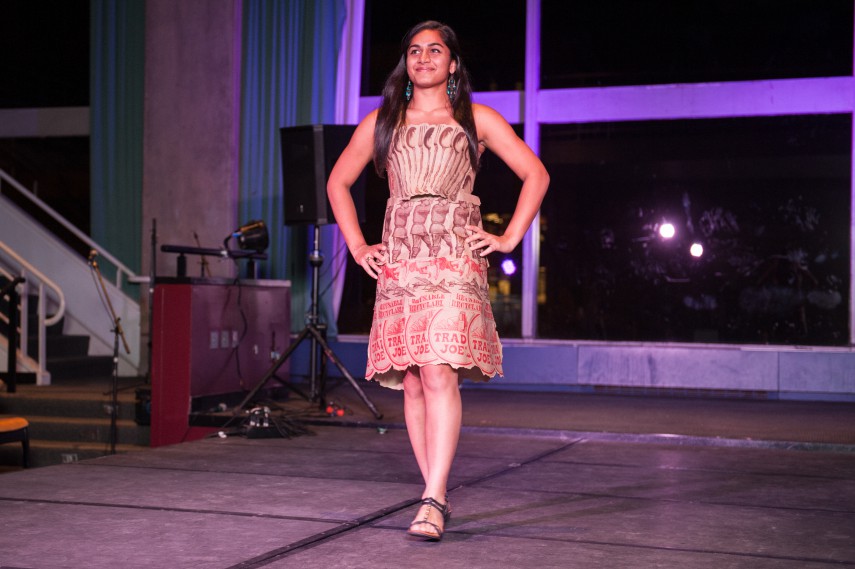 Designer: Li W.
Model: Amber G.
Title: My Colors
Description:
Inspired by the experiences, activities, and possibilities in front of us, "My Colors" was constructed out of unwanted and reuse career fair, club, and event T-shirts and recycled bags. The theme of this piece is "individuality". It represents a defiance to mix with the colors and designs of our surroundings. It shows that though our pasts and futures taint us, we wear our colors with pride.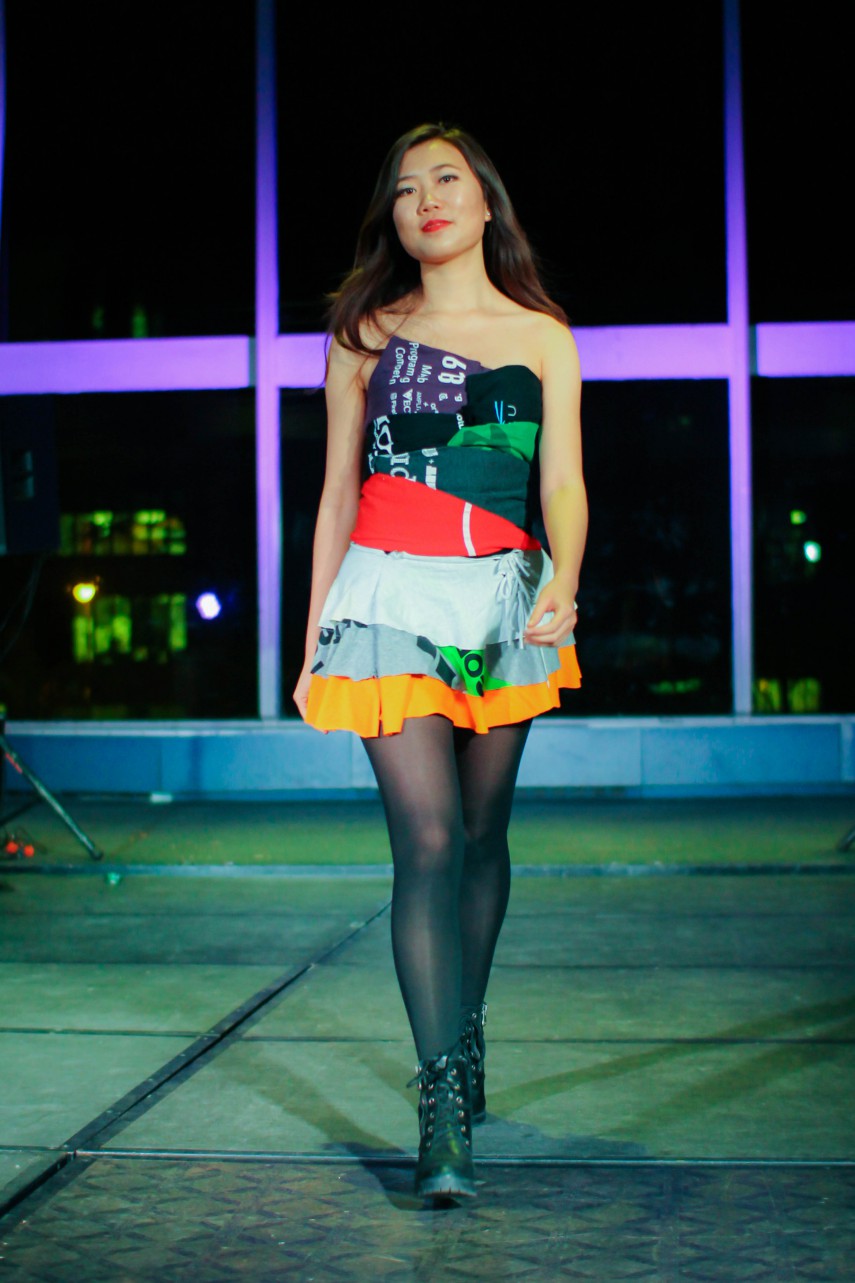 Designer: Cynthia F.
Model: Millie D.
Title: Substances
Description:
This piece is an exploration of the utilitarian design of industrial materials and the way they both contrast with and complement the warmth of the human body. The materials used – plastic, rope, and metal wire – are often abandoned in basements and construction lots, and were repurposed to make this dress.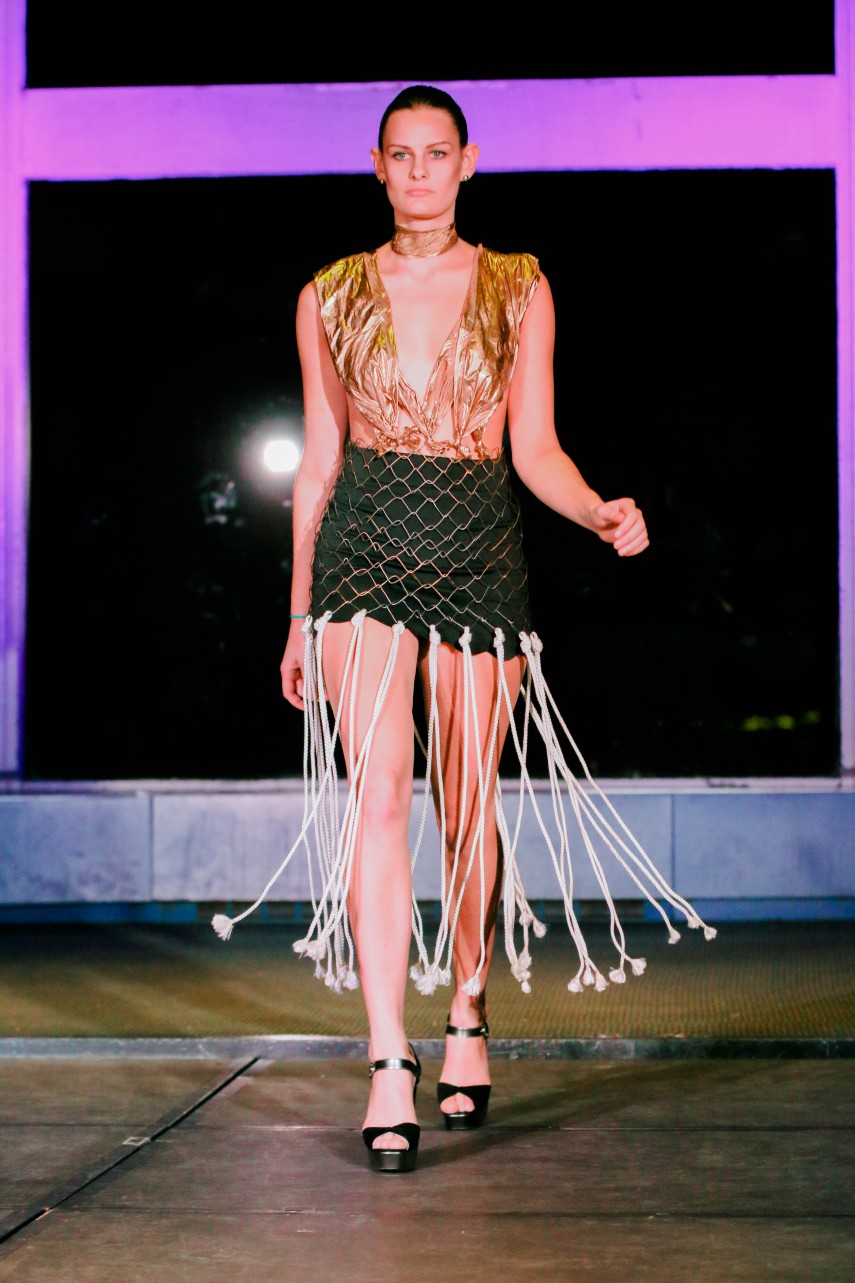 Designer: Rima D.
Model: Rima D.
Title: Happy Endings
Description:
This piece is meant to be a wedding dress made from all sorts of unconventional materials. The skirt is made of plastic tablecloths, and the corset is constructed on a base of duct tape covered with pages from an old book, lace curtains, and a variety of gems and pearls. There are flower accents on the belt made from pages of books as well. Its title comes from the fact that it is a wedding dress partially made of books—both ideas associated in my mind with happy endings!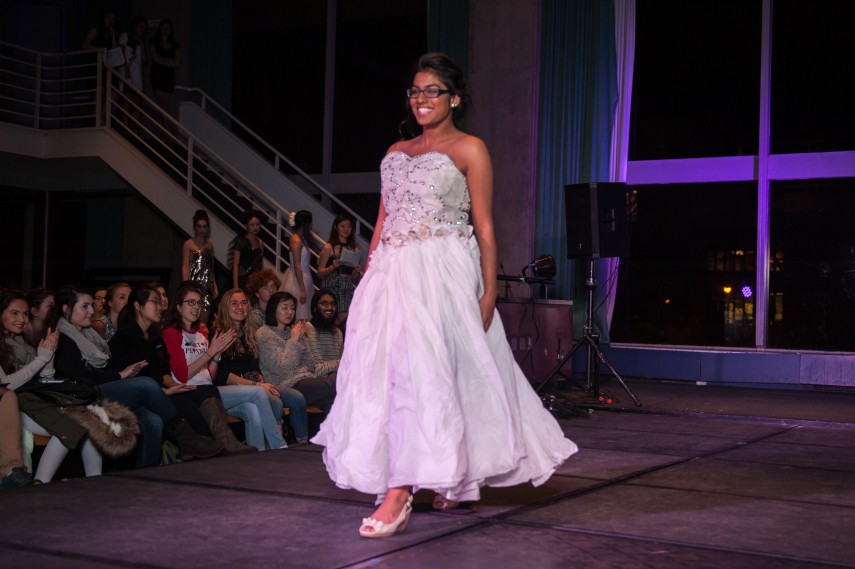 Designer: Annie Z.
Model: Stephanie Z.
Title: Cirrus
Description:
Made entirely from a theatre production's old nylon netting and leftover paper from architecture projects, Cirrus is a piece that strives to challenge the expectations of what "sustainable" looks like. Clean, billowing lines and a monochromatic look help construct a sustainable look that feels modern, elegant, and even a little bit extravagant.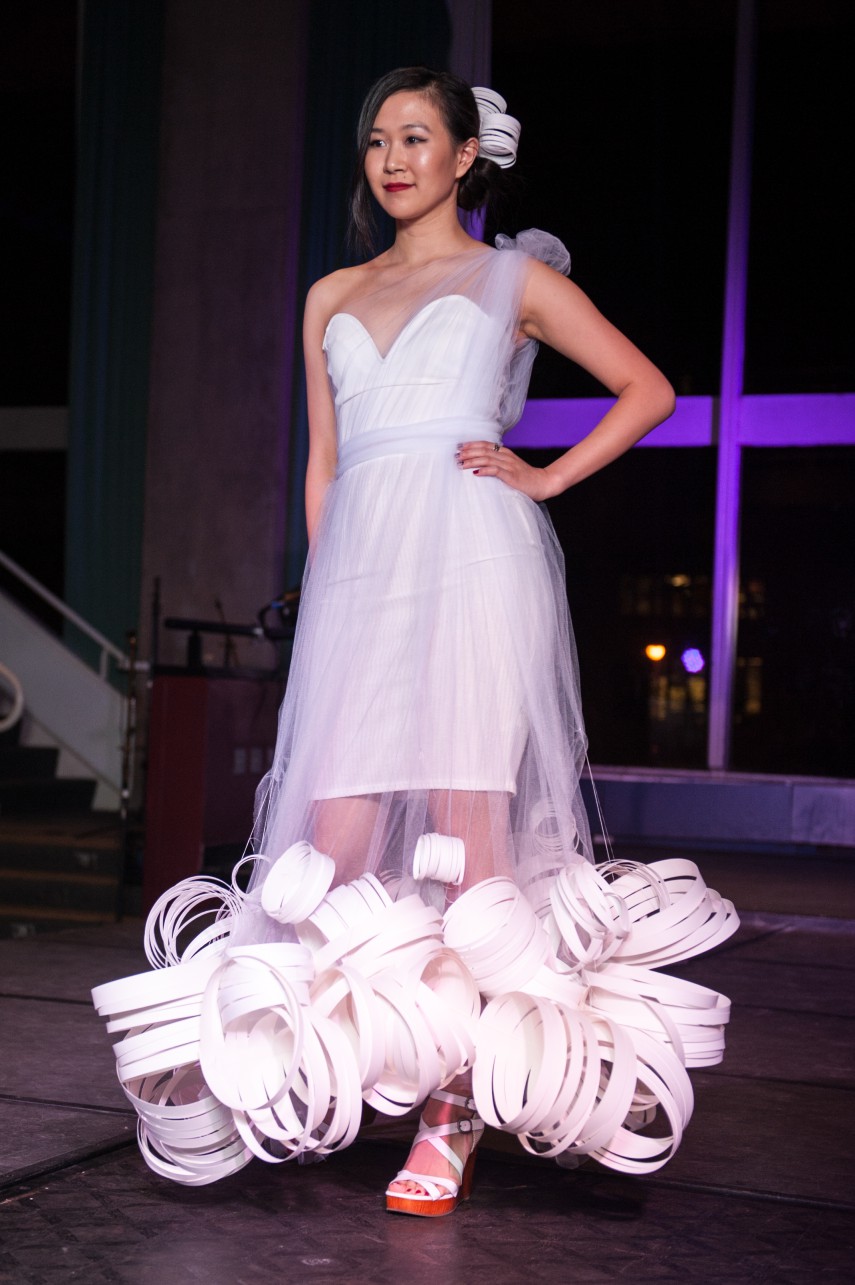 Designer: Annika K.
Model: Annika K.
Title: Colors of Illuminati
Description:
I used cloth, paper, netting, a stapler, and glue gun. I got these materials from around my house, and from my mom.
and
Designer: Annika K.
Model: Ava I.
Title: Silver Noise
Description:
I used a foil emergency blanket, a brooch, and some netting.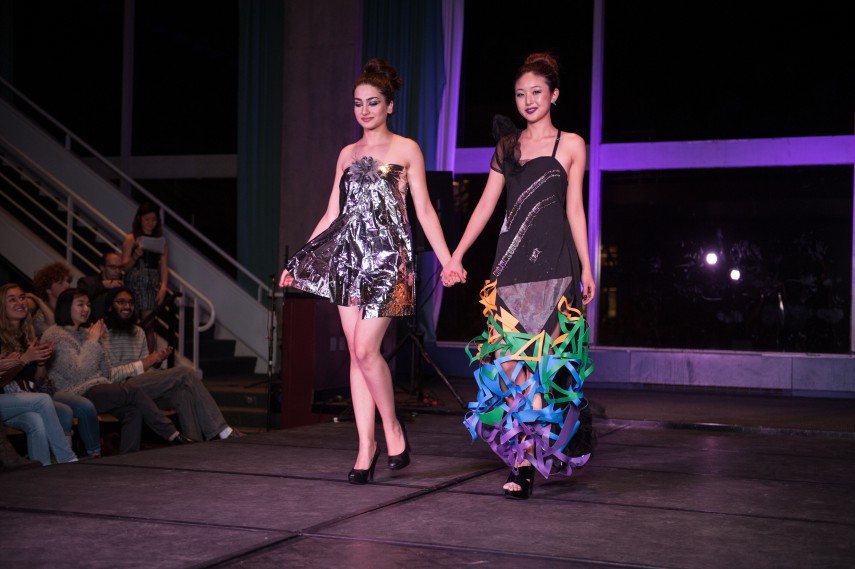 Designer: Cynthia G.
Model: Cynthia G.
Title: White Trash
Description:
Coming to college, Cynthia's mother was overeager in preparing her daughter for the perils of living on her own, arming her with a plethora of trash bags. Little did she know, college coddles your children and provides a lot of hand-holding, free trash bag being one of them. So what was Cynthia supposed to do with this mountain of trash bags now on her hands? Make a dress.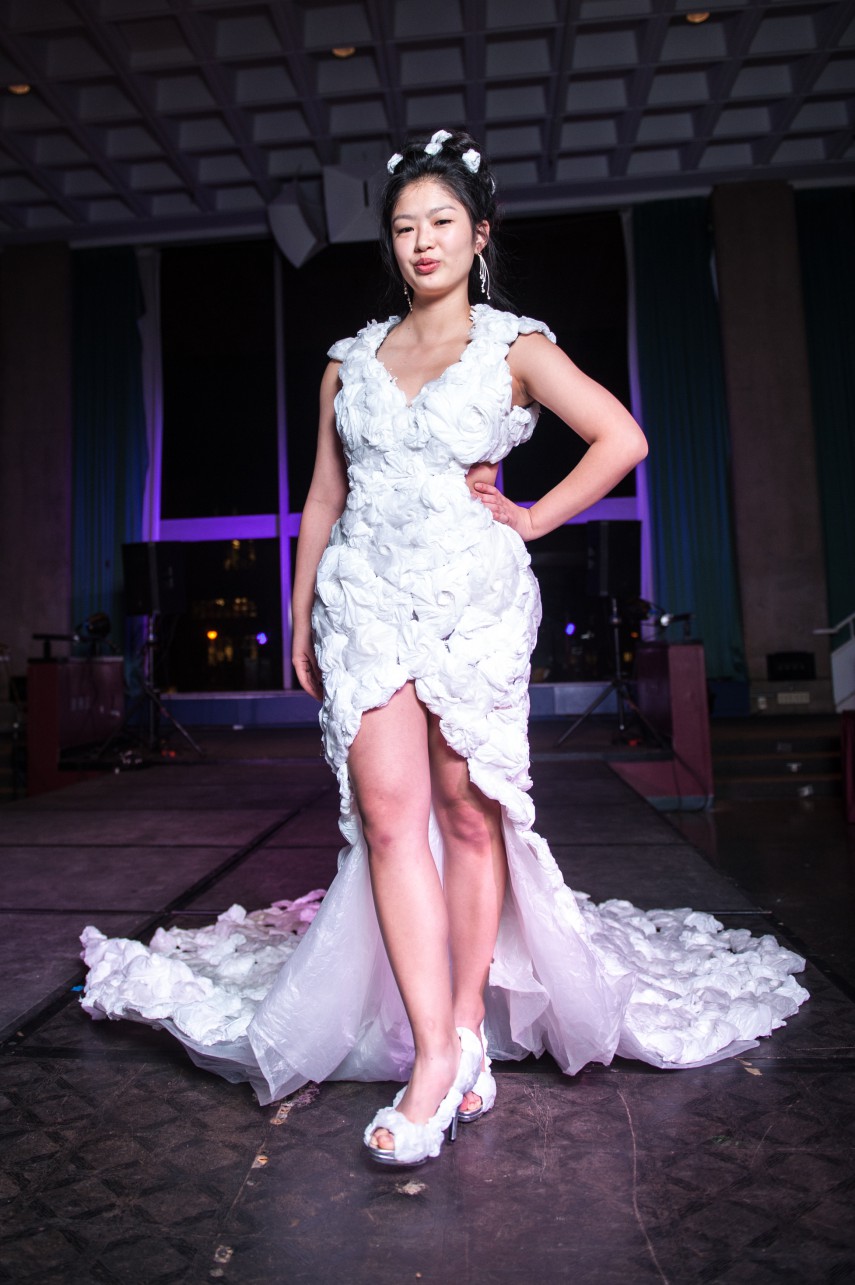 Designer: Deina B., Ofer L., Josefina UdB.
Model: Ofer L.
Title: Foliage Dress
Description:
This dress, inspired by the New England's Foliage, merges natural components with oil-based materials. The primary material is fallen leaves collected from the MIT campus, New Hampshire and Vermont. Other materials include recovered tablecloths from different events, such as a Thanksgiving dinner and luncheon seminar focus on sustainable development. We also re-used plastic bags that were used for collecting recyclables at MIT. Lastly, the shoes were made from cardboard boxes, recovered from our department's corridors, and the accessories were made from recovered plastic cups and old coffee capsules. ‪‪Being that plastic is one of the main components of municipal solid waste in USA, and responsible for 8% of oil use, we consider it important to raise awareness of the amount of disposable plastic materials being used for events in our community.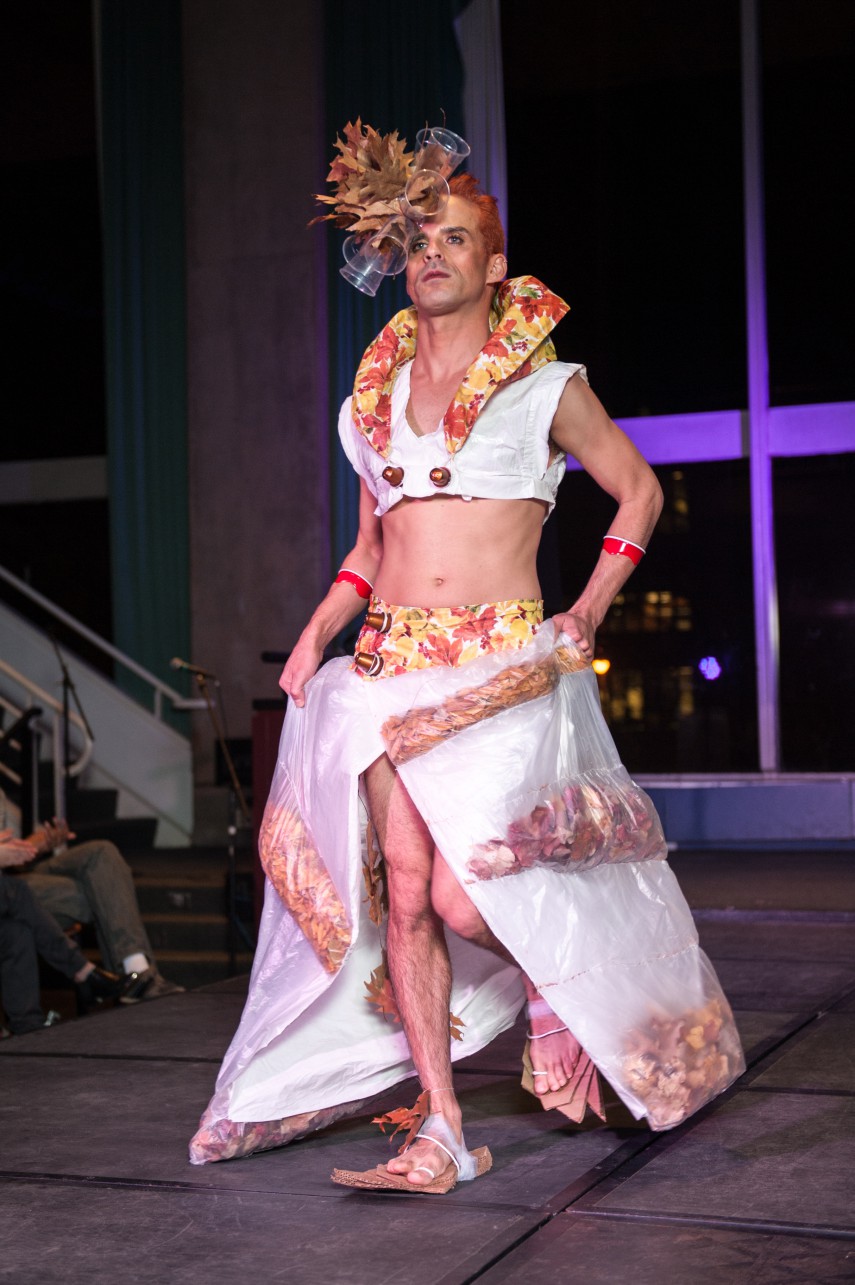 Designer: Jackie L.
Model: Liz M.
Title: Pack ur bags and leave this planet
Description:
Collecting grocery bags, bubble wrap, and iridescent gift wrap from both from both personal use and around her hall, Jackie created a series of garments to transform her model with a playful, subversive style, drawing inspiration from designer lingerie and sci-fi aesthetics. The title of her piece is a reference to a silly facebook event she and her model Liz created a few weeks ago.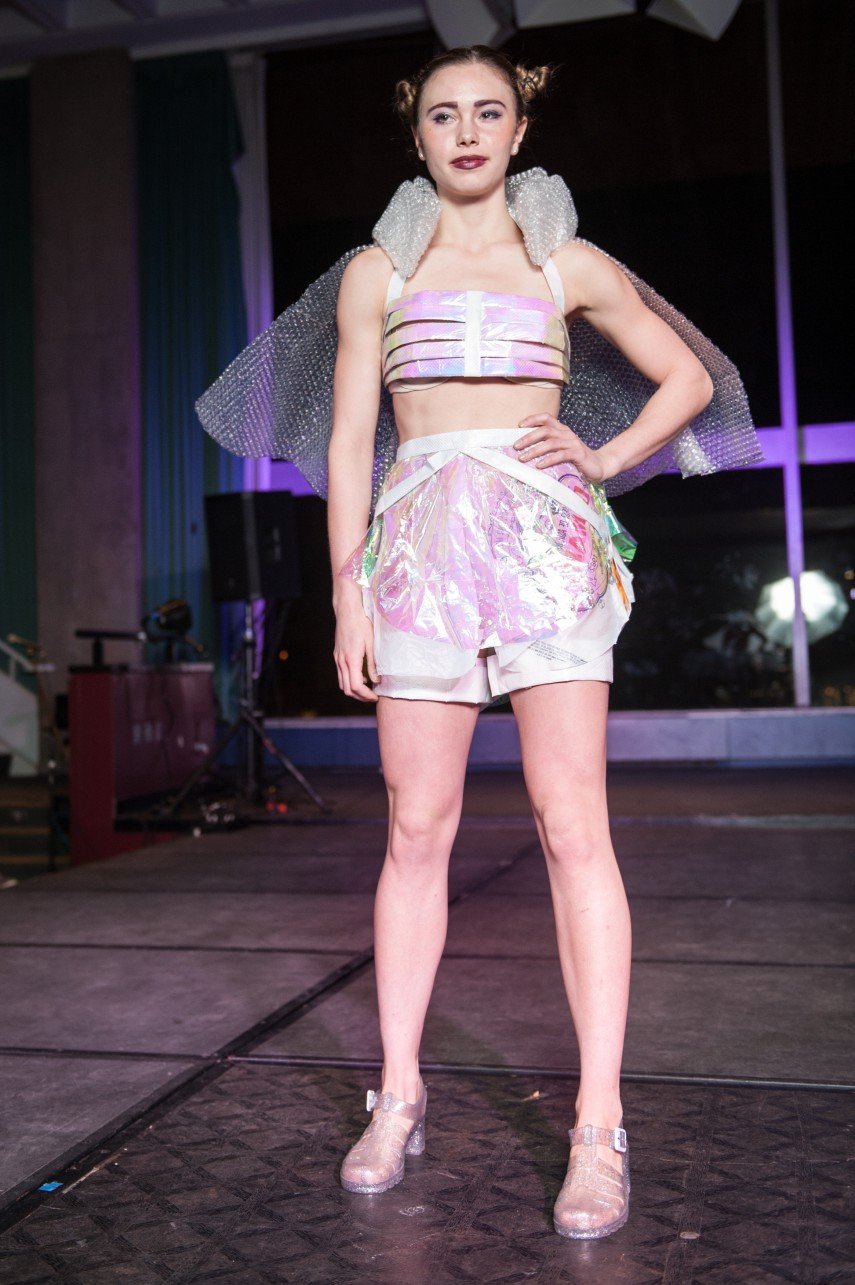 Designer: Alexandra vB.
Model: Isabella H., Perri F., Ted V.
Title: KAOLC HSART
Description:
TRASH MONEY TRASH MONEY TRASH MONEY TRASH MONEY TRASH MONEY TRASH'S MONEY TRASH MONEY TRASH'S MONEY TRASH TRASH MONEY TRASH MONEY TRASH MONEY MONEY TRASH MONEY TRASH MONEY TRASH MONEY MONEY'S TRASH TRASH'S MONEY TRASH MONEY MONEY MONEY, TRASH IS MONEY, MONEY TRASH TRASH MONEY MONEY MONEY MONEY'S TRASH TRASH MONEY, MONEY IS TRASH TRASH MONEY'S TRASH TRASH IS MONEY MONEY TRASH MONEY TRASH TRASH TRASH IS MONEY TRASH IS MONEY MONEY TRASH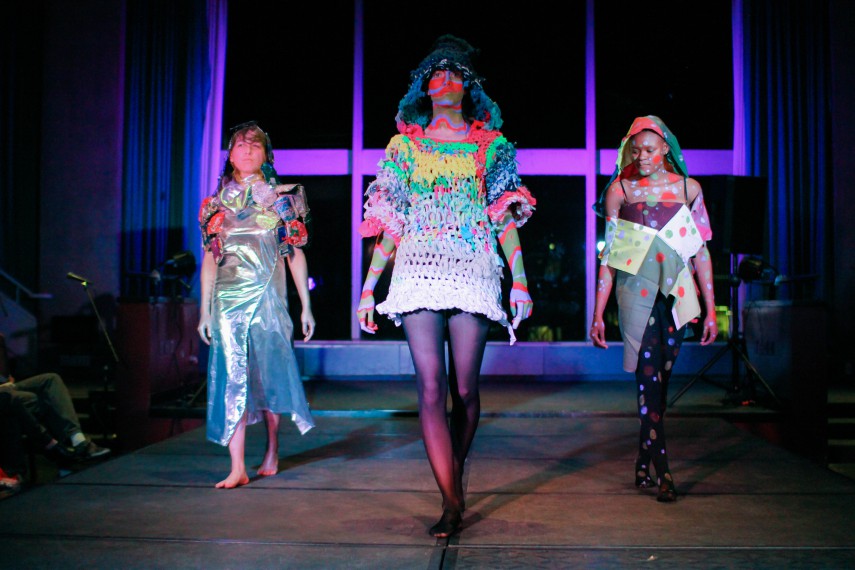 Designer: Ankita R.
Model: Kasi OB.
Title: Shattered Conundrum
Description:
This piece was inspired partly by the use of tiny mirrors in Indian textiles as well as society's switch to online music, rendering CDs a modern day's trash. The base of the body suit is made from a trash bag covered in ducktape which was then covered with cut up CDs. These CDs were collected from local record stores in Cambridge that were going to throw away junk CDs. Each CD was then cut and glued on the body suit to embody a mirrored collage. The collar is made out of a screen door collected from a recycling unit and the drape is made from clear tarp to offset the chaos of the bodysuit.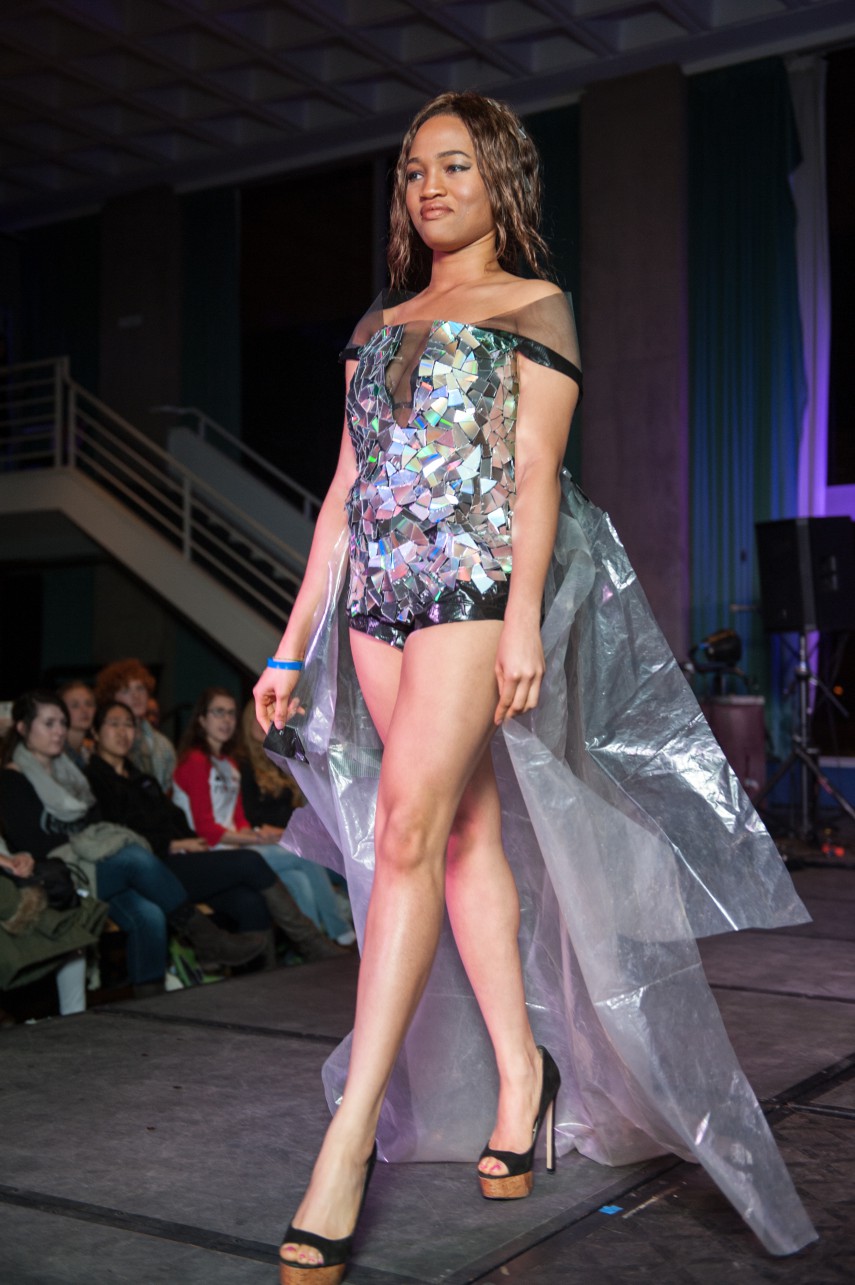 Designer: Stacy M.
Model: Tammy W.
Title: Smoke
Description:
Inspired by the pangolin, a scaled armadillo-like creature, this jacket is made of aluminium cans (thanks to my friends in fraternities) paint, paper, and a re purposed sweater from goodwill. Similar to it's function on a creature, the scales are meant to protect and shelter with things we normally toss aside. The darker color theme aligns with the overall color of pollution and its consequences.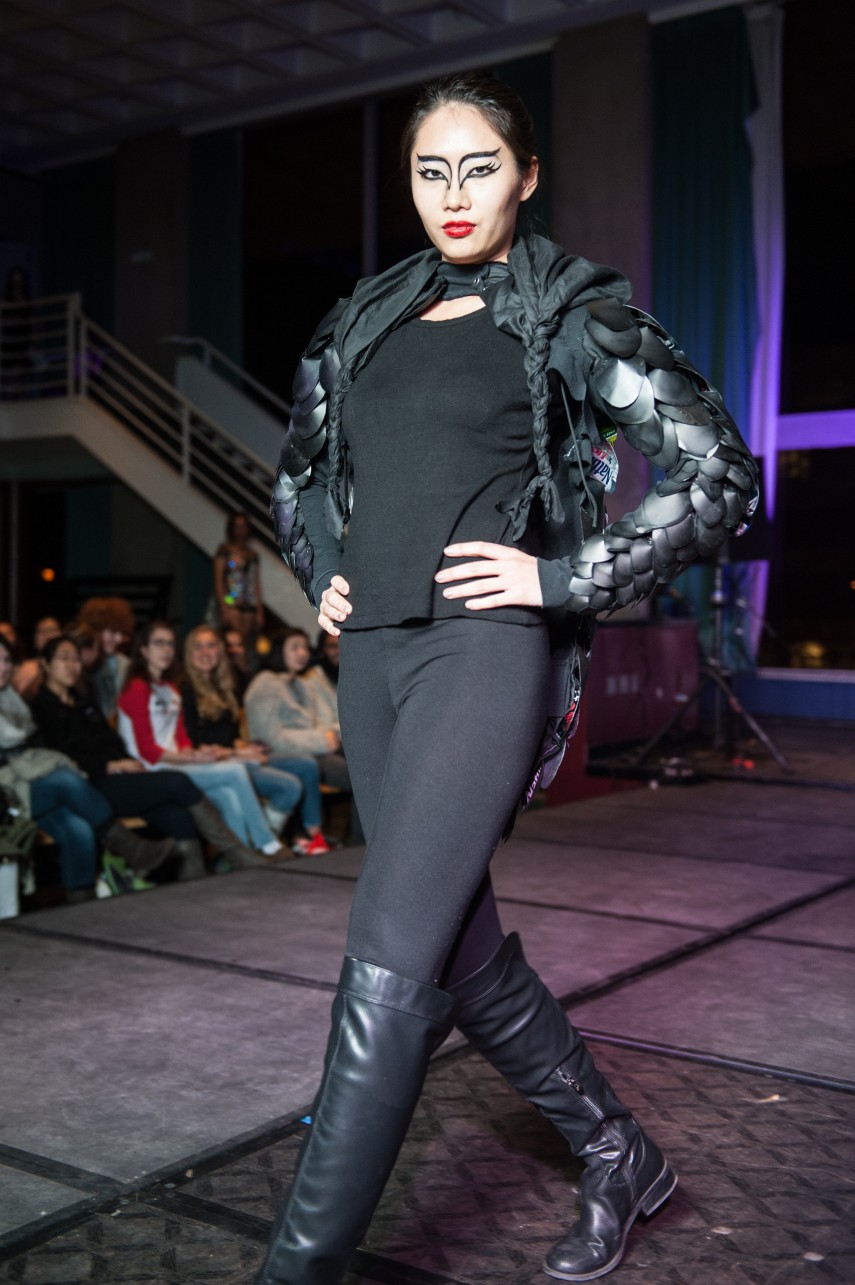 Designer: Alissa B.
Model: Kara P.
Title: Journeys
Description:
For this design, Alissa was inspired by the ektachrome and kodachrome photograph slides she found in a thrift store. Looking through the slides, she discovered they contained memories of a family trip to Ontario, a hike in the Swiss Alps, and a visit to Virginia. She incorporated the slides and the plastic sheets she found them in to create a fun, interactive, and sustainable outfit.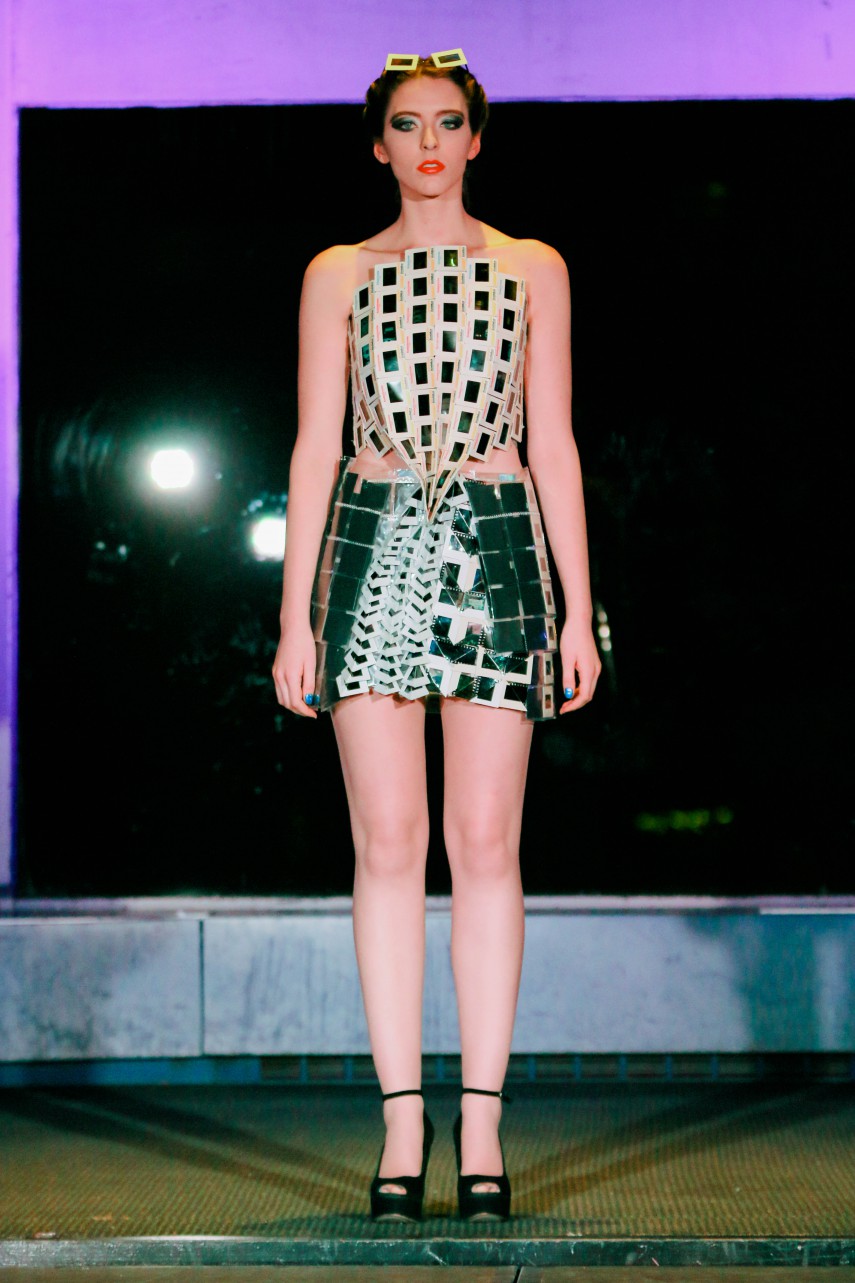 Designer: Grace A., Alyssa N., Coral B-M.
Model: Coral B-M.
Title: Green Phoenix: Risen From the Trashes
Description:
We got the inspiration for our design from multiple elements including the Victoria Secret Fashion Show, Greek goddesses, and nature. The bodice of the dress is made from a plastic covering for a box of water bottles with the broken glass mosaic from used wine bottles. The wings of the dress are made from used wire coat hangers, packing twine, straps of a ripped purse, and old newspapers painted with gold spray paint. The skirt is also made from old newspapers and a recycled Career Fair booklet.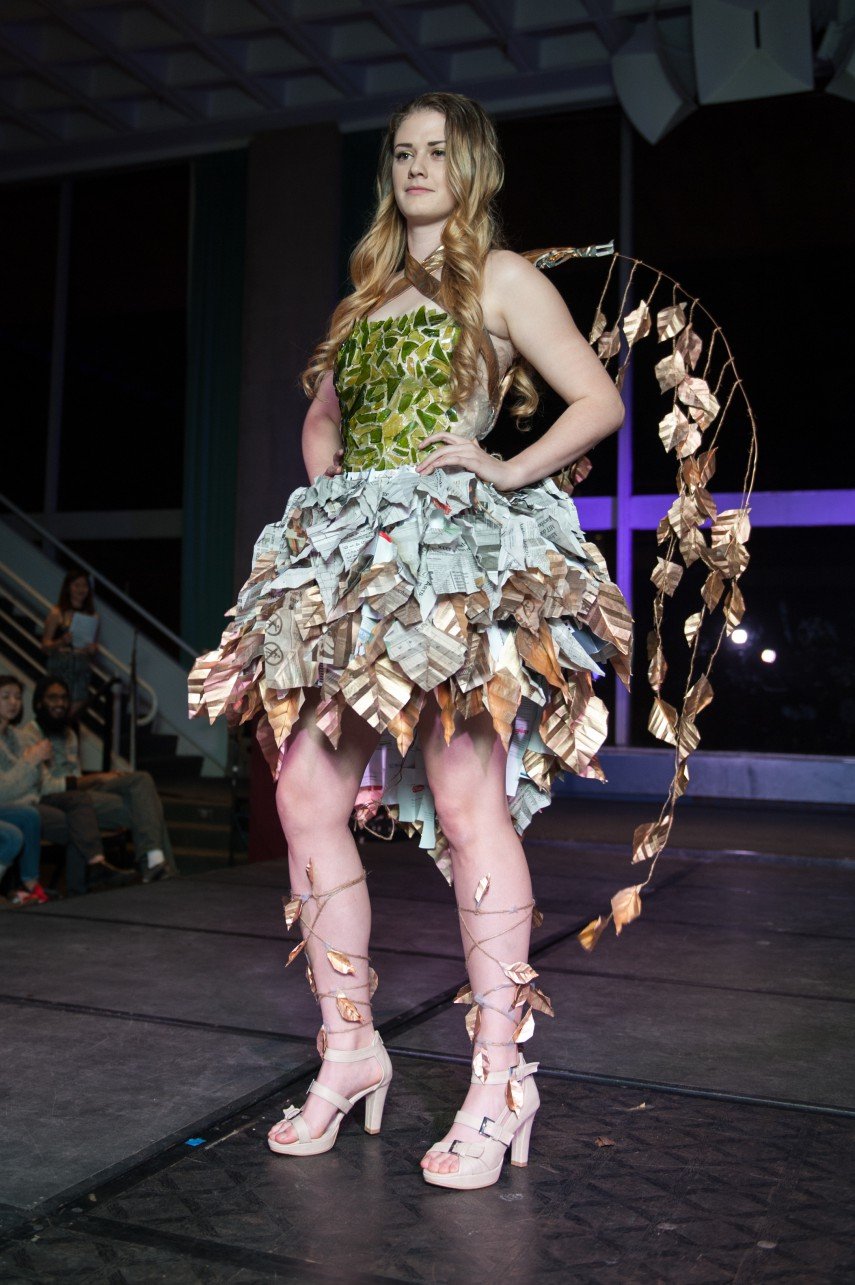 After the judges had the chance to confer, here is how the awards shook out:
1st Prize: Virginia White
2nd Prize: Coral Bays-Muchmore, Grace Assaye, Alyssa Napier
3rd Prize: Li Wang
Most Avant Garde: Samantha Russman
Most Creative Materials: Alissa Borshchenko
Best Craftsmanship: Annie Zhang
Best Presentation: Stacy Mo
Judge's Choice: Alexandra Von Bjerg
Thanks to the Trashion organizers!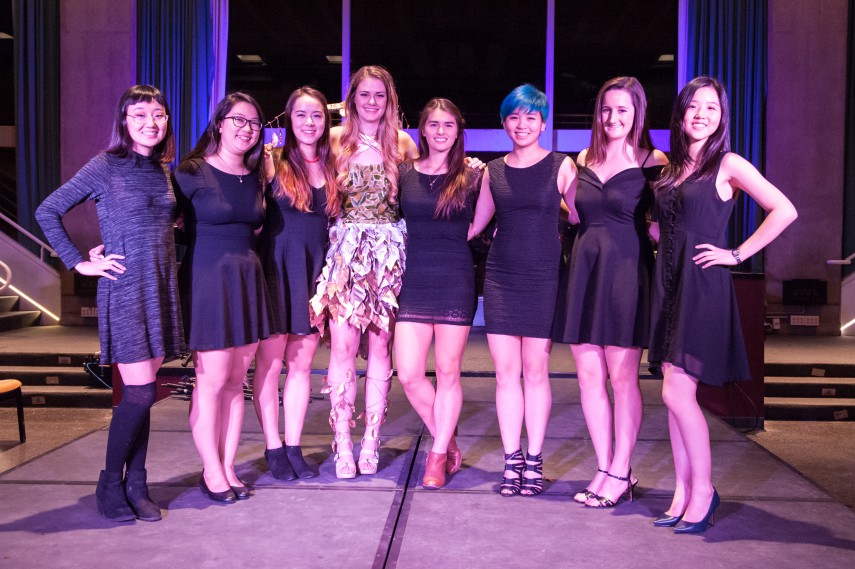 Trashion Chairs
: Kathy Camenzind, Yanisa Techagumthorn
Members
: Jenny Liu, Coral Bays-Muchmore, Emma Desoto, Mingshi Yang, Jane Fessenden, Amy Liu
UA Sustainability Chairs
: Becca Sugrue, Linda Jing