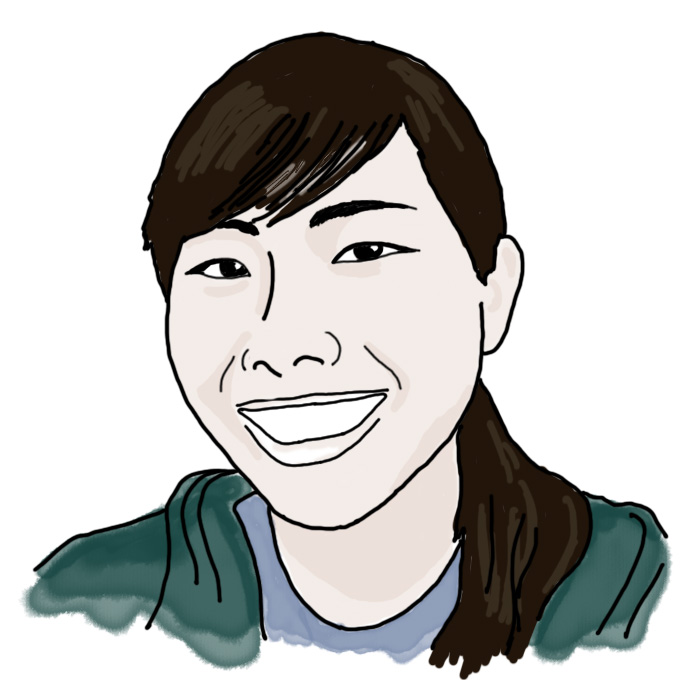 Twenty-One Days Abroad in Twenty-One Photographs

by Krystal L. '17
a curated photo dump of an IAP in Spain
Over IAP, I had the opportunity to participate in one of MIT's IAP programs in Madrid. I enrolled in 21L.590 Global Literature (although on Stellar, it's listed as "Cultural Encounters: Spain and Beyond"), a full semester course condensed down into 12 days. This particular course was taught in English, but for those looking for a more Spanish-language intensive course, MIT also offers Spanish 2 and Spanish Conversation and Composition courses in Madrid over IAP, both taught in Spanish. Having already taken Spanish Conversation and Composition in the fall semester, I thought 21L.590 would be the perfect chance to finally take a Literature course and practice my Spanish speaking skills. The course would end up covering a crash course on Spanish history, an assortment of Spanish poetry, various excerpts from literary texts, films from differing perspectives, a play (Blood Wedding by Federico García Lorca), and a novel (Leaving Atocha Station by Ben Lerner), among other things. Professor Resnick did a great job of leading us through thought-provoking discussions about an overarching theme: "seeing Spain" from the perspective of insiders and outsiders alike. The reading/homework load was relatively light, which left us plenty of time in the afternoons and on the weekends to explore as much of Spain as we could.
Logistically speaking, I stayed in a homestay with one other MIT student where we had breakfast and dinner provided. Classes were held four days a week (Monday-Thursday) for three weeks (January 4th – January 24th) from 10:30am to around 1-1:30pm, depending on what we were doing that day. I was lucky enough to have been awarded a Global Education Scholarship through MIT which helped cover the program fees, airfare, the homestay, and additional expenses for food and travel in Madrid.
The rest of this blog is, like the title suggests, twenty-one photographs that I took on my phone camera while travelling. I didn't take these photographs with the intention of posting them formally on this blog so some of them might seem a bit random. To compensate for the randomness of subject matter, I've arranged them here in chronological order to provide (the illusion of) structure.
As super official self-appointed curator of this collection of photographs, I have numbered each work, penned an apt title, and included the subject matter in brackets for reference.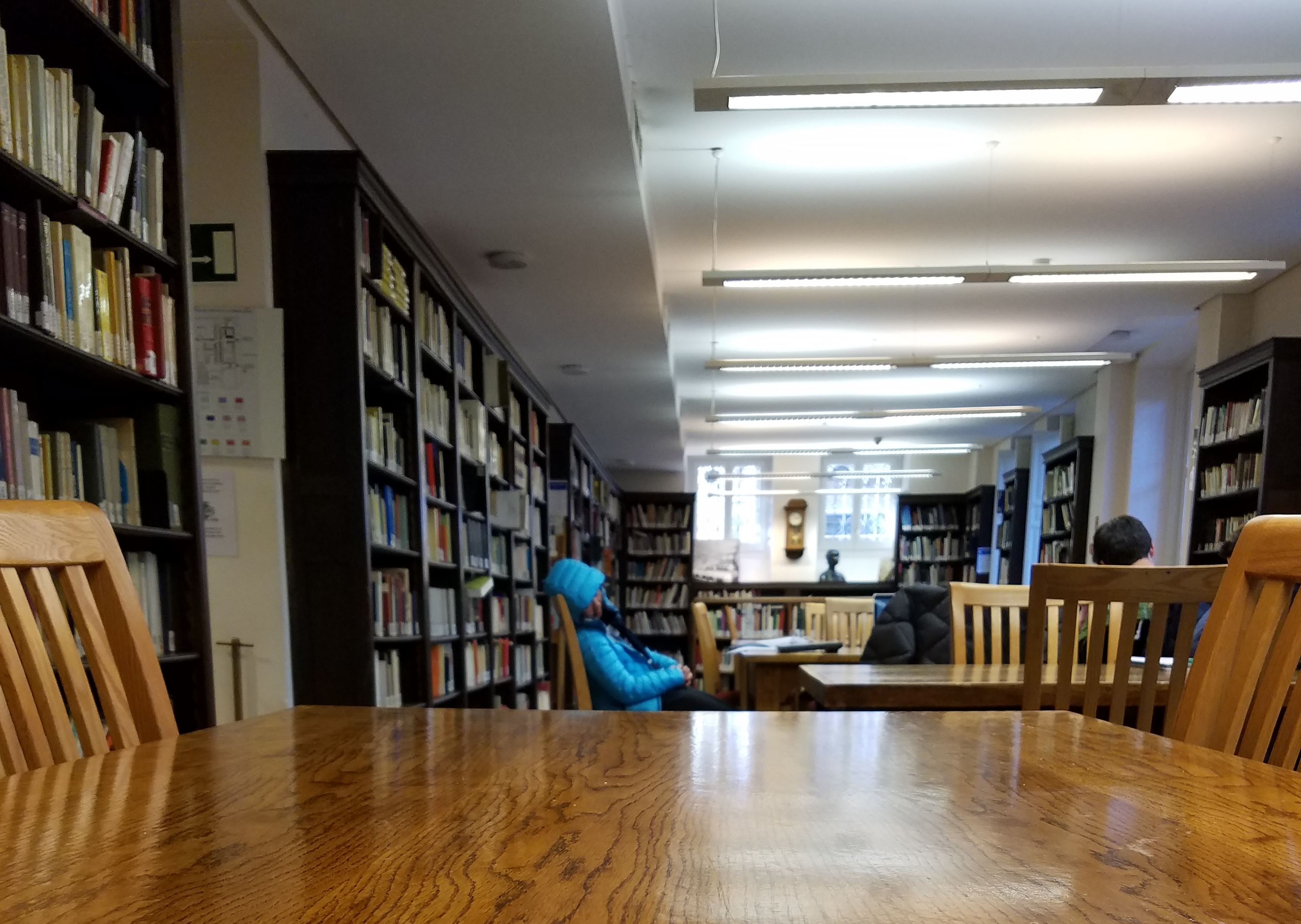 #1: Shiny Wood Grain [Library at the Instituto Internacional]
Classes were held at the Instituto Internacional, an English language learning center and homebase for a few other US study abroad programs. This was taken on January 4th, 2017, the first day of class, in the basement library of the Instituto Internacional where I often spent afternoons working on my assignments. Not really sure who the person sleeping is, but p.s. I like your jacket.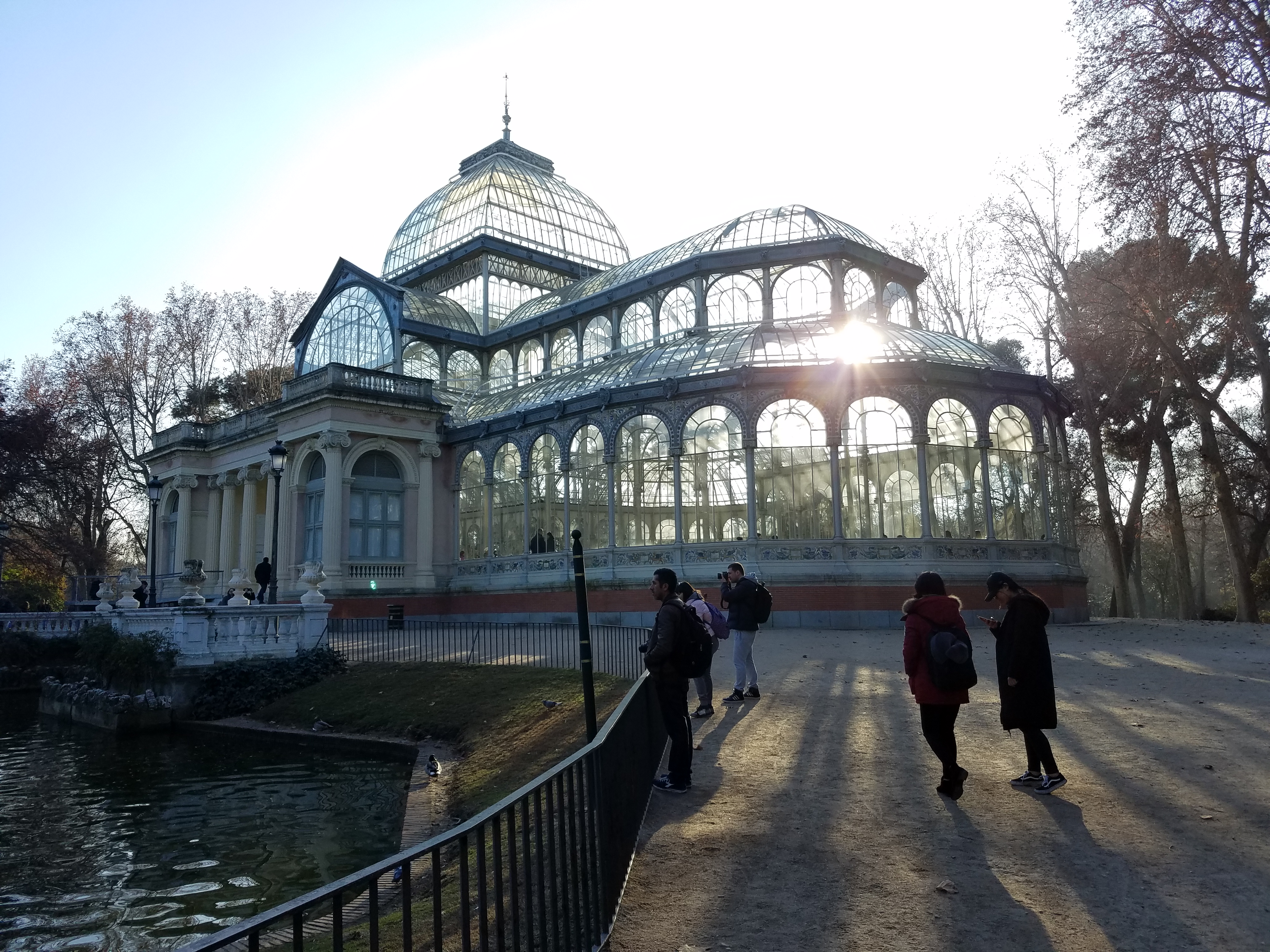 #2: Shiny Palace [Palacio de Cristal in El Retiro]
El Retiro is one of the largest public parks in Madrid. According to its tourism webpage, the park is sometimes referred to as "the green lungs of the city", which doesn't sound like the best metaphor to me, but oh well, I guess it sounds cool. I would often stroll through the grassy expanse of the park, weaving through skeleton-bare trees, around quiet lakes, and across worn asphalt ribbons, on the walk to and from class. In an effort to not be one-hundred percent potato, I decided to walk the 2.5 miles each way instead of taking the Metro. At the time of my visit, the Glass Palace, which is inside the park, housed an auditory exhibit in which visitors entered in silence and immersed themselves in an echo chamber of miscellaneous soundwaves.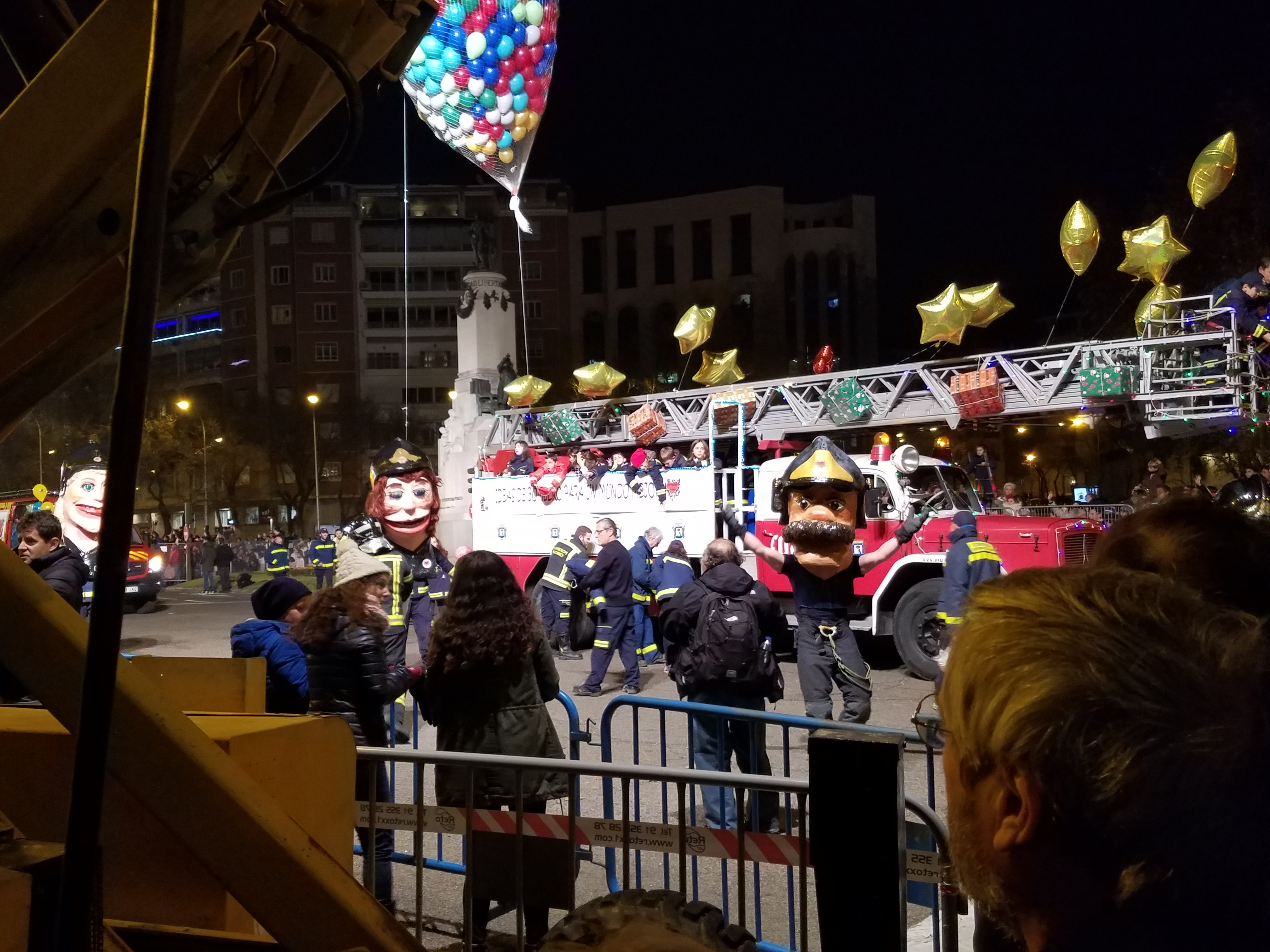 #3: The It's-Raining-Hard-Candies Parade [Cabalgata de los Reyes Magos]
On January 5th, 2017, some MIT students and I wormed our way into the crowd alongside La Castellana to watch the annual Cabalgata de los Reyes Magos, a parade celebrating Three Kings Day. We stood shoulder to shoulder with children on ladders and umbrella toting adults alike. As each new float rumbled by, fistfuls of hard candies were chucked into the sea of people who giggled with glee and scrambled to swipe flying sweets out of the night air as they soared by. There were also floats with neon lights, confetti sprays, and one with a giant astronaut puppet that occasionally turned its creepy mannequin-esque head side-to-side. Much fun was had.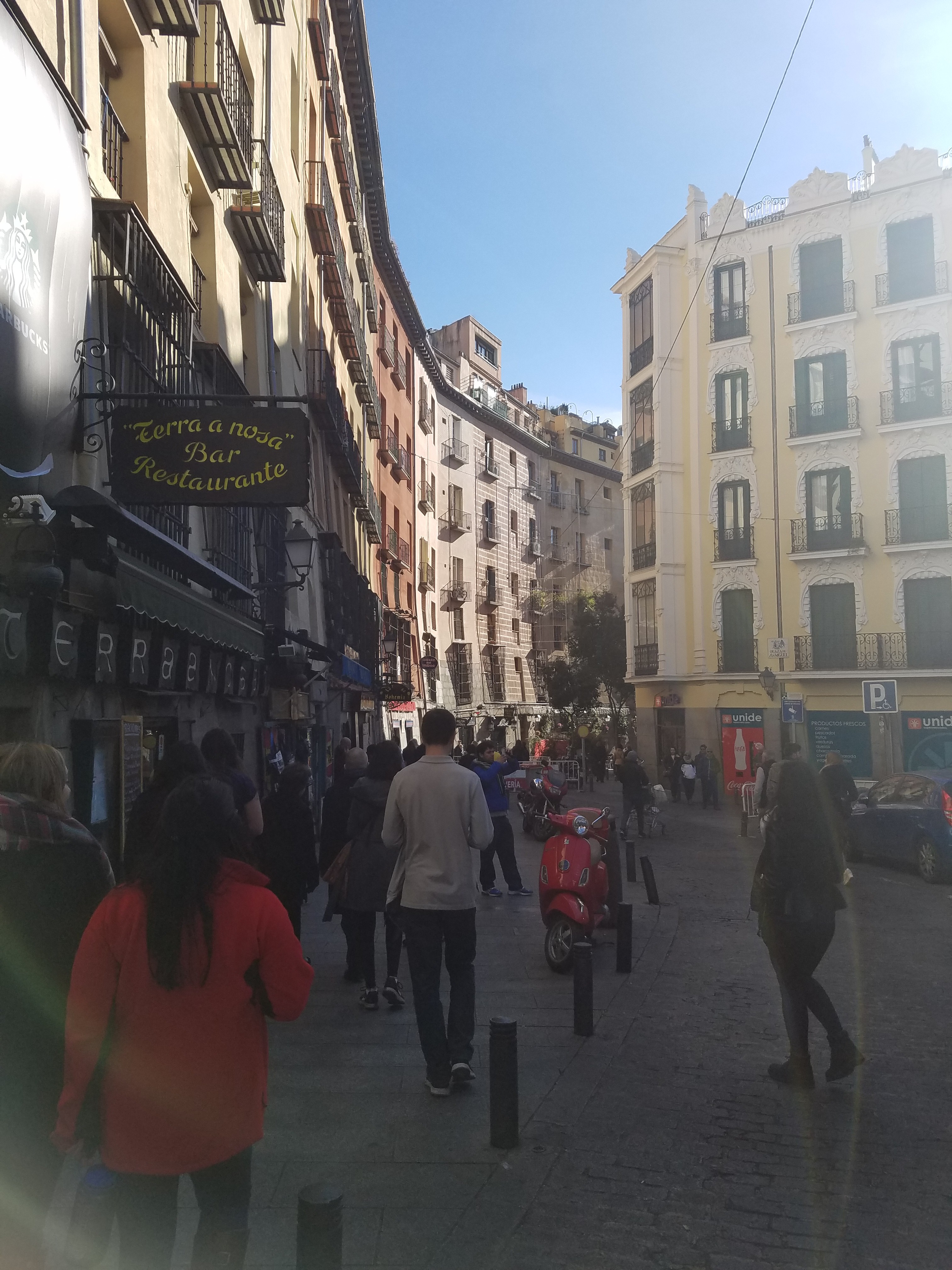 #4: Real Streets have Curves [Calle San Bruno in Madrid]
Professor Resnick and her husband were kind enough to lead a walking tour of downtown Madrid on the first weekend, taking a group of students from the Palacio Real to the Market of San Miguel for snacks and even to San Gines for some churros and chocolate. The city architecture was always a point of interest and the eclectic mix of colors and fine detail on the buildings was the subject of many photographs that day.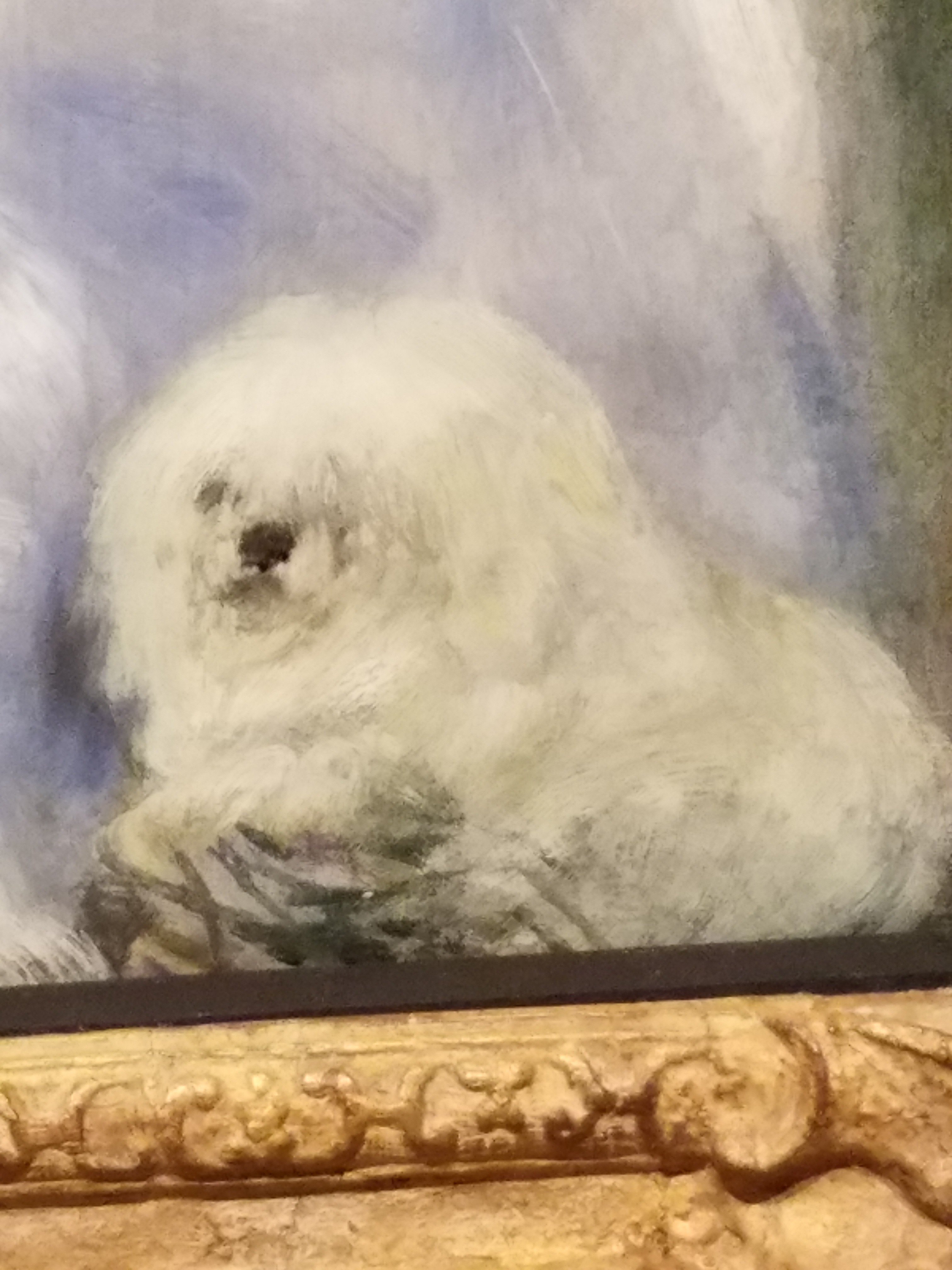 #5: White Dog with Fluffy Hair [White Dog with Fluffy Hair]
An example of meta-artwork: a photograph of a painting in the Thyssen-Bornemisza Museum. Madrid is home to quite a few excellent museums, including the Prado (home of Guernica) and the Reina Sofia (home of Las Meninas), which I spent countless lazy afternoons wandering through. Many museums in Spain have student or under-25 discounts and a few, like the Prado and the Reina Sofia are completely free.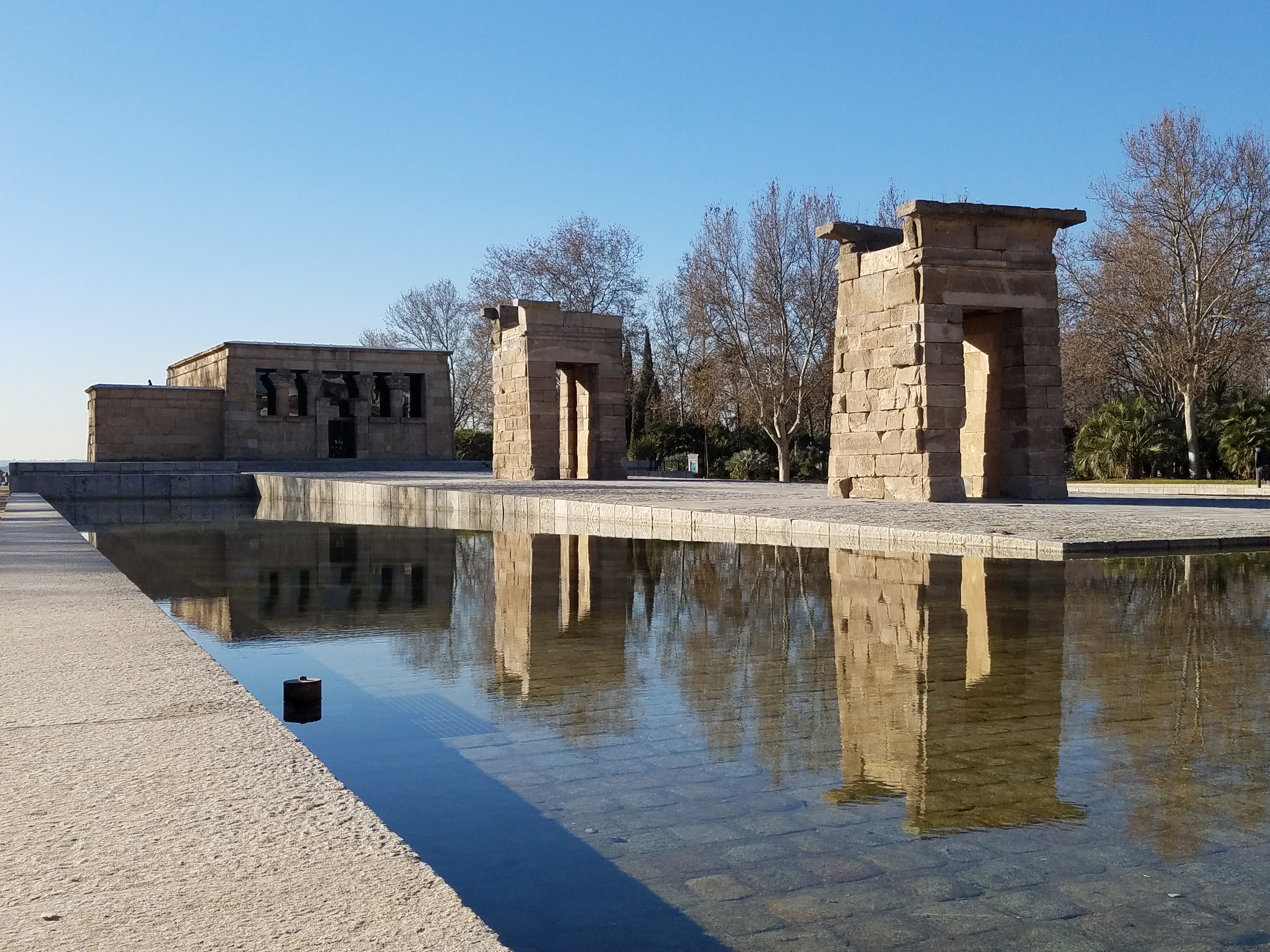 #6: Egypt Gives the Best Gifts [Temple of Debod]
The Temple of Debod was a gift from Egypt to Spain 1968 as a gesture of gratitude for helping them preserve the Abu Simbel temples in the 1960s. This shrine was taken from Upper Egypt, dismantled, and then reassembled in the Parque Del Oeste. It is now open to the public and can actually be entered, though at the time of my visit, it was closed for unknown reasons (sadface).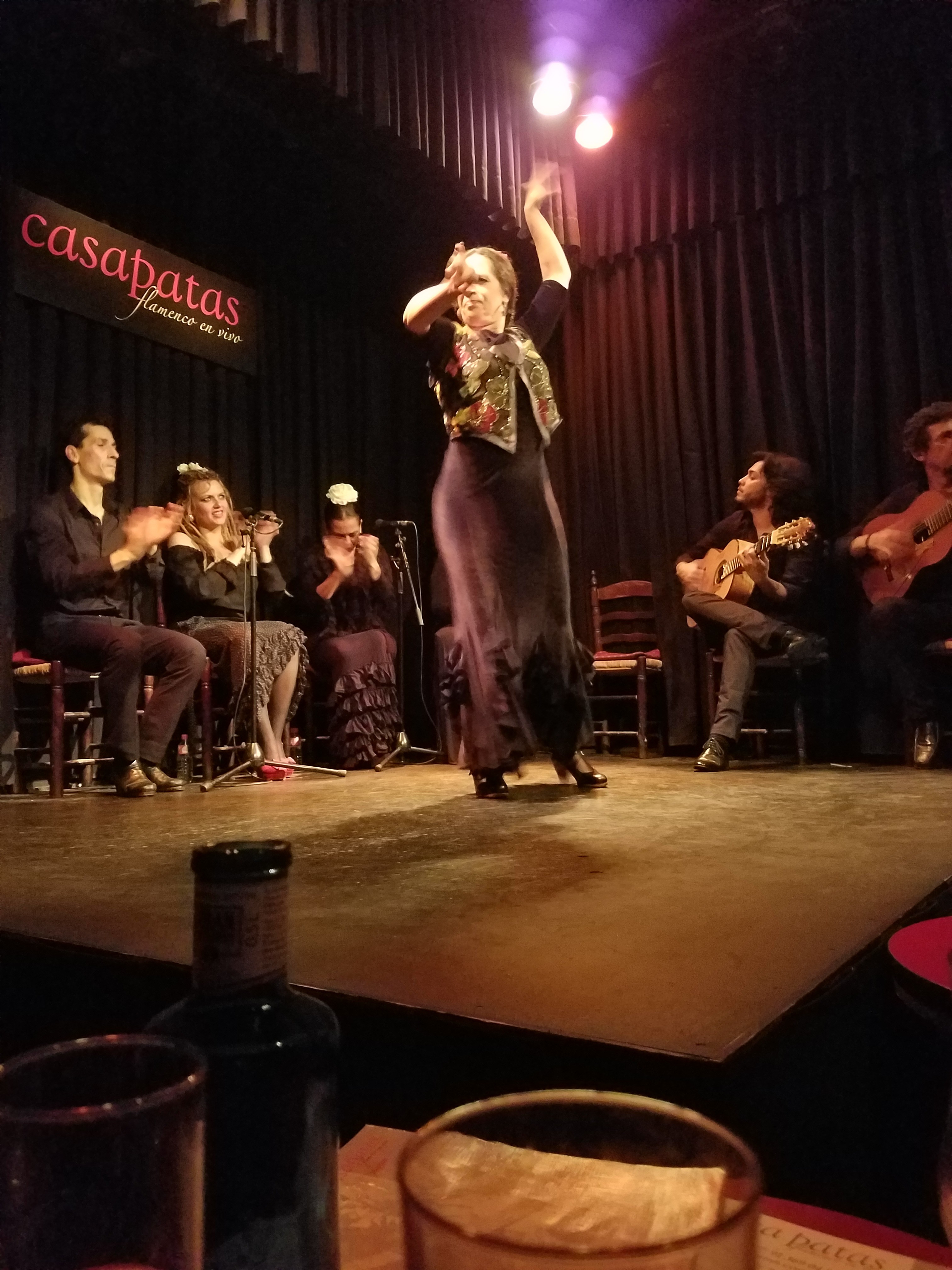 #7: Woman Dancing in a Darkly Lit Room [Flamenco at Casapatas]
Courtesy of Professor Resnick and funding from MIT, our class was given the opportunity to experience a live flamenco show. The evening was filled with a symphony of clapping hands, strummming Spanish guitar, stomping heels, soulful singing, and the visual weight of rhythmic motion and sinuous physicality on stage.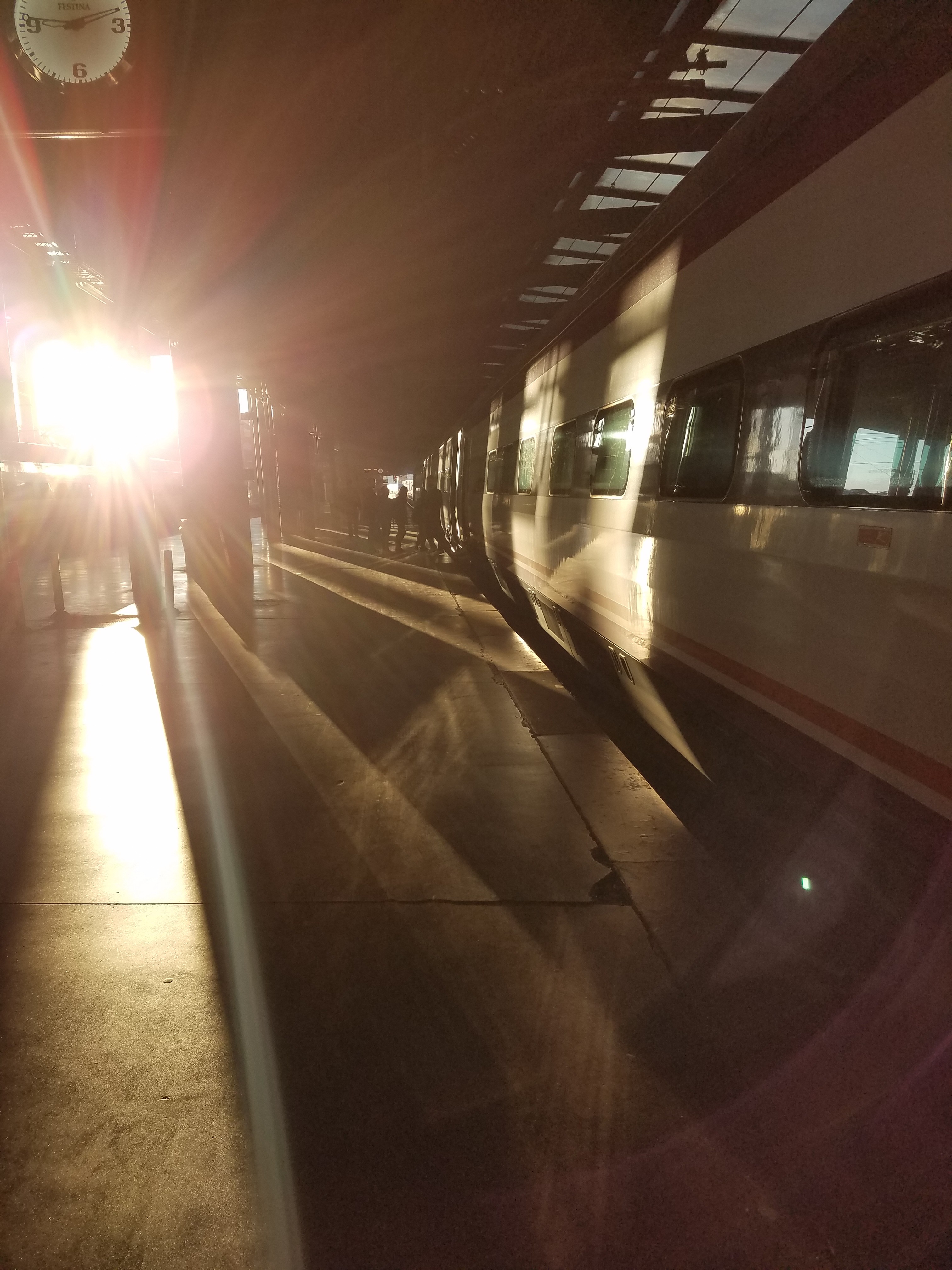 #8: The Sun is Really Bright [AVE at the Atocha Station]
With no class on Fridays, students had the luxury of planning multiple day trips during the weekend to cities like Toledo, Segovia, Granada, and Seville. Tickets for the AVE meant shorter commuting times on the high speed trains. Luckily, my homestay was only a 20 minute walk from the largest railway station in Madrid: Atocha Station. This photograph was taken right before we embarked on a quick ride to Toledo for a day trip.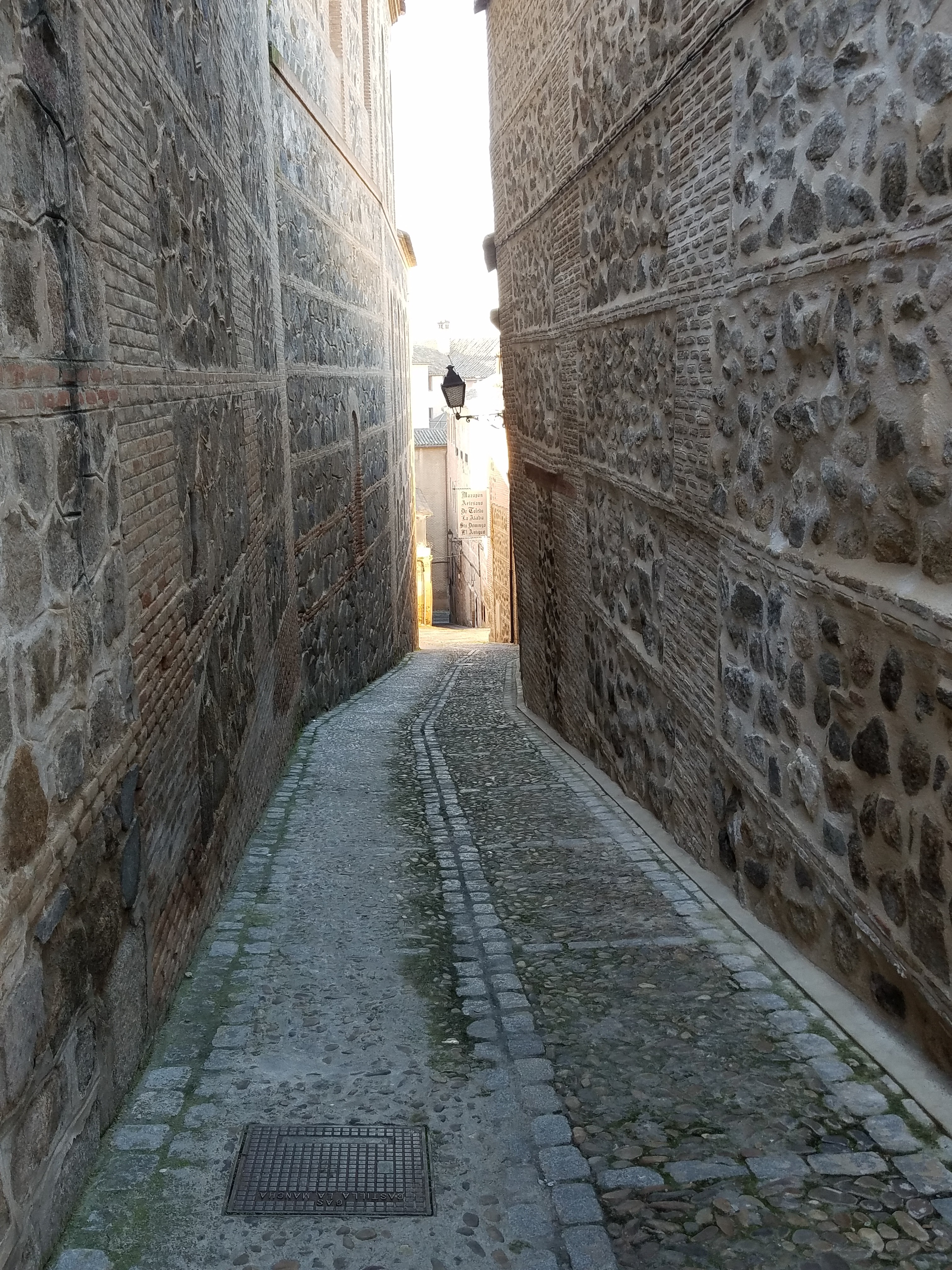 #9: I Dub Thee My Favorite Alley in All the World [alleyway in Toledo]
This is probably my favorite alley in all the world by default because honestly, who even keeps track of which alley is their favorite? Anyway, this particular alley creates a uniquely pleasant echo when you stomp around it. I considered including a soundclip, but realized I didn't know how to extract or embed audio and then sort of gave up. It sounds kind of like BWAaaaaaawppp or DWAAAaaaawppp. Use your imagination. My roommate and I stumbled upon this alley as we wandered the streets of Toledo, which all seemed like quaint and narrow twists between tightly-packed buildings. It would eventually lead to a convent where we would proceed to buy a box of marzipan from a nun through a dumbwaiter.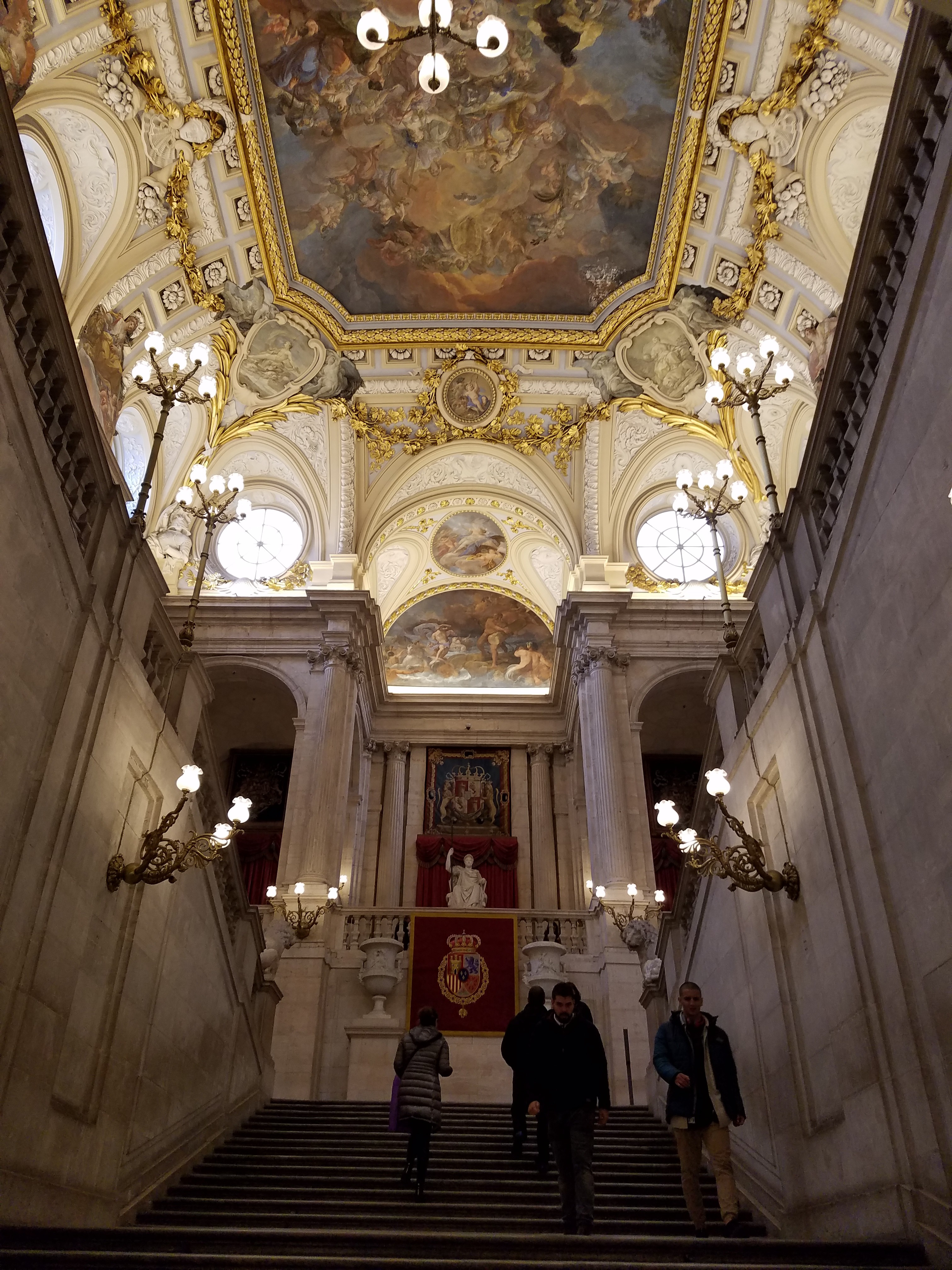 #10: Shiny Ceiling [Palacio Real in Madrid]
Though technically the official residence of the Royal Family of Spain, the palace is used only occasionally for state functions and on most days serves as a museum of sorts, through which visitors can "ooh" and "aah" at the extravagence of it all. From wall length tapestries to intricate ceiling paintings to gold embellished furniture, the palace is the definition of luxury. There is even a room with porcelain walls. What.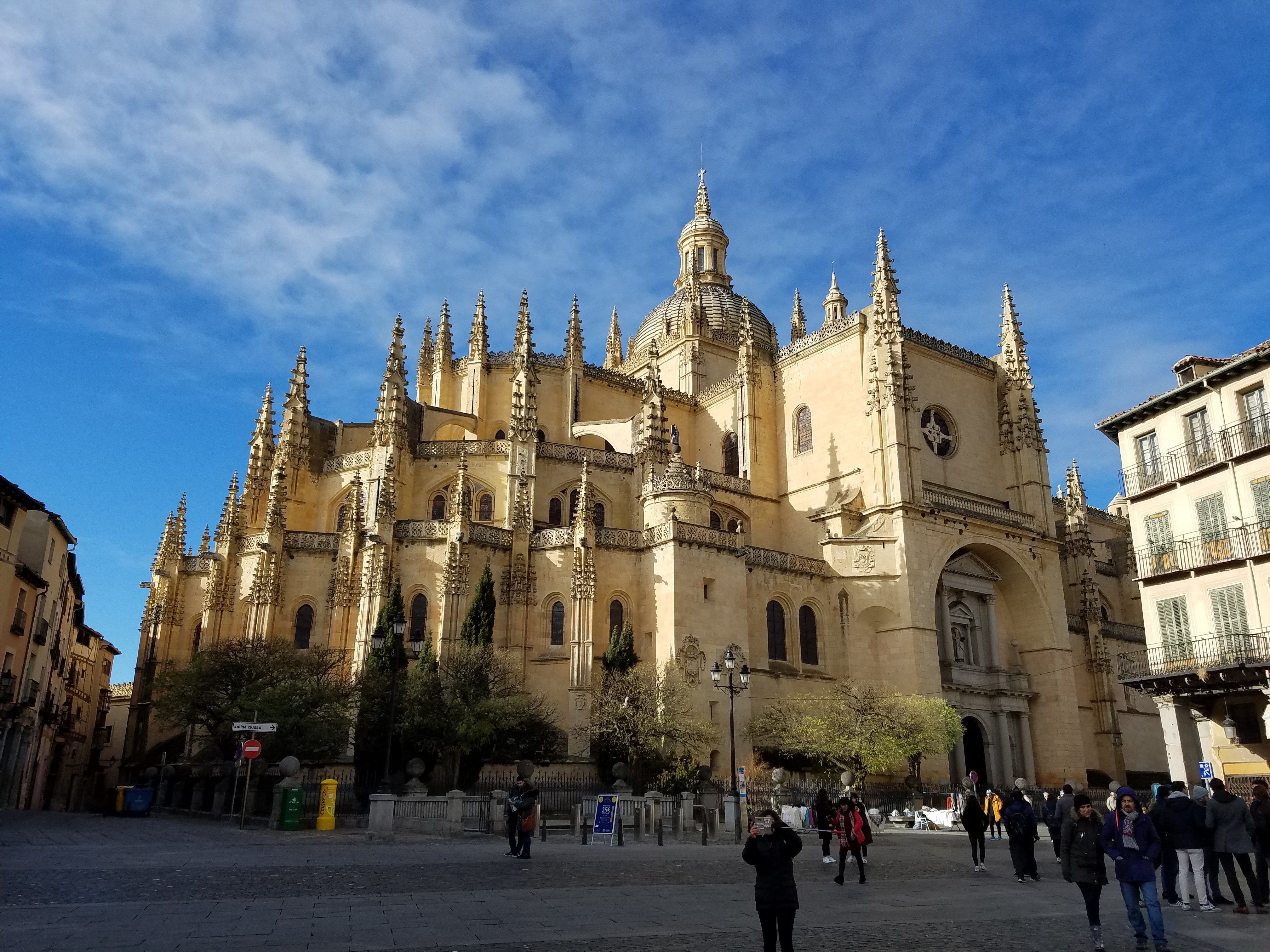 #11: Spain Has the Bluest Skies [Catedral de Segovia]
There are a lot of cathedrals in Spain. Though each varies quite a bit in style and architecture, they are all awe-inspiring examples of human artistry and dedication. This one was in Segovia, which I visited on a day trip my second weekend. I like how the blueness of the sky really pops against the pale yellow spires of the cathedral. Even though it was the dead of winter, by afternoon, you could almost always start to feel the warming rays of sunshine cutting through the blue sky like a hot knife through butter. Fun fact: Spain is the second highest country in Europe after Switzerland, which may or may not explain things. Science?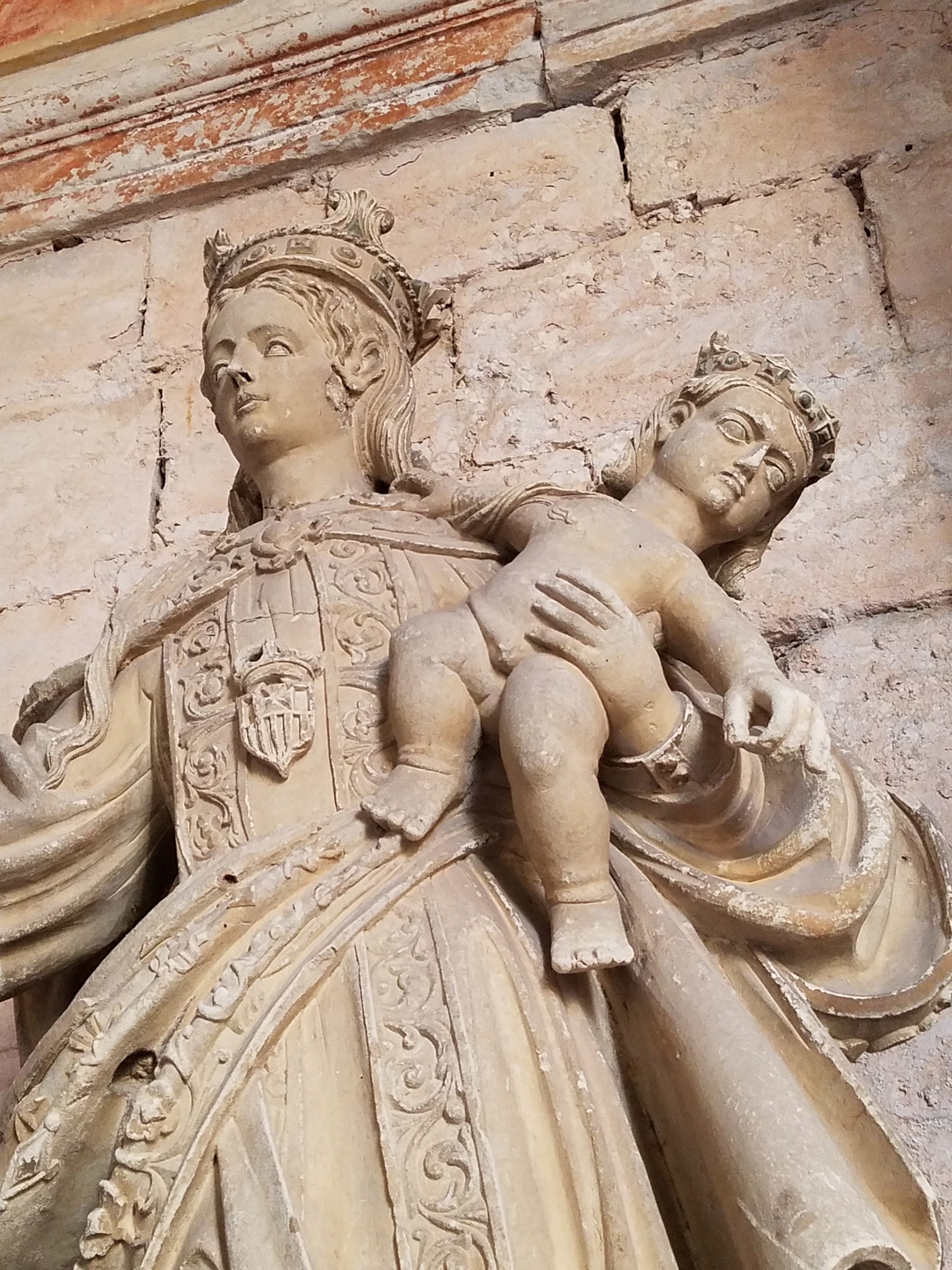 #12: Baby with Giant Man Head [Statue at Catedral de Segovia]
Lol.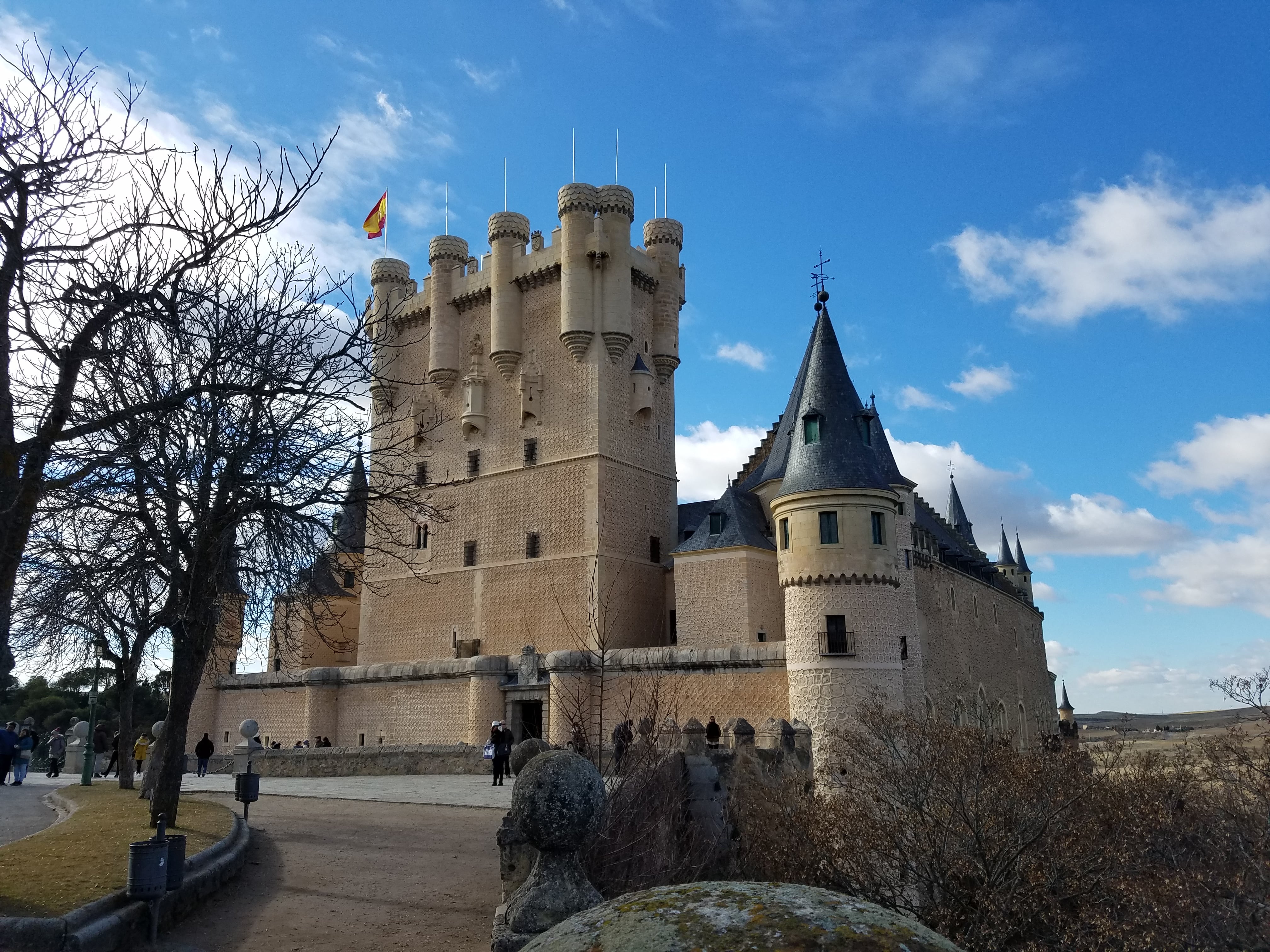 #13: You Look Like Someone I Know… [El Alcázar de Segovia]
According to Wikipedia (and probably other reputable sources), this castle in Segovia was one of the few castles that Herbert Ryman, the designer of the Cinderella Castle, used for inspiration.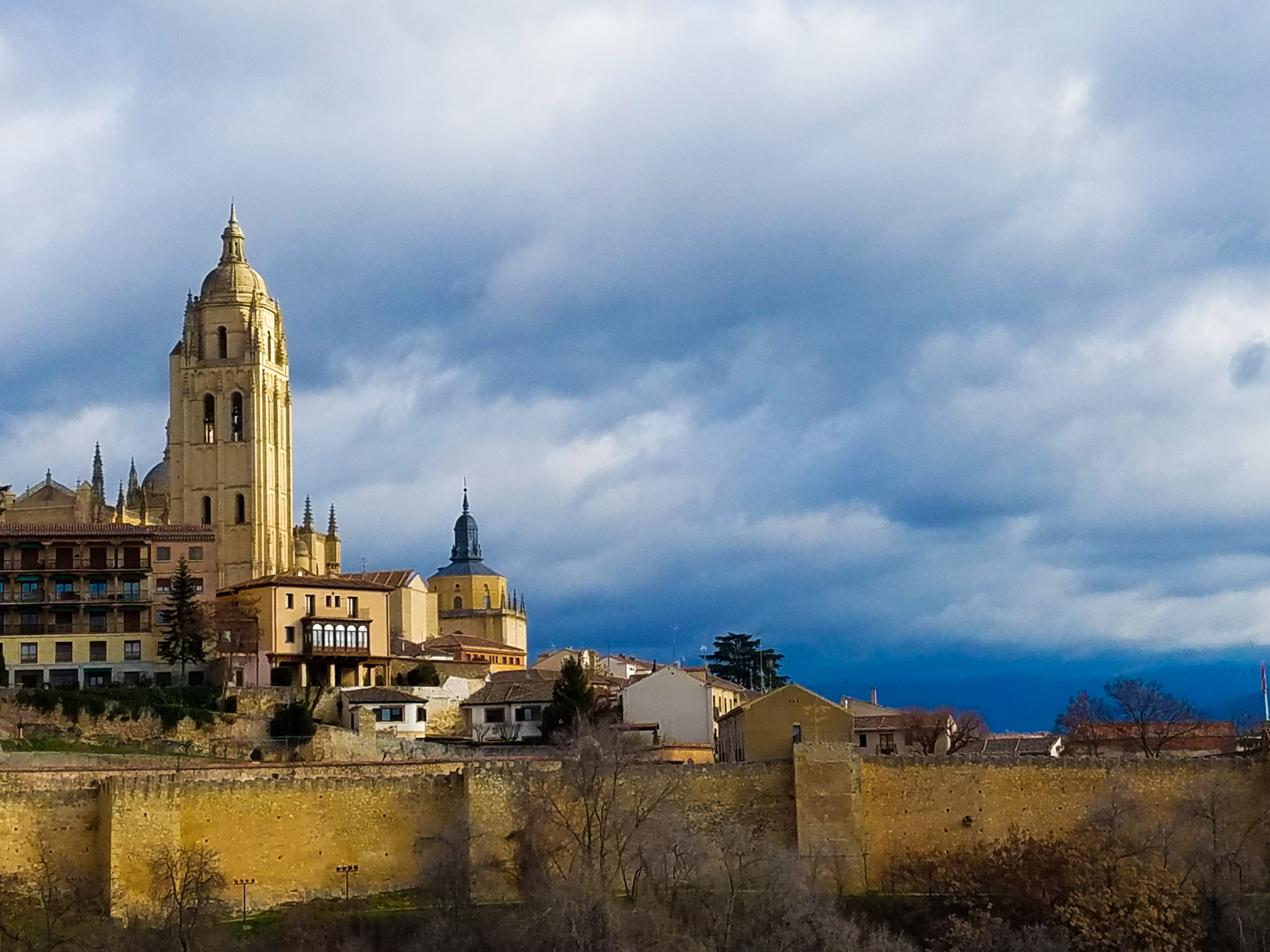 #14: This is Definitely Not an Over-Edited Photo [Bell Tower in Segovia]
This is the only photograph in this collection that has been altered using photo-editing software. I was bored one day and started messing around with my free Lightroom phone app. I enjoy movies, travelling, long walks on the beach and photographs with over-saturated colors.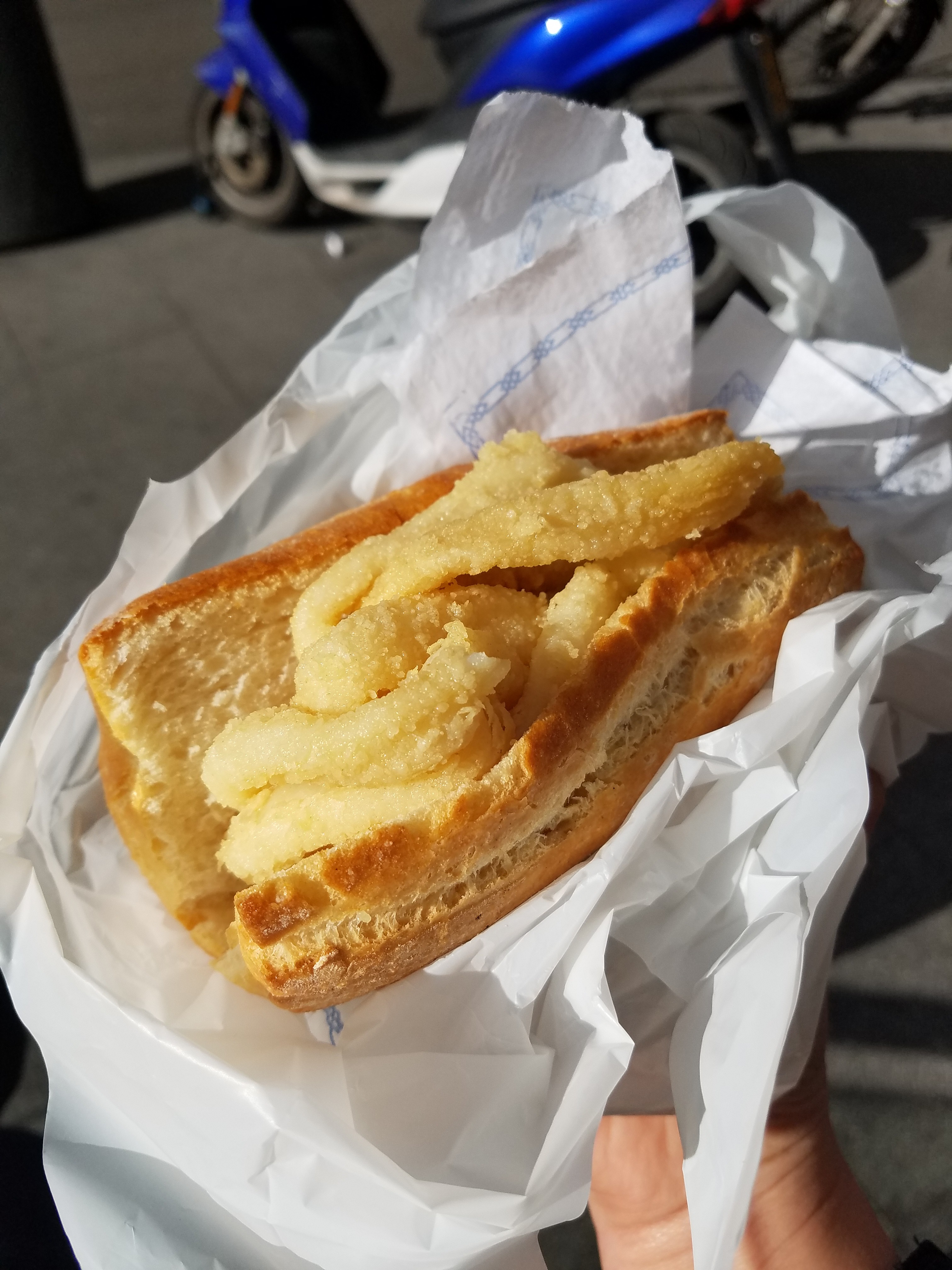 #15: Greasy, Carb-y Goodness [Fried Calamari Sandwich from Cervecería La Campana]
Part of experiencing a new culture is of course stuffing your face with new foods! What you see here is what you get: hot rings of deep-fried calamari stuffed between a piece of bread sliced sideways. I thought it would be dry and no fun to eat, but it was surprisingly moist and delicious. Other foods sampled in Spain included: fried eggplant with honey, pigs' ears, actually cheesy cheesecake, Spanish tortilla, suckling pig, tripe stew, etc.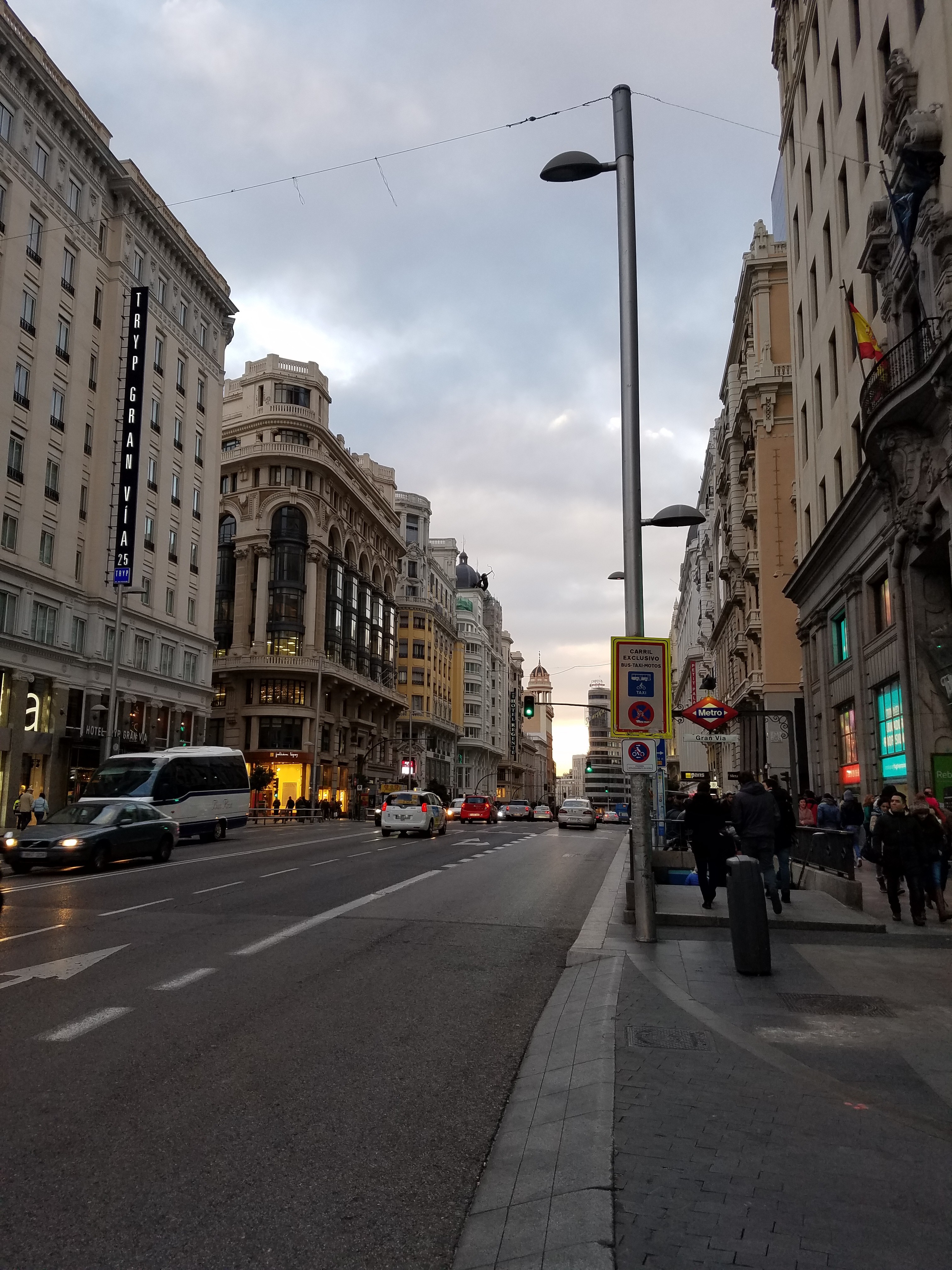 #16: This is a Street [Gran Via in Madrid]
This photograph was taken on January 19th 2017, just five days before the end of the course. In an effort to capture not only the landmarks and excitement of the city, but also the simple feeling of just being there, I whipped out my phone while crossing an intersection and snapped a photograph. The impending departure seemed bittersweet.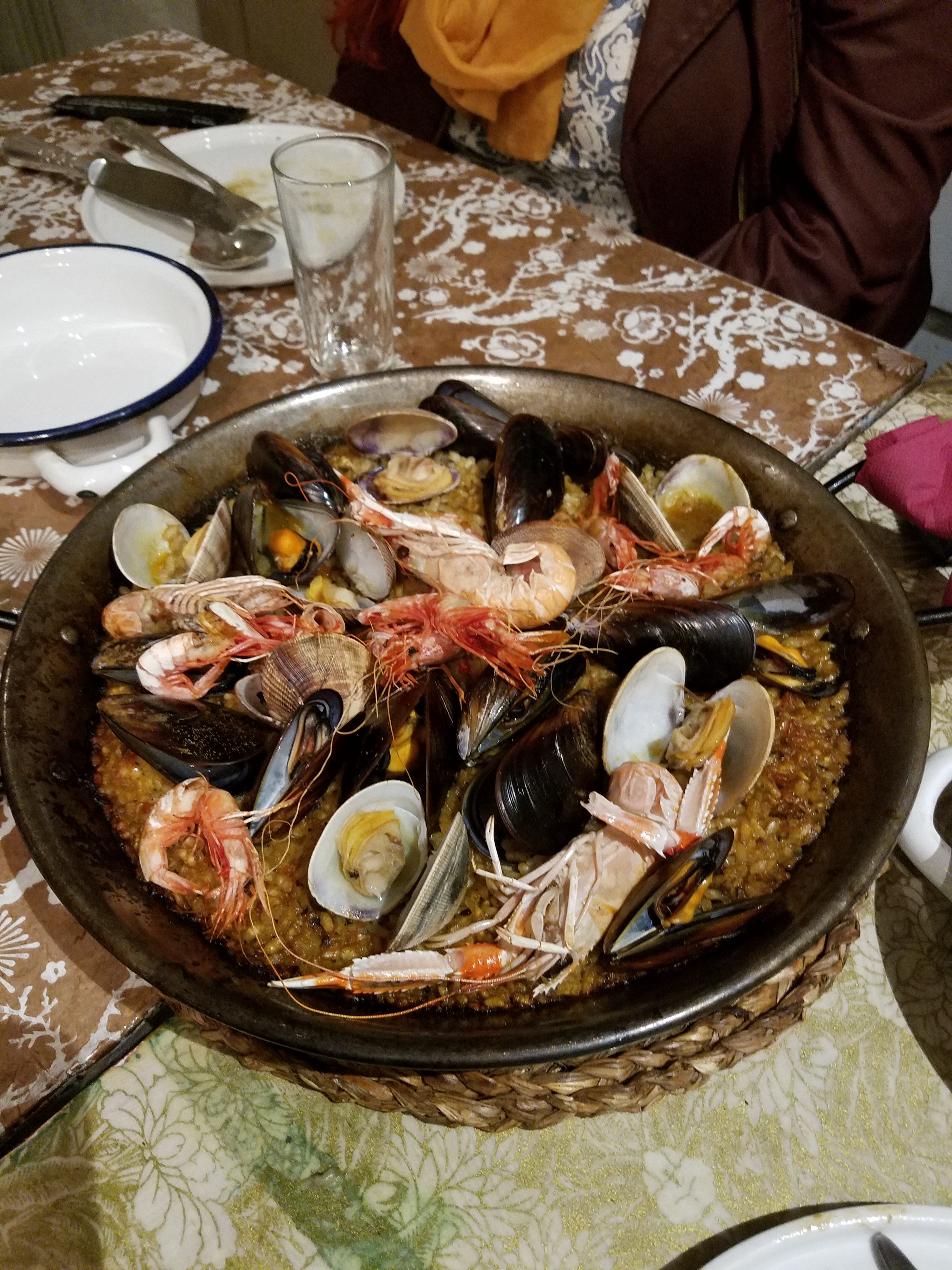 #17: Obligatory Food Photo No.2 [Paella in Barcelona]
The last weekend in Spain was spent in Barcelona where I stayed for three days and two nights in a hostel. While seafood in Madrid is supposed to be extremely good as well, we took advantage of being in a seaside city to sample the famed Paella. My favorite part was the crispy rice bits at the bottom of the pan!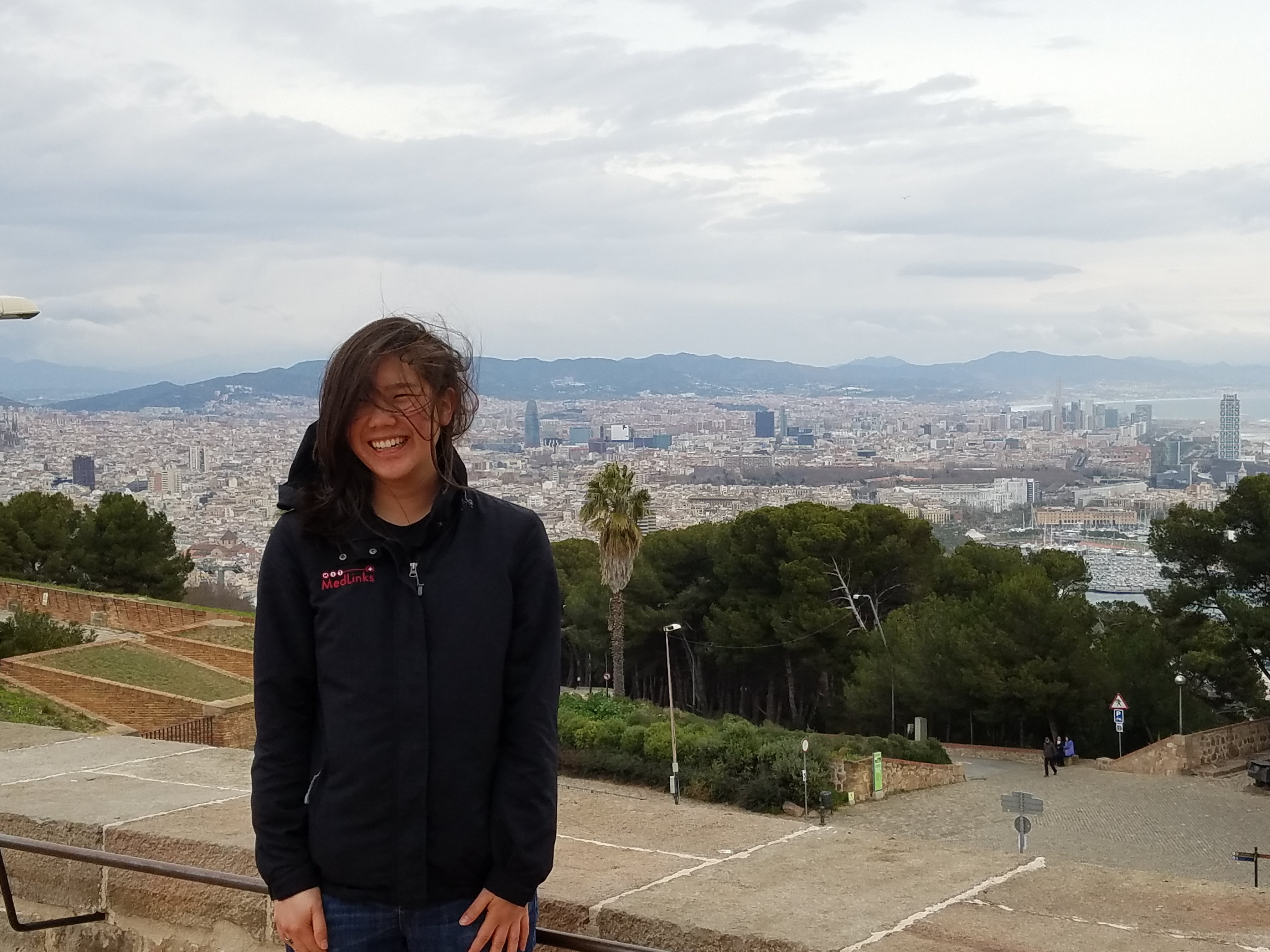 #18: Wind: 1, Krystal: 0 [Montjuïc Castle in Barcelona]
Montjuïc Castle is an old military fort at the top of Montjuïc, a hill in Barcelona. After a morning trek up the steep-ish hill, we finally reached the top and peered out over the stone walls. The view alone was worth the burning thighs and out-of-breath sighs we had endured. Stretched out in front of us was the sprawling Barcelona cityscape, bounded on each side by rolling hills and slate grey ocean waves. The wind was atrocious though, so we eventually gave up trying to take nice photographs and headed over to the Joan Miró Museum on the way back down Montjuïc.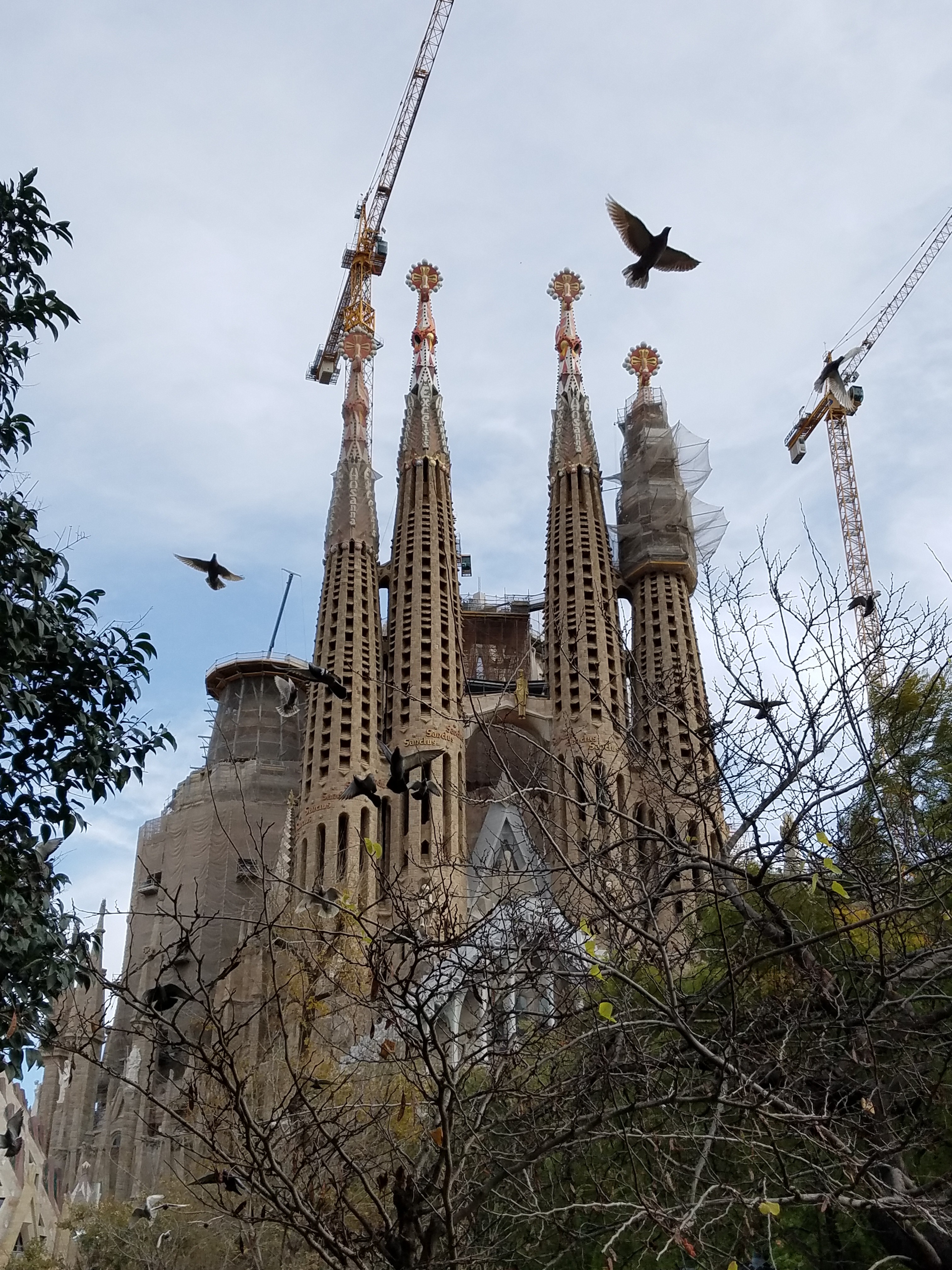 #19: An Excellent Photograph of Birds and Trees (and also i guess a basilica) [Sagrada Familia in Barcelona]
No trip to Barcelona is complete without a visit to the Sagrada Familia. Though construction on the Sagrada Familia was started in 1882, designed in part by architect Antoni Gaudí, the extravagent basilica is not projected to be complete until 2026. In the meantime, visitors can marvel at the skyward spires and the cranes that tower alongside them.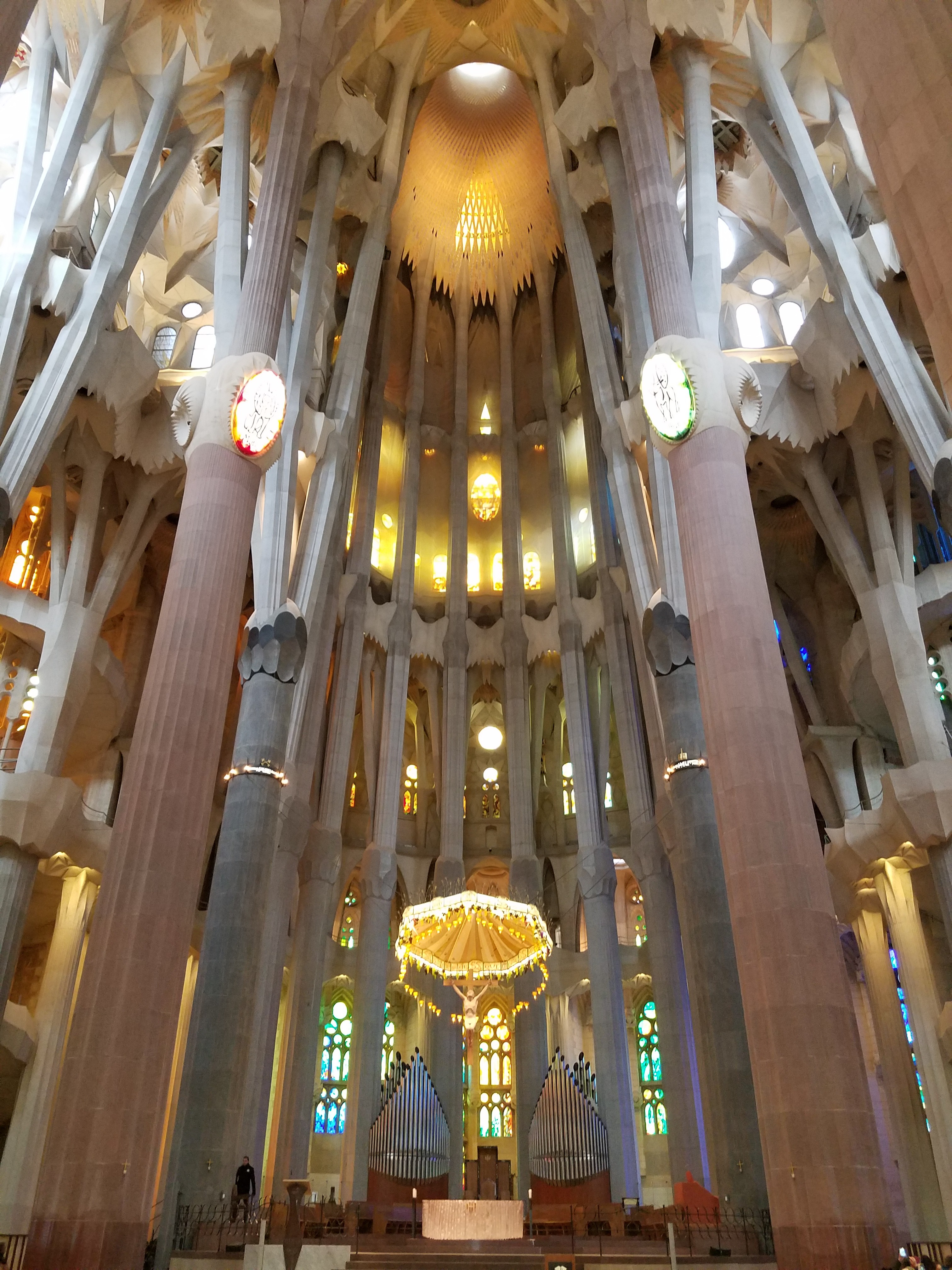 #20: Tiny Man for Scale [Inside of the Sagrada Familia]
There is a tiny man included at the bottom left corner of the photograph so that you can fully appreciate the neck-craning and awe-inspiring height of the basilica's ceilings. The best parts were the rainbow light beams and color mosaics that the stained glass windows cast across the cavernous space.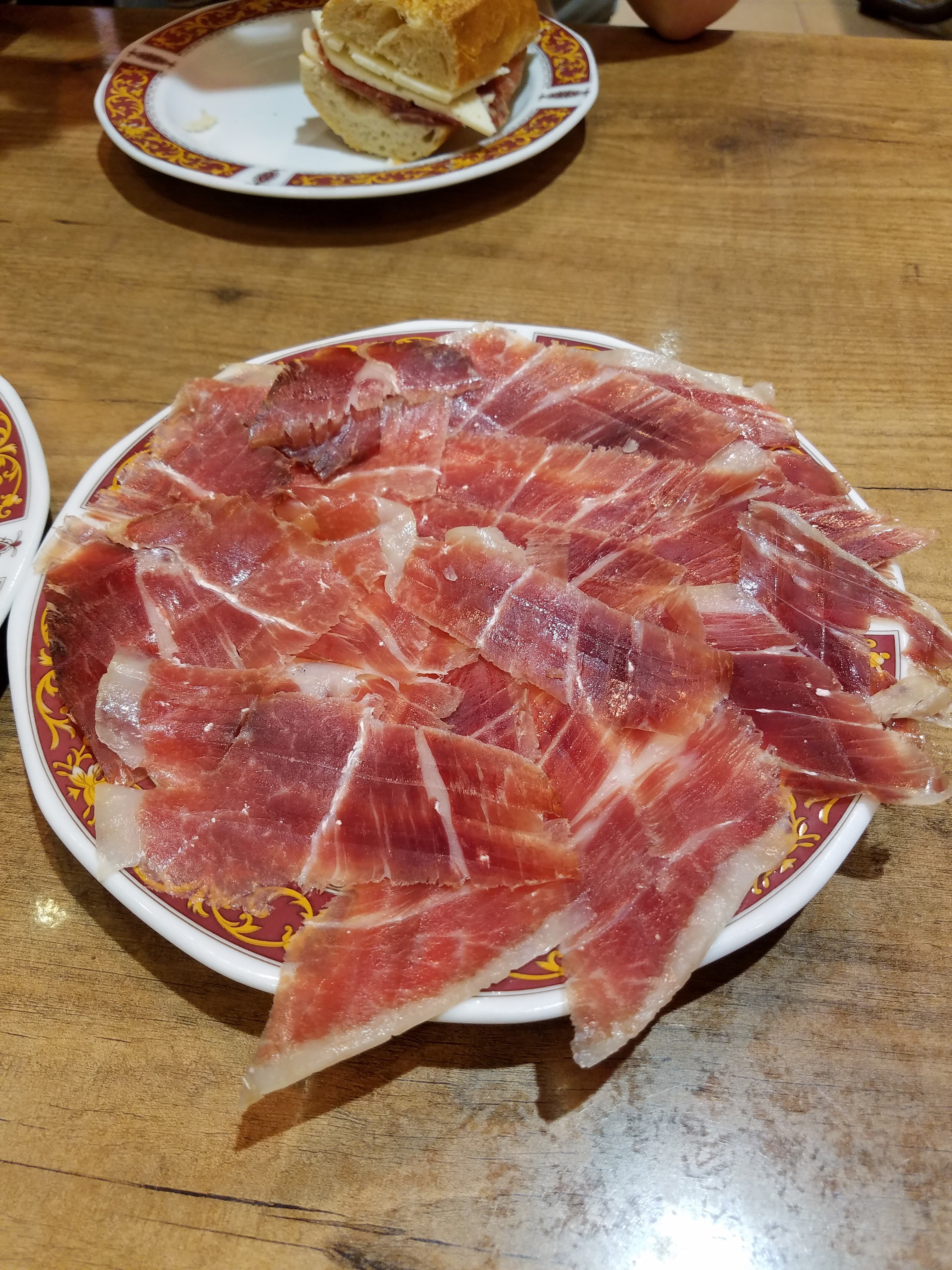 #21: Literally Just a Photo of Ham [Jamón Ibérico at Don Jamón]
On my second to last day, I ordered my final plate of cured ham in Spain. With their iconic rows of upside-down pigs legs hanging from the walls, ham shops in Spain are not uncommon. From each hulking haunch, thin slices of the salty, fatty treat are shaved off and served with a warm crusty roll. Yum. Over the three weeks, my roommate and I had developed a low-key fascination with the Spanish specialty. We had already enjoyed it in it's purest form, in sandwich form, in egg-dish form, and in cheese-and-ham-filled-paper-cone form – just to name a few – so it was an apt culinary finale to an unforgettable trip.