Covering my walls in postcards and various other pieces of paper is my preferred method of decoration. I've covered pretty much every wall of my room at home, to the point where I started stashing away cards for my dorm room walls well before I actually got accepted to college. Naturally, when I got to campus two weeks ago, one of my first priorities was to put them all up, and then I thought I might share with you what I ended up with.
I originally thought this would be a quick post to write. I was wrong. Turns out, I currently have 52 postcards pasted onto my wall, and each one has a story, so this took me many hours of reminiscing and a little bit of googling to jog my memory. I hope you enjoy.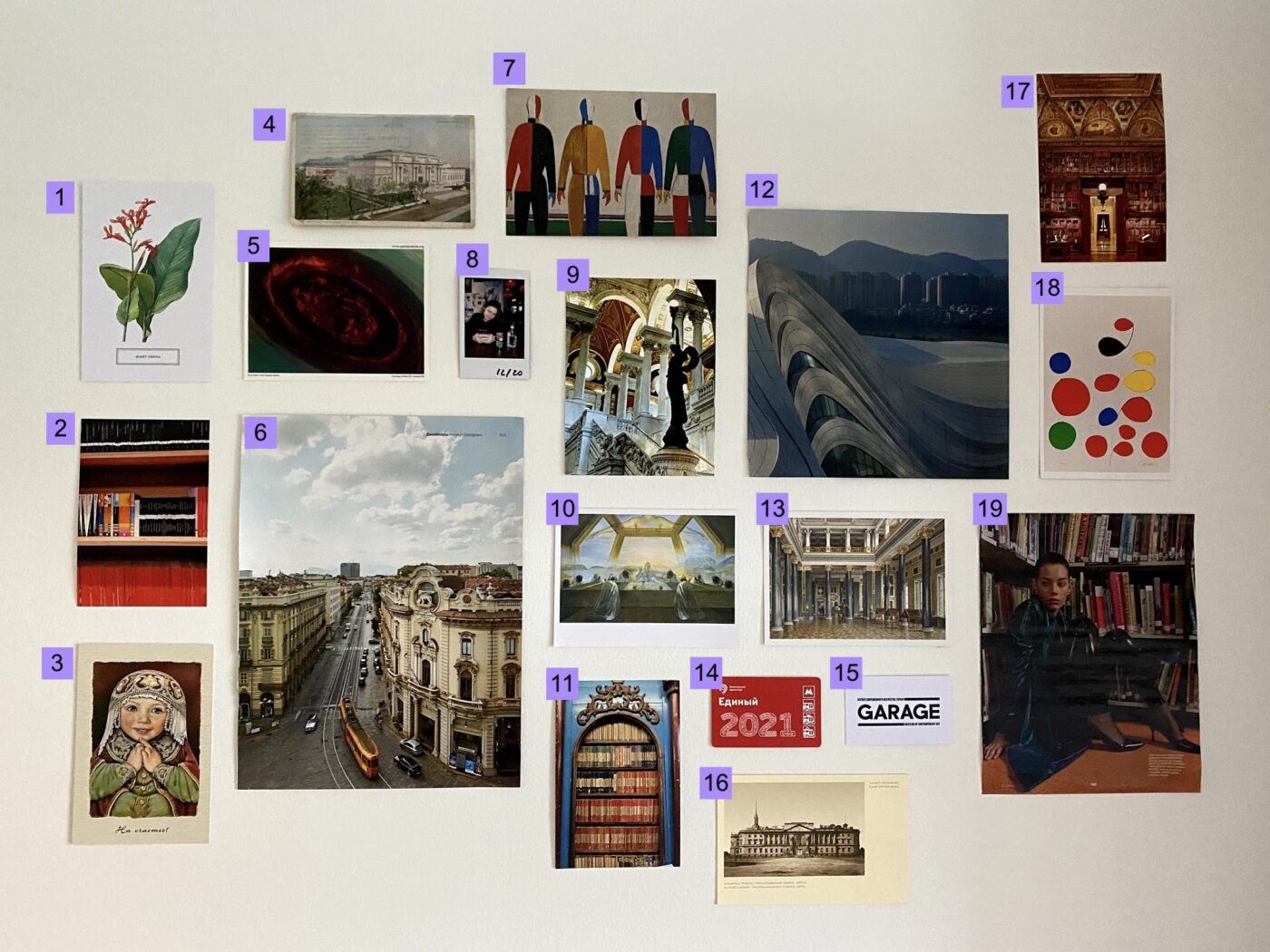 I really, really like postcards, and so I buy a lot of them, and sometimes a lot means getting a box set of 100 postcards of illustrated plants from the New York Botanical Garden. This is actually my newest addition to my postcard collection, I bought it just a week before leaving NYC to come to campus. I found it at a bookshop I stopped by on my way home from a doctor's appointment, right before I went to Best Buy to pick up a toaster.⁠01

my family had never owned a toaster until that fateful day.

At the risk of seeming unhinged, I will admit that this one also comes from a (different) box set of 100 postcards. It features shots of 100 different bookshops across the world, and I'm honestly considering treating the set as some sort of bucket list for places to visit. I bought the set on a really amazing day in September, at Strand, one of my favorite NYC bookstores, a couple of days before leaving to Russia for the fall.
This one was gifted to me by mother, relatively recently. It features a girl in traditional dress⁠02

sadly I do not know which region of Russia this is attributable to

and the wish на счастье!, meaning "for happiness/for luck." I love the colors here.
This is an old⁠03

dare I say vintage

postcard of the Metropolitan Museum of Art in NYC. The museum is one of my favorite places in the city, and I have a lot of great memories associated with it. I found the postcard itself in a box on the second floor of another of my favorite NYC used book store, Westsider Books.⁠04

they have a cat, who I love to pet, which is the most perfect aesthetic

I got this postcard of "The Rose," a Cassini photo of Saturn's north pole, from a NASA information booth at the American Geophysical Union conference in San Francisco in December 2019. I was there to present my research, and it was the week before my MIT decision would be released, so I was generally pretty stressed, but it was overall a really nice trip to SF and a really good experience professionally.
I actually just cut this page out last week from a design magazine I hauled back⁠05

lugging magazines across cities and continents is a long-time hobby of mine

from Russia. I had just started doing this portion of the wall when I realized I didn't have enough large-ish posters, to spice up the proportions, so I found this pleasing shot of somewhere in Italy.
This one is a painting by one of my favorite artists, Kazimir Malevich. He's one of the icons of the Russian Avantgarde art movement in the early twentieth century, which might just be my favorite moments in art history. It's called "The athletes," and I got the postcard at the State Russian Museum in St Petersburg this fall. Unfortunately, I never got past the gift shop to actually visit the museum… but next time, I definitely will.⁠06

I've also been before, just not recently

This is a polaroid of my friend, Inna, in Moscow this past December. It was a really nice day – we did some pre-New Year's⁠07

in Russia, New Year's is celebrated with much the same traditions as Christmas is in the US

shopping in one of my favorite areas in the city, and then stopped for Vietnamese food.
This one is from the Library of Congress in Washington, D.C. from a trip last February. I went for a weekend to visit a friend, and something about that trip felt so magical… I think it was the freedom of getting to relax for the first time in a long while, with college/scholarship application season being over. It was pretty much my last trip before covid hit, which also makes it pretty special in retrospect.
On the same trip, I bought this postcard at the National Gallery. We honestly went to so many museums that weekend, it was great. (not that there's much else to do in DC…)
From the same postcard set as #2.
I also cut this out of a Russian design magazine for the explicit purpose of adding some bigger pieces to the wall. This one's from an article about Zaha Hadid's architecture. I love the contrast between the mountains and the city in the background, and the building in the front is really cool.
This is an interior of the Winter Palace in St Petersburg, from a set of ten postcards I bought in the fall. The palace is perhaps the most iconic place in the city; it was the residence of the Russian emperors and is now the home to the Hermitage museum, which houses the second-largest museum collection in the world. It's a place I will continue coming back to over and over, and finding something new every time. And the interiors are absolutely insane.
This is a one-time-use card for the Moscow metro I bought one day in December after having forgotten my regular reloadable pass⁠08

mine is a special edition with a print of the Millenium Falcon entering hyperspace, which I'm kinda really proud of

at home.
I got this business card for the Garage Museum of Contemporary Art at their bookshop in St Petersburg: the museum also has a publishing house, which releases super cool⁠09

and very aesthetically pleasing! I love books in nice bindings

books on art and design. The museum itself is in Moscow, and I've somehow never been, but it's definitely on my bucket list.
Just a postcard I bought at some gift shop in St Petersburg. It features a nineteenth-century view of the Mikhailovsky castle, which I lived five minutes away from in the fall. I would always pass by it on my morning runs.
I got this one from the Morgan Library and Museum in NYC. It was the only museum I actually managed to go to out of my museum-hopping IAP aspirations, but it was soo gorgeous. I adore books, and a museum that's also a library is just *heart eyes.* My best friend, Alina, and I went in early February. We actually hadn't seen each other since I had gone to Russia, so it was all-around a really really nice day.
I'll be honest, I'm not sure where this postcard is from, but if I had to guess, also from the National Gallery, from the same DC trip as #9 and #10. They had a lot of work by Alexander Calder, and this is one of his sketches. I love Calder, I think his mobiles are super cool from both an art and a physics perspective.
This is yet another page I cut out of a magazine, from the January 2021 Russian ELLE, to be specific. It was literature themed, so I knew I had to get it when I saw the issue in a supermarket. Obsessed with the outfit here – I actually own a vaguely similar trench coat, but unfortunately I forgot it in Moscow, so I won't be able to wear it for a while…
From the same booth as #5. This is an image of somewhere on Mars, which is blows my mind to think about.
This one's from the Erarta contemporary art museum in St Petersburg, one of my favorite places⁠10

not only do they have great art, they also have a cafe with delicious eclairs and a very pleasing view of some birch trees

in the city. The painting is titled something like "A single man's breakfast," but honestly, this looks really good to me.
Another touristy postcard of St Petersburg, with a nineteenth-century shot of one of the Rostral columns on Vasilievsky island. The island was relatively far from where I was living, but I would often go on long walks and pass by these gigantic, bright red monuments.
This is from a set of ten postcards of William Morris' wallpaper designs. I bought the set from the Morgan Library gift shop, despite not actually having seen anything by Morris on that visit. I've recently been really into his designs though, they're so aesthetically pleasing. I just knew I had to have one on my wall.
This was like a second cover for one of Vogue's recent issues, and I thought it looked super cool. I've been subscribed to Vogue for several years, and am kind of aspiring to amass a significant backlog of their issues. I feel like it would be cool to be able to go back and see how mainstream fashion evolves over time, knowing that I remember its different phases.
Also from the Morgan Library. It's such a gorgeous building.
From the same set as #2 and #11.
Also from St Petersburg. I passed by this building, I don't even remember what it is now, but I thought it looked really cool in that maybe-brutalist definitely-soviet style I enjoy. I even stopped to take a picture of it, and then I found this postcard at some bookshop and knew I had to buy it.
A cutout from a recent issue of Vogue. I don't remember what the article was about, but I just really enjoyed the colors and the serenity of these hills.
A strip of exposed film from a roll I couldn't rewind up all the for some reason. I remember i was sitting in my bathroom in St Petersburg with the lights out trying to push it back into the spool by hand after something messed up in the camera… honestly, I'm still learning. And I only lost a few shots.⁠11

that time. I recently switched to a different camera and I think the whole rewind mechanism miiight be broken so the first time I used it I ruined like half a roll :(

From the same set as #2, #11, and #26.
This is from a set of postcards featuring Soviet space race propaganda posters. I have all my favorite ones up in a row on a wall at home, but this one is cool too. I like all the flags, the sense of internationalism. The text reads something along the lines of "Through friendship and exploration, we establish peace in space!"
This one features a work of art by Duane Michals. The text reads "ceci n'est pas une photo d'une pipe" (this is not a photo of a pipe) referencing Magritte's famous Treachery of Images, which features an image of a pipe with the words "ceci n'est pas une pipe" (this is not a pipe). I bought this postcard at the Morgan Library as well, and though I didn't actually see this piece on display (it might not even be at that museum), I thought the reference was cool and the colors looked sick.
A business card from a cafe/restaurant/bookshop called "Books and Coffee" in St Petersburg. I enjoyed going there to do work on a couple occasions in the fall, and just the name of the place sums up my ideal aesthetic pretty well.
From the same set as #1.
I took this polaroid of Alina in September, at the Metropolitan Museum. It was my first time going to a museum since covid, and just a few days before I would leave for Russia. We went in the morning, so the museum was so blissfully empty. I saw exhibits I had never noticed before. I went out onto the roof for the first time in many years. We walked around the city afterwards, stopping by some of my favorite places (like Strand, see #2). When I think of my love for New York, I think of days like that.
From the same set as #2 etc, except I've actually been to this bookstore, City Lights Books. It's located in San Francisco, and I made sure to stop by there on my trip to AGU (see #5).
From the same set as 13, another gorgeous hall in the Winter Palace.
I'm 80% sure that I also got this postcard from the Morgan Library gift shop, but I have no idea who it's by, and I don't really want to peel it off the wall to check. In love with the colors on it, though. If anyone knows who the artist is, please let me know!!
This shot is a perfect example of the kind of views that make me melt inside and think about how much I love NYC – hazy mornings with clear skies, tall buildings in beige and brown… Ironically, I cut this out of the promotional booklet for a college I do not attend, but hey, it's a great photo.
Found this old photo in the same box as #4, though probably on a different visit. I honestly have no idea where this is, but I love the aesthetic.
This is the San Francisco Museum of Modern Art. I seem to be in a habit of visiting museums and only going into their gift shops, but this was on the same trip for AGU as #5 and #36, and I was kind of busy… The gift shop was really nice,⁠12

I got this nice brooch in the shape of a shiny balloon dog

though, and I think the architecture is super cool. Definitely want to actually go see the exhibits next time I'm in SF.
I took this polaroid in December, on the cross-country ski track in the forest on the outskirts of my mom's hometown. Even though I've been too lazy to ski for the past two winters I've spent in Russia, I enjoy going on walks or runs in this forest. It's just… gorgoeus, and no photo can do it justice.
Also from the National Gallery, from the same trip as #9 and #10. Like I said, I love Calder, and they have a huge mobile in the lobby of the new wing. I actually got two of these post cards, and one of them is hanging in my bedroom at home.
From the same set as #1 and #34.
Got this postcard on a whim at a tiny bookstore in St Petersburg. I don't know the artist of this piece, but the text is really edgy and reads "a snowy sky above us, the law of the taiga (forest) inside of us."
From the same set as #31. The text reads "Glory to Soviet science! Glory to the Soviet person – the first cosmonaut!"
From the same museum visit as #35, I actually took these like five seconds apart. This is a really contrasting view of the ceiling in the main lobby of the Met, with the light streaming in through the dome. I didn't mean for the photo to turn out like this, but I'm kinda glad it did.
I got this one at a very cool exhibit that ran at the Metropolitan in Fall of 2019. It featured all sorts of elaborate scientific instruments from all over the world and all different time periods. I was absolutely enthralled – these objects were scientific and decorative, and isn't that perfect??
This is the postcard-sized business card for the Evolution Store in NYC. It's a really cool place, they specialize in taxidermy, minerals, and all sorts of oddities of natural origin. I stopped by there recently to buy my friend a porcupine quill as a belated New Year's gift.
From the same booklet as #39, and also a view of New York that makes me miss it.
This was a little promotional card for a St Petersburg-based chocolate factory / chain of cafes called Happiness. I only discovered it this fall, but am now obsessed. They make amazing desserts, and their chocolate pralines⁠13

I actually brought a few back and have 3.5 left in my cabinet right now

and truffles in particular are exquisite. The cafes themselves are so beautiful, too, with really intricate yet homey decorations.
From the same set as #2, etc.
There we go. All 52. I hope you enjoyed that, because I did. Writing this has made me excited to see what postcards I'll gather this semester, and in the semesters that come, so here's to more trips and more museums and more rectangular pieces of paper.