A couple weeks ago, my dorm (Burton-Conner) got an email from the front desk⁠01 courtesy of the valiant desk guardian Ekanem O. beseeching us to pick up our packages:
Hi all,

The stacks of packages are reaching NBA-player height, so if you've received an email from BC Desk (that isn't this one) notifying you of a package delivery please come and pick it up!

Also if you're expecting a package and haven't gotten an email yet please be patient – we're going as fast as we can.

Thanks,

Ekanem
BC Front Desk
The next day a second email arrived: "Guys it's for real nearing Shaq height."
As the latest beneficiary of Amazon's six-month free Student Prime trial, I would like to offer a personal apology to the BC front desk (and also mother nature) for being majorly Part Of The Problem. Going to college 5,000 miles away from home meant I had to pack everything I could into two suitcases, so I spent my first month at MIT transforming my garbage bag laundry hamper, travel toiletry bag, and just-sheets-no-blanket-no-pillow bed into a more long-term living situation. Which has meant… a few too many Amazon packages.
In ordering these many Amazon packages, I've also ended up wasting investing many, many hours online shopping conducting thorough reviews of all potential products and their corresponding sales. But dorm supplies are fun, and I feel like some of my overthinking actually paid off. Thus, in order to bring further use to my many hours of intensive research, I hereby invite you to partake in this multi-course meal: a curated selection of my room's most compelling ornaments, all prepared in the style of the 5-star review.
Appetizer 1⁠02 So… I tried to look up what the different parts of a fancy multi-course are, and now I'm just confused, so please excuse my inaccurate theming : Hangers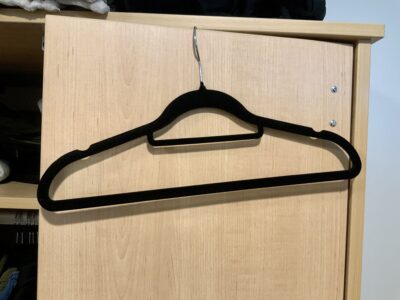 I like fashion, so at home my closet is filled pretty tightly with clothes, and these "velvet" hangers do a great job of conserving space. They're a little more work to hang/remove clothes on than slippery plastic ones, but I figured that I'd need them in a small college dorm. They also swivel at the hook (which means you can hang them on random items, like my dresser door!) and have a looped design that you can hang pants on. Unfortunately, however, despite my two suitcases being packed solid, I still have so many fewer clothes than before, and the BC closets are also quite large, so I don't actually need the space-saving function. More importantly, these hangers also shed black lint all over my clothes??
2.5/5 stars
Appetizer 2: Shower Caddy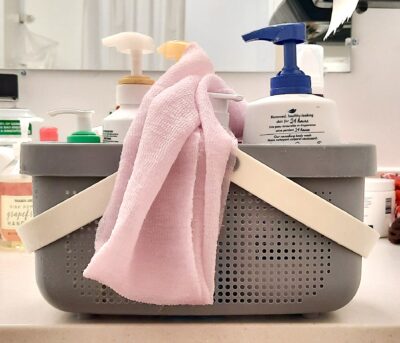 There are little cubbyholes in the BC bathrooms where you can store some of your toiletries, but you still need something to bring with you into the shower. This one is nice—it has holes on all sides (including the bottom!!) and little feet to elevate the caddy & let water drain. There's no dividers, which means it's easier to fit lots of stuff, and also it was cheap :D
5/5 stars
Main Course 1: Clip-On Reading Light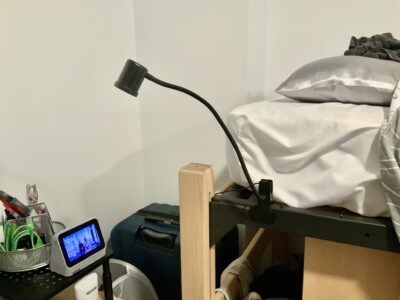 This is my desk lamp, and since my desk and bed are right next to each other, it's also my bed lamp! Saves a bunch of desk space as well. To be honest, I don't really use it that much (everyone in my room stays up pretty late, and almost everything I do is digital & on a lit-up screen anyways), but it does serve its purpose admirably. Now that I have a little hidey-hole underneath my bed, it's also very useful for cave studying/knitting/chilling.
4.5/5 stars
Main Course 2: Keyboard

I'm so proud of finding this one—it took hours, but I finally unearthed a keyboard that can connect to my iPad & laptop simultaneously, meaning I can basically use them dual-monitor style! This keyboard also has really low-profile keys, which is vital for me because I've spent six years typing on the lowest profile keyboard ever, and anything different cuts my typing speed in half 😭
5/5 stars
Main Course 3: Lunch Bag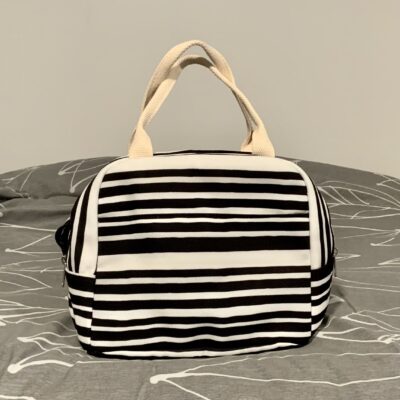 So uh… I bought this because in high school I brought leftovers to school for lunch most days, and I figured I'd try doing that in college as well—only now with a more roomy and aesthetic vehicle. Aspirations of meal prepping! Cute little tupperwares! All my favorite snacks! In what should have been a predictable chain of events, however, I am just. Too lazy. In fact, I have yet to even touch this lunch bag… Ah, well… At least it was a cheap mistake.
2/5 stars
Main Course 4: Bedside Storage Caddy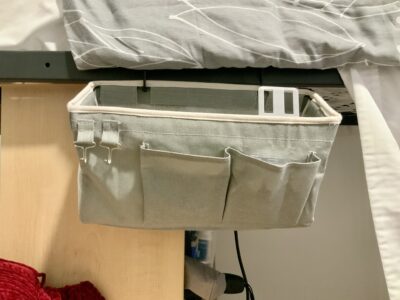 The beds in BC can be raised pretty high, but I raised mine even higher because… while I may not have much horizontal floor space, vertical space is completely free! Now that it's elevated, I can squat comfortably under my bed :D! The one downside is that I need a place to stick my phone and nightstand-esque items, so I got this hook-on caddy that does the job. It feels a bit papery and low quality, and it hangs a little weird given BC's bed frame shape, but it's alright 🤷🏻‍♀️
3.5/5 stars
Dessert 1: USB-C charging cables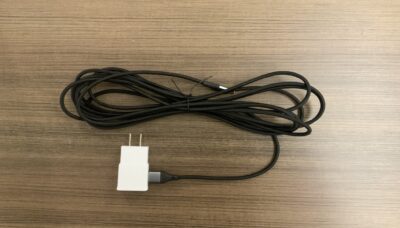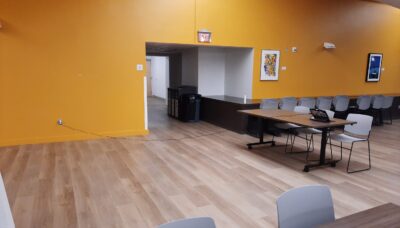 Half my cords are broken, all of them are too short, and I like to use my phone in bed (don't tell my doctor 🫣). Apparently, however, I have a terrible sense for distances, because when they arrived, I was appalled at how 16 feet was, in fact, a lot of feet. More concerningly, I now had three of these things. Did I need three? Probably not. But they were on sale for $4 each, so now I use one in bed, one for out-and-about, and gave one to a friend. And over the last month, I've actually needed those 16 feet at least half the time I plug something in. Most importantly, I will never have to worry about my cable being too short ever again. 
5/5 stars
Dessert 2: Blue Tape
Ah yes… blue painter's tape, the best thing to have ever been invented, full stop. I could go on about this tape forever—it's incredibly easy to tear, sticks to almost anything, leaves no residue, and is even reusable for several stickings. I worship at the feet of blue tape, and I've kept this stuff in my backpack 24/7 for years because tape comes in handy more often than you think. Absolute no brainer of a purchase, I highly recommend.
5/5 stars
Dessert 3: Rug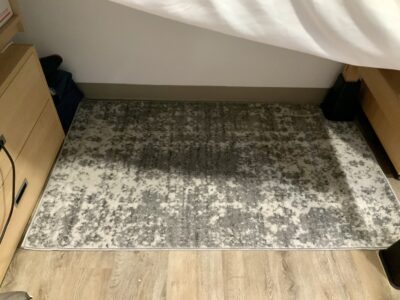 My roommates and I preemptively gave up on making our room a shoes-off zone (too many friends/other people come in and out for us maintain it), so we've resigned ourselves to a dirty floor. The main problem is that I love lying on the ground—at home I did a good 40% of my homework and 90% of my YouTube watching sprawled out on the carpet. I've really been missing that, so I managed to move my bookcase on top of my drawers under my bed (this literally fits w/ ZERO leeway) and shove this rug next to it. It's thin, and kinda more ugly than I expected, but for an $18 price tag and the chance to lie on the ground again, I'll take it :D
4/5 stars
Dessert 4⁠03 you can never have too many desserts : Comforter
The moment that winter temperatures hit 70˚F at home, people at my high school would start bringing full-sized blankets to school with them. The absolute coldest it ever gets is 65˚F, so when we started hitting THE FORTIES in September, I quickly realized that I'd need to level up my blanket game. This comforter arrived a week later, on October 3rd at 3:09 pm. The temperature was 82˚F.
Welp… so much for needing a comforter. At least it's double-sided! More color combinations!! I put it inside a duvet cover (so that I only have to wash the thin cover regularly), but still. Colors!! The weather has also cooled back down very rapidly, and it's so poofy and exciting and warm. Feels like being in a hotel :D
5.5/5 stars (for comedic timing)
Overall Rating of My Amazon Purchases
Most were good decisions, some less so, but mainly I'm just glad that I'm no longer living out of suitcases. My room feels a little bit less like summer camp, and a little bit more like home, and I think that's partly because I've had so much control over what goes into it. So yay!
4/5 stars
courtesy of the valiant desk guardian Ekanem O.⁠

back to text

↑
So… I tried to look up what the different parts of a fancy multi-course are, and now I'm just confused, so please excuse my inaccurate theming⁠

back to text

↑
you can never have too many desserts⁠

back to text

↑