A few weeks ago, I visited a friend at Harvard. She snuck me into the observatory. There were murals on the walls in a manner that distinctly reminded me of East Campus, and when she turned on the red lights I noticed the zodiac signs lining the circular room.
"What's your sign?" I asked her.
"Guess," she said.
She's the kind of person who exudes bright optimism and takes any shift in the winds of conversation in stride. Funnily enough, she also really likes penguins, and she's very similar to another person I know who really likes penguins (enough that she joined a sorority because their mascot is a penguin). Maybe people who like penguins just naturally have warm and excitable personalities.
I don't really remember what I guessed, but it turns out she's a Gemini.
"I'm a Gemini sun, Sagittarius moon, Gemini rising," she said.
That checked out. One of my closest friends, August, is a Gemini, and the similarities clicked in my brain. Chatty, first and foremost, but in an incredibly charming way. Enthusiastic, social, and a little dreamy and elusive.
"Okay, guess my sign," I said.
"Something water, definitely…Scorpio?"
"God, I wish I were a Scorpio. I love Scorpios." I mean it. Some of my closest friends have been Scorpios. Something about their intensity just draws me in. "But no, I'm a Pisces."
"Oh, you're a Pisces? That explains why you have so many Spotify playlists."
---
We left the observatory shortly after because it was really hot and they'd turned off the air conditioning for some reason and we were wiping the sweat off our foreheads between every sentence and it was also daytime so there was nothing to observe, but I couldn't stop thinking about what she said, because she read me to filth.
Spotify and I have a complicated relationship. But it's true: I do have a lot of Spotify playlists. Spotify holds such a place in my heart that I've said it's one of my ultimate love languages.
And for some reason, almost everyone I know who takes Spotify as seriously as I do also has Pisces placements. When I was visiting Seattle last month, making dinner at my friend Alex's house, August (who has a Pisces moon) and I were flitting around Alex's boyfriend and their roommate like little fairies, taking their phones to make them follow our Spotify accounts.
Our cardinal rule of Spotify is that we never follow anyone first. We make them follow us and then follow them back so we're never caught participating in unreciprocated following. Fan behavior. The thought appalls us.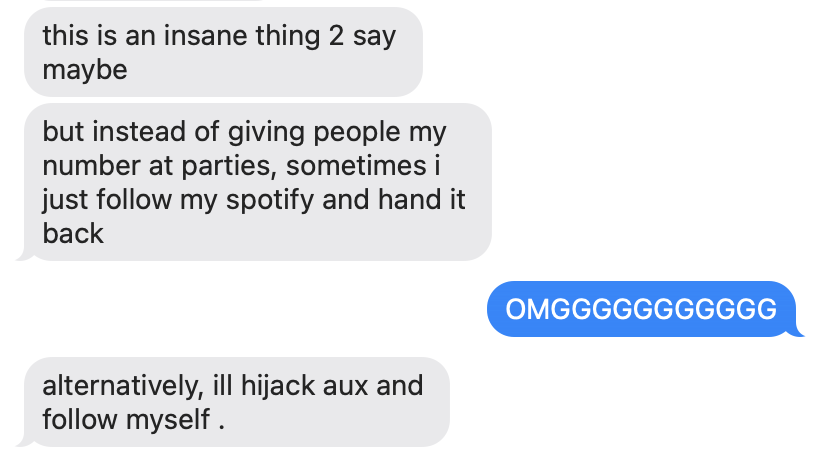 I recently also discovered that Sidney Gish, one of my favorite artists of all time, shares my exact birthday — just five years older. This makes her a Pisces, and when I was scrolling through her artist profile, I found her personal Spotify account, adorned with a large number of highly specific playlists. The theory checks out.
---
As of writing this, I've got 2,024 liked songs on Spotify, collecting each one carefully like rocks on the beach, testing the weight of them in my hands and the emotions they spur in me. For this post, I thought I'd put my liked songs on shuffle five times and do a little annotation of what comes up and what it means to me, kind of like those old Tumblr ask games. And if you leave a comment with an emoji, I'll shuffle it once more for you, personally.
Also, follow my Spotify! :-)⁠01 fun fact: apparently they invented this emoticon at carnegie mellon on september 19, 1982, and every year they put posters up about it august was telling me about how they got a $1 shirt from the guy and some smiley cookies?!! which is the cutest thing ever
Okay, let's go.
---
1. "Stop & Go" – Magdalena Bay
Last spring, my friend Luca posted on her story asking if anyone was going to the Magdalena Bay concert. I'd seen them a few times on some of August's playlists, but I'd never actually listened to their music before.I told Luca I'd go to the concert, but then I didn't end up going because I forgot to buy tickets and by the time I checked they'd all sold out…only after that did I take a look at their Spotify profile and their latest album, Mercurial World.
"Secrets (Your Fire)" is one of the first songs I listened to, along with "Hysterical Us," and after that I was hooked. They have such a dreamy, trippy, synthy sound that really makes my brain sparkle — a good band to study to.
Magdalena Bay was actually one of the first things Chris and I talked about. I introduced her to a few songs and we've had a few nights where we just listen to the whole Mercurial World album together.
We're seeing them in November, which is super exciting! They also released their deluxe version of Mercurial World today, and I have yet to listen, but I'll be doing that tonight.
2. "baseball" – Hippo Campus
When I was a freshman in high school, there was a senior named Emily that I really looked up to. She had her own band. It was a sort of punk rock riot girl type vibe, and I remember at some sort of talent show I watched her jamming on her guitar, a head of bleached platinum blonde hair bobbing up and down, fingers flying over the strings. She was so cool.
We were in the spring musical, Guys and Dolls, together. I was an extra: my job was to act like a tourist and run around the stage during Runyonland, the opening song. She was Nicely-Nicely Johnson, one of the main roles.
I had a lot of free time during rehearsals and I used it to draw or just generally fuck around on the internet. I don't quite remember how, but I stumbled upon her blog one day, and that's where I found out that she was friends with the members of Hippo Campus back when they were all in middle school.
The band members went to a performing arts high school in the Twin Cities, and my high school was in St. Paul, so it checked out. I didn't really listen to their music until this song came up on my Discover Weekly one day in 2019 and I was reminded of Emily.
3. "Maniac" – Conan Gray
I first discovered Conan Gray in 2018 when one of his music videos came up on my YouTube home page. He looked like one of my friends who had graduated last year, which is why he caught my attention, and it was just a really good song.
I fell in love with his other songs about feeling stuck in his small town and his hopes as he moved through senior year into college. Liking Conan Gray became a bit of a personality trait for me in high school and honestly, it still is.
Conan Gray is one of those artists where I know their entire discography by heart. I went to his concert in March, a day before my birthday, which was funny because it was actually someone's birthday and he sang them happy birthday.
Seeing him and singing along to all of his songs and relating to every word was a cathartic experience. I was a total crying wreck by the end of the concert.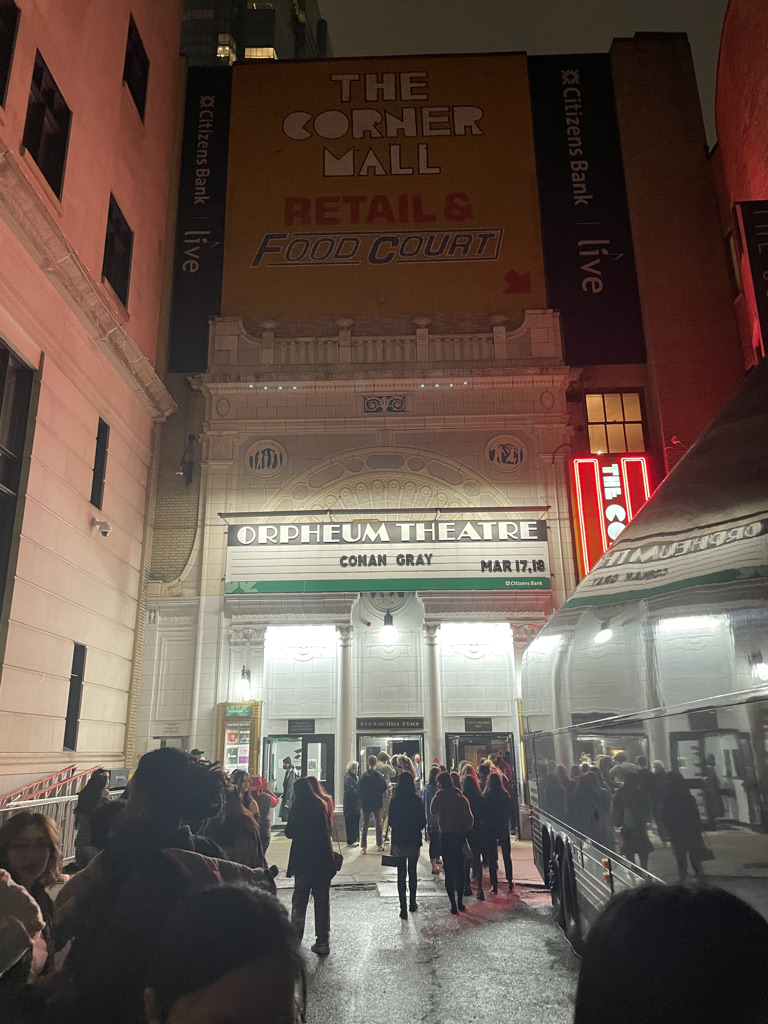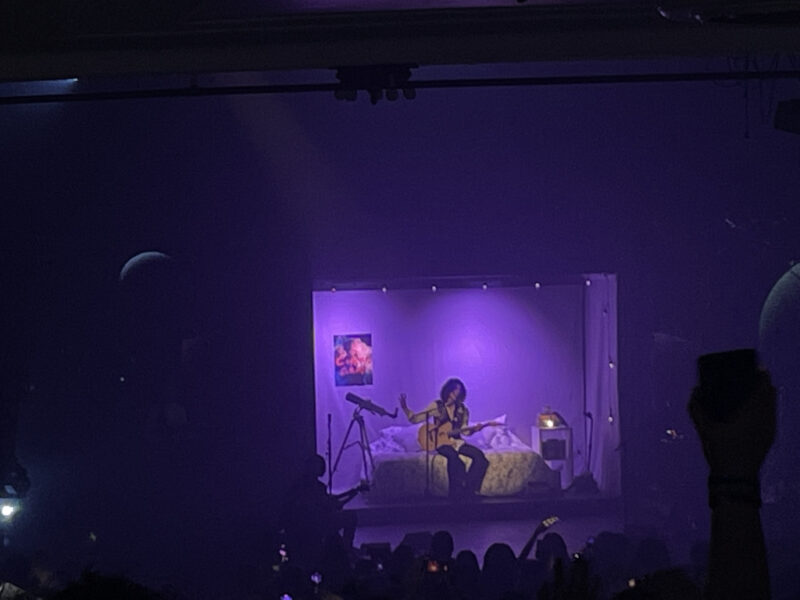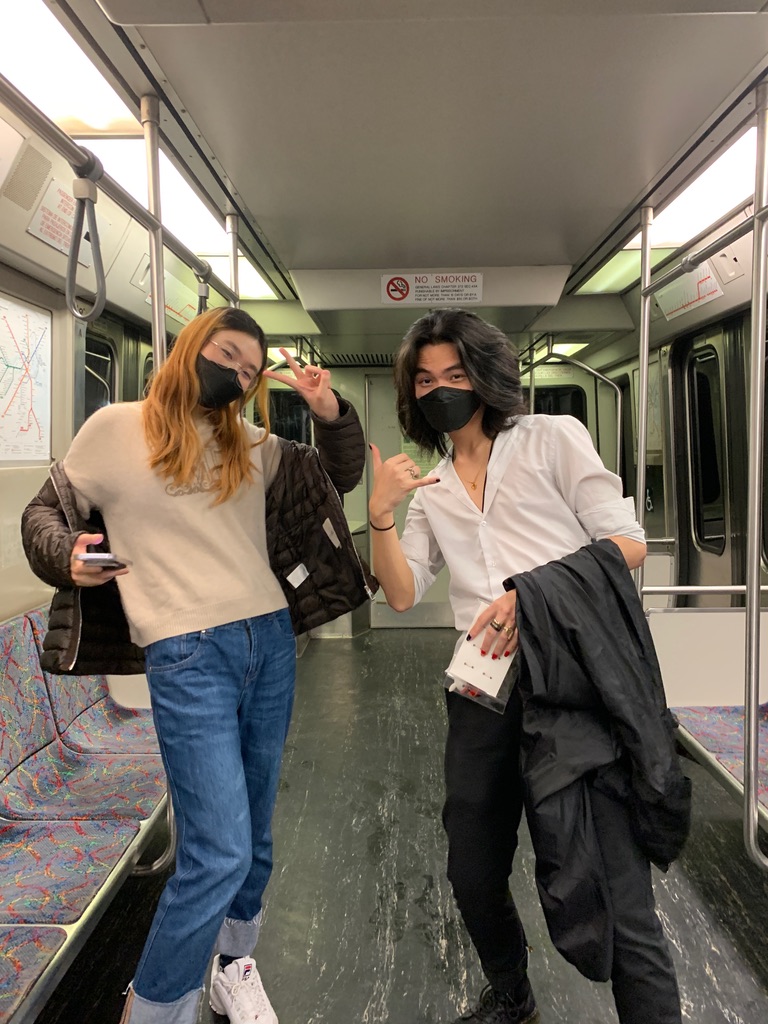 4. "Jaded" – Near Tears
I found this song around the time when I was going through a lot emotionally during my sophomore spring. I felt a little hopeless and very lost, like I'd never find my way out of all the holes I had dug myself into.
It also felt very relevant to my experiences at MIT.
All of the bright minds

are out in the dark light,

lighting up so they can't breathe
I have met so many incredible people here, with brains that function in ways that I can barely comprehend, but unhealthy coping mechanisms abound at the same time. It comes with the territory of such a high-stress environment, I guess — and I've fallen into those same traps.
And very much like the song, I visited New York over spring break last semester to see Mitski at Radio City with some friends. That didn't end up happening, because someone on her team got COVID and the concert got canceled. But I did have a good time visiting Jeff and going to Flushing with them to try all the delicious food there. Seeing the differences between their experiences at Columbia and mine at MIT was really interesting — and it was good to get a new perspective on certain things.
As an upperclassman this year — which is so messed up, honestly, when did I get this old — I can't help but feel like I'm a little jaded. Being around frosh helps, but at the same time, three weeks into the semester, the secondhand frosh energy is starting to wear off. Near Tears is right: I don't want to be jaded.
5. "One More Weekend" – Maude Latour
The first Maude Latour song I listened to was "Superfruit." It ended up as one of my top songs in 2019, and my actual top song in 2020. (Well, not really. I accidentally made No Wind Resistance! by Kinneret my top song because I saw a video that said if you listened to it on repeat it would help you study…so I tried it out but I failed to realize that it would also screw up my Spotify Wrapped. Mistakes were made.)
But Maude is one of my favorite artists, ever. She went to Columbia and a lot of her songs really encapsulate a lot of what it's like to be a college student, all the drama of relationships and finding yourself and spending time with friends out in the sun.
I've been honored to see her grow in the past few years. I'm actually seeing her at a concert next Thursday! I have a signed poster by her, too — August goes to Carnegie Mellon and Maude sang at an event, and now it's hanging on my wall. I can't wait to see her sing in person. She has such an incredible presence.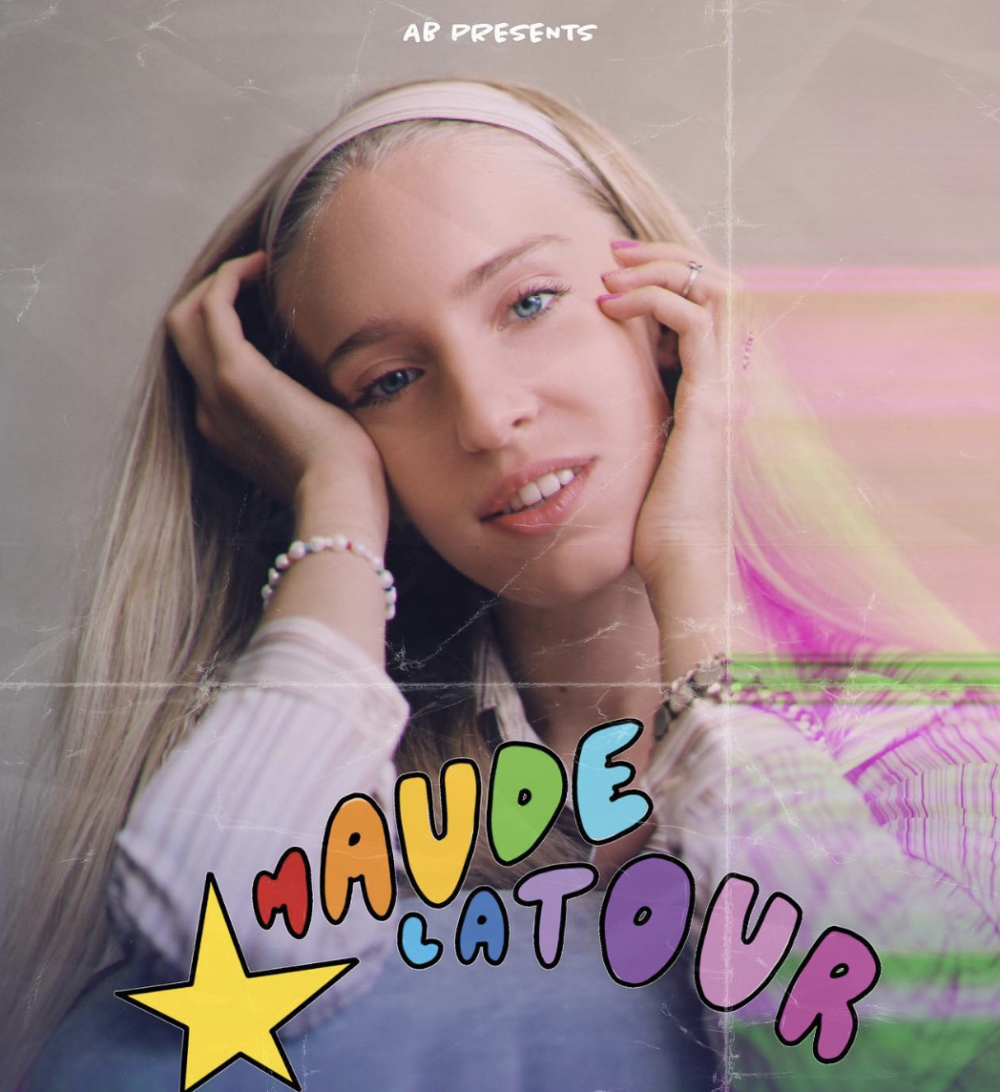 ---
Here's a short little playlist that contains these songs, plus a few more of my other favorite songs ever! I hope you enjoy them as much as I do <3
fun fact: apparently they invented this emoticon at carnegie mellon on september 19,  1982, and every year they put posters up about it august was telling me about how they got a $1 shirt from the guy and some smiley cookies?!! which is the cutest thing ever⁠

back to text

↑