Avengers: Endgame opened the weekend before last, and with it, so did the new decoration of the MIT dome. Sometime late Saturday evening, or early Sunday morning (it's always hard to tell with those who do their best work in the dark), hackers installed a Captain America shield on the roof of the Great Dome as an homage to the Marvel hero. Via the Globe: 
One of the jokesters — they cheekily call themselves "hackers" — reached by the Globe Sunday said dozens of people worked on the project for months, which they started planning about a year ago after learning a new Marvel movie was going to be released.
Chris Evans, who plays Cap in the MCU (and is from the Boston suburb of Sudbury), seemed to appreciate the gesture.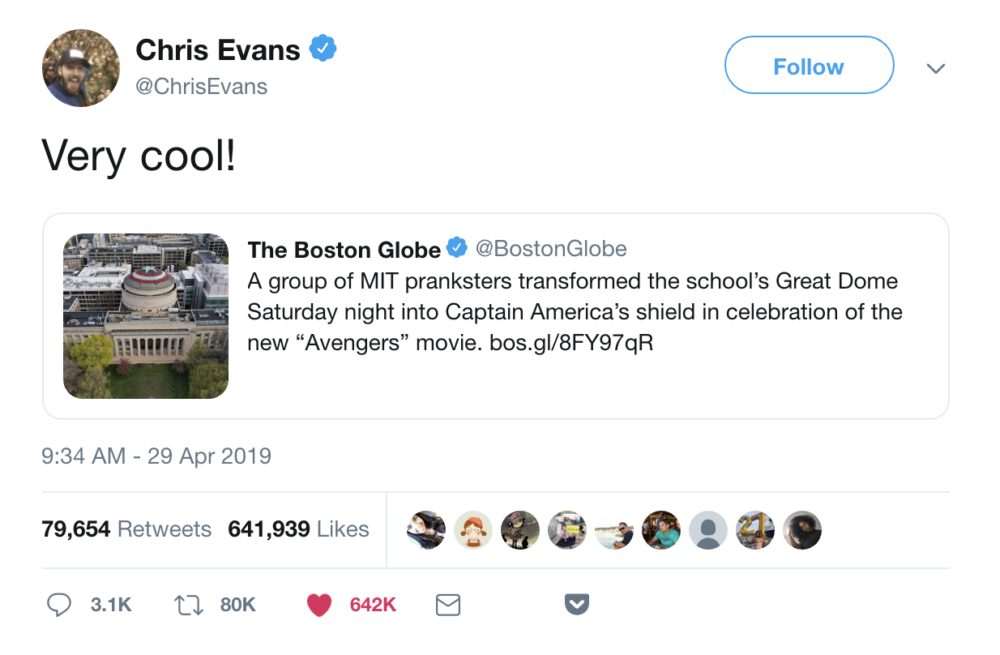 The Great Dome has long been a site of hacks, including tributes to Batman, LOTR, and R2D2. If you're unfamiliar with the MIT tradition of hacks, you can read more about the history here, and read blog posts about hacks here.
No word yet on any hacks in honor of canonical MIT alumnus Tony Stark, whose fictional foundational speech in 
Civil War 
both paraphrases the MIT
mission statement
and mirrors the actually-existing
Sandbox Innovation Fund
. However, if I had to guess, we'll see one eventually…