My first final exam at MIT was 8.012: "Physics For Masochists", otherwise known as "Physics I: Mechanics" (Masochists, Mechanics…close enough).
I was a little jittery. I set three alarms that morning, and donned my most comfortable pair of sweatpants (Manchester United sweatpants, otherwise known as "Best Football Team Ever" sweatpants). Exams were passed out. My desk remained empty. I raised my hand. A proctor yelled "BEGIN!" I stood up and glanced around; no one around me had an exam, either. We shared a hall with a few other physics classes, and it looked like the entire 8.012 section had been left exam-less.
Panic attack. I marched up to a group of proctors, and tapped one of them on the shoulder. He turned around, and some gears at the back of my mind began to turn; he looked strangely familiar. I ignored them, and explained that no one in the 8.012 section had an exam.
Proctor (smiling): "8.012? Are you sure you're in the right place?"
Me: …
Proctor: "Is 8.012 even in this building?"
Me (bristling): "Um, yes. 8.012 is DEFINITELY in this building, and we DEFINITELY do not have exams."
Proctor: "Oh…okay. We'll sort it out."
He turned to the other proctors. I took ten steps in the direction of my seat, and then froze as the gears in my head clicked into place. I freaked out, and grabbed the girl next to me; a shout-out to Sophie '14, friend and dorm-mate. I'm sorry if I scared you.
Me: "SOPHIE! DO YOU KNOW WHO THAT WAS?"
Sophie: "What?"
Me: "THAT PROCTOR! DO YOU REALIZE WHO THAT WAS?"
Sophie: "Uh…no? Should I?"
Me: "THAT WAS ALAN GUTH. OH MY GOSH THAT WAS ALAN GUTH."
Alan Guth (scroll down to the bottom). Also known as the father of inflationary universe theory and, apparently, a professor at MIT.
Woah.
He was there because he's a recitation instructor for 8.033 – General Relativity – who had their exam in the same hall. He also, I found out, is a recitation instructor for 8.286 – The Early Universe – which is pretty mind-blowing, since we owe much of our theories on the early universe to him.
If that didn't blow your mind, maybe this will: I am currently living on a Navajo reservation, forty miles from the nearest grocery store. There's a gas station, two schools, and a cluster of houses occupied by teachers…and that's it.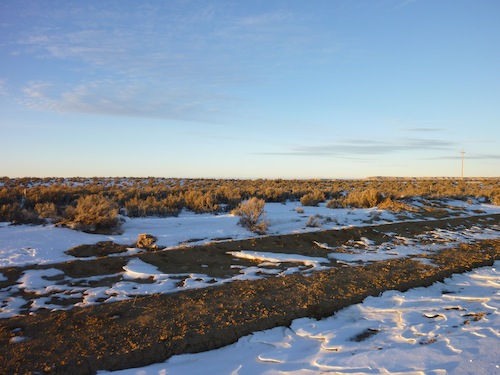 It looks like this in every direction
I'll be here for the next four weeks – for
IAP
, which you read about in
a recent post by Hamsika
– as part of
MIT's Four Weeks For America Challenge.
The high school I'm working at is 100% Navajo, and has a graduation rate of 27.6%. The teacher I'm paired up with teaches math, and her roommate teaches English; I'll be helping both of them out over the next few weeks. She told me that the kids are currently busy chopping wood to prepare for the winter, and that "about half…live in hogans and/or house/trailers without electricity and running water." In case you don't know, this is a hogan: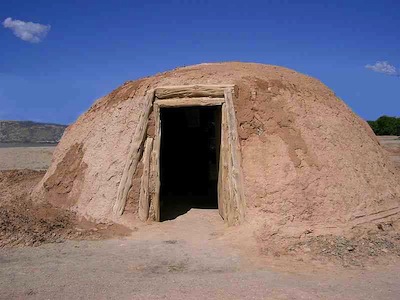 Is your mind blown yet?
It's a completely different world.
This afternoon, my host and I took a walk around the area, to clear our heads and get some exercise. I was horrified at how quickly I became out of breath, until I found out that we're about 7,000 feet above sea level. The fact that we were almost knee-deep in snow made it even more of an adventure; at night, the temperature here drops to below zero (Fahrenheit!). I don't know about you, but when I think "New Mexico", "Arctic tundra" doesn't immediately come to mind.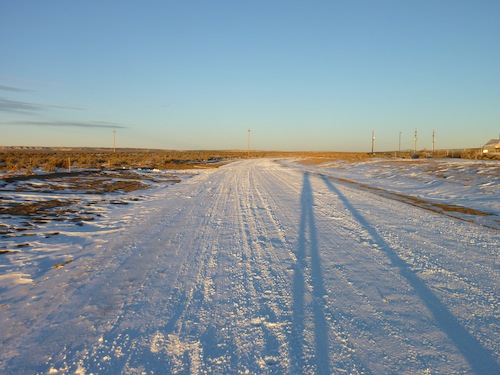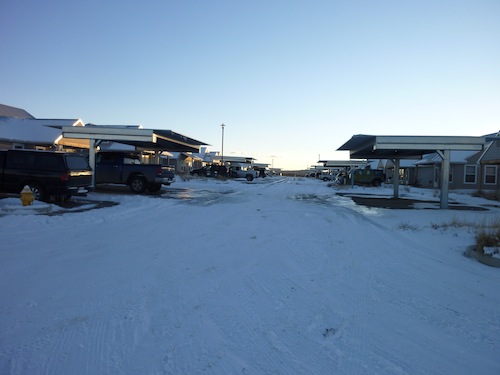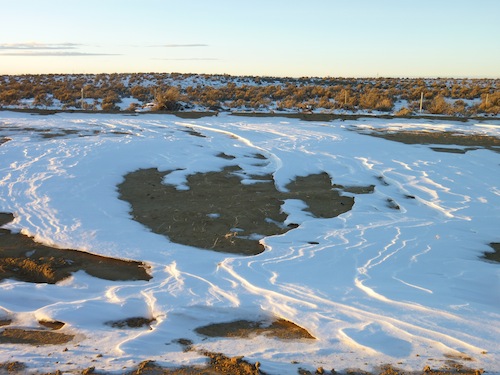 Did not expect this.
Since today was my first day at school, I don't have much to report about the students or about the work that I've been doing, but you can expect to hear plenty more from me in the next couple of weeks :)
A final note: the house I'm staying in has this sign by the front door, which I thought I would share…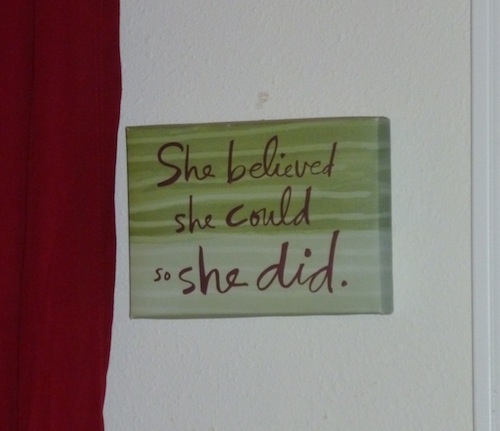 "She believed she could so she did."
And here's a beautiful New Mexico sunset. Happy New Year!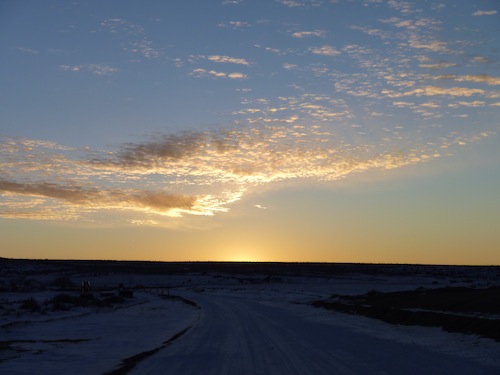 12 responses to "Alan Guth and Day 1 on the Navajo Reservation"