A couple of weeks before the school year started, I spent countless hours perfecting my email's filters, labels, and everything in between. I signed up for forwarding all my MIT emails to my Gmail, made multiple inboxes⁠01 amazing feature, would recommend in my Gmail account, and for the first time in quite a while I was so organized. It made me pretty proud of myself too, taking baby steps from my one-folder-for-all-my-classes routine and horrible inbox in high school.
Just for some context, this is what I mean by horrible:⁠02 If you are curious of how this happened, don't ask. I'm still wondering too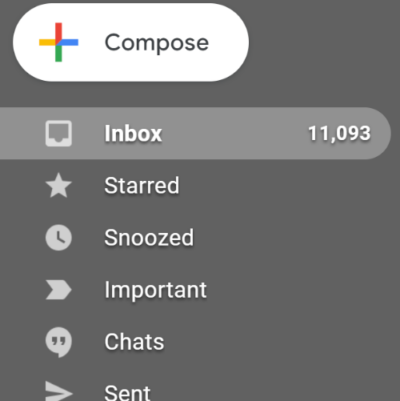 In hindsight, when looking at those pre-semester preparations, I'm realizing I miscalculated. Because basically, it turns out no matter how many email filters you make, somehow, emails will flood in like a tsunami. It's inevitable. Unfortunately, the naive prefrosh I was didn't know this and mistook organization for safety from email blasts. I didn't forecast the spontaneous school-wide email threads, underwear colors attached in emails, or a particular spammy thread. 
When I last checked, I had received over 750 emails from Zoom University in a little under 3 weeks. Legend has it, when I blink, 2 more emails appear. So I was understandably pretty overwhelmed, busy as a bee,⁠03 unfortunately bees are more productive than me during the day and so was my inbox. I had long feared the tyranny of psets (problem sets), zoom fatigue, and a class known as 8.01 (Physics Mechanics). But emails being amongst the overwhelming aspects of my freshman fall was unexpected.
As a result, I did the only logical thing: make a visualization of a week of my emails: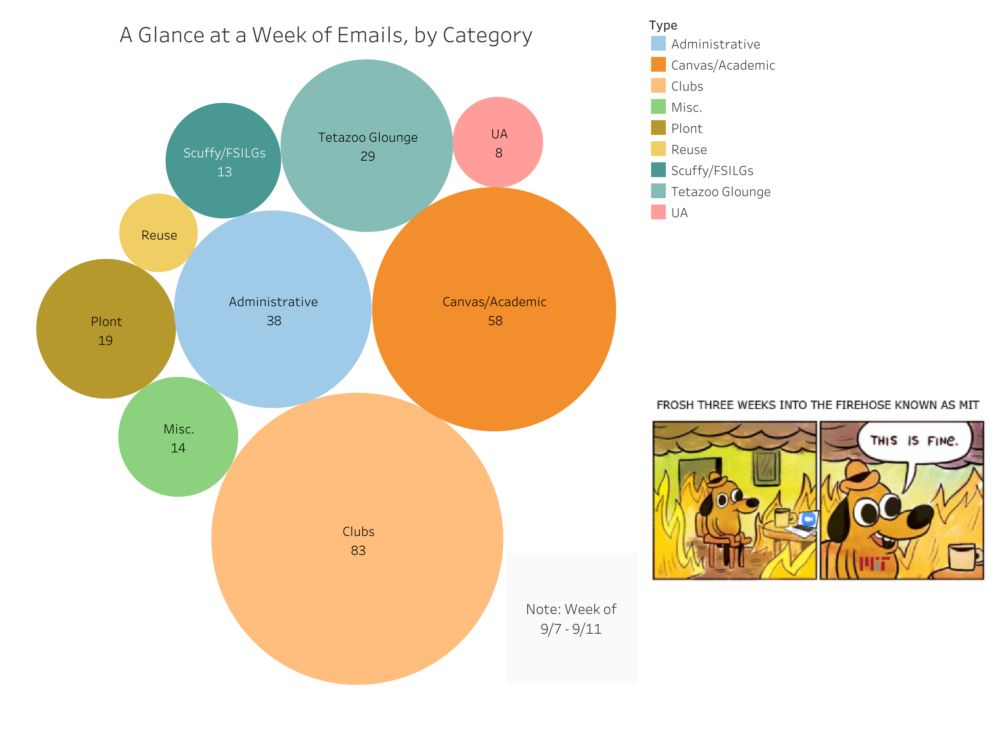 When I was making this visualization, I was pretty surprised how many emails the club portion made up. I felt I was getting a lot of emails, but not this many by any means. It was interesting to see directly the amount of outreach that's been done to MIT students generally and first-years like me.
Since starting this fall, it's been an interesting yet exhausting process to learn about and join clubs, starting with Activities Midway (basically our club-fair). Our club fair went out with a bang, early on, unfortunately crashing after being inundated with prefrosh. 
As an already indecisive person, as you will see in some future blogs, not being able to get a full feel of clubs has made it hard to discern what I want to join and commit myself to at the moment, especially while we are on PNR.⁠04 Pass/No Record - Freshman Fall grading system It's nice to see all the clubs I want to join but harder to see what I can juggle at the moment. Though the past few days have helped me better see the point where I spontaneously combust. 
Looking at the other categories, it was a diverse mix of canvas emails, canvas emails, and more canvas emails. Before MIT, I never used Canvas, and I'm not regretting it at all. The organization system of it gives me fear of missing an assignment and it sure loves to spam reminders for work I'm procrastinating on.
Sprinkled in were some emails from the UA, our student body organization, about applying for specific committees. There were also emails from the many fraternities and sororities (FSILGs) that I cannot remember the greek names of, along with emails from our SCUFFY dorms, an initiative by students to place 24s in virtual dorms and give us a sense of community.⁠05 I'm in New House! I've always associated frats and sororities with horror movies, so it's nice to see them in a different, MUCH better way.
The emails I received came in the form of nice daily onslaughts, each one slowly throwing my inbox into more disorder. They were fairly consistent and distributed throughout the days, other than the sudden bursts from random threads and mailing lists. The only real exception to this was 2 Mondays ago, which was Labor Day.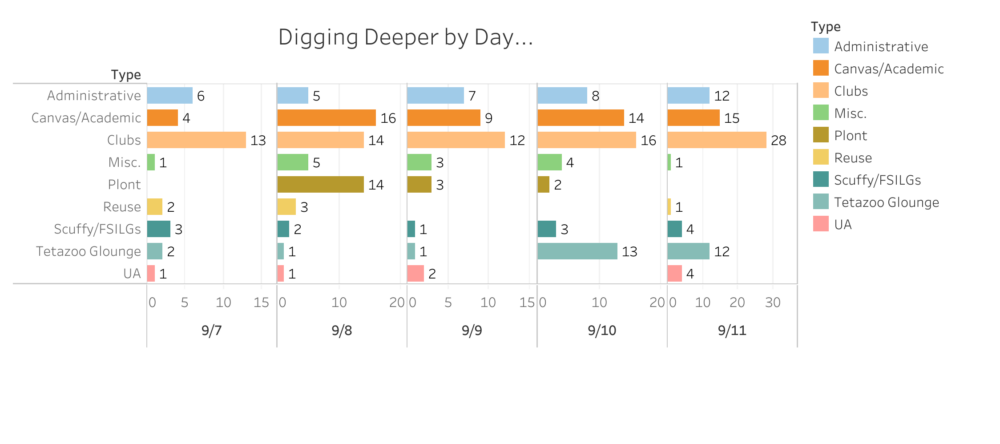 Outside of the general scheme of categories, there were some emails that couldn't fit in any broad sections. As a small disclaimer, most of these email threads and "events" are a bit dated now, showing their age from my chronic writing procrastination, but still hold up as some of the most notable email moments of the semester so far. So with no further ado, these were some of the most confusing, funny, or I-didn't need to-know-this moments.⁠06 anything is an adjective if you try
The Plont thread 
On the evening of September 8th, a member of Cursed MIT⁠07 a community that, well, fits the name very well with added wholesomeness. no further comment known only as "Plont" sent a bunch of pictures of plants to the whole school. These plonts included the illustrious Dieffenbachia Camille, which is a name I might have just googled a few minutes ago. The plonts numbered at around a dozen and opening the email, I was at first puzzled.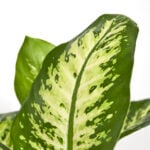 Usually, I don't like email threads and reply-all messages mainly because I beleaf they ping my notifications too much. But with this one, it turned out to be a good laugh after a long day. It was fun with the endless barrage of plant puns like these: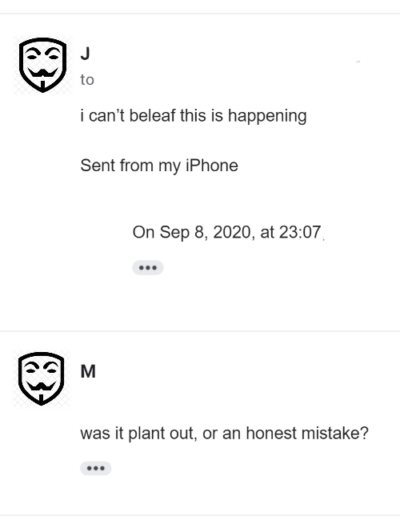 At some point, the plont email thread seemed to have met an untimely death. We had heard little news after it faded away on the 10th. However, on the 15th, the plont thread was resurrected with good news from Plont and his plants. We've been receiving updates since about Plont and the plonts' health and many sent good wishes and "recover soon" messages when the chemistry GIR caused serious damage to them.
Bc-talk
So bc-talk wasn't any one particular email or email thread, so it wasn't unique to that week. I believe this experience overall was somewhat of a throwback to the start of September, but it may have been more recent, as time no longer exists in quarantine. 
From what I understand, it's the email list for people who live/lived in Burton Conner, another dorm at MIT. So basically any kind of promotion (clubs, academics, etc.) can be sent to it and all people on the associated dormspam mailing list. Unlike with most mailing lists, there is a catch in that you have to write a color at the end of your email.
So at first, I thought the colors at the end of the emails were just people's favorite colors. I was kinda surprised by how many people liked black and grey, but seeing the variety of colors was just fun to see.  
Colors like good ol' "blue," "martian red," "polka-dotted," and "none."
I could have spent 4 years at MIT thinking like this, and been fairly happy. Over the week (9/7-9/11), I received about 54 emails that explicitly mentioned bc-talk, and saw such a wide variety of colors. 
So remember when I talked about underwear colors?
It was an unfortunate surprise to learn I was paying close attention to underwear colors when I actually read my emails. Looking back, probably should have guessed this once I saw polka-dotted. There was no way polka-dotted was a color. But alas, not all good things can last forever. 
Tetazoo Glounge
Opinions about "update: Tetazaoo Glounge" are mixed. There are those who hate it, and those who love it.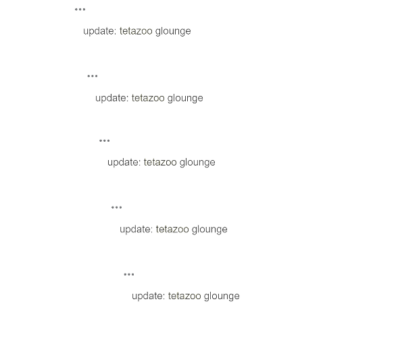 You can find me in the former. If I ever dropped out of MIT, it would not be because of any class or something like that. It would be from the endless pings of "update: Tetazoo Glounge". The email thread welcomed us frosh to MIT with its usual 3 words and has not stopped since. My browser crashed when I opened this email thread before and I have not forgiven it since as well. My filters and labels, all rendered useless by this mysterious, EXTREMELY spammy email thread.
I have tried muting the email thread. Tried unsubscribing. Nothing has worked. Everywhere I go, I still see the words "update: Tetazoo Glounge."
I'm still unsure what a Tetazoo Glounge even is. I've heard it's a floor in East Campus, one of the dorms, but I don't know why there is an update for it. Well hopefully, in the near future, I'll be on campus to see what exactly needs to be updated for Tetazoo Glounge.