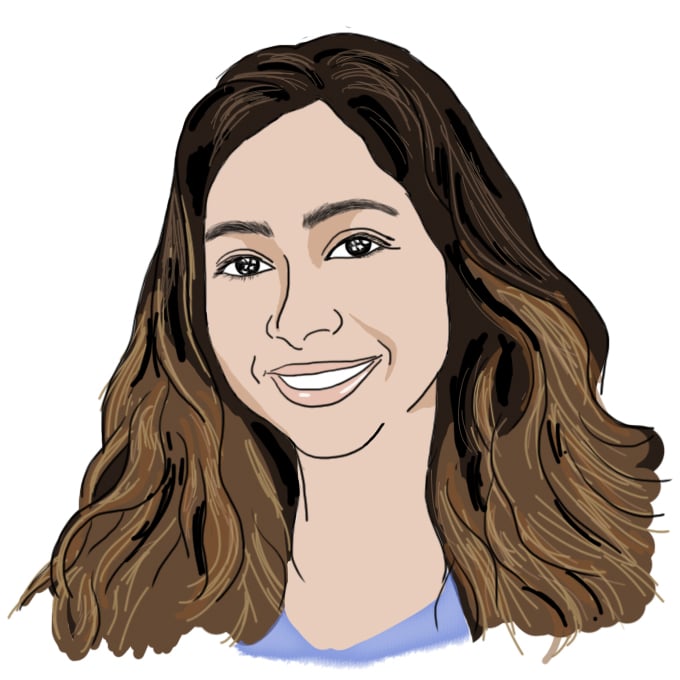 channeling midterm stress into baking, sculpting, and completely destroying apples for decades
This Sunday, my dorm, Burton-Conner, held an exciting culinary event: the Apple Bake. This annual event celebrates fall by having the floors of Burton-Conner compete to create the best apple dishes and apple art. 
The Burton-Conner Graduate Resident Tutors (GRTs) both plan and organize the event, providing each floor of the dorm with staple ingredients such as flour, sugar, eggs, cinnamon, butter, and, of course, apples. This year's featured ingredient was the pear, so we were given some pears as well!
Each year, the Apple Bake receives more than 100 submissions, each of which falls into one of the following categories:
Appletizer (vegetarian) – appetizer/entree-like dishes that feature apples (and/or pear) with other vegetarian ingredients

Appletizer (meat) – appetizer/entree-like dishes that feature apples (and/or pear) with meat ingredients

Apple Abroad – dishes that incorporate apples (and/or pear) and originate from different countries around the world

Apple Dessert – dessert dishes that incorporate apples (and/or pear) and do not fall under the category of pie/cobbler/crisp

Apple Pie/Cobbler/Crisp

Apple Art – can be non-edible, can feature apples and/or pears

Apple Breakfast – breakfast dishes that incorporate apples (and/or pears)

An Apple a Day Keeps the Doctor Away – swap a traditional ingredient used in your recipe for a healthier choice (you will have to note on the entry form what you swapped!)

Apple Core of my Floor – a dish that captures the community on your floor 

Apple Additive – a dish showcasing pears
Submissions are judged by students who are randomly selected from each floor. There was over $500 in prize money, in addition to a set of custom-designed Apple Bake mugs for the top five winners in each category. There were also prizes for the entries that won Best Overall and Most Creative.
Certain floors in BC tend to be more gung-ho about ensuring their victory. Conner 2 (C2), the floor that has emerged victorious for the past several years, had the most entries in the competition, as well as the most winners. You can read more about their history with the Apple Bake in the last blog post that was made about it from back in 2005.
As for winners from each floor…⁠01 where tf is Burton 3rd
Conner 2: 24
Burton 2: 14
Burton 4: 10
Conner 4: 2
Conner 3, Conner 5, and Burton 5: 1
Here are some pictures of the creations and their respective categories: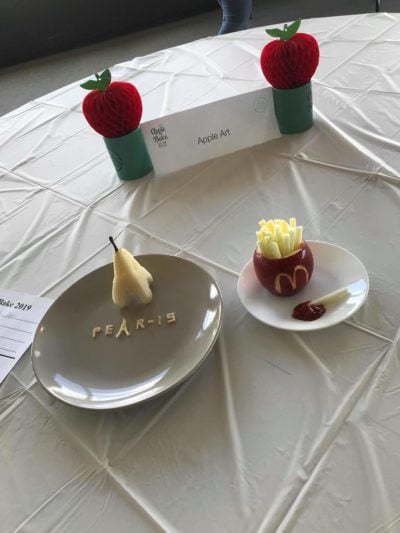 My personal favorite entry was created by Alex Quach from C2: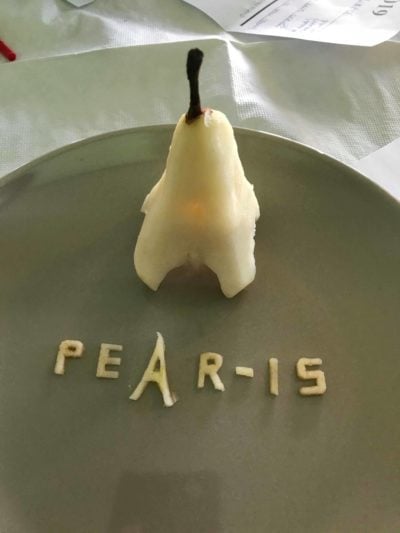 Art indeed.
And don't miss this entire music video that was created by Quinn Brodsky and River Grace from C2!! 
This event was such an amazing opportunity for students to showcase their creativity (and how frickin weird they are…gotta love it). Eating your friends' creations is really fun as well—you know you're doing something right when hordes of students show up to shovel your creations into their massive Tupperware…
Apple Bake was such a wholesome and fun event! I wish I'd been able to participate this year—it's sad that we won't be able to hold it for the next two years since Burton-Conner is closing down.
(more on that to come)
Happy fall :)
"where tf is Burton 3rd⁠

back to text

↑