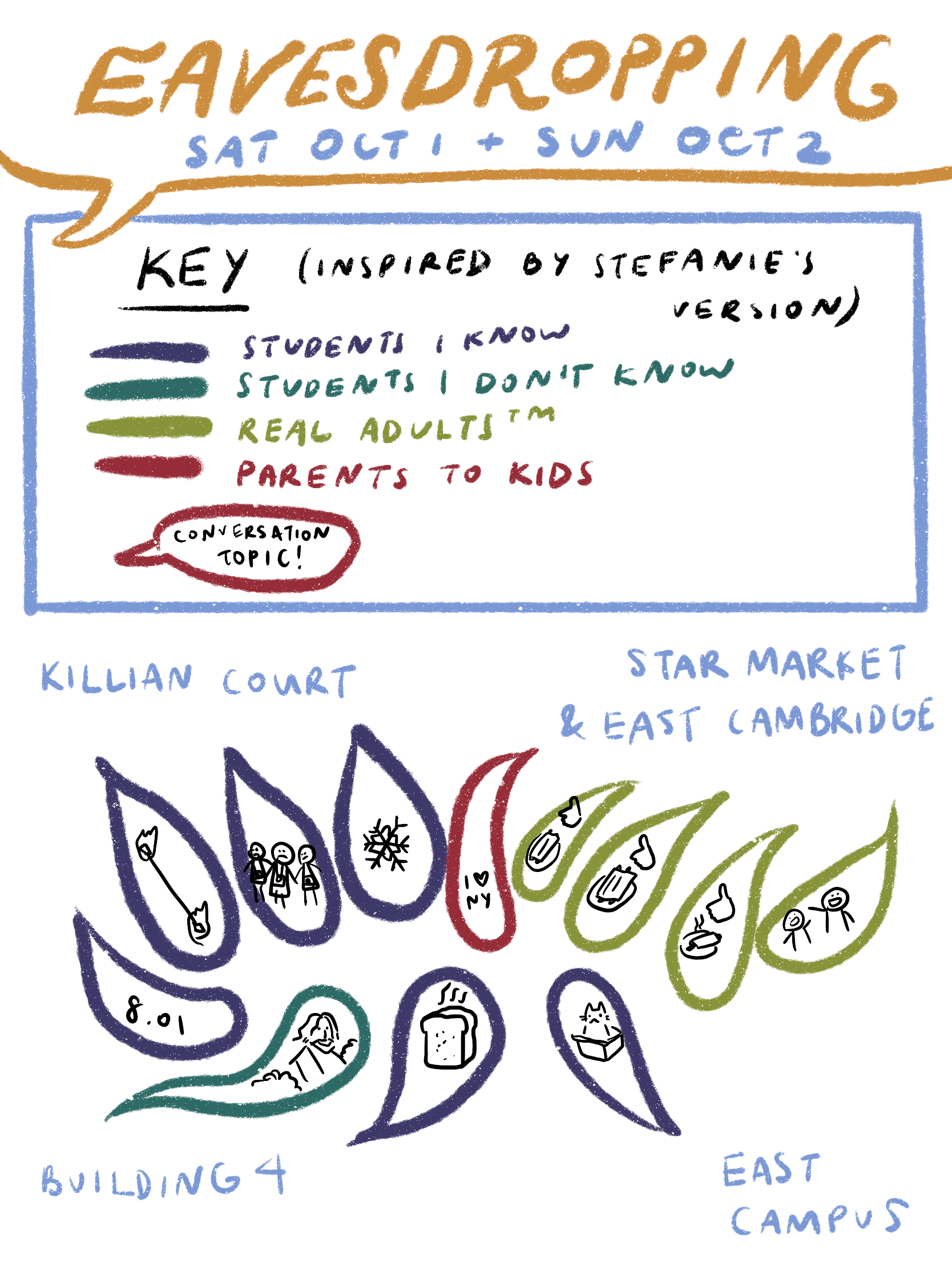 Weirdest conversation overheard: A parent chanted "WE LOVE NEW YORK" and their two children chanted "WE LOVE NEW YORK" back.
Conclusion: It's hard to overhear more than a phrase or two when you're just going about your day running errands. If I were to redo this entry, I would sit down in a crowded coffee shop for a few hours.

Conclusion: As expected, MIT runs on caffeine.
Assumptions:
If someone was holding a styrofoam cup, I assumed that the liquid inside was caffeinated.
Similarly, if someone was holding a reusable bottle, I assumed that the liquid inside was water unless it was obvious otherwise. It's annoying to wash your water bottle every time you fill it up with something sticky like juice.
I counted caffeine drinkers as people who were holding a cup of coffee or tea, rather than people who were actively sipping said liquid. It's implied that someone would drink from the cup that they're holding sooner or later.
I wasn't sure how I should've counted people drinking from reusable bottles. People would often hold onto their water bottles without intention to drink from it as they walk from class to class, to avoid putting their bottle into their backpack just to take it out a few minutes later. But I ultimately decided to count these cases to stay consistent with Assumption 3.
Notable events in chronological order
Winnie and I Bluebiked to Star Market (off map) in Somerville to restock on frozen fries, frozen shrimp, and juicey juice. A few weeks ago I killed a supermarket basil plant, so I bought another one to prove that I am, in fact, capable of taking care of living things. Judging by how tangled the roots are, I am now thinking that supermarket basil plants are bound to die.
On our way back, we stumbled into Smoke This Rib Fest. Three or so blocks of Cambridge St. were blocked off for vendors to grill and smoke their signature ribs.  Winnie is basically a carnivore, and I'm trying to eat more protein to get my first strict pull-up, so we split a ticket for sampling 10 ribs. We were stuffed by the time we got to rib #7.
After dumping my Star Market haul in the freezer, I rushed to office hours for 6.3102.⁠01

Dynamical Systems Modeling & Control Designs

The extra ruffle in my path plot is due to me forgetting my jacket in the lab space.
I then met up with Jason in Walker Memorial to choreograph something for the upcoming fire show. I whacked his glasses multiple times with my spinning prop. Sorry Jason.
On Mondays, I usually have a Spinning Arts exec meeting at 5pm, spinjam⁠02

time for people to get together and spin props not on fire indoors. in contrast, firejams are where people get to spin stuff on fire outdoors.

setup at 6pm, then 21W.762 Poetry Workshop one right after another. Spinjams usually happen in Walker Memorial. This week, there's a flu clinic occupying Walker, so we had to haul all our stuff to Lobby 13 (location of the #4 marker). On my way to poetry workshop, I realized I forgot printed copies of my poem in my room, so I had to walk back to EC. At EC, I realized I forgot my jacket (once again) at the spinjam, so I had to walk back to Lobby 13. I was late to poetry workshop, but luck had it that the prof was even later.
I rushed to a classroom in Building 4 to staff office hours for 6.003⁠03

signal processing

, only to see that no one was inside. It took me a full ten minutes to realize that students were taking a midterm at that time. Oops.
Blogger meeting in E38 (off map)
I took the Tech Shuttle to visit Angela, who now lives in Burton Conner. I tried out her [redacted] machine on an orange :D
Dynamical Systems Modeling & Control Designs⁠

back to text

↑
time for people to get together and spin props not on fire indoors. in contrast, firejams are where people get to spin stuff on fire outdoors.⁠

back to text

↑
signal processing⁠

back to text

↑