This is part two of a series, consisting of a lightly-edited compilation of notes from my cross-country train trip from Boston to San Francisco. If you haven't yet, you should start by reading part one.
---
Hour 20: 9:01 AM EST, January 4th, 2023
location: South Bend, IN
train: #49, currently one minute early!
currently listening to: a baby crying (nothing)
Good morning!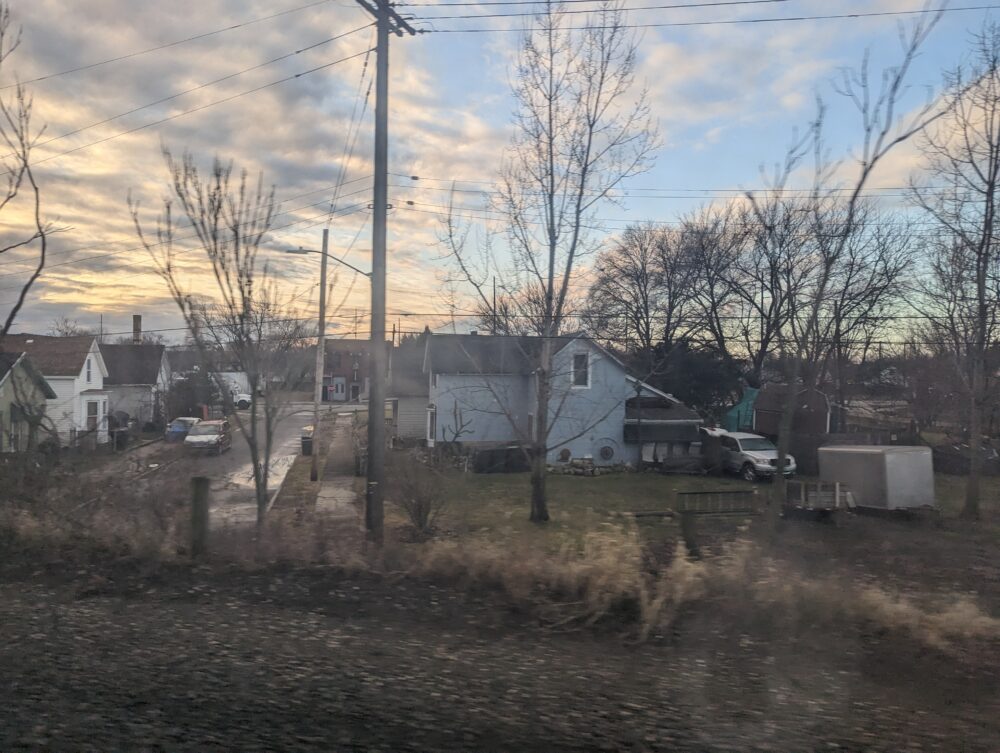 It's a beautiful morning out here in the Midwest:⁠01 growing up, I really did not understand why the Midwest was in the Eastern half of the country; South Dakota, which is designated by the Census Bureau as part of the Midwest, seems much more suited to the moniker. gentle clouds over a rising sun, and trees as far as the eye can see, interrupted occasionally by a row of houses or some other sign of civilization. Our next stop is Chicago, which, incredibly, concludes the first leg of the trip; I have some plans for the layover at Union Station, but we'll see exactly what the time looks like.
I slept surprisingly well last night, given the circumstances; I suppose this is either because I have spent my entire life training for this moment,⁠02 I spent a lot of time in high school on buses and I got very good at sleeping on them. or because my standards for "slept well" are incredibly low. I struggled with falling asleep, but once I was out, it was hard to wake me. I was woken up only twice: once at 2 AM, partially by the cold and by the commotion of a conductor trying to figure out some passengers who had reshuffled; seeing as I hadn't moved since Boston, I grabbed a blanket and did my best to ignore it. The second time was at 6 AM or so, around Toledo; the baby—now behind me—was kicking the back of my seat, which was not too pleasant, but I eventually drifted off again. I woke up finally around 8:30 AM, after eight hours or so of sleep, feeling well-rested and ready to rumble.
Nothing much else to say right now; after all, I've been unconscious for most of the past hours. An hour and a half to Chicago—time to gather my belongings a bit, and get my bearings on the day.
Hour 22: 9:56 AM CST, January 4th, 2023
location: Union Station, Chicago, IL
listening to: the jazz that they're playing in the station lobby
Well, here we are. I'm taking a brief stop in the Great Hall of Union Station to re-combobulate⁠03 no, that's not a real word; yes, I stand by it. myself, as it were. The space is absolutely beautiful, and if I knew anything about architecture I would probably have much to say about it, but I don't. It's probably the best train waiting area I've been in, which is not, perhaps, the largest sample size, but still. My relative judgement of South Station has gone down by five or six ratings.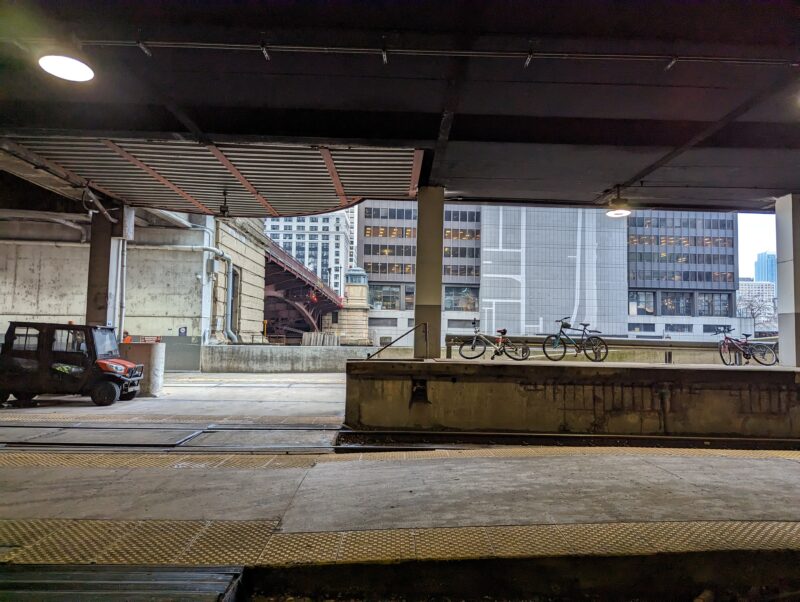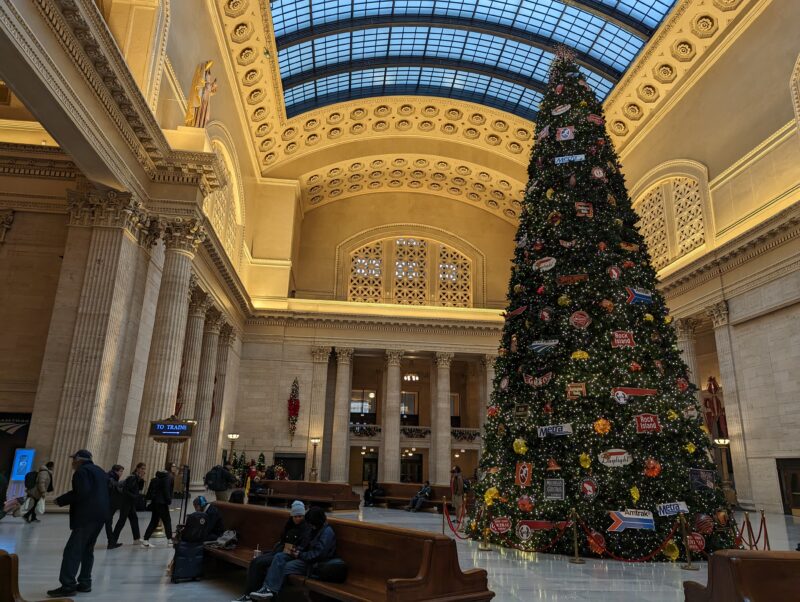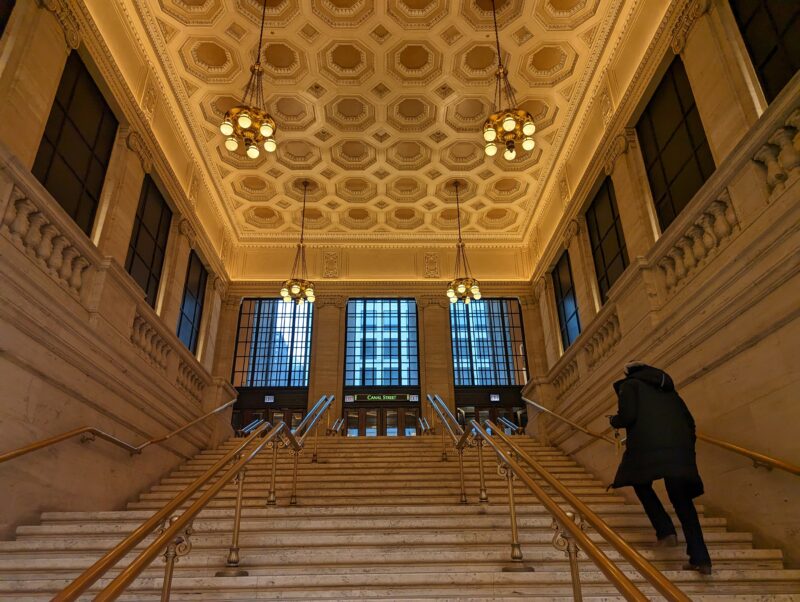 The rest of the train ride was as smooth as the way in; we arrived some thirty minutes early. At some point in that last hour and a half, I ended up falling asleep, and, while I was out, the clouds returned, which was sad but not unexpected. I spent the last bit of the trip wondering when Chicago would appear in view, until it inevitably did.
Honestly, this first leg of the trip has been incredibly smooth; it's going to be hard for the second leg to live up to this standard. In the meantime, though, I've got four hours until my train at 2 PM, so I'm gonna go get some food and do some brief sightseeing. See you soon!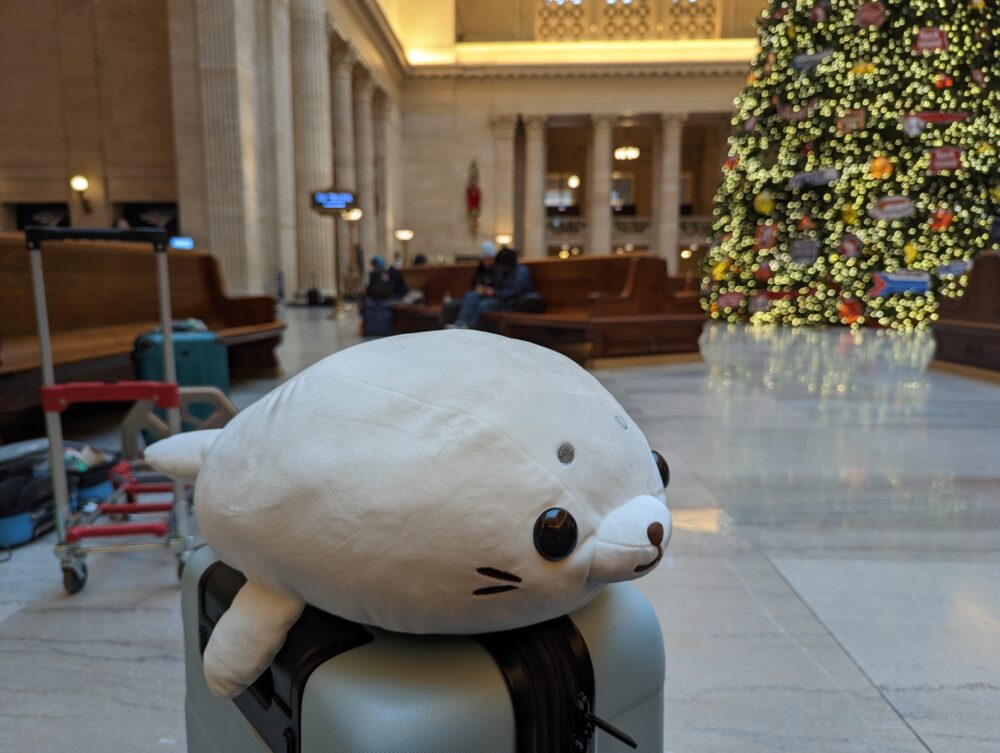 Hour 25: 1:19 PM CST, January 4th, 2023
location: Union Station, Chicago, IL
listening to: still jazz
Wow! The sightseeing trip was much more productive than I had expected it to be. My main intention was just to go and see Cloud Gate the Bean, but I managed to catch a number of other sights along the way. Notably, the station is right next to the Willis Tower, once the tallest building in the world, which was impressive to look at.⁠04 I did not go up. Skydeck is expensive, and I'm cheap.
I had last been in Chicago in March 2018, almost five years ago, as part of a trip for my high school orchestra. Led by my highly eccentric orchestra teacher, we wandered the streets of Chicago. Once, he ran us across the road—yelling "fly like the wind" while we were at it—into this random building called the Rookery. I spotted it again on my way, and so I took a brief look around, and then continued on my way. Here are some other highlights: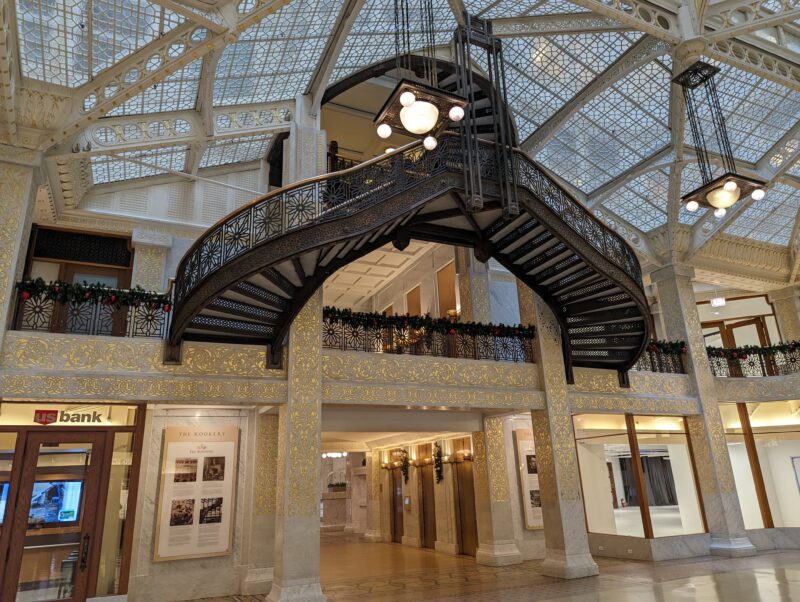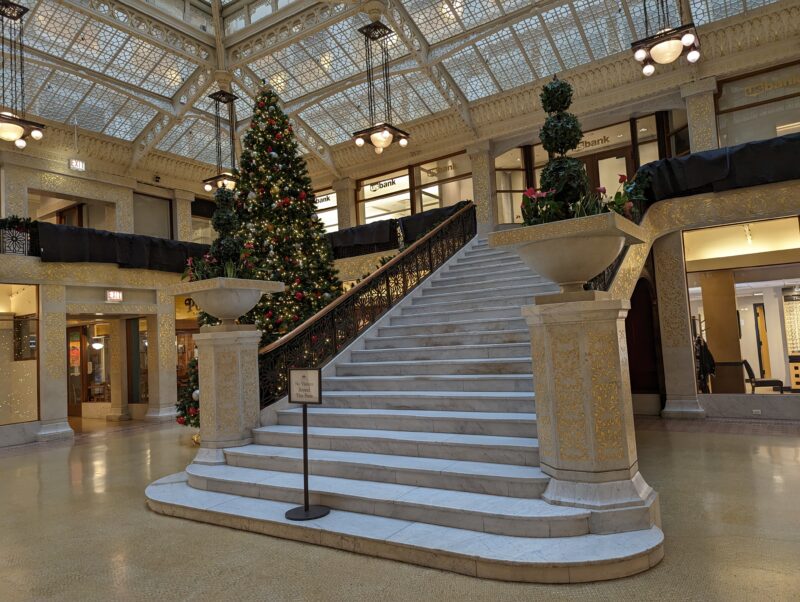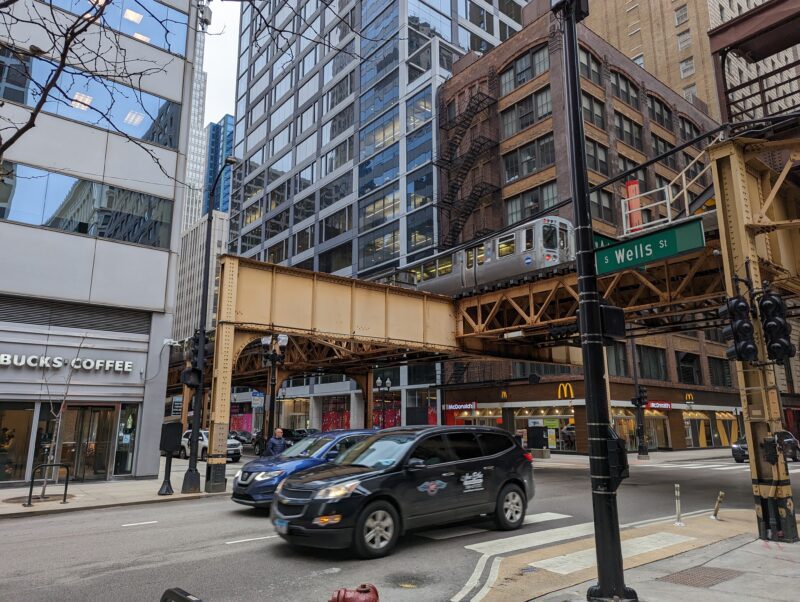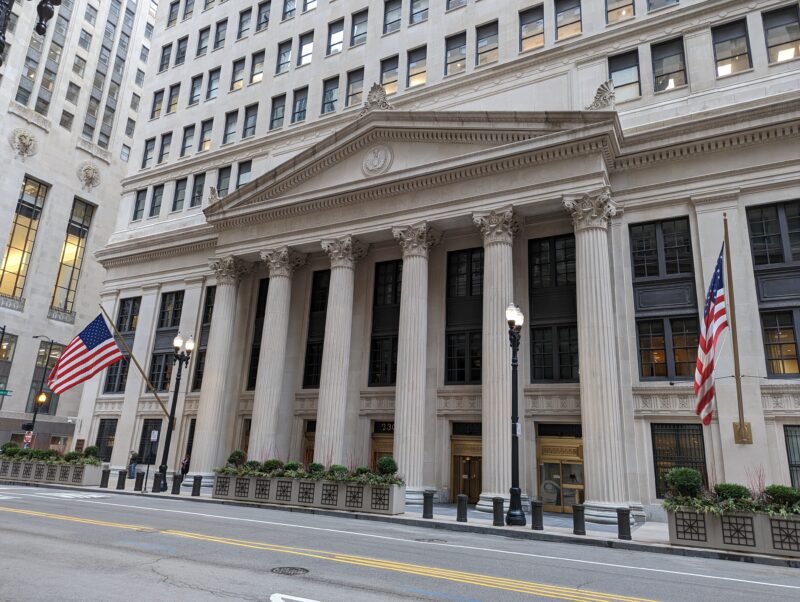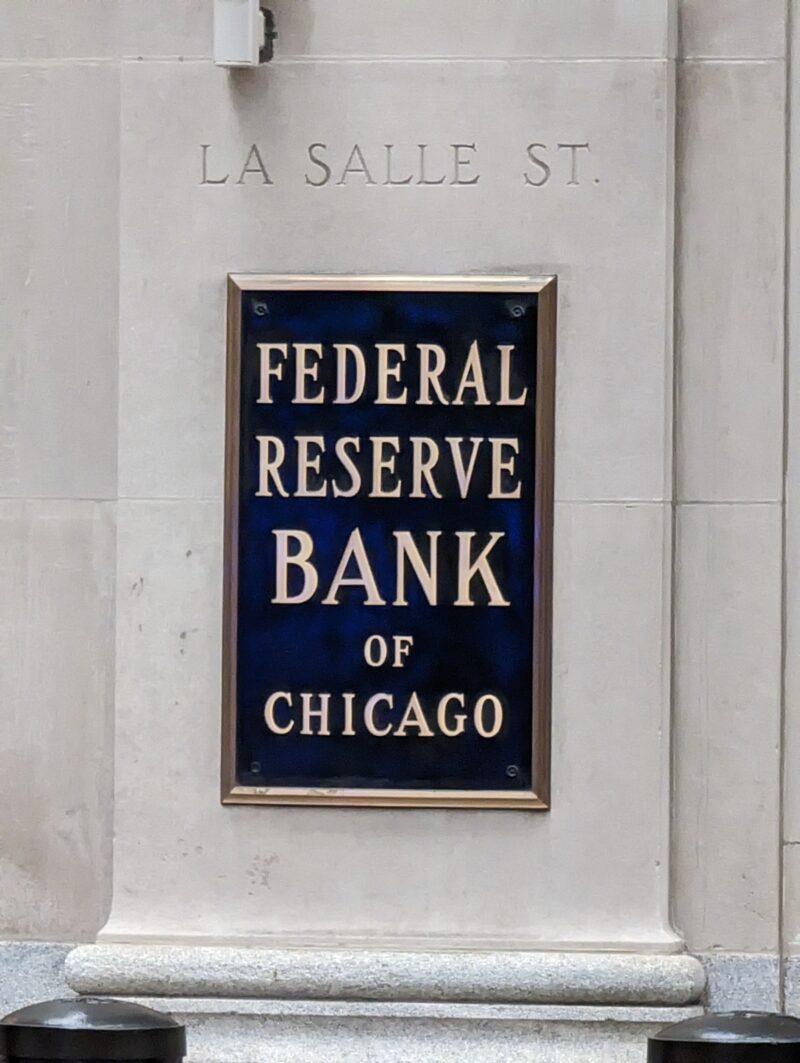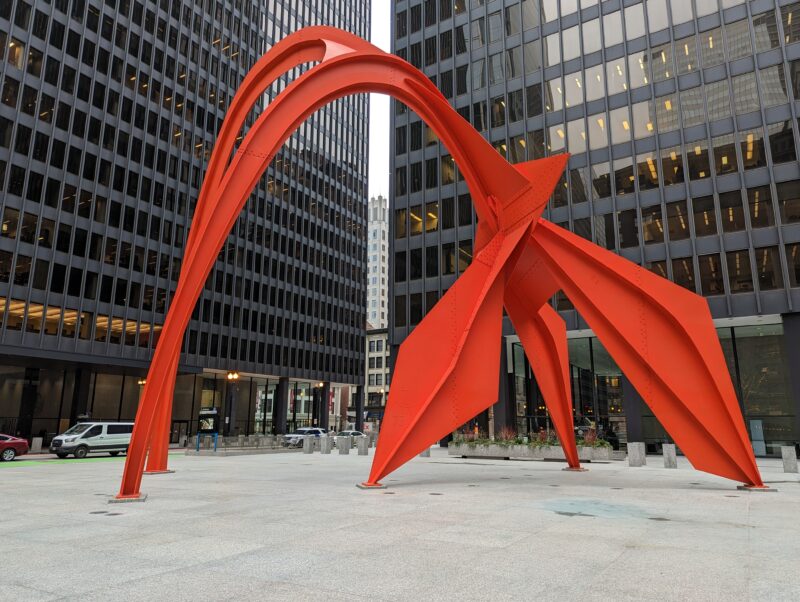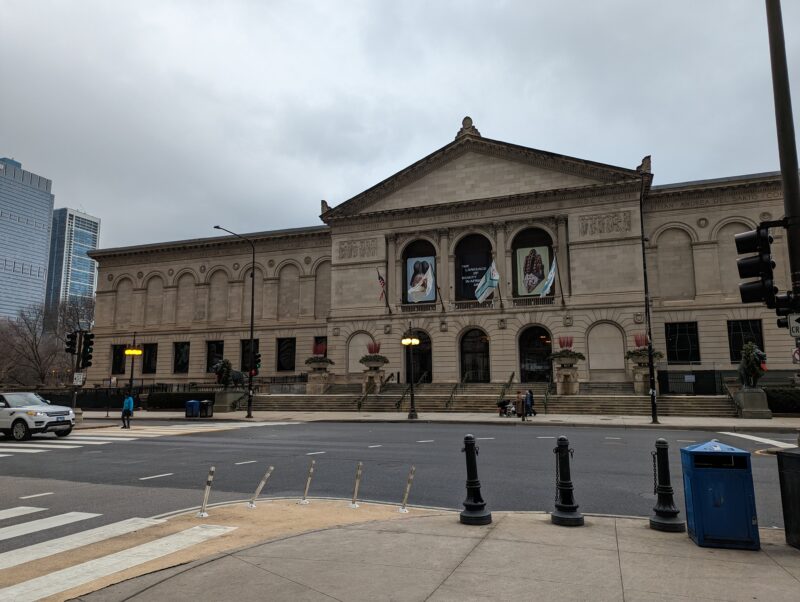 I arrived at the Bean eventually, passing the unfortunately closed-on-Wednesdays Art Institute of Chicago, which I had really wanted to visit. Instead, I got some pictures of/with the sculpture and briefly considered continuing on to Maggie Daley Park on a friend's suggestion. Unfortunately, I had dressed a little light for the occasion, since Boston has been in a bit of a warm spell, and my hands were really starting to complain, so I turned around.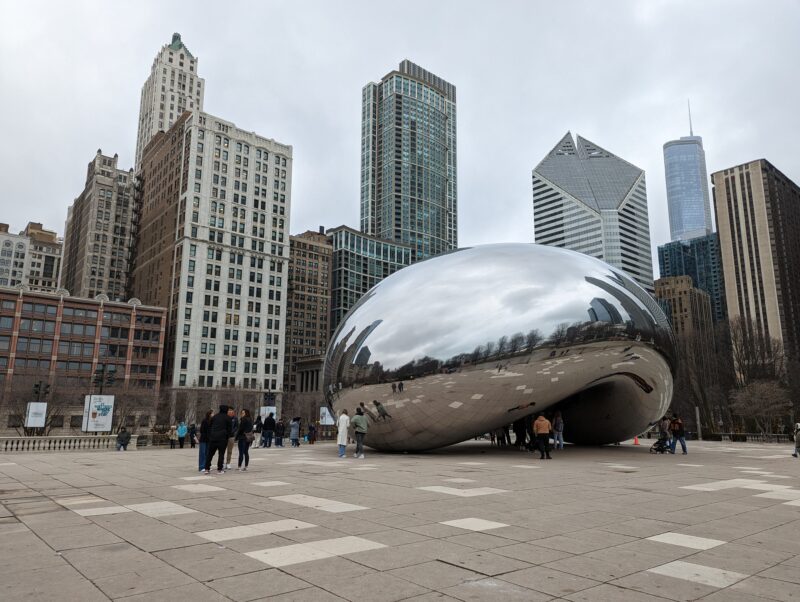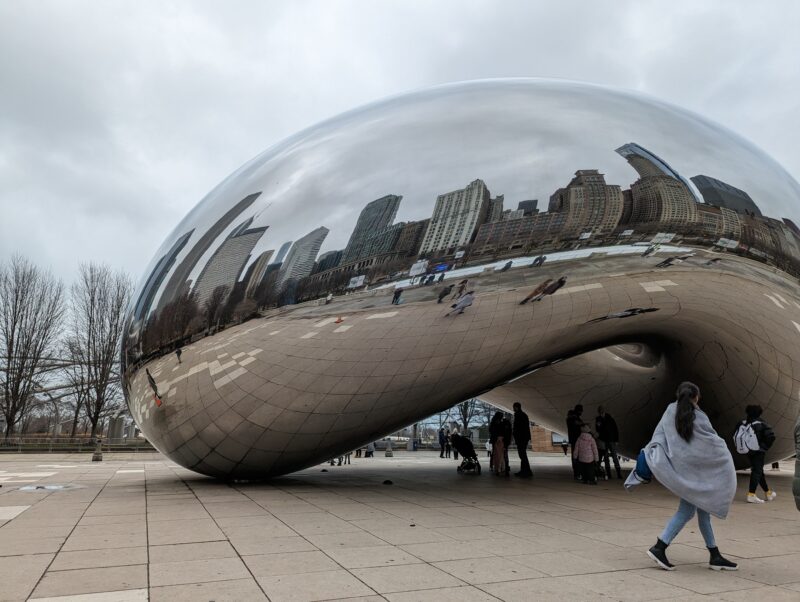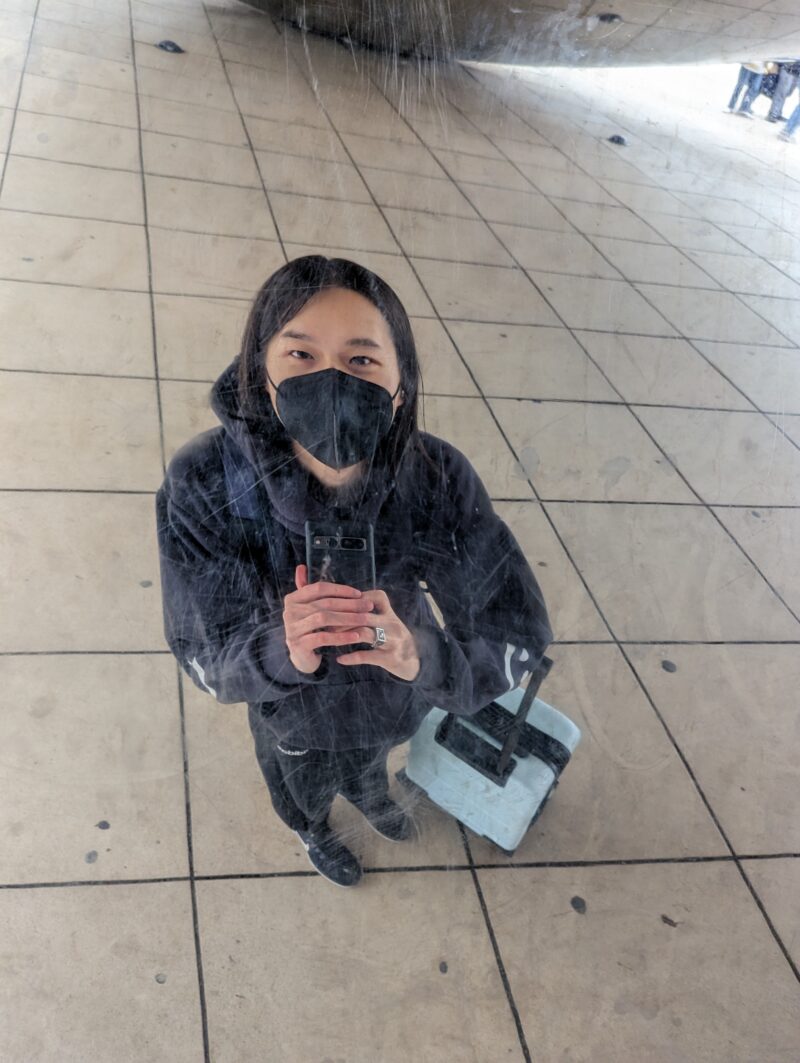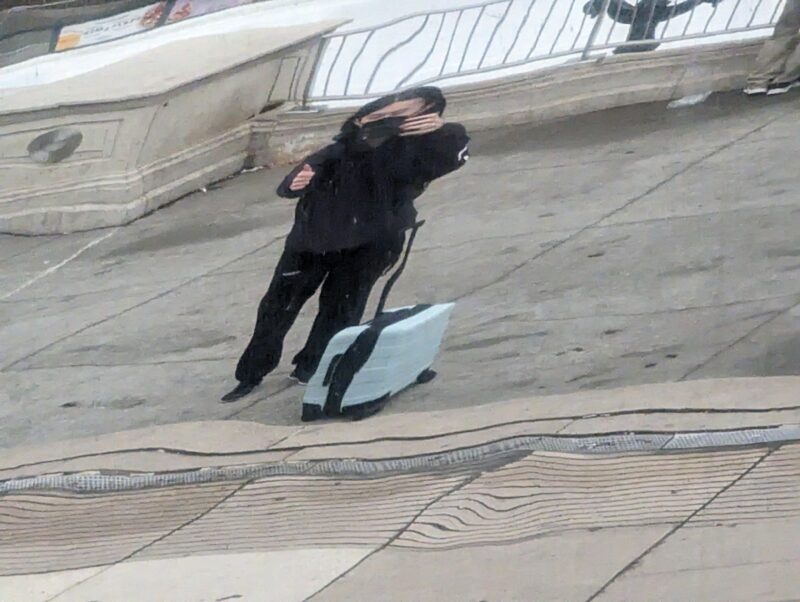 On the way back, I spent another hour or so in the Chicago Cultural Center, which is located in what used to be the Chicago Public Library. I was a little worried about lugging my suitcase around the place, but the security guard at the front said it was fine, and so off I went. There were a few art exhibits, which was pleasant.⁠05 by rule, I do not take pictures of art, so no photos there. The building itself was also a masterpiece; glass domes, marble staircases, the whole nine yards. I was glad to have found something to do, and I found the walk back in the cold much more bearable, having seen something that made it worthwhile.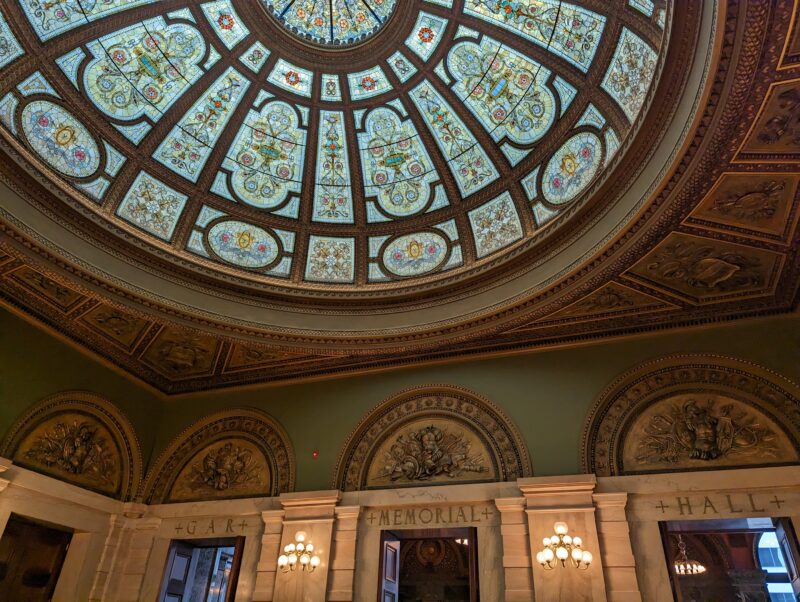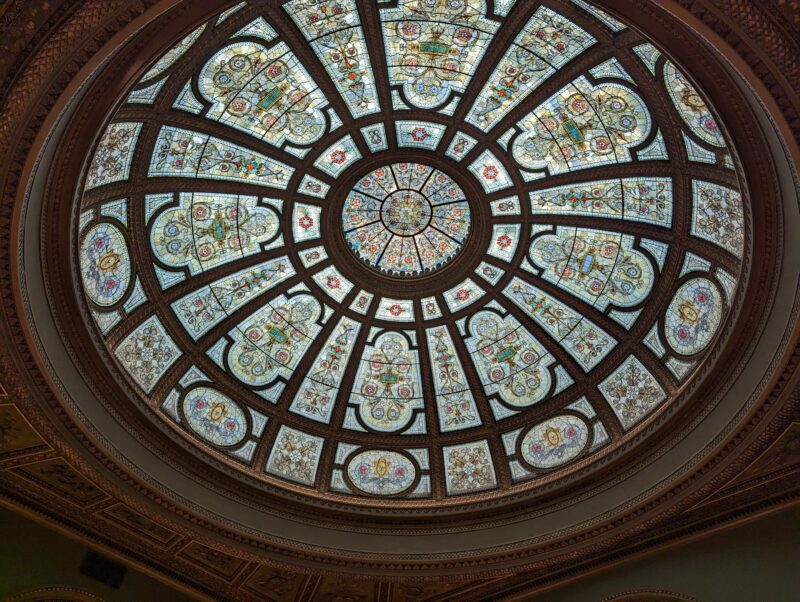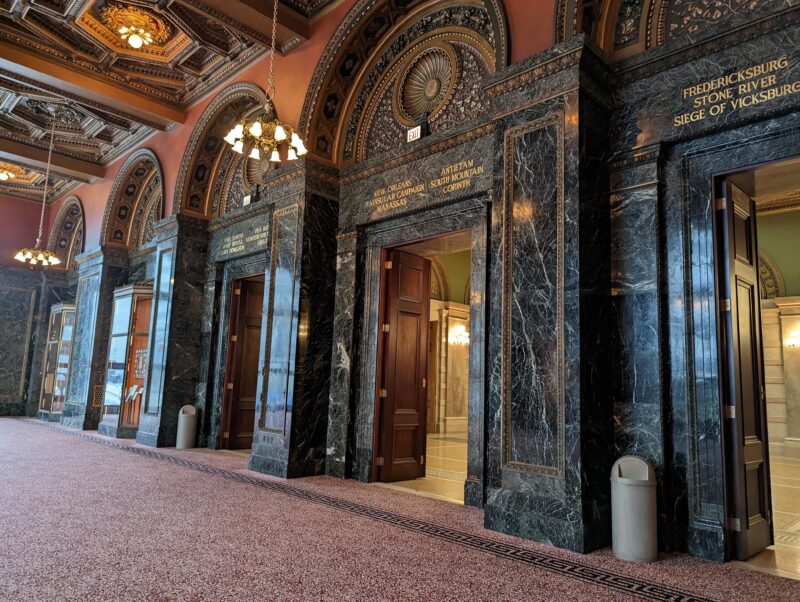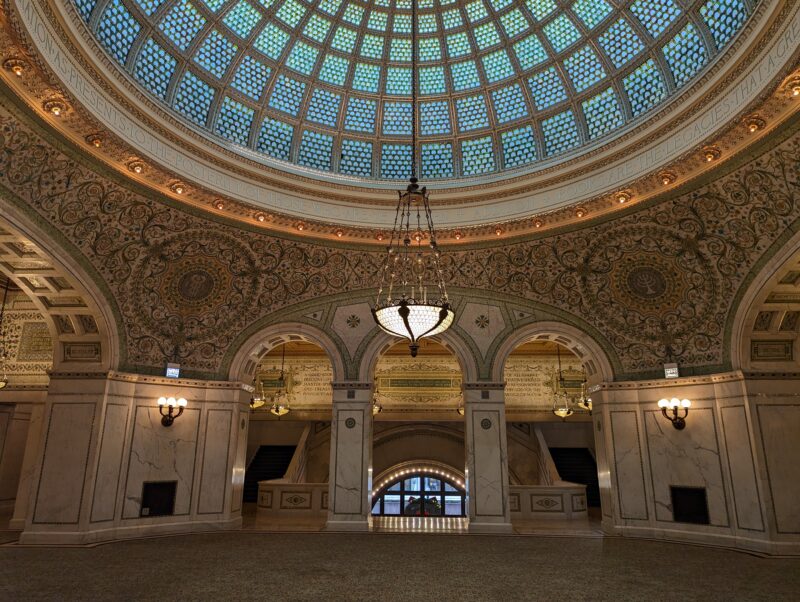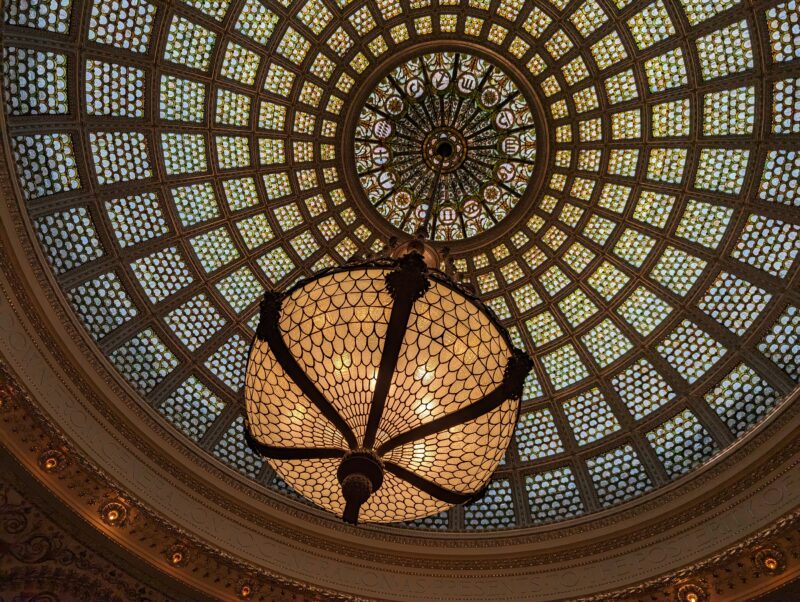 On the way back, I had lunch at Noodles & Company, a franchise I haven't eaten at in a while. I got a cavatappi lemon parmesan with shrimp. It was definitely better than the cheeseburger, but does not yet enter the "good" portion of the range, especially since the shrimp was slightly undercooked. Solid 6.5/10 experience.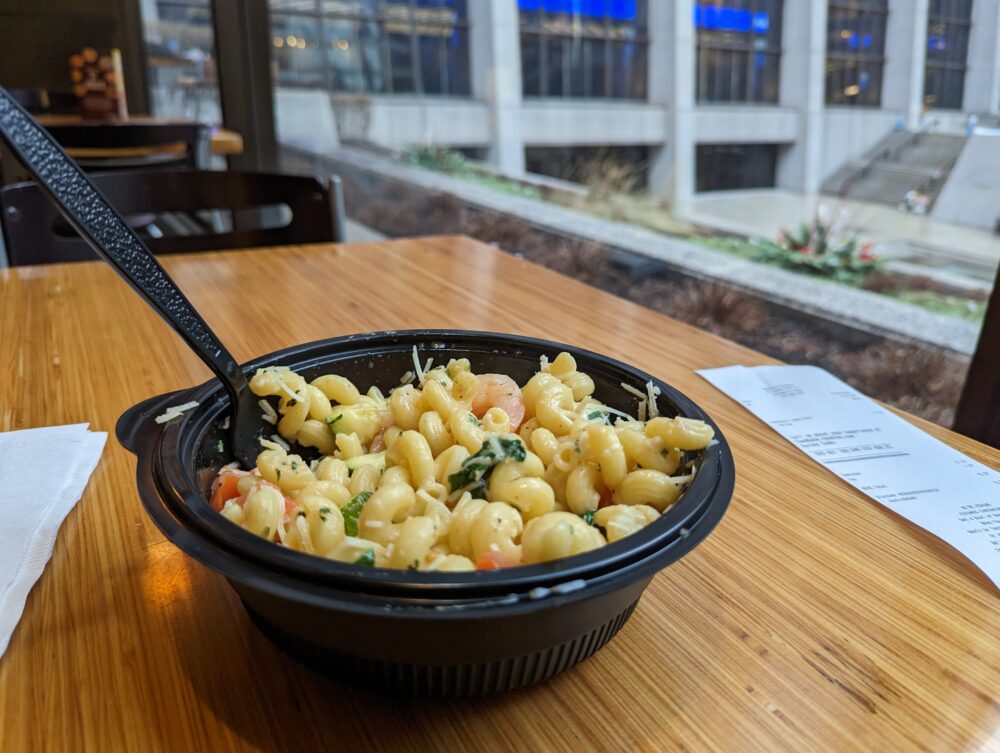 Now, I'm back in the Great Hall, waiting for my train to take me away to California. This part of the trip is almost certainly going to be more…interesting, but we'll see how it all plays out.
In the meantime, Kevin McCarthy has lost a fourth vote and is on his way to losing a fifth. They say the definition of insanity is trying the same thing and expecting different results. Now, I don't want to make too strong of a claim, but let's just say that my bet that I get to California before the Speaker gets elected is starting to look a little more reasonable.
Hour 26: 2:01 PM CST, January 4th, 2023
location: just outside of Union Station, Chicago, IL
train: #5, currently on time
listening to: the sounds of tracks bumping beneath a train (nothing)
Just a brief update, consisting of "good news and bad news."
Good news: I'm on the train, and we left exactly on time!
Bad news: The seats are full, and I've been stuck with an aisle seat. The person I'm sitting next to is also going to Emeryville. Oh boy.
Still Hour 26: 2:17 PM CST, January 4th, 2023
location: somewhere in the Chicago suburbs
train: #5, currently on time
listening to: the rush of wind past a double-decker train (nothing)
Breaking my "at most one update per hour" rule to say that the bad news has been alleviated by the existence of a LOUNGE CAR. THIS THING HAS WINDOWS EVERYWHERE. My seatmate and I have chatted briefly; apparently, they had taken the train from San Francisco to Chicago earlier and are now on their way back, and they seem nice enough to chat with.⁠06 this is a high bar; I usually hate talking to strangers. We investigated the lounge car together. I am so, so happy; I suspect I will spend most of the rest of my trip working here. Okay, back to it.
Hour 27, 3:07 PM CST, January 4th, 2023
location: passing Somonauk, IL
train: #5, currently four minutes late
listening to: the sounds of the Great Plains (nothing)
reading: Burt & Mikics, The Art of the Sonnet
I am, expectedly, still in the lounge car. It is getting darker more quickly than I would like, but I am hoping that there is still a good hour or two of working conditions, before I have to provide something other than natural light. I am back to Art of the Sonnet, which, for whatever reason, continues to draw me. I think I'll be switching over to some writing soon, or, at the very least, reading another book, just for some variety.
Outside the gorgeous windows of the train, it is fields as far as the eye can see. For the first thirty or forty minutes, we were still in the suburbs, with constant roads and two story houses—a real Newton, Massachusetts look, if you will. Now, we are in true farm country, where everything looks the same for hundreds of miles. As someone who grew up in South Dakota, I am allowed to say this! All of South Dakota—outside of the Black Hills—looks exactly like this. It's a nice, dull, foggy day; nothing to write home about.
Inside the lounge car, everybody seems to have found their own table, with a few extras to spare. A couple people are reading books or writing in notebooks; a few couples are eating dinner from the cafe car and chatting with each other; one person is putting on their nails for the day. It's a real hodge-podge of people, and I'm surprised more folks haven't found their way up here yet, although I'm certainly not complaining about it.
One final update, since I expect that I will be losing the ability to update you on the House Speaker race reasonably soon. (I am not so sure about the data coverage out here on the Plains.) Kevin McCarthy is on his way to losing a sixth ballot. It seems likely that they'll adjourn to at least tomorrow, meaning that I will be at least halfway through my trip when they select the Speaker of the House. Who knew. Regardless, I'd much rather be me than any member of the House at the moment. Out here, reading and writing, stuck on a train for another fifty hours—that's the life.
Hour 30, 5:50 PM CST, January 4th, 2023
location: Burlington, IA
train: #5, currently eighteen minutes late
listening to: 伍思凱, 特别的爱给特别的你 07 for a discussion of where I discovered this song (among other things), see <a href="https://mitadmissions.org/blogs/entry/it-is-the-escape/">this post</a>.
reading: Willa Cather, My Antonia
It is now pitch-dark outside, a little earlier than I had hoped. We have just crossed the Mississippi, which I did not get a great view of, partially on account of the darkness, and partially on account of the fact that everything bright in Burlington was apparently on the northern side of the train, and I am seated on the southern side. Alas.
For the most part, everything else about the views outside the window has been standard. Funnily enough, I have just started reading My Antonia on a recommendation from my writing professor last semester, which begins with a long train ride to Nebraska. I suspect that my experience of the ride through Nebraska, due to arrive in some hours, will be similar to the one described in the story: "I do not remember crossing the Missouri River, or anything about the long day's journey through Nebraska…The only very noticeable thing about Nebraska is that it was still, all day long, Nebraska." Of course, the circumstances will be very different; I am, after all, traversing the state by night on a much faster train, but the coincidence stands mentioning.
On this note, one thing I have been noticing is the infrastructure surrounding the railroad; I have seen many tracks split off onto what are now likely disused sidings next to old warehouses, and many towns which seems like they would not exist but for what seems like a station building. I am not saying that this is a novel observation, only that it is exciting to see something concrete reinforce a fact we usually only know from textbooks: the importance of the railroad in the development of the American West.⁠08 perhaps I should have known this already given that I grew up in the Great Plains, but South Dakota has never been particularly popular, and, in fact, is one of two American states without Amtrak passenger service at all. The other is Wyoming. On a lighter note, we are also outpacing the cars on the parallel road, which I perhaps should not be so surprised by, but I am nonetheless. Chalk it up to the reputation of American passenger rail.
Inside the train, things are going quite swimmingly. People have started to fill up the lounge car a little more, perhaps discovering a new environment to stretch their legs, perhaps just hungry—the cafe is on the bottom level of this car. People are also quite talkative and friendly, which probably owes partially to the increased space and decreased noise in comparison to airplanes; I am not personally interested in this perk, but I could see people enjoying it. I am probably going to retire to my actual seat soon enough, after putting my stuff back and grabbing dinner.
And, in Washington, D.C., they have scheduled another vote for 8 PM. Let's see how that one goes.
Hour 32, 7:57 PM CST, January 4th, 2023
location: passing Chariton, IA
train: #5, currently sixteen minutes late
listening to: the 4W Discord call
The past two hours have passed fairly uneventfully. My network connection, predictably, has become somewhat more inconsistent as we cross the nothing-scape of Iowa. To be honest, I don't really believe these places are real, but, alas, Paolo promises me they are, so I guess I will have to take his word for it.
What has happened since we last spoke? I bought a hot dog this time—this train also does not have the pizza I so desire, but, fortunately, all hot dogs kind of taste the same, and so this meal was certainly more enjoyable than the cheeseburger from yesterday. The bread is still not good, but it is not quite as bad as it was. I will give it a 6/10.
I spent some time texting friends, back at my actual seat, before my internet started cutting in and out. Oh, well. I found my seat unbearable, and so I returned to working in the lounge car. Currently, I'm sitting at the only table without a light; hopefully, I'll get one with a light soon enough. I'll probably work on some poetry and go to bed soon enough; that'll be it.
The house adjournment was a bit of a nothing ball; we're back to the "over halfway there" minimum for when they finish.
Hour 33, 9:07 PM CST, January 4th, 2023
location: somewhere just out of Crestron, IA
train: #5, currently sixteen minutes late
listening to: a conversation between two people from Omaha (nothing)
I have not done any of the things I've planned to do. This would be a theme of this series, if it were not for the fact that this is, in fact, a theme of my overall life already. I read a little more of My Antonia, but, more than anything, I have spent the past few minutes listening to the two people—one of them a train conductor—at the front of this train car talk about a bunch of exceptionally specific stories about Omaha. From what I can deduce, they were complete strangers before this conversation, but they both went to University of Nebraska-Lincoln, and are both locals with lots of specific connections; car dealerships, sports teams, so on and so forth. It has been pretty fun to listen to.
I am probably going to stay up until Omaha; we'll cross the Missouri, if it'll be visible in this complete darkness, and then it'll be probably 10:40 PM, or 11:40 from my old time zone. It'll be interesting. I will actually write now, or I will regret the day immensely.
Hour 35, 10:59 PM CST, January 4th, 2023
location: Omaha, NE
train: #5, currently on time
listening to: the soothing sound of the train air circulation system (nothing)
The two people kept chatting; for a while, they were talking about the economics of Amtrak, which was simultaneously enlightening and also incredibly boring. For another while, they were pointing out all the sights and locations on the way into Omaha,⁠09 highlight of this discussion was "the old catfish lake was right over here." although, with it being pitch-black outside for most of the way, I did not feel too strongly about it. The Missouri is a lot less impressive when you can't tell where it starts and where it ends, and, besides, I believe it's narrower here than it is where we cross it in South Dakota, so, all-in-all, not much in the way of scenery. In light of that, I spent the last hour of my day editing my thesis, nursing a cup of noodles (5/10), working on revising some of the weaker poems in the collection. I didn't get very far, but it was better than no progress, and I felt pretty good about the changes which I did discover. Maybe the hope of getting things done on this trip isn't quite dead yet.
When we arrived in Omaha, we had a bit of extra time, so I stepped outside to take a breather. While I was standing on the platform, it started to snow, first a little, and then slowly becoming heavier.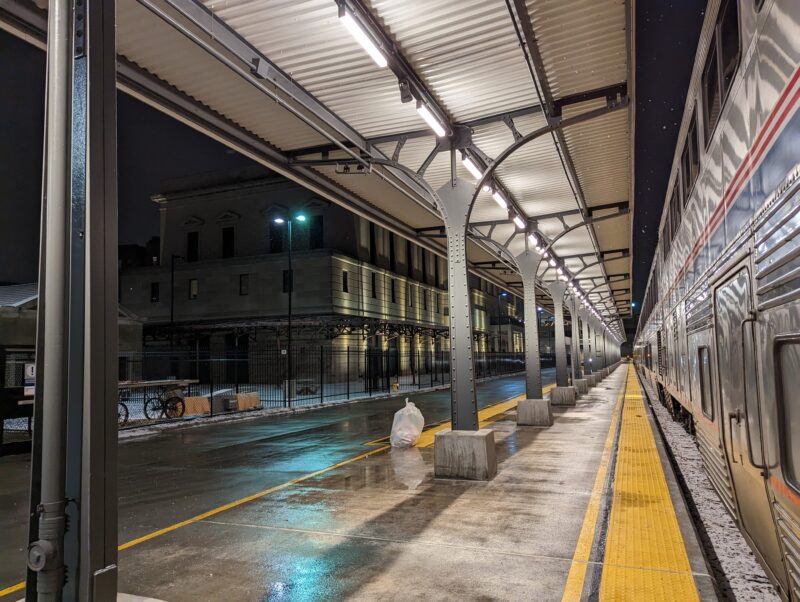 I have always loved snow, and so I will take its presence as a good omen, even if it may threaten to disrupt the rest of the journey. One of the places this train must go on its way to California is Reno, NV. As of mid-day, the National Weather Service station had this in its forecast discussion: "I really want to emphasize how complex the [precipitation] types will be for [western] Nevada, especially areas below 5500 feet…Be ready for anything." On the other side of the border, in Truckee, CA, somewhere between one and two feet of snow is possible.
That, however, is a problem for Alan on the morning of January 6th, two whole days from now! The problem for Alan right now is merely getting to bed. Good night!