People in dorms with dining halls occasionally ask me, "So in East Campus, what do you eat?"
My answers have varied, from "Free food!" to "A lot of things," to "Uhh… I mean… I certainly did. I actually have no idea what." At one point I turned to a friend and said, bro, what did I…
You get the point.
So now, I am conducting an anthropological study on what I eat. This is partly out of curiosity toward my own collegiate habits, and also to show frosh and prospective future frosh how free food culture can be leveraged.⁠01 though y'all who experienced CPW and REX already understand
Trust me, y'all, I learned from the best. Beast (2E) has food on the free food table nearly every day of the week.
A few tips:
always be prepared to consume free food, if you so desire

it's free!

saves time and makes meals a social activity

gather friends who will go to free food events with you

or make new friends at said events!

this is also great because y'all can take each other to events only one of you has access to, such as events put on by cultural clubs. 

plan ahead for free food events

I have email notifications on my phone. When I see an event I want to go to, I chuck it in my calendar with the event name and room number.

Some notifications come from [email protected], others from clubs, and more from dorm groupchats.
disclaimer: this is from the first week of classes, meaning many clubs were serving food at their first meetings in order to lure in new members. This level of living off of free food may not be constant. However, I don't think it's far from the norm.
Friday 9.9
breakfast: 
Eggs and steak, stolen from the dining hall during REX, when MIT gave free meal plans to the upperclassmen who returned early to volunteer. I froze a handful of meals to save for later.
Rating: turns out that defrosted eggs taste terrible, 3/10, would not recommend. Healthy, though.
I also had some refried beans and half a granola bar, which I paid for.
lunch: I was in the IDC and there were wraps on trays in front of us. I snatched one! Yum.
dinner: I went to a Sloan event where startups were showcasing their products! There was a free open bar, and people carrying trays of hors d'oeuvres. Excellent event, 10/10, would recommend. My only complaint is that I had safety glasses hanging from my belt and they fell out and I lost them.
free meals so far: 3
Saturday 9.10
I woke up feeling rather sick, rough days out here. It wasn't covid, and it cleared up in the afternoon.
breakfast: ordered ubereats. I feel guilty about this since it was hella expensive — another thought for another blog, I guess — but I felt much less deceased afterwards. I paired the meal with seltzer stolen from a lab earlier this week.
lunch: I did some work, then went to the BC re-opening party, where there was so much free food! They had a table with fruits and cheese and, inexplicably, a bucket of shrimp. There were also food trucks for ice cream sandwiches and Mexican food.
free meal count: 5
Sunday 9.11
breakfast: burrito from the free food truck on Friday
lunch: there were free wraps in front of Stud! I do not know what for, but a friend, Melissa D. '25, picked up several.
dinner: A few friends and I were going camping, which pulled us away from MIT's campus and all the free food there. Instead we ate hot dogs and marshmallows, your typical camping fare.
free meal count: 7
Monday 9.12
breakfast: camp food, and an energy drink I guzzled on the way back.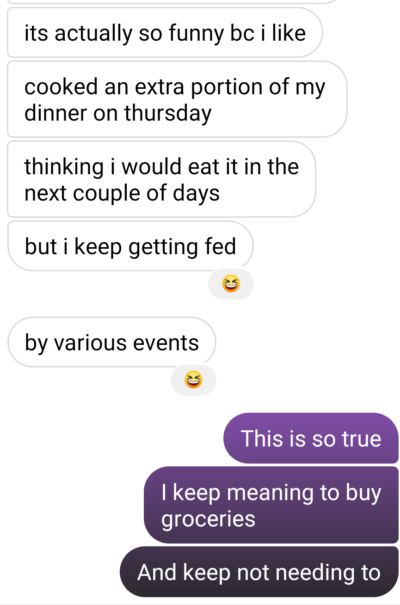 I loved camping. We arrived not long before sunset, and committed to summitting at night. We donned headlamps and climbed through the mist, often pausing to look for the next trail sign: a spray-painted white circle, or cross, gleaming under our lights. I felt like I was in another world, even though we were just two hours north of MIT.
lunch/dinner: a friend and I were texting about the abundant free food, and how they had an extra serving of fried noodles because they kept getting free food at events — then lo and behold, they gave me half the noodles! 
I wouldn't count this as exactly free, since they paid for ingredients.
I also had a banana from the banana lounge.
Tuesday 9.13
breakfast: I woke up late and snagged a bagel at the cafe in Lobby 7.
lunch/dinner: for dinner I had the last of my leftovers from the BC food trucks.
For after dinner snacks, I went to a climate-focused career fair at Greentown Labs with Selena L. '24. They were serving, among other things, fancy cheese, grapes, and Sam Adams. One of these things pairs imperfectly with the others, but I didn't feel like wine. 
The career fair was amazing; it was much smaller than MIT's annual career fair, but more of the companies suited my interests, and it was cool to see how many climate-focused startups are growing in Cambridge.
free snack count: 2
Wednesday 9.14
breakfast: for the first time this week, I cooked a meal! It was supposed to be eggs and veggies, but I forgot to get eggs, so it was in fact just veggies. I added some other salad-shaped veggies as well, since keeping this list made me realize my vegetable serving count was sorely lacking. Also, kombucha.
dinner: I had free pizza slices and free leaves at the inaugural meeting of MIT Wind, a club for the DoE collegiate wind competition!! 
The club is just starting out this year, but I knew some of the new members already. The competition seems to encompass a wide variety of areas, from design and prototyping, to building, to networking. I'm excited to see where it goes!
vegetable servings count: at least 3
Thursday 9.15
breakfast: bagel, not free
pre-dinner: MIXED⁠02 MIT's club for students of mixed-race backgrounds had an ice cream social under the stars!
dinner: I met a friend in for dinner at El Jefe's Boston location — I am on an inadvertent mission to try all the Mexican food in the Boston area. To no one's surprise, this one tasted exactly like the Jefe's near Harvard. Pretty good, would recommend; not free.
free meal count: 9 full meals!
free snacks count: 3 separate occasions
When I tabulated this list for myself, I kept a record of how much money I spent on each non-free item, too. The two times I ate out cost a hefty sum, and I, like many college students, waste too much money buying coffee that I could very well make myself. Other than those costs, free food helped lower my grocery bill quite a bit; I spent about $25 on groceries this week.
I realized during the writing of this blog that I am terrible at taking food pics, which is a tragedy. The food this week was quite good, albeit poorly documented.
How many vegetables/sources of fiber did I eat? I'm tempted to count burrito toppings as veggies, which probably signals not enough.⁠03 to all the adults who read my blog... pretend you skipped this sentence That's something I'm happy to chip away at outside of the blogs, however. This blog is meant to celebrate the plethora of free food to be found around campus!
That wraps up this week. However, I must highlight one massive free food event of the following weekend: the reif rager! There were tents and tents of free food, from donut holes to cuts of salmon, fancy pizza, pulled pork, and a lot more options I missed or didn't want to stand in line for. I didn't expect them to keep us fed throughout the dance party, so I was pleasantly surprised by the food tent right beside the dance tent, with tables that were replenished all night.