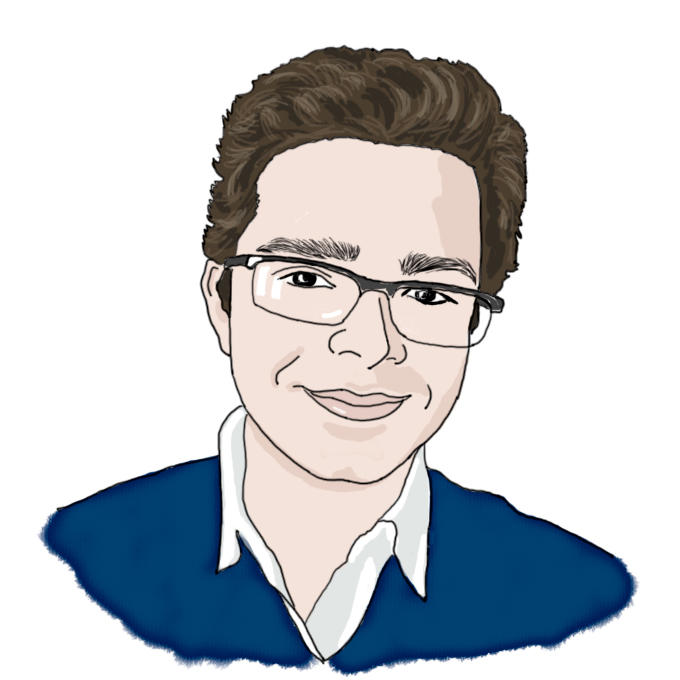 September 13th shall henceforth be known as National Gauss Appreciation Day.
Two weeks of class have already flown by. Problem sets are perpetual, clubs and UROPs are underway, and the realization that I have officially begun working towards my degree has settled in. This semester, I took 54 units; Four regular courses and one half semester class to reach the credit limit. To give you a glimpse of what a week of my life looks like, here is my schedule: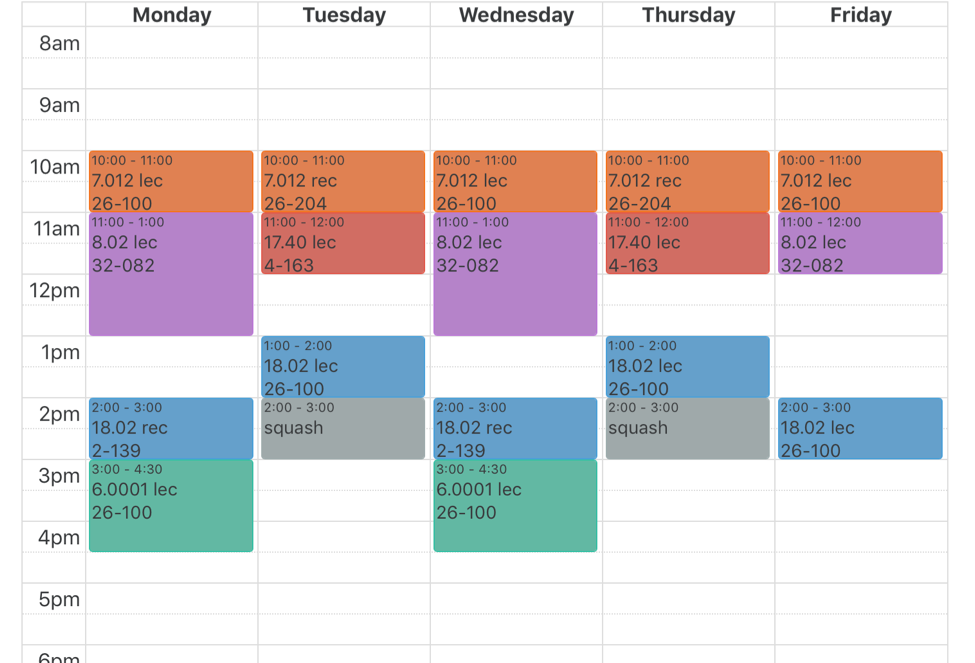 (NO 9 A.M. CLASSES HEHE)
Every weekday, I start off with Biology. I knew I was going to take biology my first semester here under Pass/No Record because I have not taken a biology class since 9th grade and well, I figured if one class was going to be a disaster, it'd be this one. I was always heavily involved with chemistry and physics at my high school, so I was definitely the most concerned that I was going to be thrown into a class with virtually zero prior knowledge and expected to perform well.
Luckily enough, I got into 7.012 through the lottery! The class is taught by Professor Lander and Professor Weinberg that make the subject easy to understand and much more interesting. Also, they both are insanely accomplished, and the stuff they have done for the field is just crazy. Look them up! I never had a true interest in biology like I do with the other sciences, but I have really enjoyed the class thus far. It also should be mentioned that it is a major plus to hear the man who discovered the first oncogene say, "The street value of NADH is 3 ATPs," when explaining biochemistry to us.
Then there's 8.02; Physics 2: Electricity and Magnetism. This is easily my favorite subject! It was always my favorite aspect of high school physics and nothing has changed here. I have Professor Tegmark who, on the first day, said hello and greetings to people in my class in probably twenty-five languages. I think the whole class was just waiting at one point for someone to say they were from a different nation to see if he knew the native tongue. It was the definitely the most linguistically satisfying moment I will most likely ever get to experience. The class is in TEAL format that focuses a lot on group problem solving. We work in groups of three, which works out perfectly since two other Interphasers, Nicole and Sarah, are in there with me. As a class, we take up all the whiteboards that surround the class and fill them up with Gauss this and Gauss that by the end of the class. Contrary to the norm, I have really enjoyed TEAL so far, but I will follow up at the end of the semester. Oh, by the way, I am pretty sure Professor Tegmark declared National Gauss Appreciation Day on September 13th.
To not get so long winded on the rest, I will just write the highlights below:
6.0001 (Intro Comp Sci; Python): The classic day/problem set/opening up python consists of me screaming at a computer to stop messing up every time I hit the Run button. Computers and programming are like a foreign language to me as of now, so I am really working extra in this class. Also, for those who use MITX, seeing Professor Grimson in person was the equivalent of seeing Jaden Smith.
18.02 (Multivariable Calculus): The Professor brought us Redbull on the first day.
17.40 (American Foreign Policy): "Merica", power struggles, and the historical game of RISK. For a history geek like me, this class is a great mashup between historical analysis and political science that is extremely fascinating with a very knowledgeable professor.
Last but not least, there's Squash!
Picture this: The previously #1 ranked squash player in the world is coaching a group on the fundamentals of the game. The whistle blows and practice begins. An individual get hit smack in the face within a mere minute by a squash ball rebounded from the wall. That individual is me Tuesdays and Thursdays from 2-3 p.m. I will say, I love ping pong, and I am really starting to enjoy this class as well as a lot of skills and such transfer over.
Besides the classes part of the day, I am starting to ease into some potential clubs, looking at intramural sports, and my UROP just got started last Tuesday! Also, I have been riding my bike on the weekends to different townships and really getting a lay of the land. Newton, Massachusetts is absolutely stunning. I am getting into a routine here already, and I am honestly extremely excited. I feel comfortable at MIT. I feel I definitely belong here.