I'm the undergraduate assistant for a Freshman Learning Community (FLC) hosted by the Global Languages department and MISTI (MIT International Science and Technology Initiatives). The FLC, which began this semester, is designed to offer freshman community and expose them to new cultures and languages, as well as international opportunities at MIT. It's been wonderful so far, and we've been able to leverage the technology and resources we have available to make the virtual course as interactive as it can be.
Check out this interactive visualization of the course here!
The course has asynchronous materials in addition to the synchronous 1.5-hour meetings each week; there's a Food of the Month, Film of the Month, Virtual Museum of the Month, Painting of the Month,  Puzzle of the Month, and Composer of the Month, all of which stem from a diverse range of cultures. There also is a special focus on global responses to the Covid-19 pandemic, with discussions of how policy implementation is influenced by culture. 
Something that makes the FLC really special is our incorporation of cook-alongs. One week, Dr. Dagmar Jaegar, a Lecturer in German Studies, visited the class to show everyone how to make a German apple cake. Students bought and prepared their ingredients (which they were reimbursed for) beforehand and followed Dr. Jaegar's instructions in their own kitchens. It was a really cute and unique experience that would be hard to mimic on campus since students no longer have access to kitchen spaces due to COVID-19. We also did a Bento⁠01 japanese lunch boxes workshop, in which a culinary writer visited the community and taught everyone about the history and culture of bento in Japan before leading us in bento-making. It was so much fun!! The bento were adorable…here's an article about our participation in Onigiri Action, and here are some pictures of students' bento.
The boxes pictured were delivered to students in a care package that everyone, including international students, received! Here are some items from the package: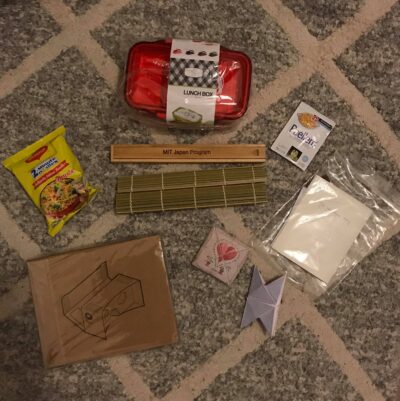 Featuring chopsticks, a bento box, a bamboo sushi-roller, origami, Maggi, and a paella mix. There also was chocolate, tea, a Russian cake, and some other things, but I've already eaten them all :) The effort put into creating the packages is so heart-warming, and I'm happy that students were able to receive them.
So far, each class meeting has been fascinating and engaging; I'm definitely learning a lot. Here's the schedule of meetings we've held/plan to hold this semester:
September 10: Classical Chinese Puzzles
We learned about various Chinese puzzles such as tangrams and the "Yizhitang" collection of puzzles, which consists of over 1600 antique Chinese puzzles collected in a twenty-year odyssey around China, Europe, and the east coast of the United States.
September 17: Discussion of "Long Time No See, Wuhan" Documentary
We discussed "Long Time No See, Wuhan," a documentary that illustrates life in post-COVID Wuhan through the lens of a Japanese director. It's really interesting and was a great way to kick off the FLC's focus on COVID-19.
September 24: St. Petersburg and Moscow Virtual Scavenger Hunt
Senior Lecturer in Russian Maria Khotimsky talked about Russian history and key locations in St. Petersburg and Moscow, and then we split into teams and used Google Maps to go on a 'virtual scavenger hunt' around those locations.
October 1: MISTI Panel
Representatives from several MISTI programs visited the FLC to describe what the MISTI experience is like and what makes their program unique.
October 8: Non-Roman Writing Systems
Professors and lecturers from the Russian, Korean, Japanese, and Chinese departments visited to teach students about their language.
October 15: Apple Cake Bake-Along
This was one of my favorite classes so far. Dr. Jaegar was a wonderful host, and baking alongside her was a lot of fun. My apple cake looked dismal because I used whole wheat flour and no butter, but it tasted pretty good.
October 22: Global Responses to COVID-19 Panel
We learned about how culture affects responses to the Covid-19 pandemic in Mexico, South Korea, Germany, and Russia.
October 29: Bento Workshop
Culinary writer Debra Samuels taught us about bento and led us in making them. They came out great…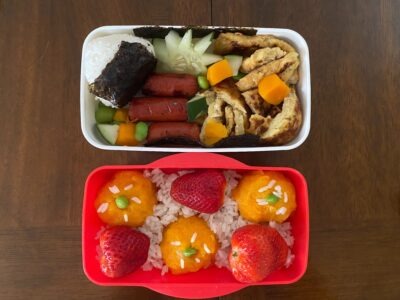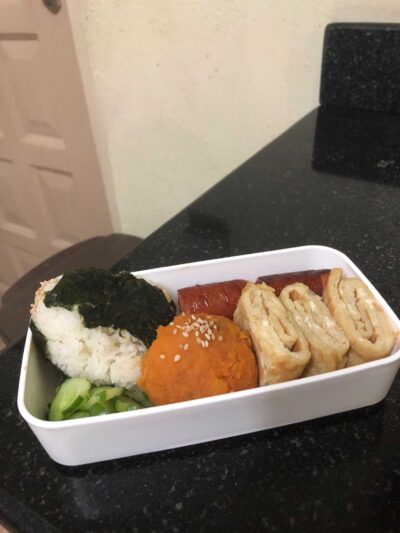 November 5: Political Photography in Paris
Prof. Catherine Clark of MIT History visited to talk about her book that documents the history of photography in Paris and sheds new light on the history of the French capital. We also discussed what makes good political and protest photography.
Next on the docket, we have presentations on Spanish urbanism and Taekwondo, which I'm very excited for.
This FLC has done a great job with offering freshmen new cultural experiences and helping ease their transition to MIT. I'm so happy to have been a part of it!
japanese lunch boxes⁠

back to text

↑