Camille was very nervous when she applied for EA to MIT in 2018. "What if I don't get in?" "Am I good enough?" (That is a question we all ask ourselves). "The acceptance rate is only a 5% or 6%"
I've always tried to be a supportive parent, so I answered her concerns with "It's okay, you have a 50/50 chance. It's either a yes or a no." Oversimplified? Maybe, but true.⁠01 Hello! Cami here. This is not at all true. But I love my mother so I'll let this one slide. Also hello!! I'll be communicating my thoughts in these cute little hover sections because I want my mom to have all of the spotlight for this blogpost.
All the years of Camille studying, taking tests, volunteering, and participating in extracurricular activities. Years of attending a school that provided a solid educational foundation, but was also super competitive (too competitive in the end).
I tried to balance this stressful atmosphere by allowing her to go to concerts. (Yes, even on a school night.) We would line up at 0400 in the morning on the streets of LA or San Diego for a concert that was not going to start until 8 PM that night. (Don't get me started on BTS. We waited in line more than 24 hours.)⁠02 40 hours to be exact. It was fun. As I was sitting on a sleeping bag on the sidewalk of the LA Convention Center at 0400 in the morning, I asked myself "What am I doing here? I'm not even watching the concert." Why? Because this is what my daughter finds joy in. Music makes her happy. She's happy when a new track drops, she's happy when she plays her favorite song on her guitar or keyboard, she's happy when she sings at the top of her lungs, and, yes, my daughter's happy going to concerts.
I can't go to school for her.
I can't study for her or take the tests for her.
I can't complete the projects or lab work for her.
But, I can support her.
If it means sitting on the sidewalk of downtown LA at 0400 in the morning, then so be it.
MIT in 2018 had a 6% acceptance rate, so realistically the chances Camille would get accepted were pretty low. I told myself whatever happens I would be there for her with a smile and a hug and have her favorite chocolate chip pancakes ready.
The day arrived, 0915 of December 15, 2018. I gave her space but was quietly listening and praying the rosary (I can't help it I'm Catholic after all) in another room. Camille came out of the bedroom sniffling and she went straight to the bathroom.
I could hear the water running as she seemed to be washing her face. I stood outside the bathroom door waiting. As she came out, I gave her a hug and said "It's okay, I love you. Do you want your pancake?" (Yes, we have this unhealthy habit of eating as a coping mechanism⁠03 Indeed. when we are sad.)
Camille replied, indignantly, "Mom! I didn't even check yet."
Embarrassed, I said "Oh okay, sorry," and stepped away.
A few minutes later, I heard her gasp and say "I got in? I got in!" I think I ran or jumped while shouting "Camille got into MIT!"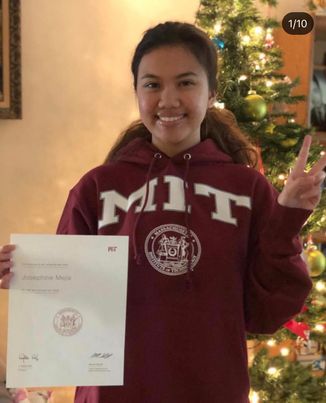 Yes, I was happy that she got into MIT. But more than that, I saw my daughter smile for the first time in months. She was genuinely happy at that moment. I was hopeful this joy she felt could help her rise up and out of the toxic shadow of her school and friend drama.
It was difficult to see her struggle and cry and be sad. As much as I want to clear out the obstacles in her path, I can't. As life has taught me, the obstacles in whatever form they may be will make you stronger in the end.
#Goal "Happy + Healthy" (I can see Camille wincing since I'm using hashtags.)⁠04 I literally did. My mom ruined such a deep and emotional paragraph with a hashtag. Like mother like daughter I suppose, diffusing emotional situations with non sequiturs and jokes.
I try to keep the passage in my mind from The Prophet by Kahlil Gibran.
   And he said:
     Your children are not your children.
     They are the sons and daughters of Life's longing for itself.
     They come through you but not from you,
     And though they are with you yet they belong not to you.

     You may give them your love but not your thoughts,
     For they have their own thoughts.
     You may house their bodies but not their souls,
     For their souls dwell in the house of tomorrow, which you cannot visit, not even in your dreams.
     You may strive to be like them, but seek not to make them like you.
Family and friends say Camille looks like me and we share a lot of characteristics. (Yes, I am also blunt and outspoken.) But the truth is I am me and she is who she is.
She is the best Camille that she can be and I am proud to be Camille's mom.
"I plan to give you love, nurturing, and just enough dysfunction to make you funny quirky."
(The original quote says funny, but I'm changing it to quirky⁠05 My mother and I have an inside-not-so-inside joke about how I got into MIT on merit of being /extremely/ quirky. …wink wink.)
cami here! and just because i think i really like the handwritten version i'm including pictures of the handwritten version my mom sent to me