This winter break, inspired by a chaotic night hiking trip in fall,⁠01 Josephine '24 and I led our group through the mist after nightfall, ekeing out spray-painted trail signs with our headlamp. We clambered over boulders until we found the peak, looked out over a wide and quiet mountain, and then realize we had to walk back. I vowed to go hiking. Tucson is gorgeous; and, importantly, in Tucson I have a car.
I had some daring plans to go hiking every other day, but I wound up getting sick and having family obligations, so I had three major hikes to speak of, plus one noteworthy run:
10 mile run
The first day I got back, stiff from the plane, I hit the river path outside my house. The river in Tucson is dry, always has been, but it goes on for miles with no interruptions. The path is secluded from the road with its rush of cars. I'd forgotten how quiet the desert is. 
I was just off the plane, and was still recovering sleep. I had music blasting. I imagine my head contained a lot of static.
If this were a lifestyle blog I would note that I was wearing spandex with pockets (!!) from Big 5 Sporting Goods and also no sunscreen.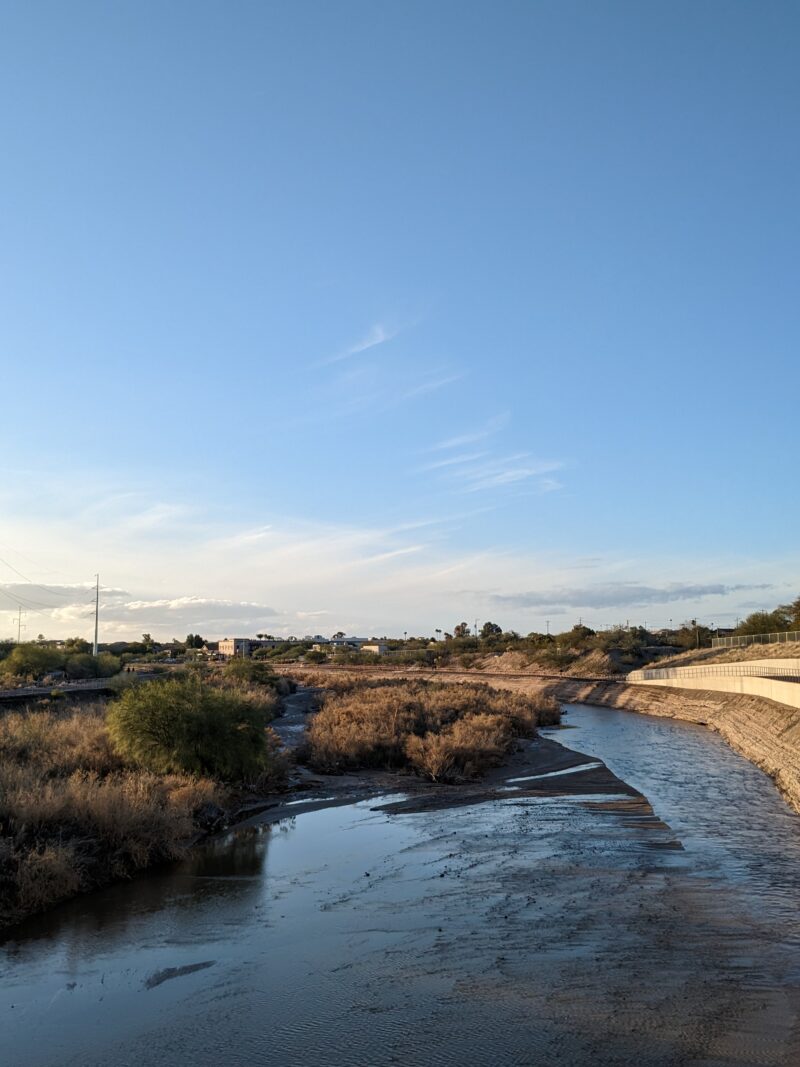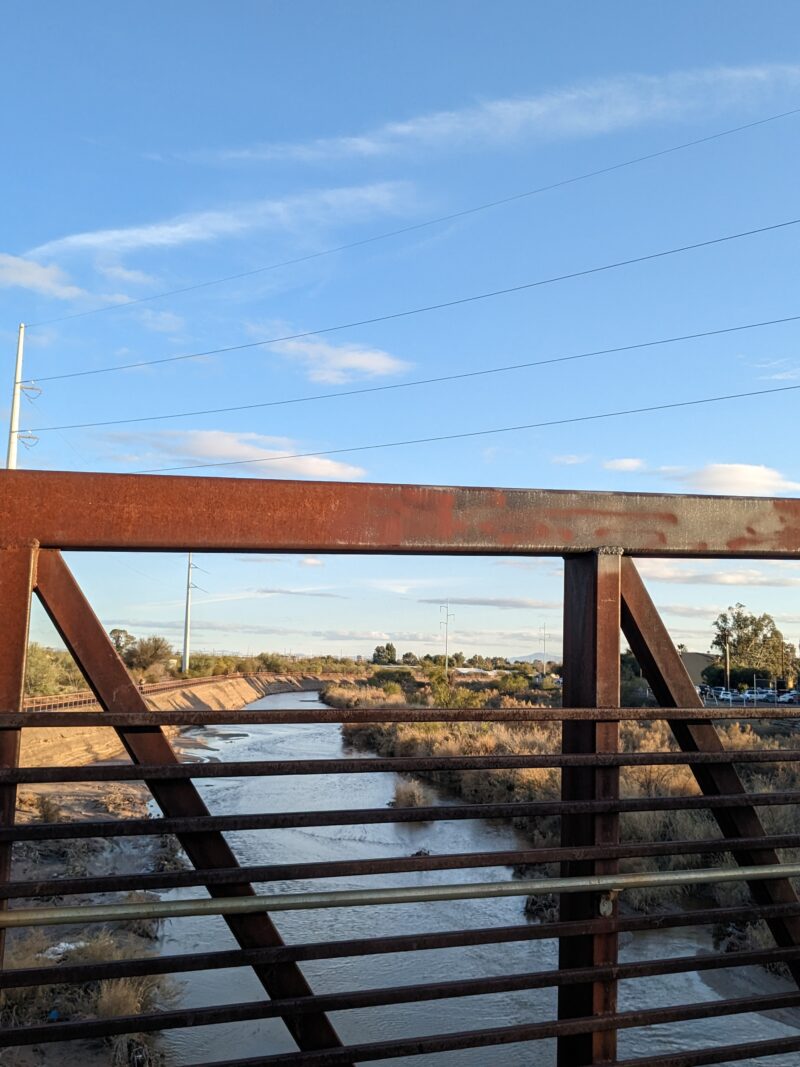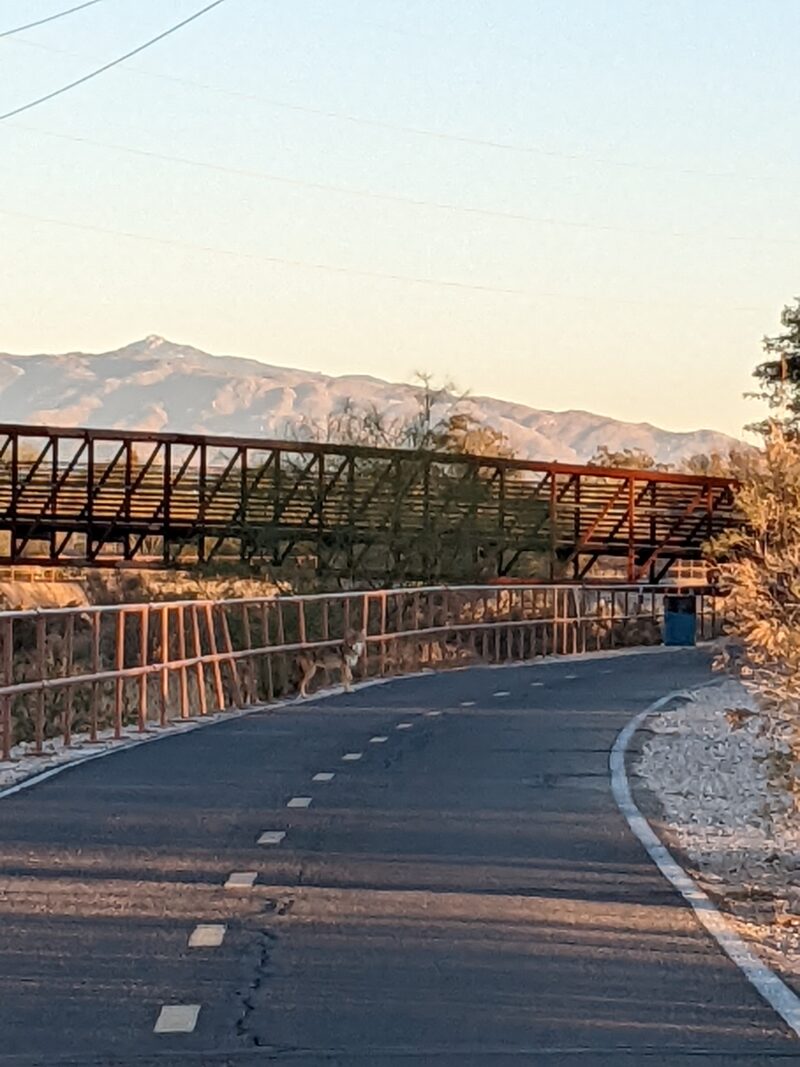 Catalina State Park (ft my mother)
I believe this was a Christmas Eve hike. We're Jewish, so Christmas for me typically means Chinese takeout and trying to go out but realizing everything is closed and all my friends are busy. My mom and I predicted the 'everything is closed' part and instead drove up to Cataline State Park, about forty minutes⁠02 one of the biggest changes in coming to Boston is how distant the city is from nature. In Tucson, no matter where you live, you are at most an hour from mountains. from our house. 
However, everyone else also predicted shops being closed and drove up to hike as well. We found a spot in the parking lot and wove through a mass of children gathered around glass cases on foldable tables. What were they looking at? We got closer. The glass cases held reptiles: snakes, small lizards, tarantulas, and even a gila monster.⁠03 a big venomous lizard. The G is pronounced like an H
I absolutely love reptiles. In the desert they are ubiquitous; freezes are unpleasant for them but never long enough to wipe them out. When I run or bike in summers, there are lizards sunning themselves up and down the asphalt path. I've nearly run over rattlesnakes more times than I can count, their scaly bodies indistinguishable, at a distance, from long fallen sticks.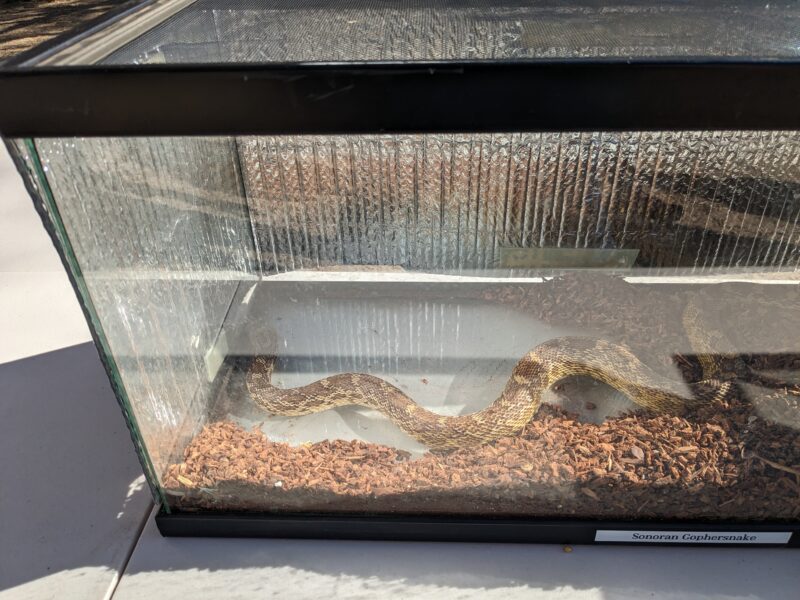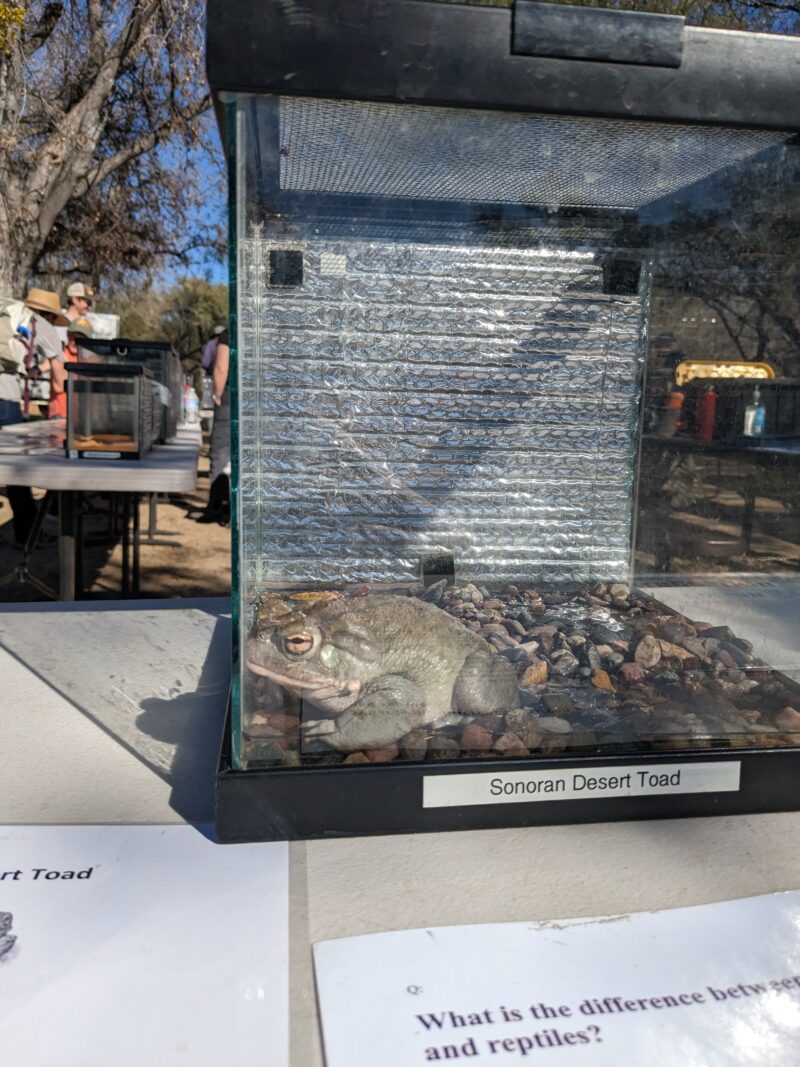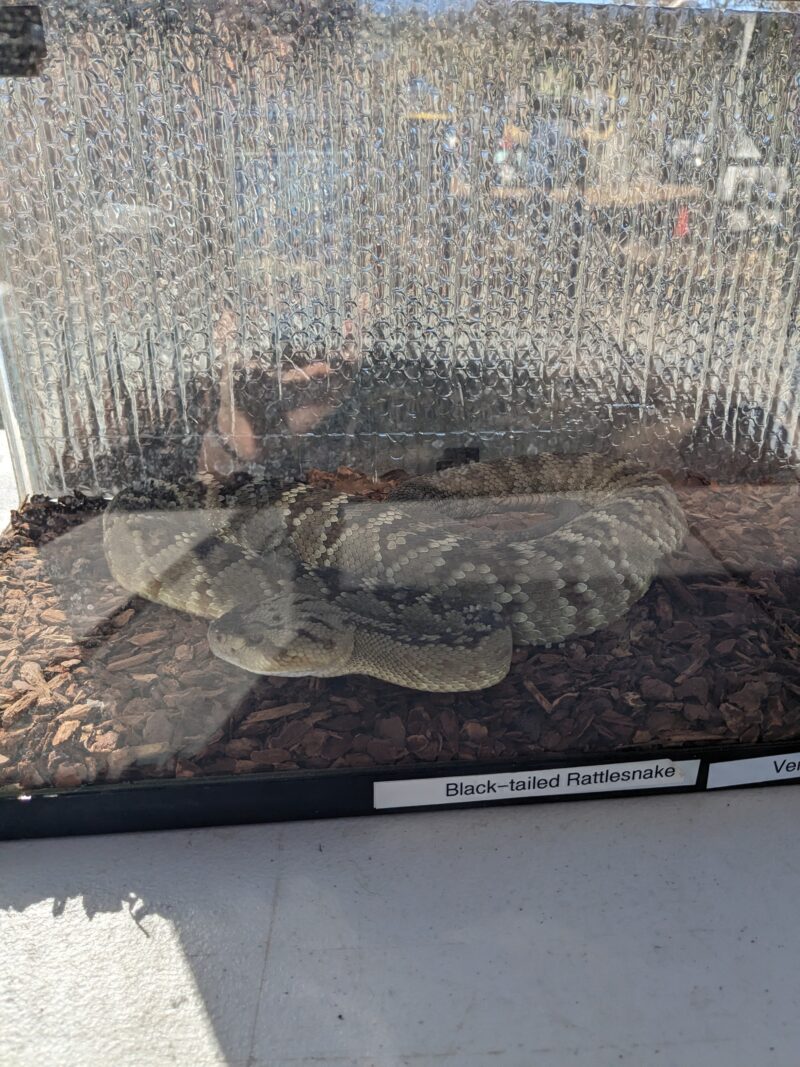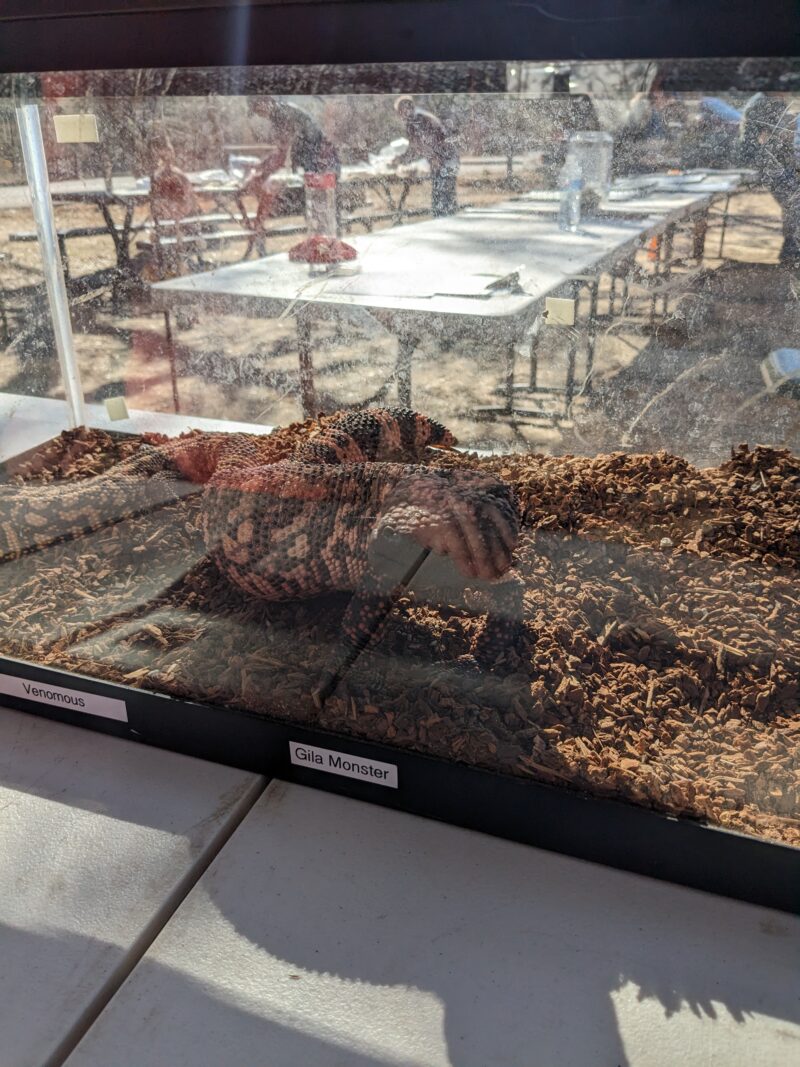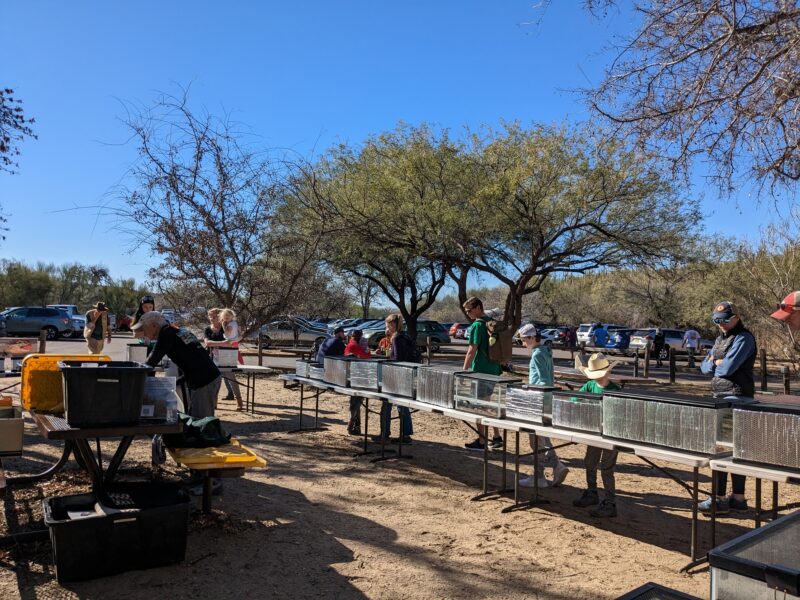 After that we started hiking. The trail wound upward. I asked my mom about her work, her projects; every time I return she has new names to tell me, people she met and their projects. She works in web3 space. I told her how I was exhausted from taking seven classes, but was nevertheless much happier and more grounded than I had been a year ago. How I'd found myself again — in the starlit streets of Copenhagen, in the heat of the forge, in coffee shops scattered from Denmark to Arizona. I was good. 
I was also sick — I'd picked up something from the plane — and I could feel the urge to push through, keep hiking. I called for a stop about an hour in. We sat on the rocks and watched hikers pass by. A lot of them were parent and child pairs, too, talking about college or early careers. I drank water greedily; we'd brought more than enough. 
"Okay, let's keep going," I said. I had started drafting a blog about self-care that same week. It occurred to me that I could go another hour, but I'd prolong being sick by at least a day. Finally I got myself to say, "Actually! Let's go back."
Then I slept for all of Christmas day and felt mostly better.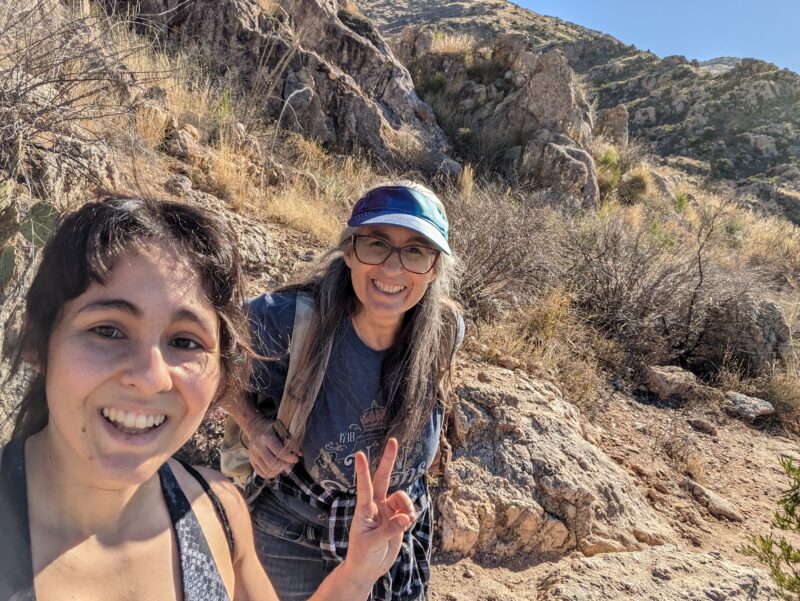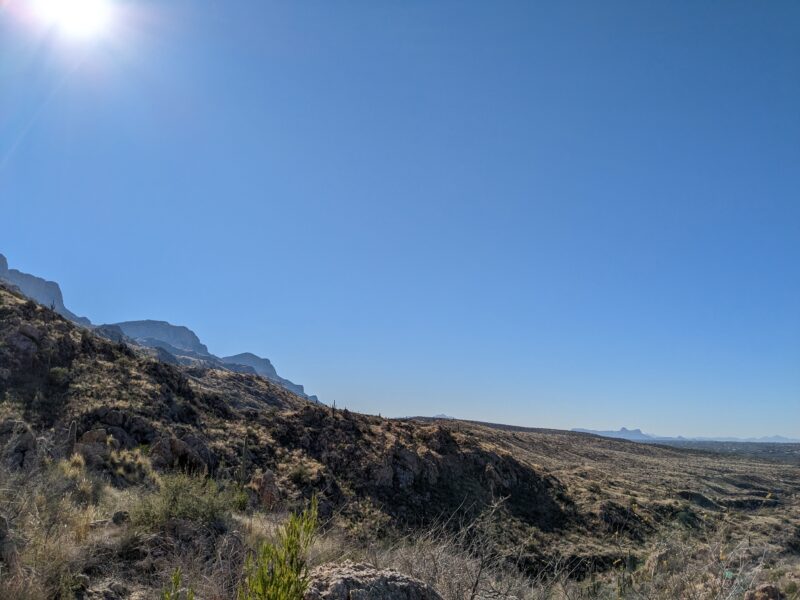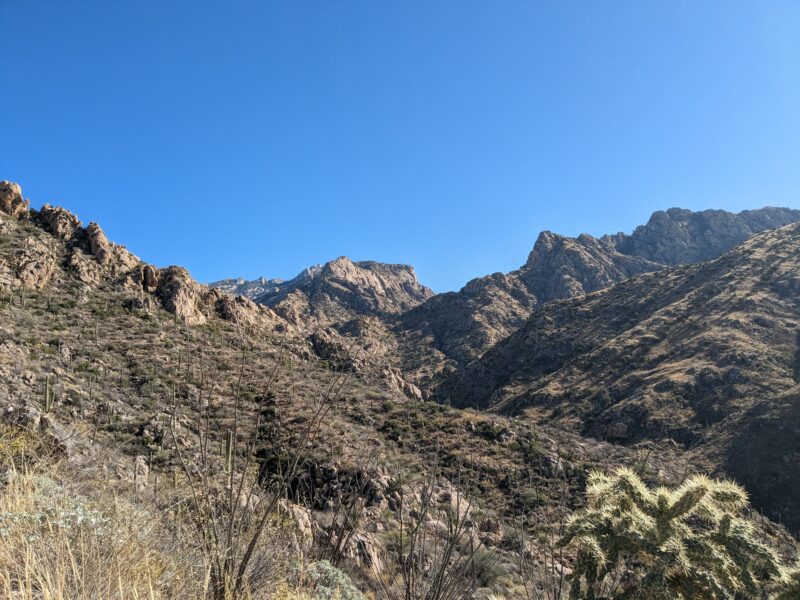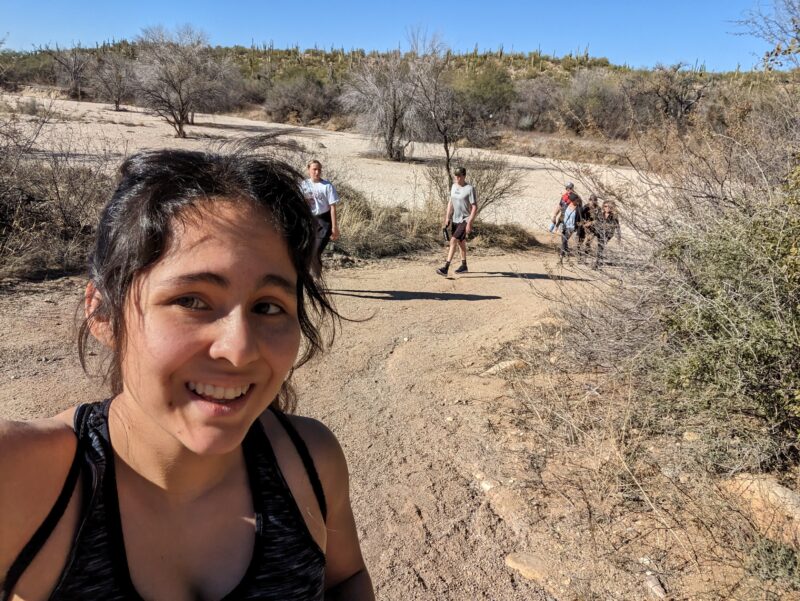 Sabino Canyon (ft Maddie '23)
I joined forces with a friend from high school, Madeleine, who now goes to Smith. We drove out to Sabino Canyon, a popular paved hiking trail and one of the most likely ones around Tucson to contain water. There had been winter rains, and the water was high, pouring over several bridges. A tram which runs into the canyon couldn't follow its usual circuit. Maddie and I got on the tram for a new and unusual circuit onto an overlook, and from there we took off and started hiking, vaguely following the river.
We caught up on one another's adventures as we forded the icy river and hiked into the canyon.
I was struck by how many ups and downs she's had; more recently, a lot of ups. She has a lovely repertoire of wild nights and stories to tell.
I have been thinking about this a lot. My little sister went to a school that caps students at 4 classes for all eight semesters. Several of her stories began with "So it was Tuesday, and I was bored." Tuesday was my all-nighter day.⁠04 though I guess, properly speaking, the all-nighter portion took place on Wednesday
I don't regret taking all the classes that I have, since I learned a lot, and I couldn't double major with 4 classes each semester. It also seems to me that growth is partly a factor of experience, but partly a factor of time. Making the same chaotic choices several times in quick succession doesn't necessarily guarantee learning more than you would from making that choice once. 
I have experimented and grown during my time at MIT, and I like where I'm at. Even so, I want to experience more. I feel ready. I'm hopeful that pruning down my number of classes for the spring will give me more space to be wild and foolish.
The river in Sabino Canyon was fast and cold and deep. We held our shoes and phones up high as we waded through, the water nibbling our stomachs and the small of our backs. But the sun, even in winter, is strong in Arizona. By the time we reached the parking lot, our clothes were dry.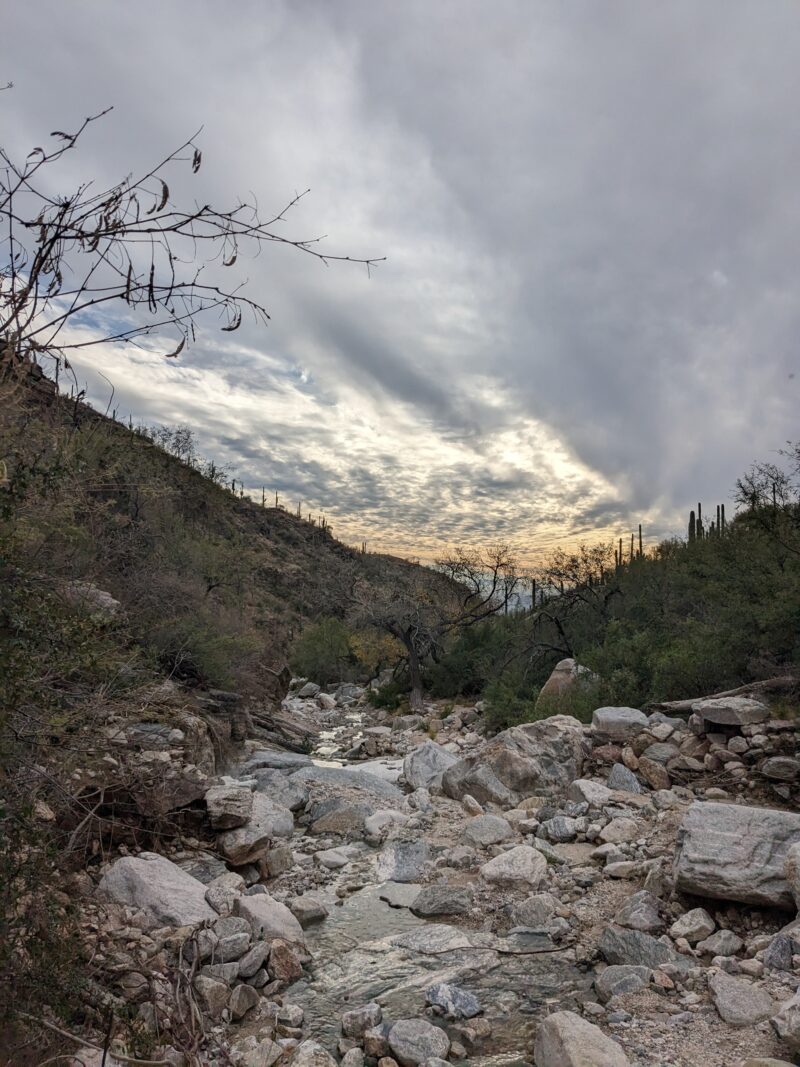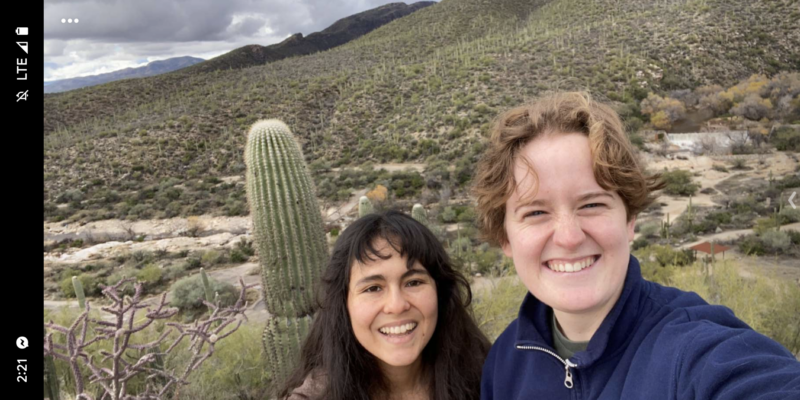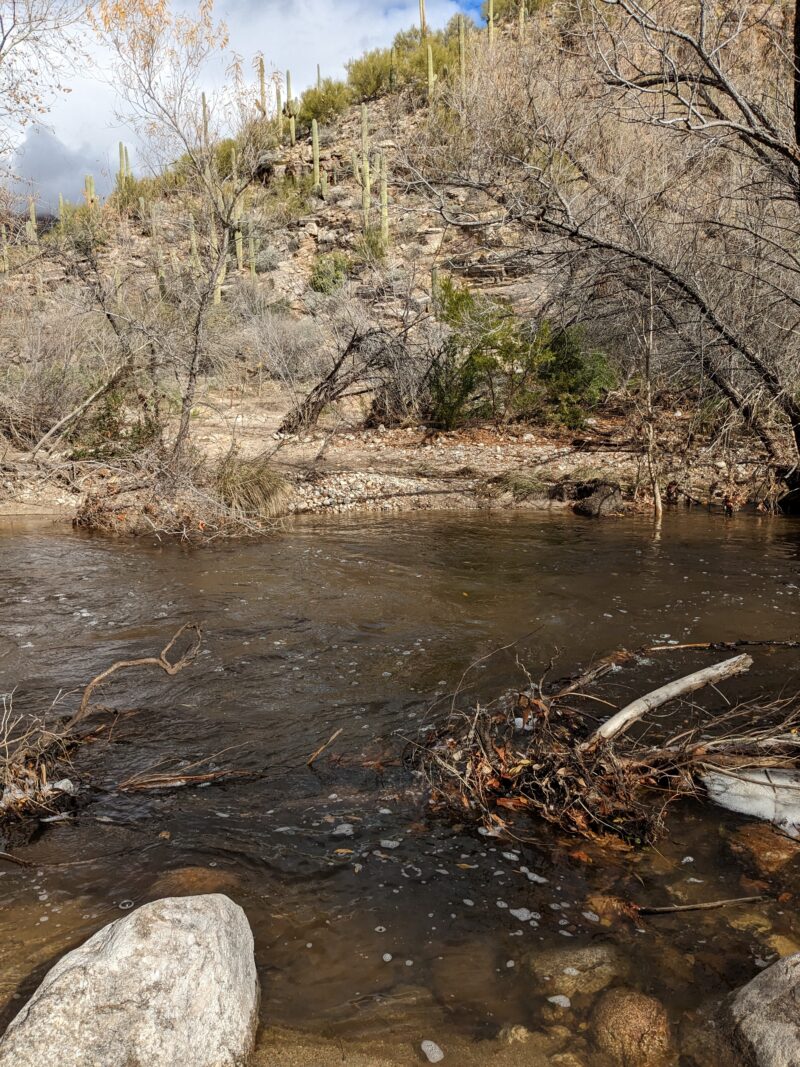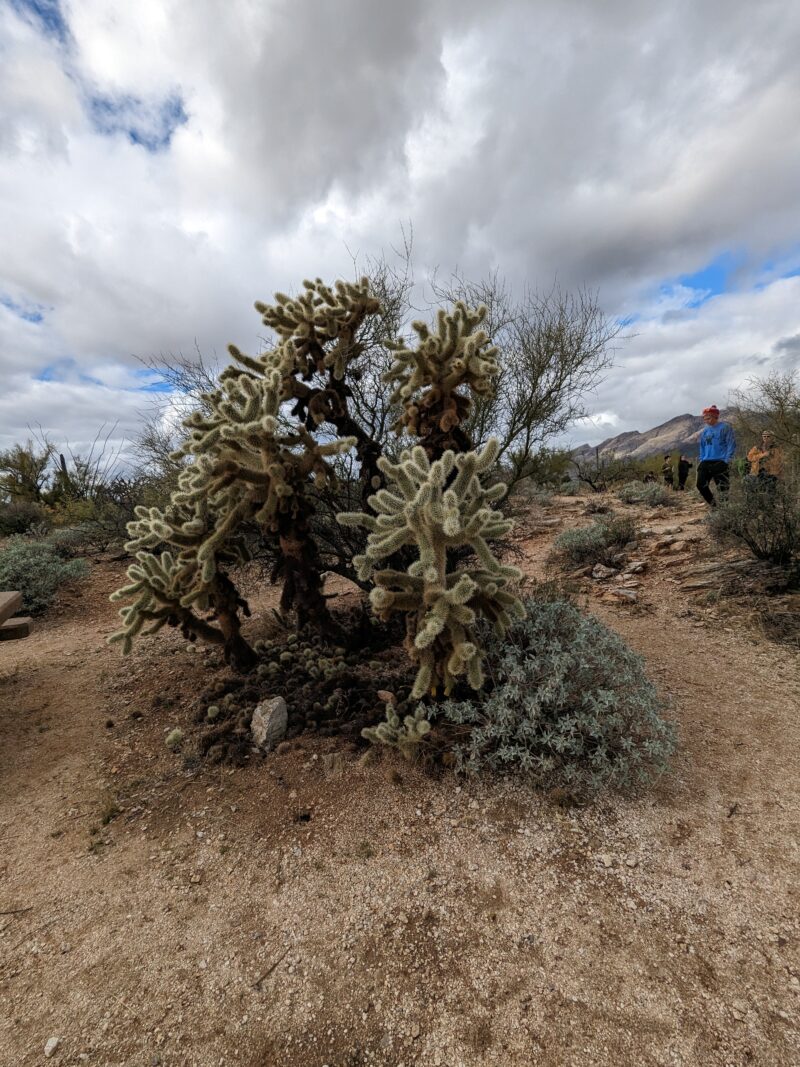 Finger Rock Trail (ft my big sister)
I ran up this trail once, years ago. It was faintly surreal: the trail itself faded from well-defined path to a series of cairns in untamed desert. Every now and then a white-haired man in sandals would appear on his way down from the peak and warn me it was difficult, and that I should turn back. I heeded none of these warnings. Eventually I reached the top, or near enough to it; climbing the finger itself requires ropes I didn't have. 
This time, I was with my oldest sister,⁠05 for anyone who's keeping track, I am #3 of 4 sisters her boyfriend, and their chihuahua mix, Taquito. Her boyfriend forges swords and leaves them in rocks. He told me how he started out by forging 100 nails. I found this rather cool since I have forged exactly 3 nails and thoroughly disliked the process. I also kept burning them in the forge so at the end I had 1 un-melted nail.
My sister and I talked about friendships and relationships. I liked hearing her vocabulary of needs and boundaries; it felt grounding. We swapped stories and little dramas, discussed our patterns of how we interact with people. My sister gives good advice. I want to be able to articulate people's needs the way she does; I think I'm close, but I have more books to read. 
After the hike, her boyfriend took Taquito and my sister and I went to Trader Joe's. We grabbed food and munched it in the parking lot. The mountains before us were purple and grey.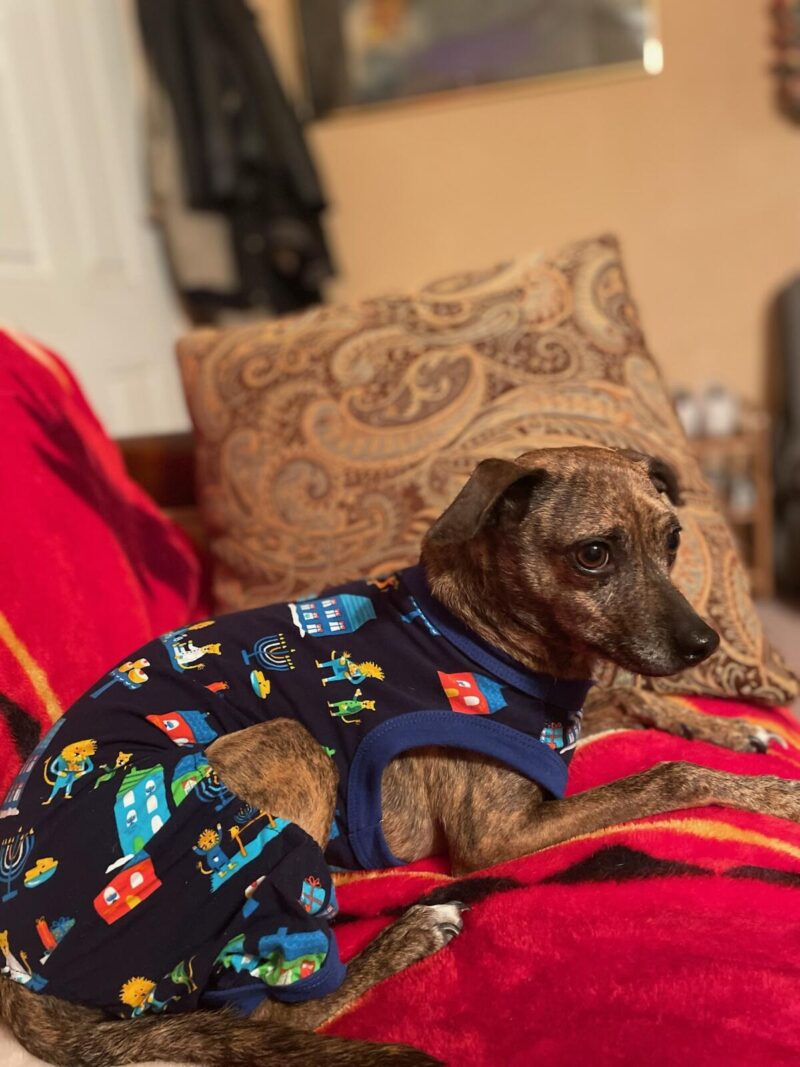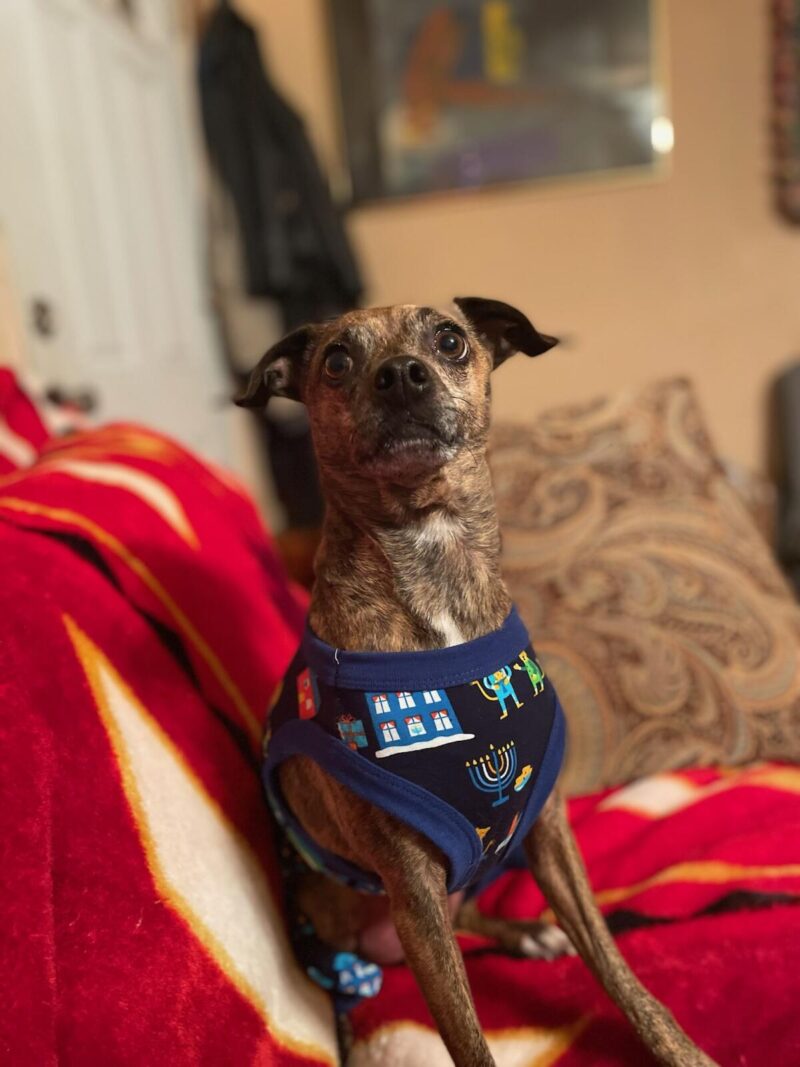 After these hikes, I have decided to read The Ethical Slut, to spend more time with people, and also to destroy my body less. I'm hoping that my friends and I make more time to get out to the mountains this spring!