i had a magical long weekend. a fellow rising sophomore friend, her boyfriend, my boyfriend, and I all rented a Zipcar and drove down to Cape Cod to spend the day at the beach. it was a goddamn ride start to finish.
our journey started at a Starbucks drive-through, where someone suggested that we spice up our orders by asking for four of what the person in the car in front of us ordered. while passing the menu, we noticed a sickeningly bright green drink—a matcha frappuccino—and prayed to the stars that we wouldn't end up with that order.
and….you guessed it….
ventis, no less. i have never ordered a venti in my LIFE.
before we reached the beach, we stopped by a Stop & Shop for some burger buns, patties, and a four dollar disposable grill that we would end up never using. we then drove to Lighthouse Beach, an eastward-facing beach located in Chatham. it has a large seal population, apparently, which makes it a prime hunting ground for sharks. but they're not common in June, apparently.
the beach wasn't too crowded, but the water was really fucking cold. we spent a couple of hours there before leaving in search of a warmer beach.
then, we headed into the main street of Chatham in search of a pizza shop that my friend's family had visited several years ago and raved about. with only a picture of the store to guide us, we walked down the street until we found it. it's called Carmine's and it was fucking delicious.
nearly every store on the street was open (with proper safety regulations in place, of course), which was amazing!
after devouring the giant pizza, we started to drive towards the west side of the cape to look for a beach to watch the sunset on. 20 minutes of driving later, we arrived at one called Skaket Beach.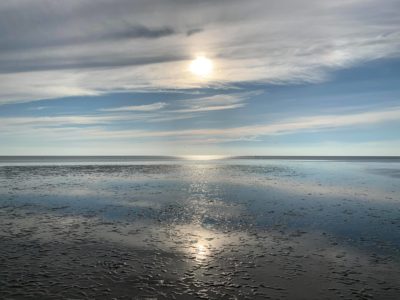 this beach was a dream. it was low tide, so shallow water extended for at least a mile. it was beautiful and magnificent and not even remotely crowded. we were awestruck.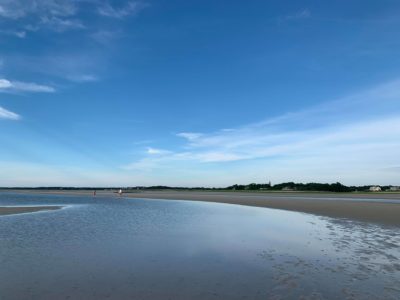 shallow pools ran horizontally across the beach, with water that was inexplicably pushed eastwards in a lovely sinusoidal pattern.

the sky was a brilliant blue and the tidal flats stretched as far as the eye could see. i felt like i had escaped reality.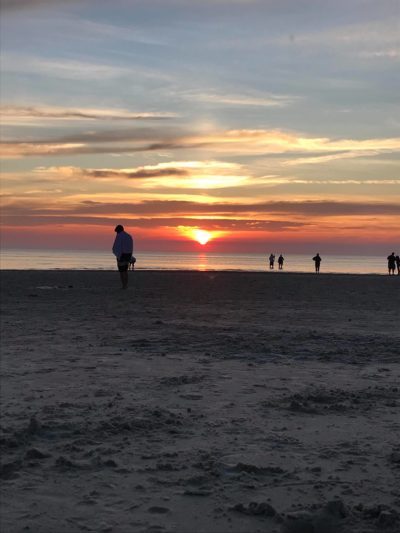 when sunset approached, the horizon was dyed the colors of the rainbow; we could clearly distinguish each hue. it then morphed into a bright reddish-pink—my favorite color. the sun, swollen and ablaze, left a trail of vivid orange in its wake.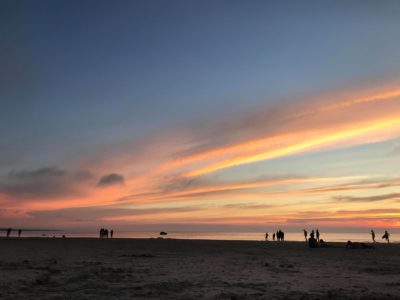 streaks of sunny yellow interlaced with those of grey and pink and weaved through the clouds, condensing into deep purple.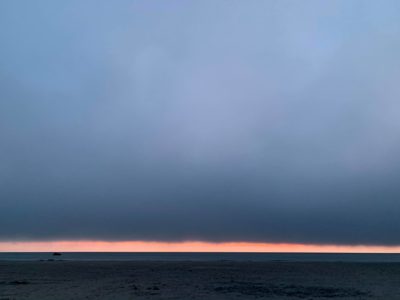 when the sun finally plummeted below the horizon, the clouds descended to the very edge of the bay, with only a rose-colored strip left to indicate where the water ended and the sky began.
what a surreal experience. i'm so grateful to have been able to witness this.
i highly suggest visiting this beach—it has some of the most incredible views i've seen and a wonderful atmosphere.
#rushcapecod