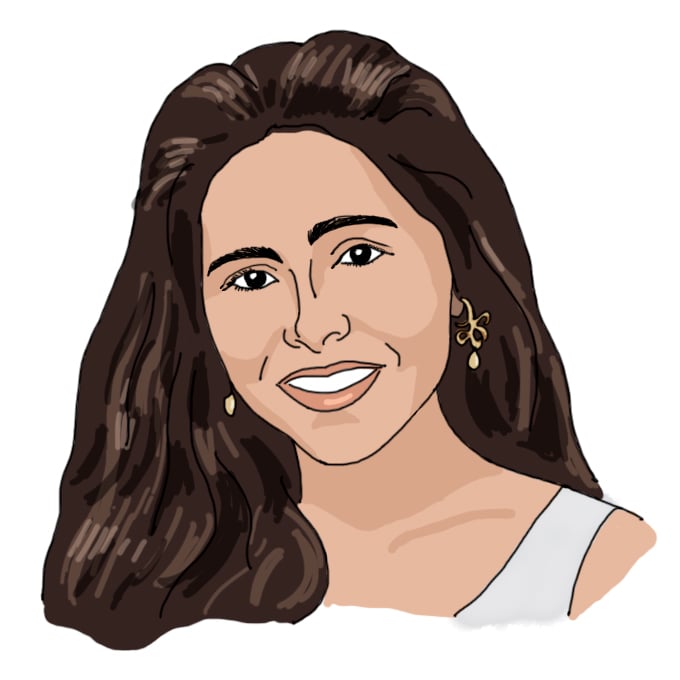 I went to a motorcycle festival

by Amber V. '24
don't worry, parents, I didn't see other MIT kids there
The other day, I skivved off studying for thermodynamics and instead biked to D-Lab to weld. I'd started a new project two weeks before finals, and planned that it would take about a third of the hours it did, so I was scrambling slightly to finish. On the way, however, I passed people setting up a stall about a women's biker club. Security folk were roping off the alleyway between Mass Ave and Windsor Street. Engines revved. 
I stumbled into a motorcycle fest — specifically, Wild Rabbit Moto Fest, organized by Madhouse Motors every spring. I'd heard of it from Randomites,⁠01 residents of Random Hall, the soon-to-be last bastion of eastside culture, not to cry doomsday or anything namely stories of the engines revving through the day, and swarms of bikers flying past.
They were still setting up, so I parked my bike, recruited a friend, and returned a few hours later. The street was lined with motorcycles of every style, year and brand, and so many very cool folks. Black t-shirts and chains, ripped jeans and leather. Tattoos and heavy silver rings. Rock and metal blasted through the speakers; half the songs I recognized. Many people were familiar with the band on my shirt.
"That album got me through a breakup," said the cybersecurity tech at an accident law firm. I told her that it got me through a road trip. She asked, "Do you ride?"
"No, but I want to."
I bounced from stall to stall. There were biker societies from all over Massachusetts, many of them aimed at women. Harley Davidson had a stall advertising riding lessons. A few accident lawyers were distributing free t-shirts with their firms printed on the front. There were artisan stalls too: t-shirts and biker-themed jewelry, tattoos, prints, handcrafted knives, stained glass, and welded sculptures. One company was offering free test rides on their newest bike.
The vibe here was excellent, well-suited to my style. So many people here looked like what I want to be. At the same time, this was an interesting foil to the atmosphere of machine shops and how I exist within them.
I was at the moto fest with a white guy who I'd taught how to weld, a nice student, good at taking criticism and asking for advice. I noticed how people addressed him, and how they addressed me, both of us engineers at MIT.
It caught me by surprise when some artisans spoke mainly to him. Three stalls down, I remembered that this was a pattern, one I still haven't figured out a response to. In machine shops, I've gotten better at interrupting explanations of mechanisms that I already understand. I'm good at saying I'd rather figure out a process on my own, especially when no one is explaining it to the guys working alongside me. But when the pattern grows more subtle, it's harder to address.
I also noticed, and appreciated, when a woman who worked in stained glass explained her process entirely to me. She was humble and open about her work, and recommended the artists she'd learned from. I bought some lovely earrings from her.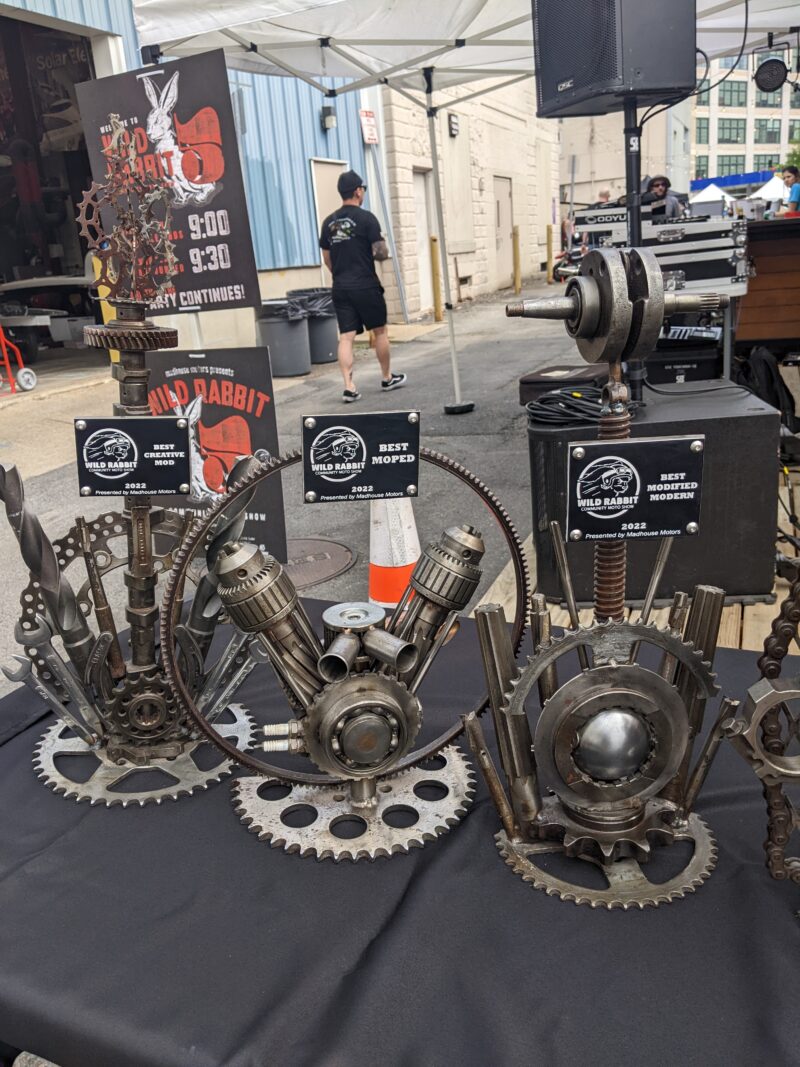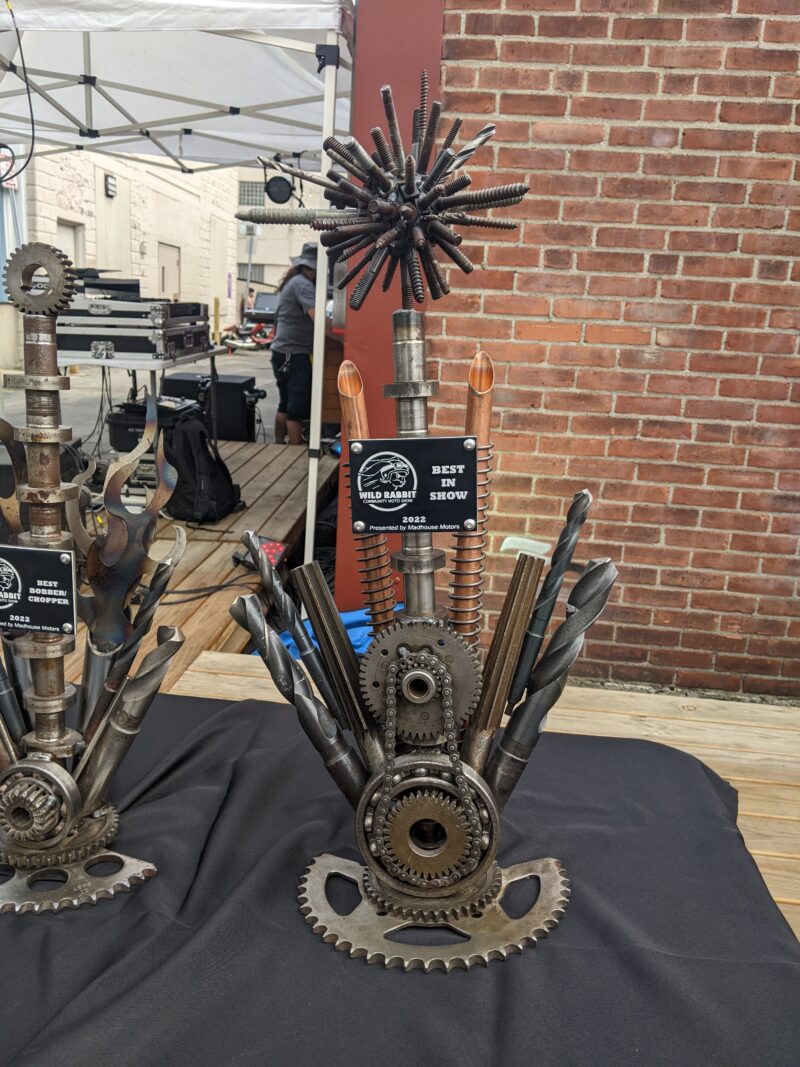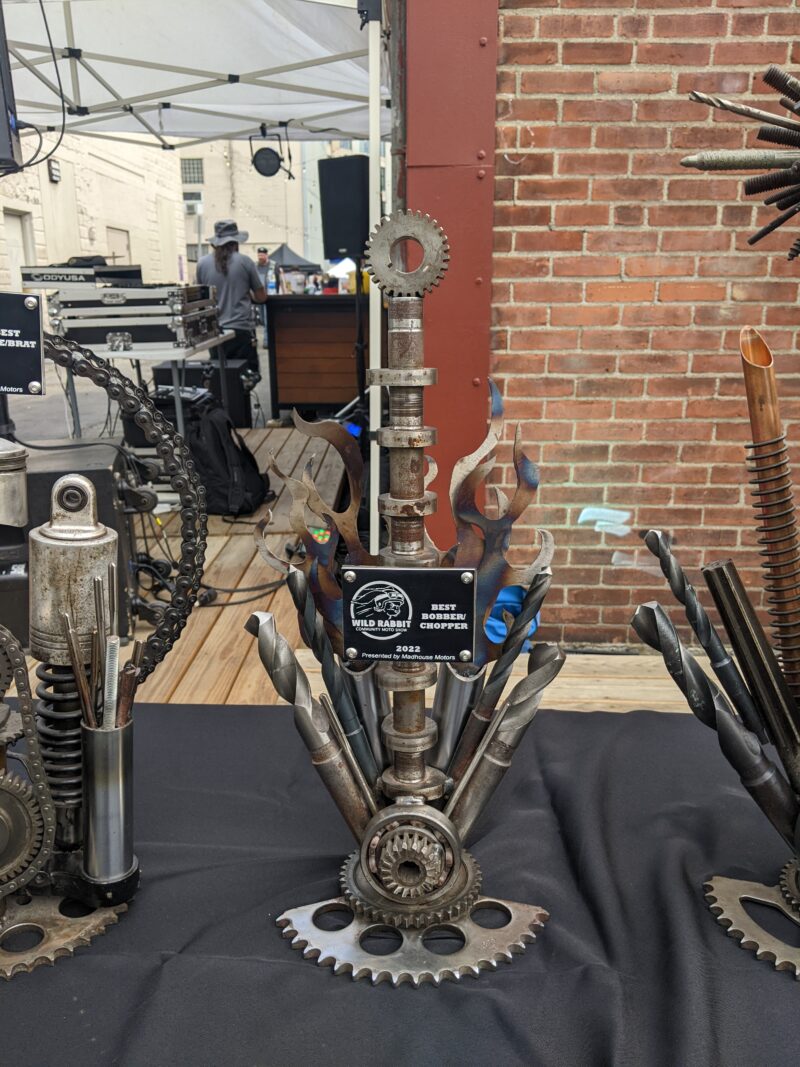 I met so many badass women. I made a point of speaking to them, and often they to me. There were several all-female biker groups I was too shy to approach, but whom I admired from afar, happy to have found another model to look up to.
There were many couples riding together, her arms around his waist, her hair flying in the wind while he turns the gas. I looked, and thought to myself, "That won't be me." 
I am known, on occasion, to sit in the passenger seat of cars; sitting behind someone on a bike isn't fundamentally that different. Still, it's not for me.
There was no chip on my shoulder, thinking so. The thought was not frantic, not a little bit afraid that would be me, if I weren't careful. Rather, I felt grounded, calm. I wouldn't. I've always known as much.
Finally my friend and I came to the stand where people were test-driving motorcycles. Both of us signed waivers, then looked at the available bikes. There was only one, a two-seater. 
I distinctly had a moment of thinking I could just let him ride it and stand to the side. My insurance would take a hit if I crashed. But then I was asking them to remove the back seat, saying I'd wait for the next bike to come back.
At the moto fest, every time people asked me, "Do you ride?" and I said, "not yet," I wondered if I was lying. Maybe I only liked the vibe, and didn't actually want to ride.
Then the second motorcycle came back. The coordinator gave me a helmet, pointed out the gas and brakes. I revved the engine. Then I rode a motorcycle!
I didn't die! I sped down Mass Ave, which can be congested enough in a car. I figured out where the turn signals were on the fly, adjusted the rearview mirrors at a stop sign. I know the streets of Cambridge, but on a motorcycle, my legs exposed, everything seemed to move so fast. I was, for a moment, mildly lost. Then I found my way back, cruising down side streets, easing through tricky left turns. It was so cool.
It also felt harrowing, and needlessly difficult. I recalled the first time I'd driven a car, getting lost on familiar streets because I was watching the cars ahead of me with tunnel vision. Or like the first time on a highway, when semi-trucks seemed massive and everything moved too fast. I love highways now; especially the interstate, where the roads are nice and straight, and you can go fast in the leftmost lanes. MIG welding felt similarly difficult not too long ago, and comes more easily to me now.
Dismounting from the motorcycle, my legs pumped full of adrenaline, I realized this was what the beginning of a learning curve felt like to me. The next time I rode would be easier. Already I was itching for a next time.
I returned to the test site with a triumphant grin. I asked the price, knowing it would be more than I could afford. The coordinator told me about their company, a Swedish start-up which had recently expanded to the US.
"Are y'all hiring?" I asked.
"We're looking for talent to do shows like this, yes," she said.
"Oh, no," I said. "Like, I'm a mechanical engineer at MIT."
That phrase flowed off my tongue the right way, no inflection to it, just fact. When I say it, it feels true. She nodded. "Yeah, reach out to us."
The sun was setting as I left the moto fest, rock music blasting behind me, T-shirts and free merch tucked under my arm. Sometimes you stumble onto a corner of the world that is full of your people. You didn't even know they were yours.