The MIT Early Action application deadline has been extended to November 6th, 11:59 PM, for SOME students affected by this weekend's nor'easter. More information below.

As you may have heard the northeastern United States was hit by a devastating snowstorm this past weekend. The storm, which featured winds and pressures (975 mb) characteristic of a Category 2 hurricane, dumped heavy, wet snow across the region, exceeding two feet in areas of Western Massachusetts. This kind of snow, which is unusually dense, can exceed 10 pounds per square foot in weight. And because of a mild fall, many leaves are still on their trees, increasing the surface area vulnerable to the storm. Heavy snow, catching on leafy trees, freezing to them, and then being subjected to 50+ MPH winds is the landlocked equivalent of the perfect storm which occurred almost exactly twenty years ago.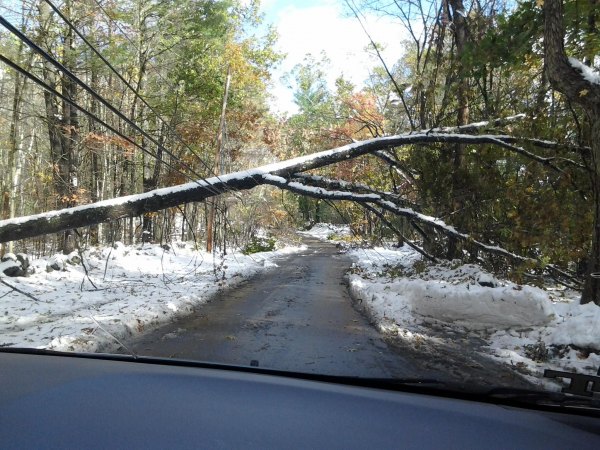 A tree sags over torn power lines in south-central New Hampshire near my parent's house
The results have been disastrous. More than three million people lost power by the peak of the storm. Because of comprehensive damage to all levels of the infrastructure, approximately 70% of Connecticut remains entirely without power, as well as approximately 50% of Western Massachusetts, along with wide swaths of Vermont, New Hampshire, New York, Maine, and other areas in the region. This storm has caused more damage to the electrical and telecommunications infrastructure than any other in history. In most of these places the power will not be restored for several days; in the worst, a week or more. And the Internet will likely lag behind it.
While snow, in moderation, is a cause for celebration, in excess it can be catastrophic. Millions of people are without heat, light, or the ability to cook food, boil water, and generally care for themselves at this time. And our best thoughts and wishes are with them.
A much less severe, but nonetheless important, implication of this widespread loss of power is that many prospective students to MIT who were affected by the storm will be unable to meet tomorrow's Early Action deadline for application to MIT. That is OK. There are more important things to worry about, like heat and light, than this.
However, as a result, we are extending our application deadline for for students affected by the storm, i.e. lost power / Internet for 24 hours or more. The new deadline for those students is November 6th, 2011, at 11:59 PM. For all other students, we will still require you to submit the application by the old deadline, which is tomorrow.
Some students have called in to ask about the essay questions, because they haven't been able to work on them with the power out. While I can't restore whatever drafts you may have saved to you, here are the essay questions we ask with this year's application, so that, if nothing else, you may work on them with pencil and paper:
We know you lead a busy life, full of activities, many of which are required of you. Tell us about something you do for the pleasure of it. (100 words or fewer)
Although you may not yet know what you want to major in, which department or program at MIT appeals to you and why? (100 words or fewer)
What attribute of your personality are you most proud of, and how has it impacted your life so far? This could be your creativity, effective leadership, sense of humor, integrity, or anything else you'd like to tell us about. (200-250 words)
Describe the world you come from; for example, your family, clubs, school, community, city, or town. How has that world shaped your dreams and aspirations. (200-250 words)
Tell us about the most significant challenge you've faced or something important that didn't go according to plan. How did you manage the situation? (200-250 words)
If you are going to be without power for an extended period of time – beyond the November 6th deadline – I advise you to fill out your application at school. And obviously, anyone without power now will not be able to read this blog post, so I would ask those who can – friends, teachers, guidance counselors, etc – to please forward it on to them and spread the word so that they know.
I would also take this opportunity to reiterate that there is no difference in our application process between Early and Regular Action besides the date by which you must apply. We do not have preferences or different admission rates for students in different cycles. So if you were planning on applying Early Action, but need to dig your house out from under the snow, you may do so with the knowledge that it will not disadvantage your application.
Thank you, everyone, and please, stay safe.
17 responses to "Emergency Application Extension"