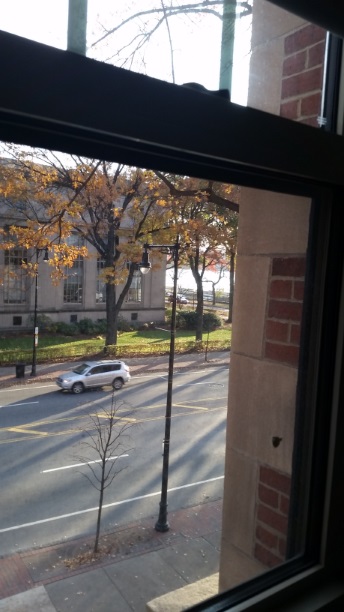 7:48 AM The view from my window
If you crane your neck, you can see the distant glint of the Charles. If you don't feel like craning your neck, you can see a silver SUV trundling down Mass Ave. My room has one tiny window (this one) and one larger window facing east, which let in a fair amount of sunlight, especially when we forget to pull down the blinds. There is a nice view of Building 1 and a pleasant reminder that even when the weather gets atrocious, the warmth of the infinite is only a short sprint away.
Twenty minutes before 8 AM, I wake up to the pleasant phone noises that constitute my alarm clock, leaving me just enough time to dress myself and perform my morning rituals (namely brushing my teeth and popping my contacts out, among other things) before I need to be at the Z center for morning lifting.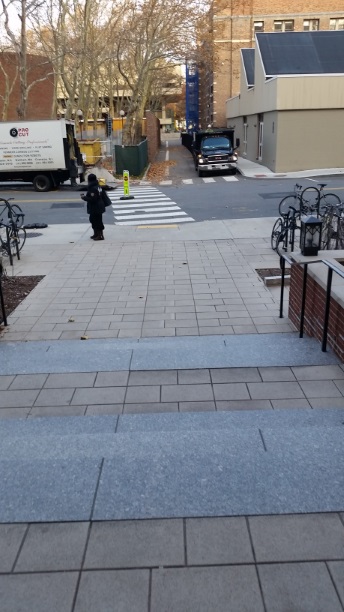 7:53 AM The view as soon as you step out of Maseeh
Normally being out of bed before 9:30 AM, let alone 8 AM, would be a horrifying thought. But on this particular day, I feel good, having slept 8 hours the night before, a solid number by anyone's standards.
As you can see, Maseeh is a convenient stroll away from the student center (the light brown building in the distance), and extremely close to the chapel (currently under construction). In fact, Maseeh is conveniently close to a lot of things, something I grow more and more thankful of as the temperature numbers begin flirting with freezing.
7:57 AM One of the many hallways of the Z center
The Z center (more formally known as the Zesiger Sports and Fitness Center) is home to the varsity weight room, my destination this fine morning. Tennis off-season consists entirely of optional lifting, conditioning, and open tennis court times. Last year, I was a horrible potato and somehow convinced myself that I didn't have time to exercise, so this year, I made a promise to myself that I would make the time. So far so good.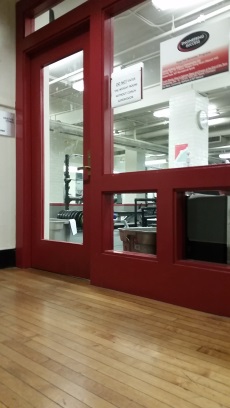 7:58 AM The varsity weight room
2 minutes before lifting, I sit in a corner and nibble on a breakfast cracker, contemplating the tiny dirt balls that are minding their own business in the floor crevices.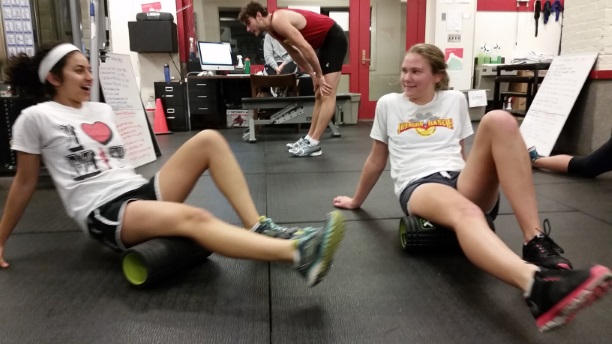 9:01 AM Ava '16 and Elysa '17. I see them rolling.
Ava is so speedy her face is a blur. It's certainly not because I have shaky hands and can't take focused photos on my phone…
Word of advice: always lift with buddies. Buddies can keep large heavy objects from squashing you and they are also amazing support to have when you feel like melting into a puddle of tired person.
After lifting, Ava guest swipes me into the McCormick dining hall and I enjoy a delicious vegetable omelet and half a grapefruit. Having eaten my fill, I head back to my dorm room and start catching up on my HASS reading for Neuroscience and Society.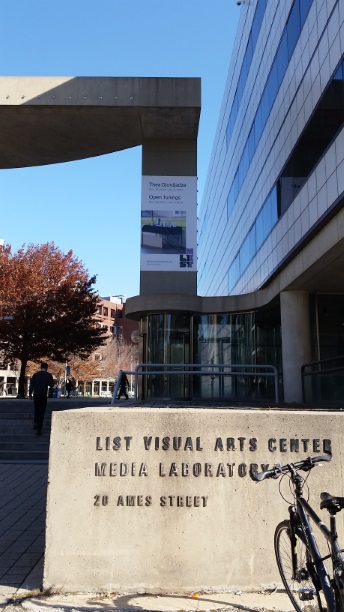 11:26 AM The front of the Media Lab
I have an appointment at 11:30 AM with a member of the Personal Robots Group as a participant in a research study on human-robot interactions. The email I had been forwarded promised "a small robot as thanks" in return for 15 minutes of my day, and because I am a shameless lover of free things, I signed up immediately.
The study actually only took about 8 minutes and involved smashing things with a hammer: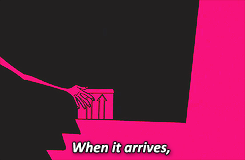 The Emperor's New Groove is perhaps one of my favorite Disney movies from my childhood.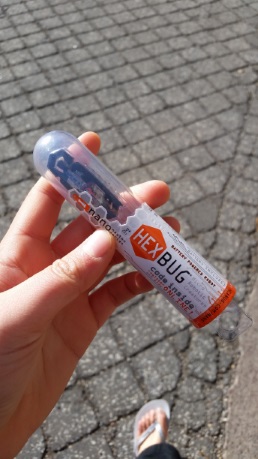 11:40 AM My tiny robot!
You can tell I'm walking because I've accidentally included my foot in this photo. What you can't tell is how satisfied I am with my tiny robot prize, mostly because fingers can't express any emotion and my wonderfully expressive face isn't in the photo. The tiny robot is currently sitting on my desk unopened, but in a few weeks, once my schedule lightens up, I'll eventually get around to opening it up.
Since I don't usually have class until 1pm (which is technically just office hours for 20.110 Thermodynamics of Biomolecular Systems), I still have plenty of time to eat and peruse more HASS readings. Luckily for me, since we just recently took our third 20.110 midterm on Wednesday, OH is cancelled and I only have 1 hour of class today: STS.010 Neuroscience and Society lecture.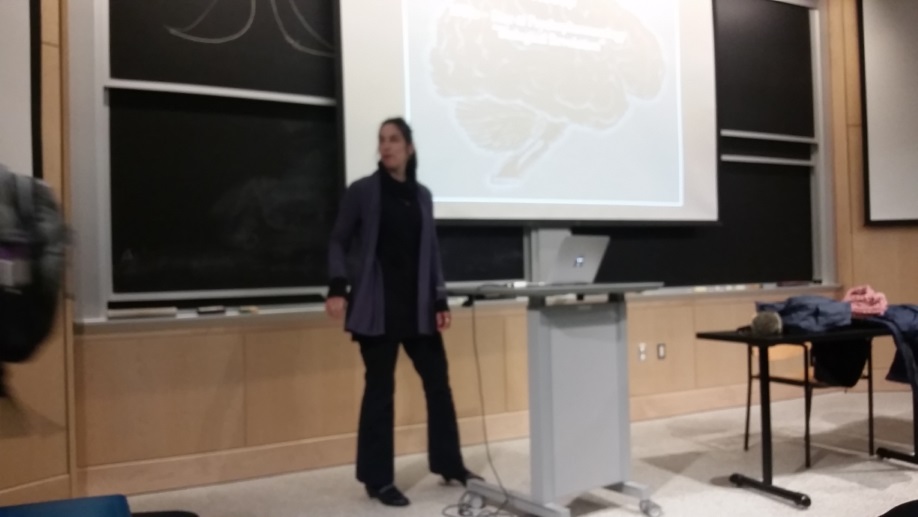 2:05 PM Professor Schull about to begin lecture
Today's lecture is titled "Enhancing the Brain" and we discuss the social and ethical implications of present and future possibilities for neuroenhancement, especially via new pharmaceutical methods.
Once 2:55 PM hits, I'm free for the rest of the day!
At 4 PM, I head to the turf for an hour of off-season conditioning, open to all off-season varsity athletes Tuesdays and Thursdays. Despite the biting chill and the discomfort in my exposed ear tips, all the running and jumping up and down keeps me warm. For the most part.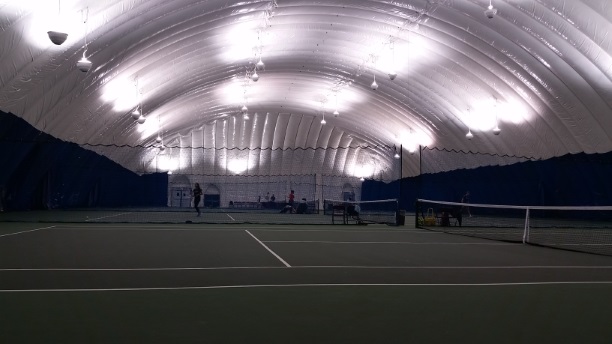 5:05 PM The inside of the J.B. Carr Tennis Bubble
Right after conditioning, it's back into the bubble for another hour of tennis practice with Elysa '17. There are four tennis courts inside the bubble and thankfully court rentals are free to all MIT students between 2 PM – 6 PM every day. Making reservations is just one simple phone call away.
After dinner at McCormick (my go to dorm for dining these days), I'm back in my room with absolutely nothing to do. I use the term "absolutely nothing to do" in the sense that my next pset isn't due until Monday and I have no exams until after Thanksgiving. The feeling of weightlessness is amazing and I take a note to savor moments like these, especially considering how terrible some weeks can get.
The rest of my night is so relaxed and boring that I don't even bother taking pictures. Evening activities included: snack-munching, internet-browsing, and writing of frivolous things.
Oh yes, and plenty of sleep. Sometimes that happens around here, sleep I mean. And when it does (which can actually be more frequent than it is made out to be, depending of course on your time management skills and prioritization of sleep over things like The Internet), it feels glorious.
Thursday was a reminder that some days are crazy, some days are hard, some days are amazingly fun, and some days are just plain normal, something that I think gets lost in all of the excitement that does go on here. Everyday is different, and I'm thankful for that.