I just wanted to quickly share something that brought me a lot of happiness this weekend :)
My floor's annual party, DTYD (Dance 'Til You Drop), would have been yesterday had the events of the past couple of months not occurred. This party is typically a huge affair that thousands of dollars go into, that generations of alumni⁠01 last year, some alumni from the 70s not only came, but also partied with us come back for, and that, obviously, is the most fun we have all year.
Since we're all scattered across the country in quarantine, we thought the best we could to do honor this tradition was talk for a couple of hours over Zoom call. But someone had the brilliant idea of throwing a virtual DTYD in the Minecraft version of Porter Room, the room where it usually takes place. A lot of us have building permissions in the MIT Minecraft server, so we headed over to our dorm and started decorating.
We added orange and black banners, a speaker system, fireworks, and "DTYD" in the window. All of this (except the fireworks) is pretty true to what we actually do in terms of decorations.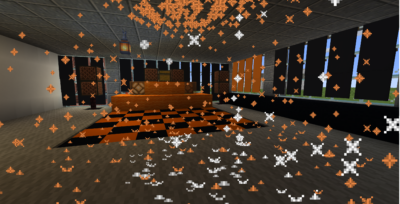 Someone even made Bomber shirt⁠02 our floor shirts, which are bright orange with a bomber plane on the front and a funny nickname and number on the back skins!
We also added some villagers, a cow DJ, and hordes of rampant pigs. The villagers immediately scattered across Burton Conner, forcing us to hunt them down.⁠03 so...frat boys? All of this is realistic as well, I assure you…
I told the people in the Minecraft Discord about our hype rager !!! and some people started showing up in the Porter Room. They configured a music bot within Minecraft and were able to play some bops.
Meanwhile, we started on our DTYD hack; each year, the freshman class creates some sort of hack to advertise DTYD to the MIT community. Last year, for example, it was a 3rd.3rd meter tall orange 3rd that was filled with 1000 pounds of loose sand and placed in Lobby 10.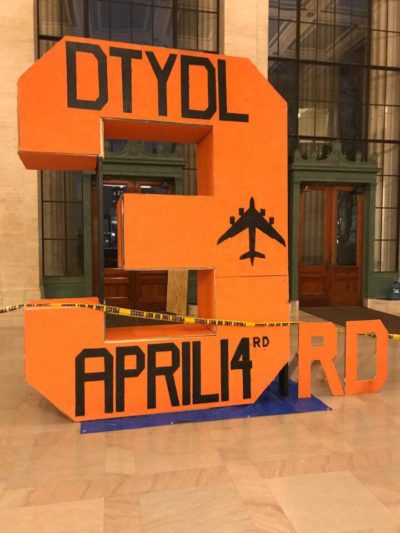 We aren't limited by physics in the Minecraft world, so we built a giant orange plane right near the Great Dome.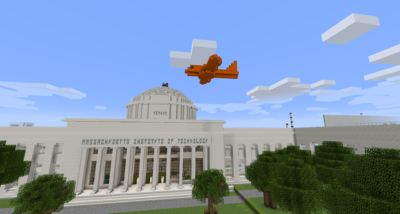 Given, the actual DTYD is supposed to look something like this…
But hey, we still had a great time decorating the virtual Porter Room and creating our hack.
I'm grateful that I was able to participate in DTYD in some way. The whole thing felt very cute and surreal, and it warmed my heart a lot to share this experience with my living group. Shoutout to those who spearheaded the Minecraft MIT project for enabling us to do things like this!
So, yeah, here's our community's very MIT-esque way of throwing a lit party while in quarantine. It was super wholesome and endearing—I love that we came together to do this! Even a pandemic can't prevent us from maintaining decades of tradition :)
last year, some alumni from the 70s not only came, but also partied with us⁠

back to text

↑
our floor shirts, which are bright orange with a bomber plane on the front and a funny nickname and number on the back⁠

back to text

↑
so...frat boys?⁠

back to text

↑