Hi everyone. As you all know from Matt's post, decisions will be released in two day's time, at 9 PM on Thursday.
But because neither of us should be stressing out about that, this blog post is about something else entirely: Minecraft.
What is Minecraft? Quoth Wikipedia:

a sandbox building video game which allows players to build constructions out of textured cubes in a 3D world…The game is divided into two main modes, Alpha and Classic, where Classic is focused entirely on construction while Alpha additionally contains enemies, a health meter, and additional features and items.
Basically some Swedish guy named Notch got bored at his job as a game dev and decided to make a super-retro 8bit blocky construction / run away from zombies game.
But that doesn't really answer the question of what Minecraft is, so maybe this will:
I play alpha/survival, which means that during the day I run around and kill pigs and chop down trees and run away from
creepers
and during the night I hide away in my bunker and dig dig dig dig dig dig dig dig
forever
.
Others play creative mode, where you have infinite materials and no enemies and you just build ridiculous stuff like a scale model of the Starship Enterprise.
There really isn't anything else to this post. Minecraft is a fun silly game in which you can do fun silly things.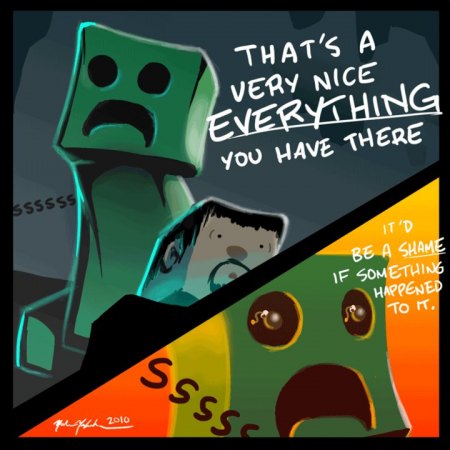 Minecraft chat below; if you post something cool in the comments I'll edit it into this post.
Edits:
Not Minecraft, but it does talk about digging; if you begin feeling stressed out about decisions (or Minecraft zombies), just dim the lights and chill out to this Pogo Disney remix.
48 responses to "Minecraft: Discuss"