A summer in Cambridge did wonders for my knowledge of the area. While I was at MIT, I barely explored the city, so my knowledge of my surroundings was limited to the MIT area, Chinatown, and the Back Bay. Now, I feel much more comfortable with navigating Cambridge and Boston. Here are some of my favorite spots in the area!
Kendall Square Area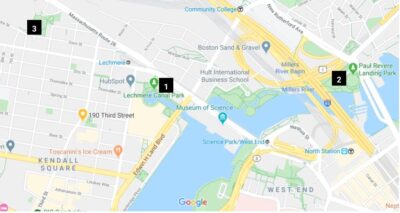 1. Dodecahedron near CambridgeSide Galleria
Most people end up in the Lechmere Canal Park after shopping in the CambrdigeSide Galleria Mall, but I like going there for the dodecahedron jungle gym that's in front of the pond area. It's super fun to hang out at and also makes for an unconventional date spot. :)
2. Paul Revere Landing Park
Another interesting park! It connects with the North Point Park, which is a nice way to see the Leonard P. Zakim Bunker Hill Memorial Bridge, which is brightly lit at night. The Paul Revere Park is fun to explore as well; there's a great waterfront area right underneath the bridge to hang out at, and also a giant sloping walkway that's beautiful at night.
3. Gold Star Mothers Park
If you're still not too old to have fun at playgrounds, try walking around East Cambridge—there are tons of places to check out. The Gold Star Mothers Park, which is located right near Star Market, is one of my favorites, though. It features a spinning disk that's SO fun to whirl around on. Honestly, 10/10.
Boston Area
4. Rose Kennedy Greenway
Right in the North End, there's a park with a bunch of cute swings that's lovely at night. I've visited it a couple of times this summer; I recommend grabbing a slice of pizza and some pastries from Bova's Bakery and hanging out there for a while. Keep your eyes on the swings, though—they're snatched up quickly!
5. Boston Public Garden
A bit of a mainstream choice, but beautiful nonetheless. There are so many nice locations to visit during the day, and the flower garden is incredible to walk through. This place is ideal for socially-distant meetups with friends!
6. Christopher Columbus Waterfront Park
Located right off the Long Wharf, this park is an ideal place to hang out and watch the water. There's also a rose garden, which is super dope! Keep in mind that it tends to get a bit crowded on weekends (for corona times, that is).
Seaport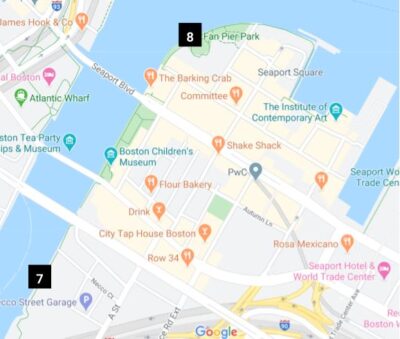 7. Harborwall
A cute pier that you can get to by walking through an empty Starbucks. The restaurant nearby plays BOPS, so I've had many a mini dance party⁠01 of three people max lol on the dock. The water it overlooks is really still and beautiful :')
8. Fan Pier Park
Big, uh, fan of this one. It has gorgeous views of Boston night or day! It's so nice to watch down the marina and watch boats sail by. Also, in my experience, it hasn't been crowded, so it's worth checking out.
Miscellaneous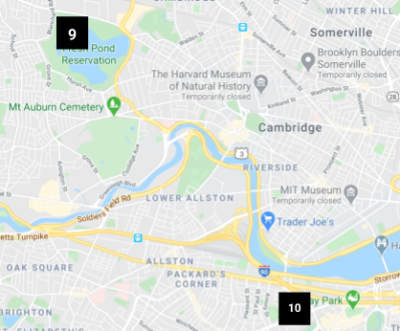 9. Fresh Pond
A beautiful reservoir and park in West Cambridge. It's about a 30-minute bike ride away from MIT, so if you're looking for somewhere new to walk/run or bike, it's a great place to go. There are plenty of nice fields around it with views of the brilliant blue water.
When I went to the pond, my boyfriend and I stopped by a place called Moozy's for some ice cream. As we tried to figure out how to navigate home from the shop, we realized that it was a straight shot down Mass Ave. The commute is incredible; you can ride the downhill all the way back to Harvard Square.
10. Amory Playground
I'm a little biased since I went here on a (wonderful) first date,⁠02 my boyfriend and i walked in a random direction for a few hours and stumbled upon this park but I'm in love with⁠03 that's amoryyyy this park. It has a cute, secluded pond with walkways and flower gardens.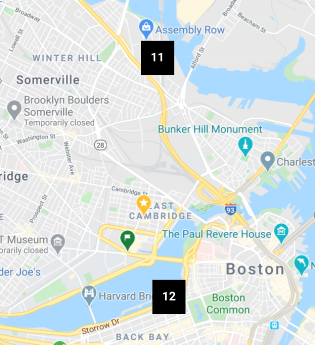 11. Assembly Row
A cute shopping center by the water that's well-lit at night. It's a bit out of the way but accessible via the Orange Line. It has realllyyy good ramen and some unique views.
12. The Charles River Esplanades
Last but not least, we have the esplanades! They stretch alongside the Charles and are beautiful in summer and fall. There are quite a few docks and benches to chill on, but if you're more of an active person, the area is amazing to run/bike through. Weirdly enough, I didn't know about the esplanades until this summer, but I've visited them so many times that I've made up for that.
Honorable mentions that don't really count: Spectacle Island and the Arboretum.
So…if you're in the MIT area this fall and need to venture into nature to help restore your sanity, you know where to go!
of three people max lol⁠

back to text

↑
my boyfriend and i walked in a random direction for a few hours and stumbled upon this park⁠

back to text

↑
that's amoryyyy⁠

back to text

↑