I had a vision. Every year, my room would have a different aesthetic. Was this followed to a T? No,⁠01 thank you covid  but I present to you the brief evolution of my dorm room.   
Freshman year, I lived in a double in New House. My side was colored yellow and orange with my sunflower tapestry and comforter. I also bought a blue carpet to match with my roommate, which in hindsight was not the best choice because the colors made no sense together and she moved out after a semester lol. Still, that blue carpet served a critical purpose in the nook under my bed. I spent at least a third of my nights sleeping on it instead of my bed. 
I have scoured thousands of my pictures trying to find a good room picture only to be empty-handed. Here are bits and pieces, however. 

Sophomore year, I reclaimed pink as my favorite color with green as its fitting complement. I leveled up in many ways. I got throw pillows and silk pillowcases. My tapestry matched the decoration vines and pillows. I made hanging flower arrangements and put up vines all around my room. I bought a lamp to replace the hospital-like lighting that came with the room. I used my old comforter as cushioning under my pink carpet, so I spent even more time in my nook. Everything was perfect until it wasn't. By mid-march, my room was packed away in a storage pod until the spring of my junior year.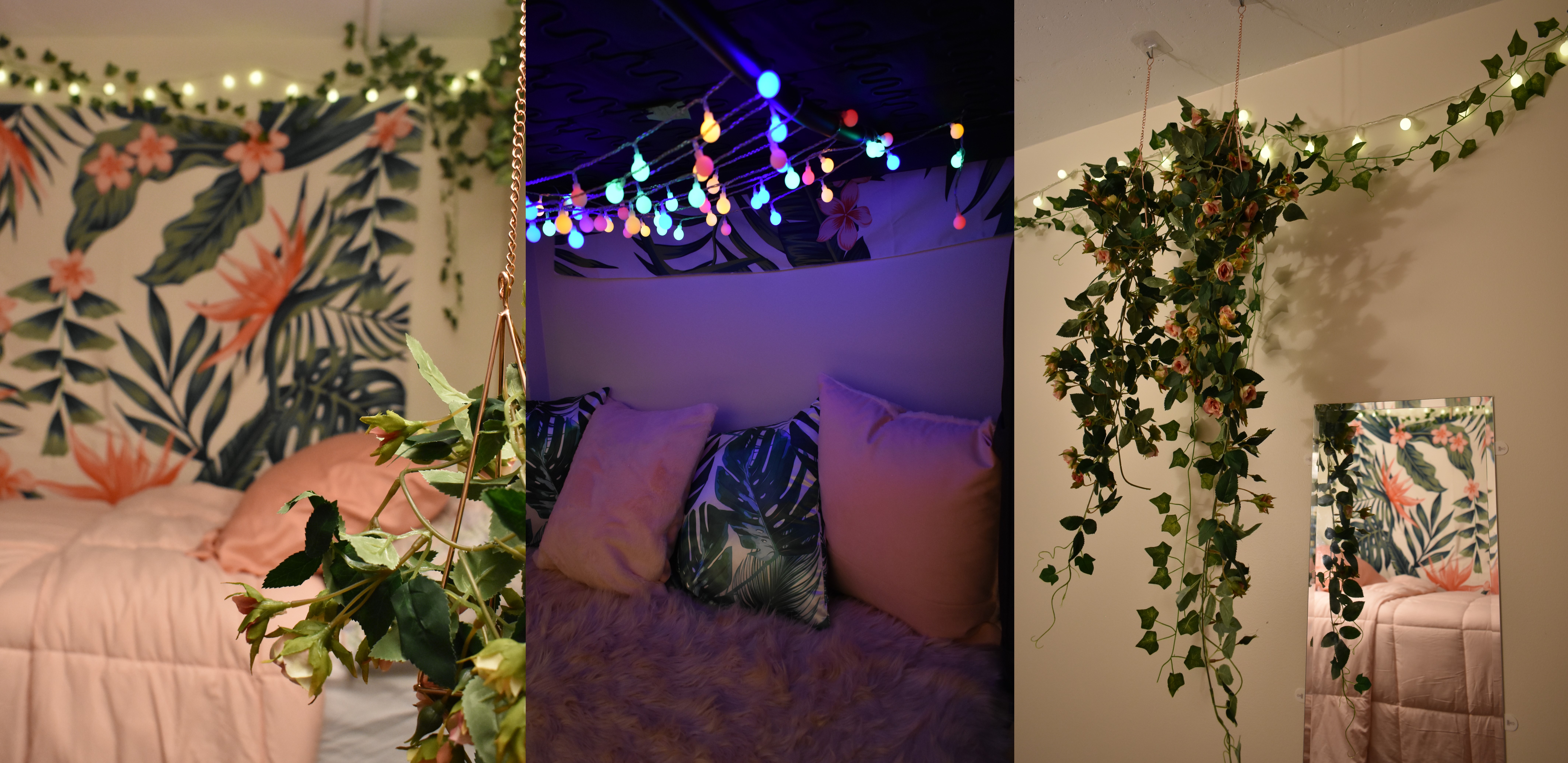 COVID made everything uncertain, so I wasn't sure if I'd even be on campus junior year so I didn't bother coming up with a new theme. I didn't even bother doing the full sophomore year setup. I put up the hanging flowers, vines, and tapestry and that was it. Students weren't allowed to use the kitchen, so I had to keep all my kitchen supplies in my room. The huge green box would only fit under my bed which meant I could no longer have my nook. I didn't want to set up something that I'd have to unpack in just four months. Instead, I focused my energy on making my room beautiful my senior year. 
And that I did. This edition addressed the little inefficiencies in my last rooms. I realized that I sit on my bed often and lean against the wall, so having a tapestry that constantly falls off wasn't great. I matured from tapestries and moved to posters. My pillows kept sliding into the gap between the bed and the wall, so I got a long pillow that acts like my headboard. I got a new lamp. I bought a full-size mirror because I am the main character. I got curtains that block as much of the sneaky sunlight, unlike the blinds that came with the room. I was planning on framing artworks because my room felt a little bare and had already worked with my TA from a design class I took to get them printed. But given that there's only a semester left, I'm not sure if I want to go through the hassle of getting frames. The only other downside to my room is that I couldn't squeeze in a nook. Still, keeping the drawer and shelf under my bed opens up my room more so it's not a total loss.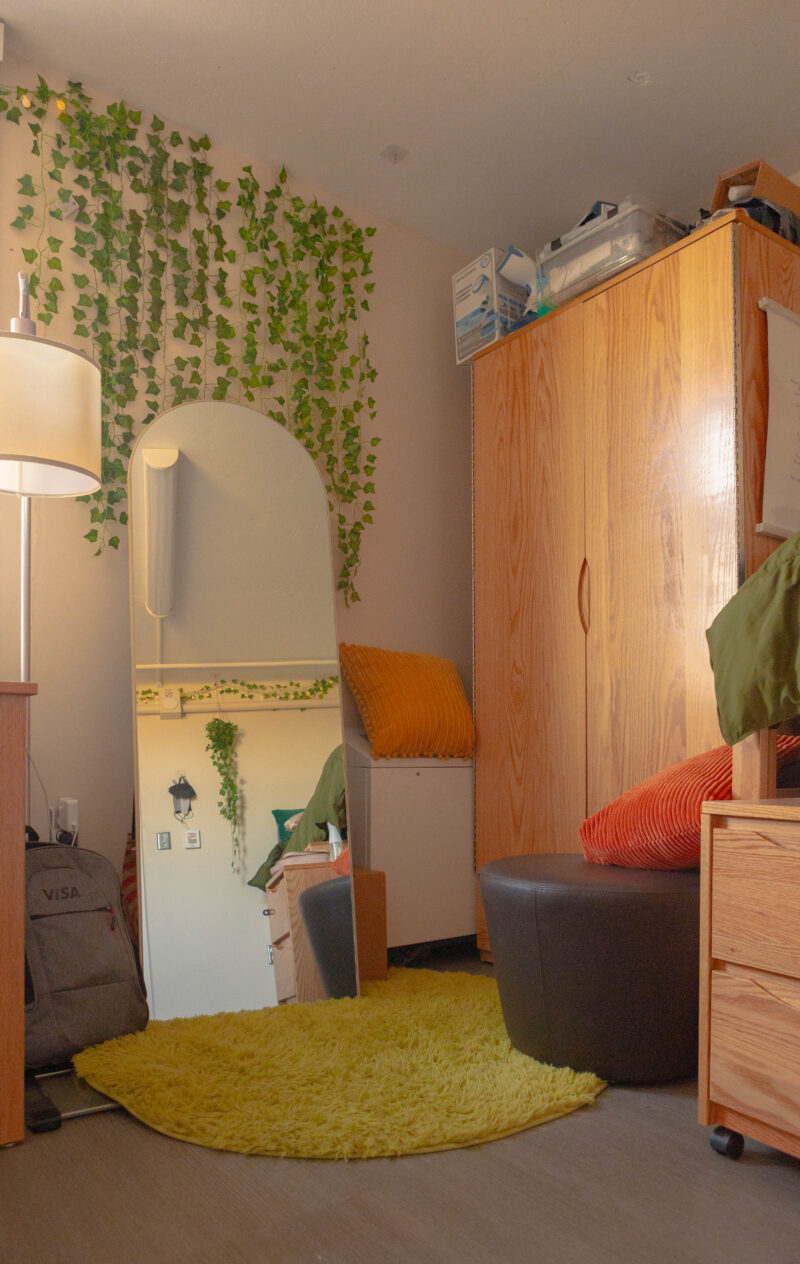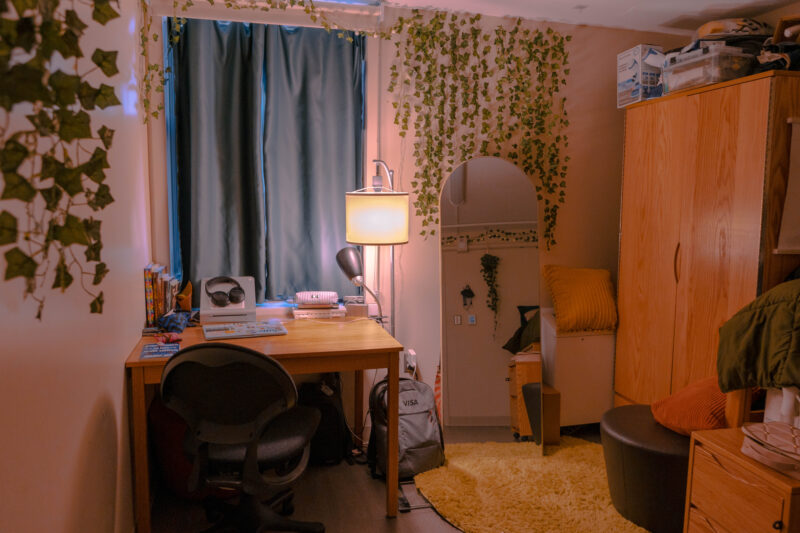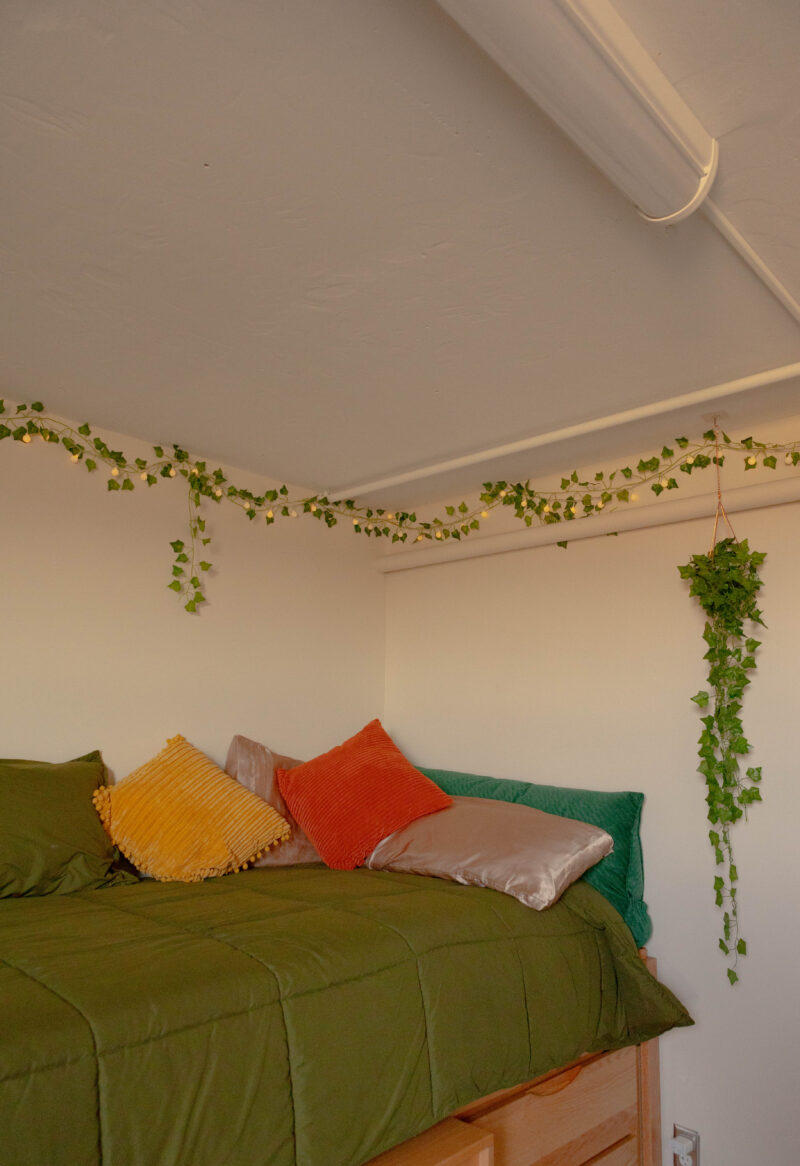 Picking the colors was such a hard choice. Sometime in 2020 I fell in love with green and knew I wanted to use it in my next room. However, I thought it would be too close to my last room with the pink and green. I stuck with green anyways because the furniture is all brown, and green and brown is such a compelling combination. My room feels calm and grounded. Stable and peaceful. Everything I want for my fourth year and beyond.   
" thank you covid⁠

back to text

↑