Shuli: The new MIT Welcome Center opened in Kendall Square in September. You may have already seen Petey's post Welcoming you to the new MIT Welcome Center. The new center is going to be the starting point for prospective students and their families, as well as hosting events, lectures, activities, and workshops for Cambridge residents and visitors from around the world. It's an incredibly beautiful space–modern, open, airy, and uniquely filled with student art. In this post, Kidist and I teamed up to tell you the story of one particular piece of art: the Story Wall. On its own, the Story Wall just looks like, uh, a wall. It's an approximately 25 feet pegboard, stretching away to the right of the Welcome Center entrance. But it turns out that you can do quite a lot of things with pegboard. And right now, it's home to its inaugural exhibition: artwork from MIT Borderline.
Borderline is a student-run club (which Danny and Allan '20 were very involved in!) originally founded in 2017 to paint a long stretch of blank tunnel wall on the east side of campus. Then they added augmented reality to their tunnel murals, and four years later the club is doing a wide variety of projects involving combining art and technology in super cool ways. Most people on campus have seen some of Borderline's work, whether it's in the tunnels, the Banana Lounge, or online. Their collaboration with the Office of Admissions on the Story Wall started in late 2019. Kidist and I didn't get involved until February of this year when they put out a call for artists. 
I saw the call for artists on dormspam and I thought it sounded super cool. I sent it to my roommate Caragay; we'd both kind of been getting into art a little bit during the semester (mostly because of our iPads) and it seemed like it would be fun to do together. The theme for the wall was "here at MIT", and Caragay had the great idea of doing something to represent our dorm, EC. We both got really excited and pretty soon our draft was done and submitted!
Kidist: One of the reasons why I committed to MIT was because I was in awe of Borderline, specifically students' paintings and their ability to leave their legacy on MIT's walls. However, when I came to MIT, I felt overwhelmed by the responsibility of painting a mural while also balancing classes. It took almost three years to find the courage to do that, and I'm so glad I did. I learned about this opportunity through the BSU group chat where someone had mentioned the call for artists and said that it'd be great if Black students artists could bring their voice to the project. Long story short, Aria, Bukunmi, and I volunteered, got together, brainstormed, and painted a mural!
The final story wall is incredible. You can truly see the range of interests and passions at MIT, and I'm so excited for everyone to see it in person. In the meantime, we have gathered the painters' responses describing their mural and their process below. Enjoy the pictures and the behind-the-scenes of the making of different murals!
Describe your mural in a paragraph!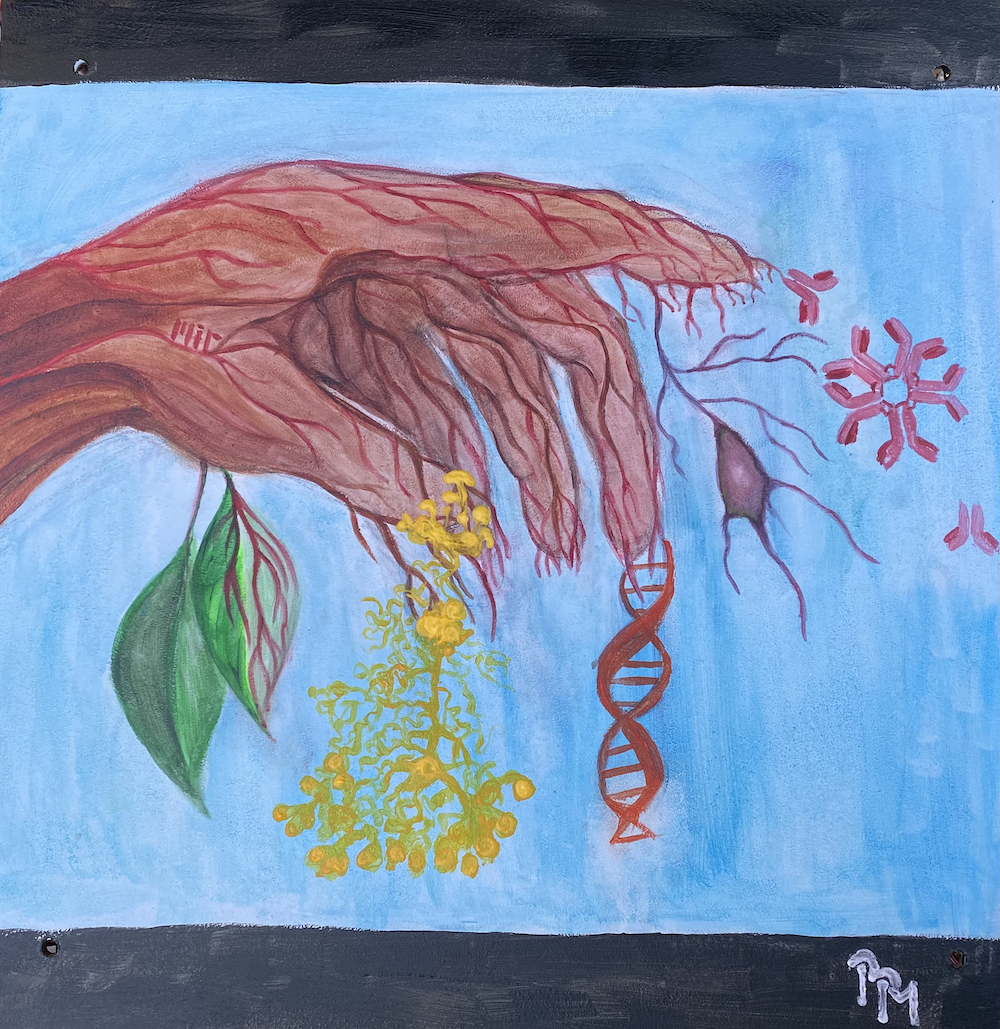 Melody W. , Sangita V. , Rachel S.
We are a part of the MIT BioMakers group based in the new MIT BioMakerspace! This piece represents the intersection of biomaking, design, art, humanity, and nature that we think MIT students are involved in all sorts of different ways. The hand-like tree is symbolic of making both by nature and life and by people who have left their mark on society. The leaves show growth and the biological objects that we've been able to engineer or observe with biotechnologies and biomaking — from leaves themselves being grown into veins and tissues and organs to slime mold to life's DNA to neurons to antibodies that are helping us fight the current pandemics and pathogens of the world. Yet at the same time we've engineered, we've also learned from nature and all returns back to life itself. The presence of the hand is symbolic of what we are able to create and engineer here with the collective community here at MIT but also the responsibility we have to our community and the wider global community to use biomaking tools and technologies responsibly and equitably.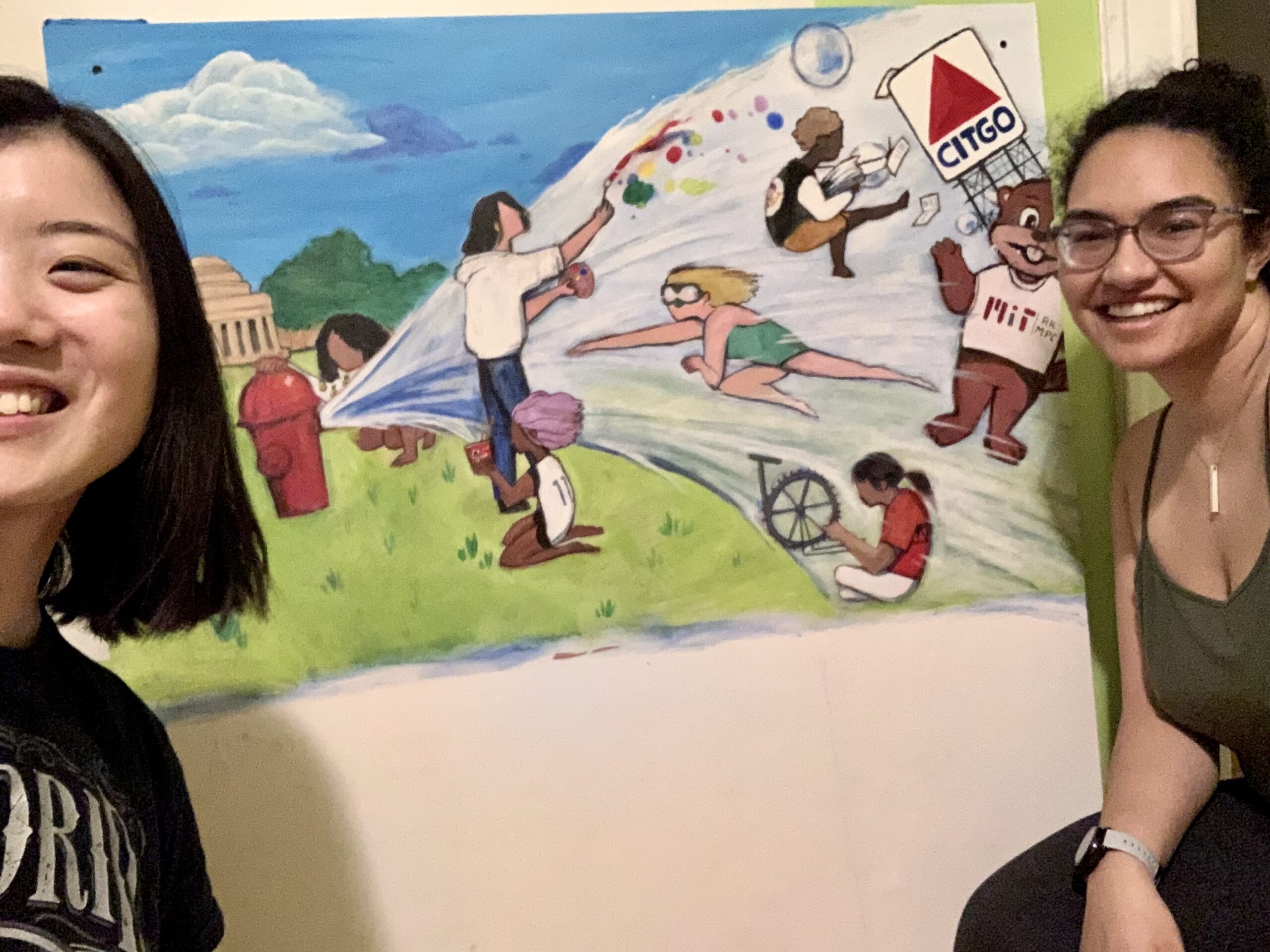 Raphi K., Mariela PC
What would MIT students actually do in a firehose eruption? Some would drink from it; others would make ramen, test fluid dynamics in high water pressure, test out of their swimming requirement, build a power generator, or simply grind on their p-sets amid the chaos. Another day at the Institvte.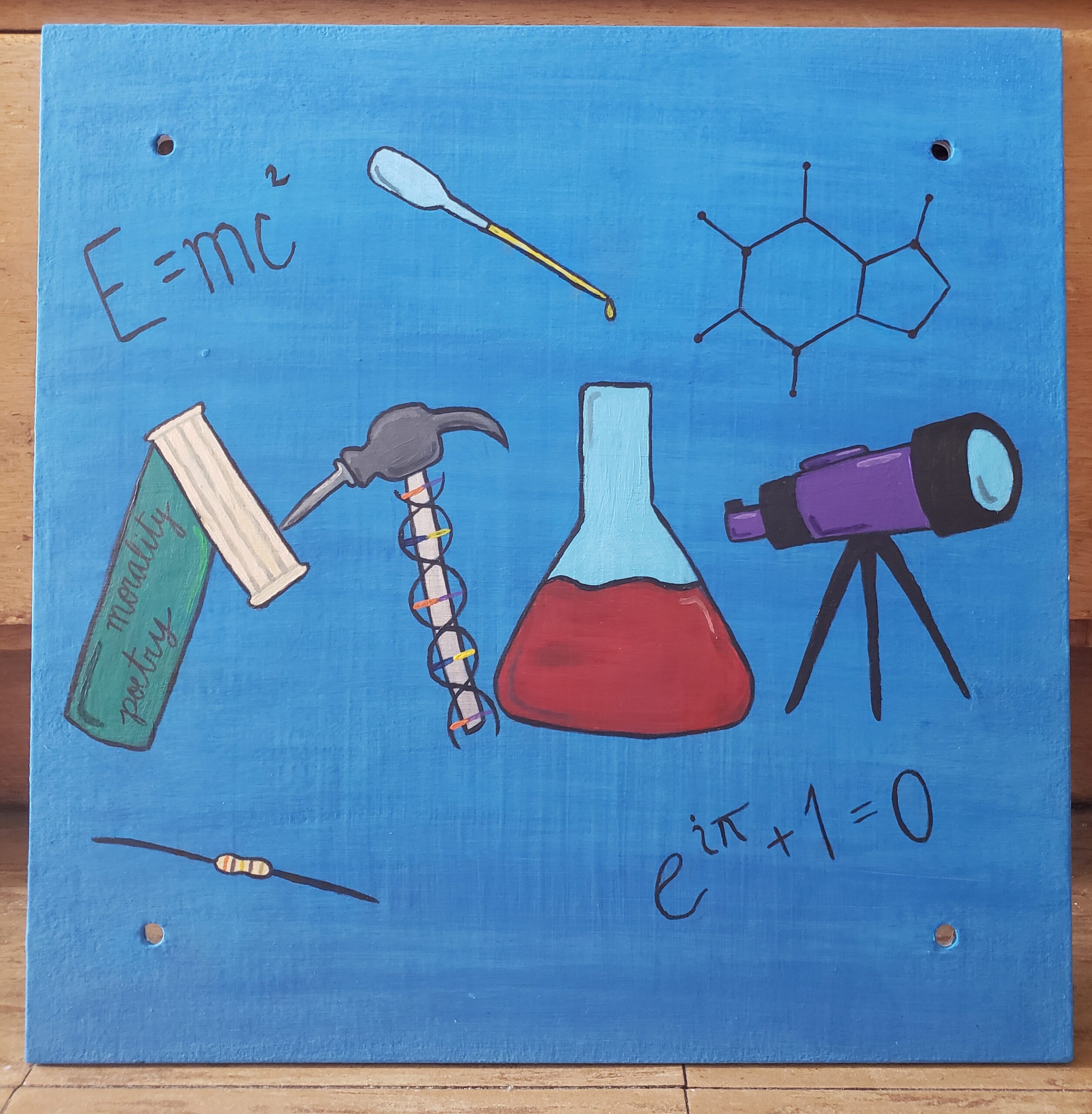 Layal B.
MIT is made up of so many amazing people doing so many amazing things, so I decided to paint an MIT made up of as many courses as possible. See how many majors you can spot!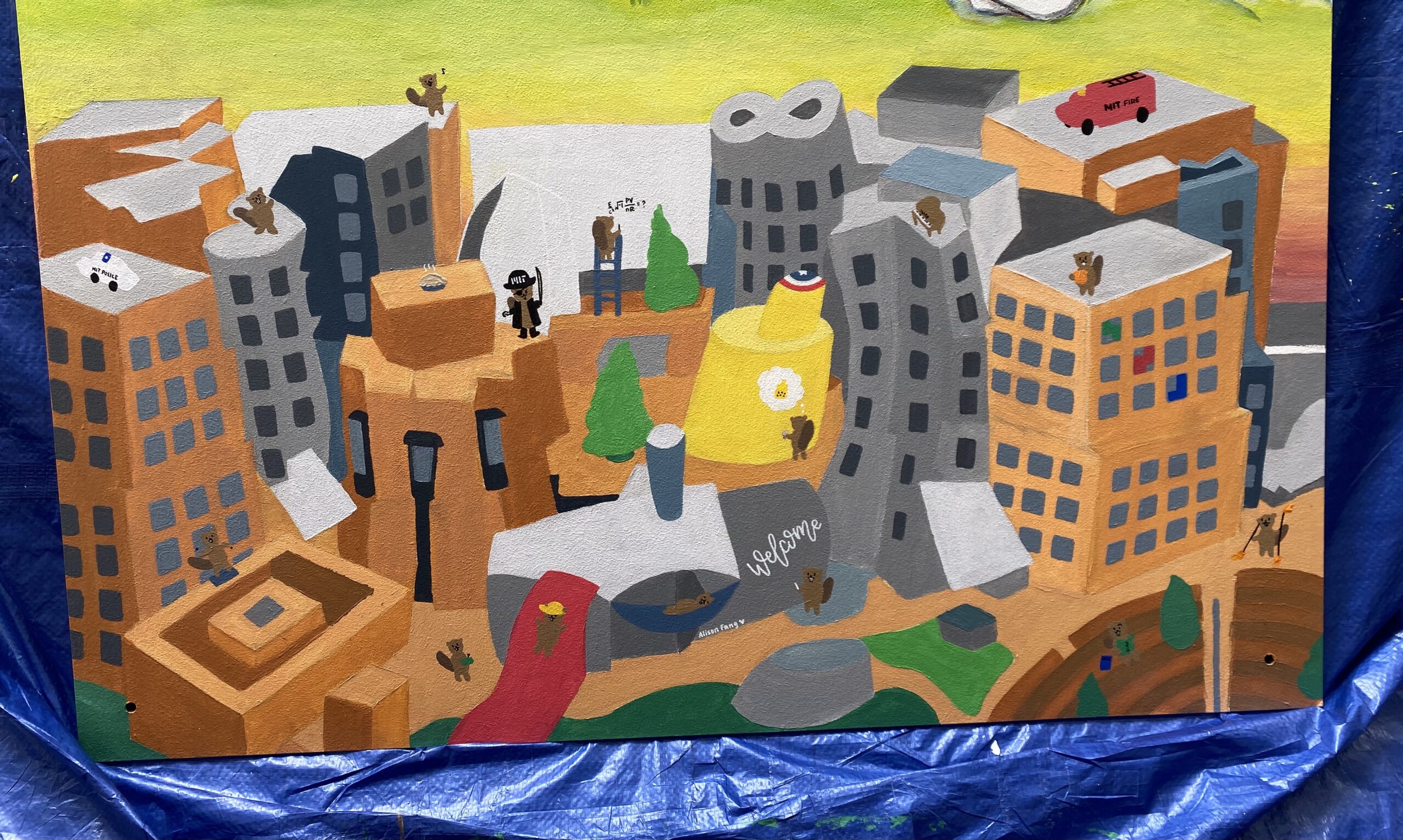 Alison F.
MIT is kinda wonky, and this mural displays some of the weird (in a good way) stuff that you won't really find anywhere else! Whether it be the pumpkin drop beaver, the tetris windows, the pirate beaver, the police car on the roof, the fire spinning beaver, or just the Stata Center itself, this Easter egg filled scene tries to capture some of the funky little details and traditions that make MIT unique. Also, 2025s might recognize the design from somewhere else… 👀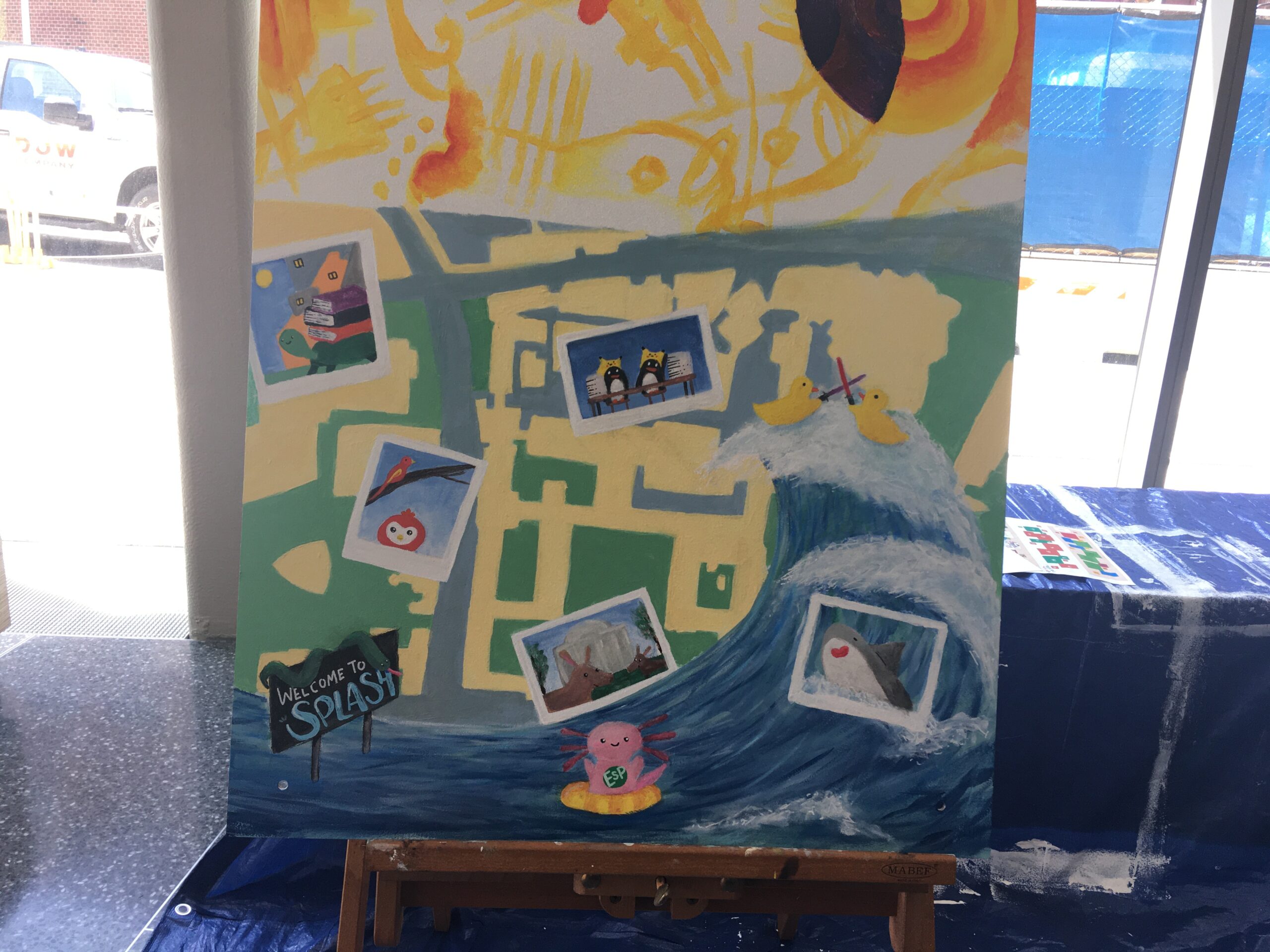 Jessica P., Sruthi P., Shardul C., Jimmy K., Laura C.
This mural was designed by the MIT Educational Studies Program. We run a variety of programs throughout the year (including Splash), where MIT students and others are able to teach classes on any topic to local high schoolers, middle schoolers, or other MIT students! Each of our programs has a (usually animal) mascot, so our mural is a collage of several recent program mascots on top of a rough map of campus. Specifically, the mural features a turtle, a snake, an axolotl, a shark, some parakeets hanging out, penguins in Pikachu hats running our help desk, aardvarks on Killian, and some ducks having a lightsaber duel (one of our past classes).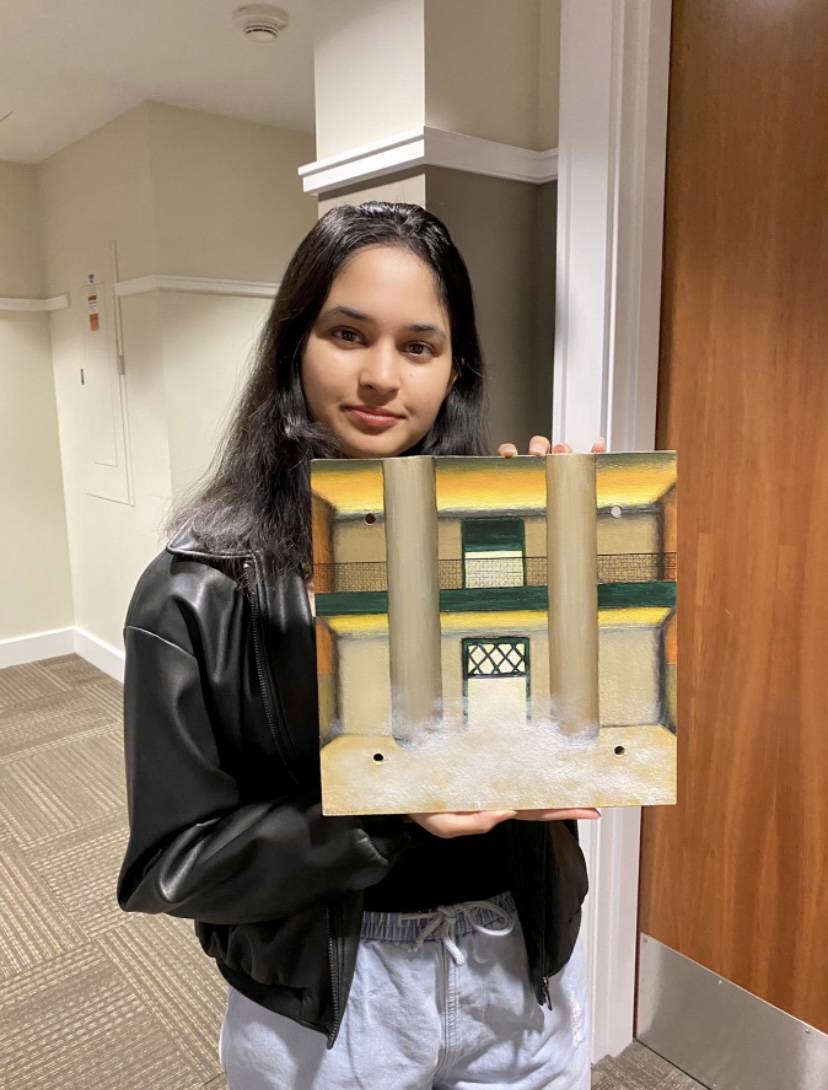 Sohini K., Rucha K.
We wanted to focus on recreating a memorable part of campus that we missed the most, and we decided on Lobby 7. This is a major entry point for the campus and serves as one of the buildings that many students start their days with. We chose to emphasize the warmth and inviting atmosphere of the hall, leaving the doors as misty and bright as to signify the multitude of options and opportunities that lie beyond.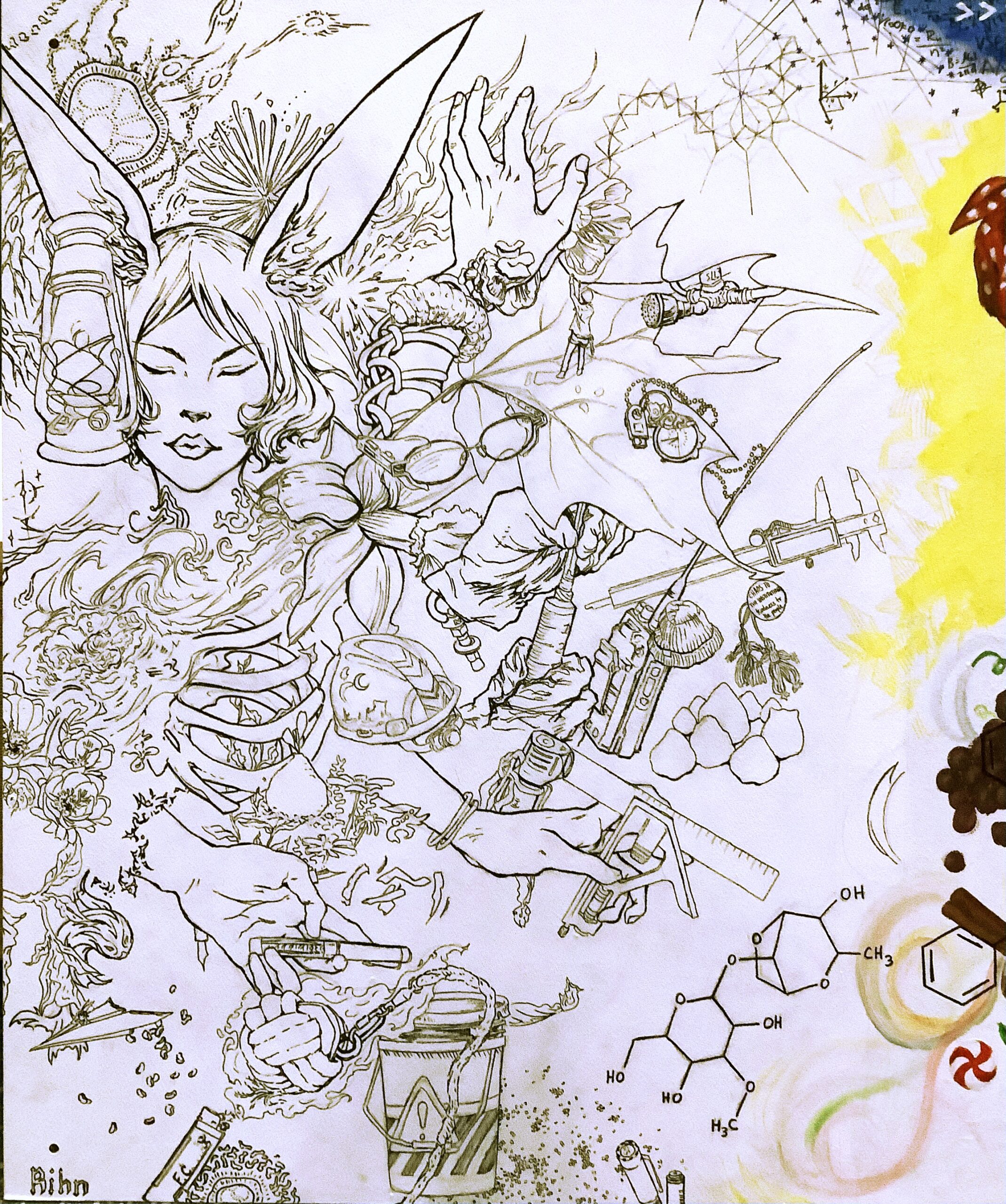 Rihn
Stream of consciousness line illustration. It's a melding of very personal snapshots of experience that features both literal and figurative representations of my most visceral memories and relationships since coming to MIT.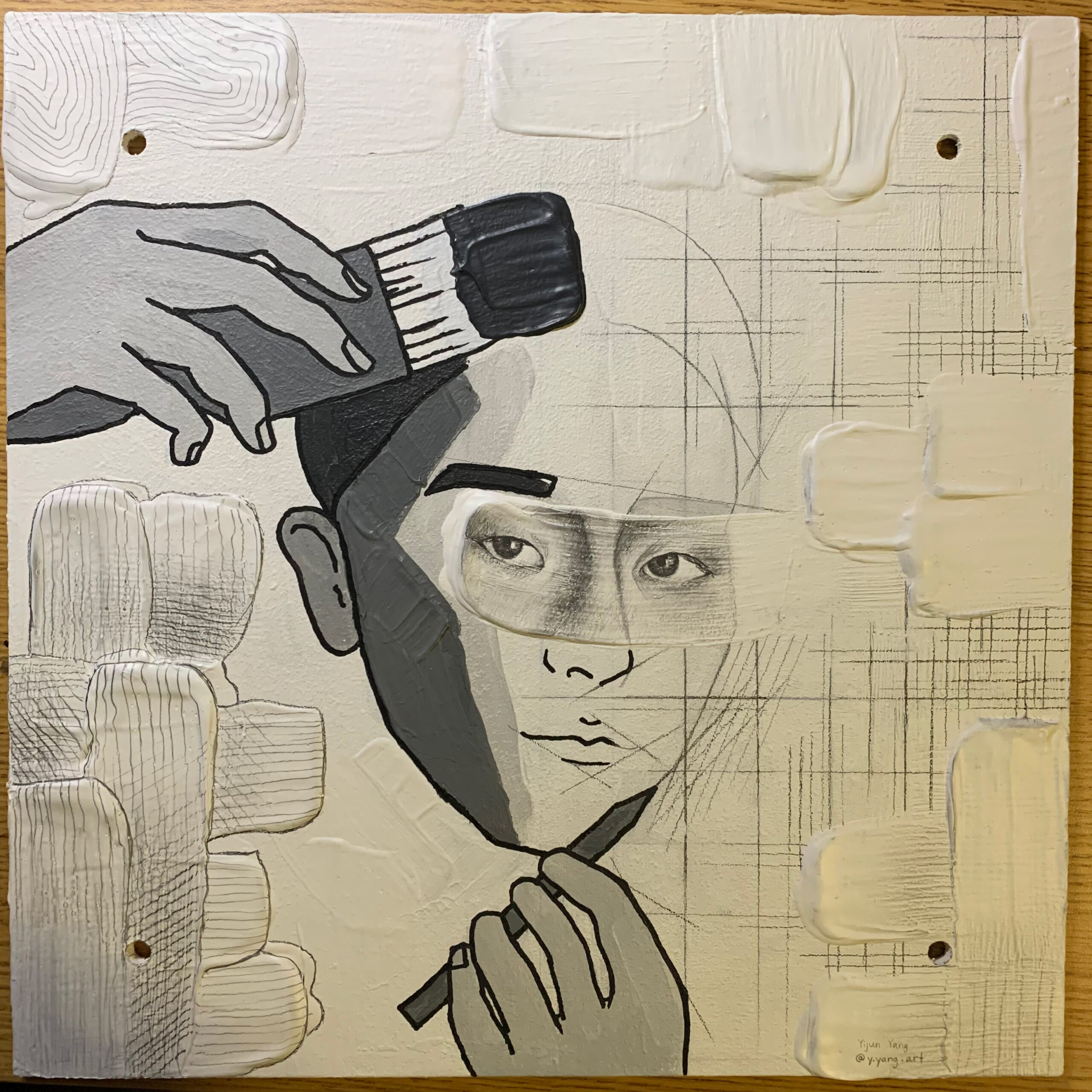 Yijun Y.
A student employs various tools at her disposal to draw and paint herself. Her self-molding is a metaphor for taking advantage of the opportunities at MIT to accelerate her progress towards her goals and the person she aims to be. The purposeful construction lines, which are most dense on the right side of the painting, are the beginning stages of the student's process and act as scaffolding for her later work. Thus, this piece is titled Construction Lines. As the painting progresses to the left, the student paints herself over her construction lines. When potentially threatening mounds of paint, symbolizing challenges and obstacles, attempt to cover the student's work, the student draws over the challenges, giving herself two clear eyes.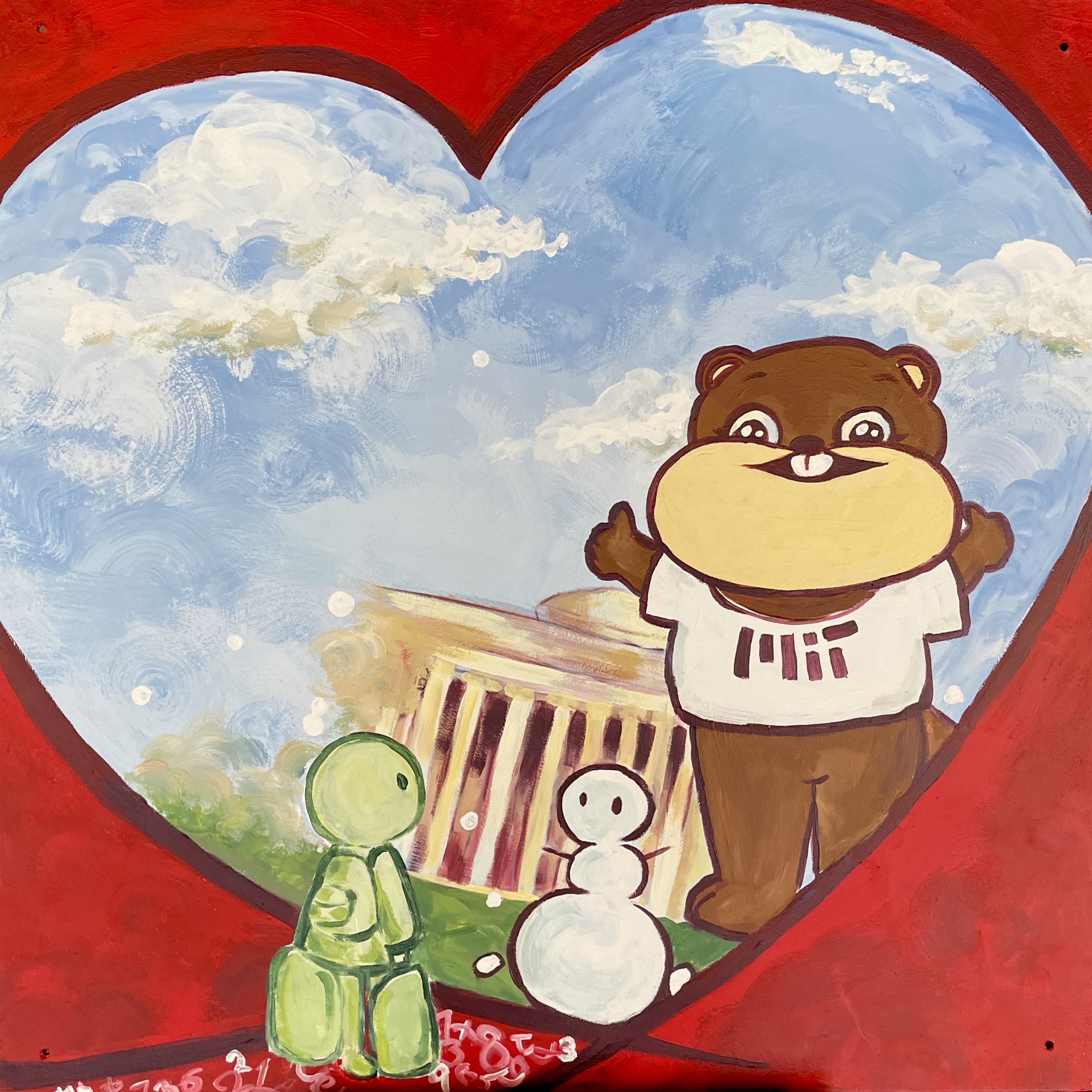 Margaret Z. 
It's W I D E T I M !! In this mural, we see Wide Tim the beaver (and a snowman) standing outside of Killian Court and inside of a big heart, holding out their arms as they enthusiastically welcome a little person with luggage and a backpack.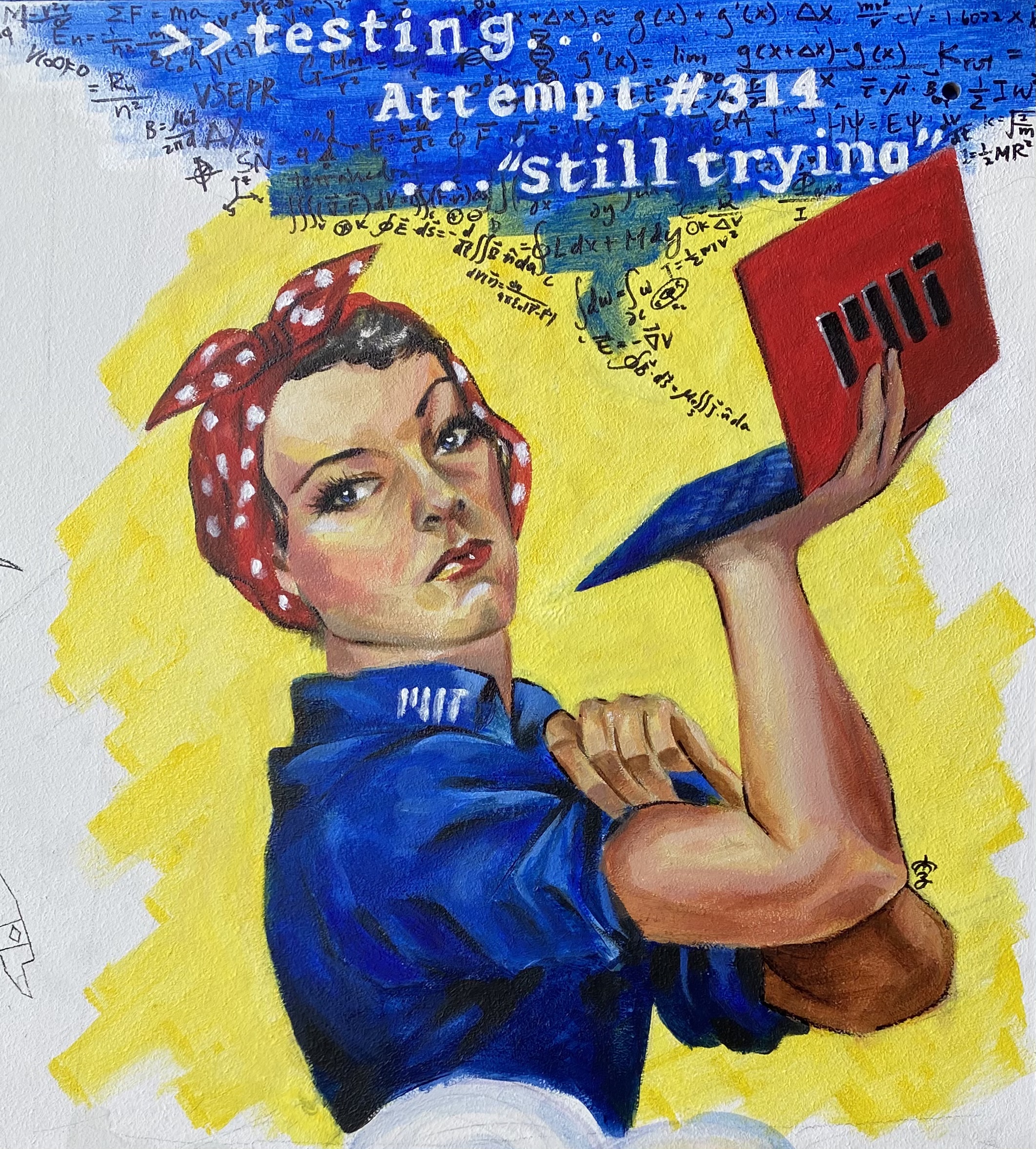 Nina (Yihong) L.
This painting is a parody of Rosie the Riveter from WW2. The funny nature of parody refers to the jesting mentality that a lot of students here share. Rosie the Riveter's upbeat image is paired with the despairing attempt count "Attempt #314," creating a comical contrast. However, on the more serious end, this piece implies that facing failures repeatedly does not mean that one should simply give up—learning to persevere when facing constant failures can be a crucial part of student life.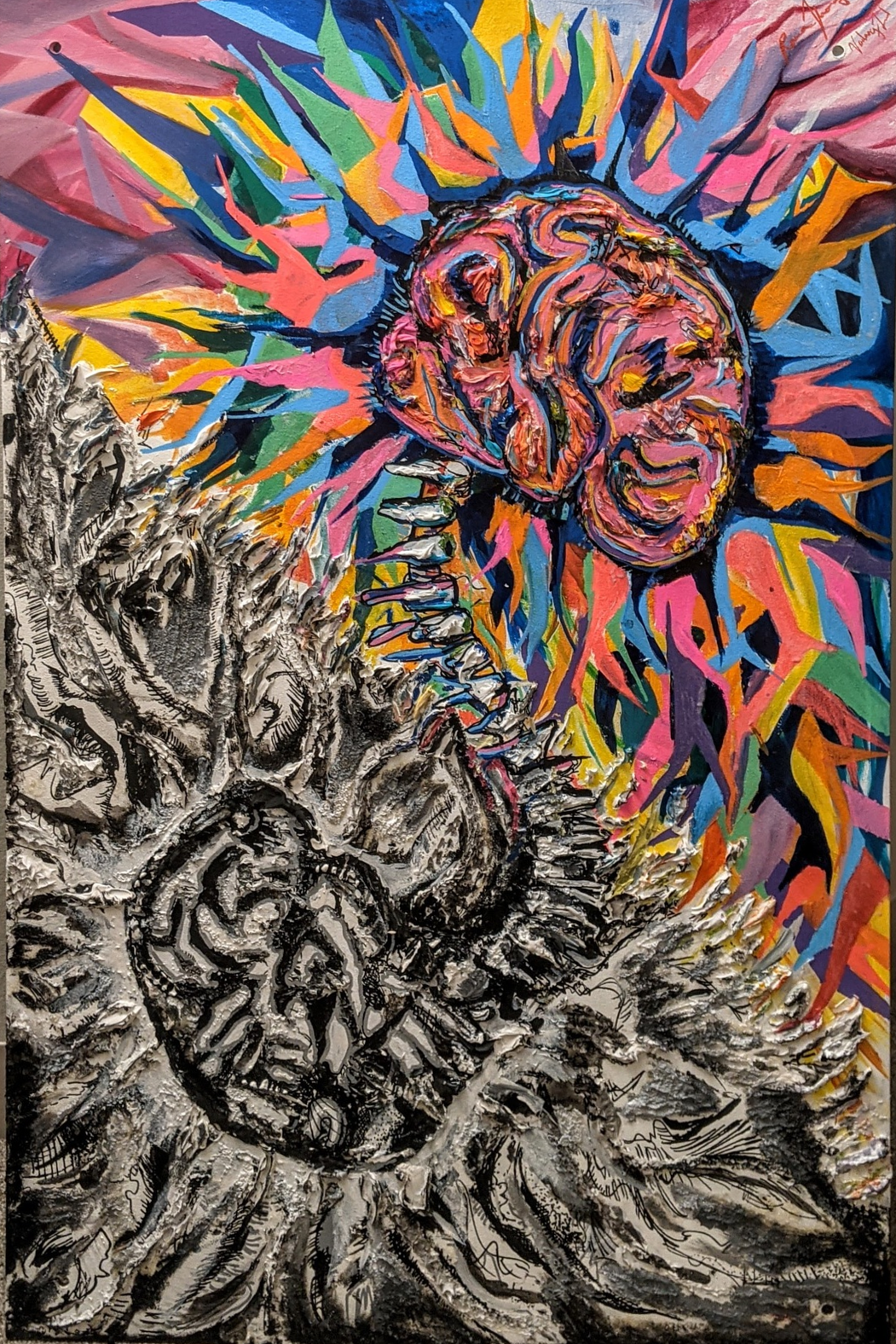 Vedang L., Raina T.
We started out brainstorming by incorporating components of "mind and hand" where we decided on the brain. It is what represents the source of creativity and intelligence here at MIT. To represent the balance of the chaos that is MIT we took inspiration off of the classing "yin-yang" image and incorporated the balance of two brains. While the style is psychedelic in nature, the colorful side is representative of the untamed, creative brilliance. There is also the monochrome half which represents the traditional, scholarly, education that one obtains at a university–raw intelligence. MIT–intelligence and creativity, which is the painting, is the perfect dance of the two.
Teresa G.
My mural celebrates one of the best (yet often overlooked) parts of MIT: its musical community. I've formed some of my strongest friendships here through ensembles like Ribotones and Chamber Music Society. As both a scientist and an artist, I'm grateful that MIT supports my research as well as viola-playing.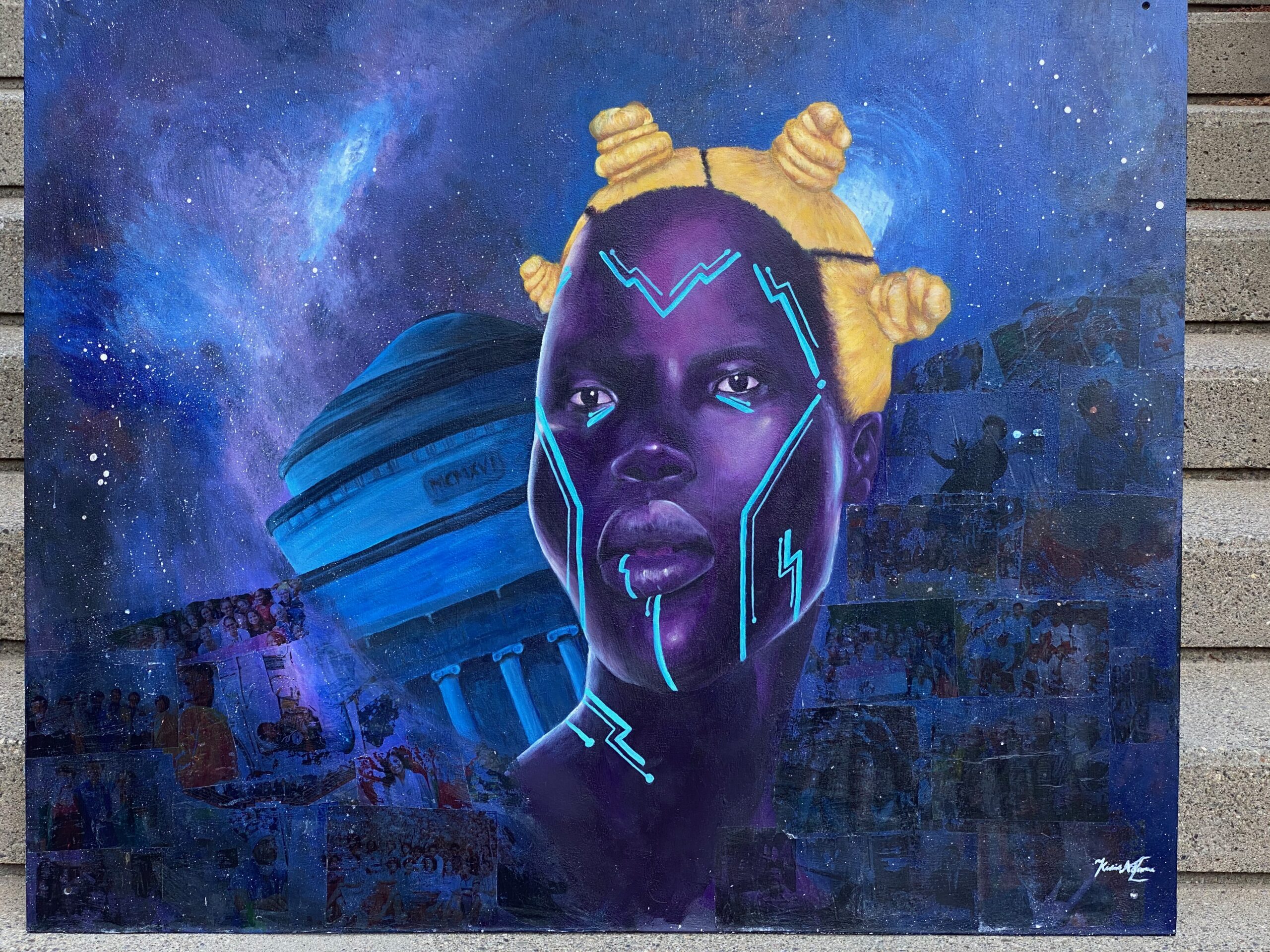 Kidist A., Bukunmi S., Aria K.
This mural is a celebration of Black students at MIT starting from the past and looking into the future. Surrounding the Black woman are different pictures of Black MIT students and affiliates taken from the MIT Black History Archive. The painting adopts aesthetic styles from Afrofuturism. a cultural aesthetic that explores the developing intersection of African diaspora culture with technology. In their article, Crumpton writes that "Afrofuturism evaluates the past and future to create better conditions for the present generation of Black people through the use of technology, often presented through art, music, and literature." Incoming Black students are adding to a rich storyline and are building a legacy together.  You belong here.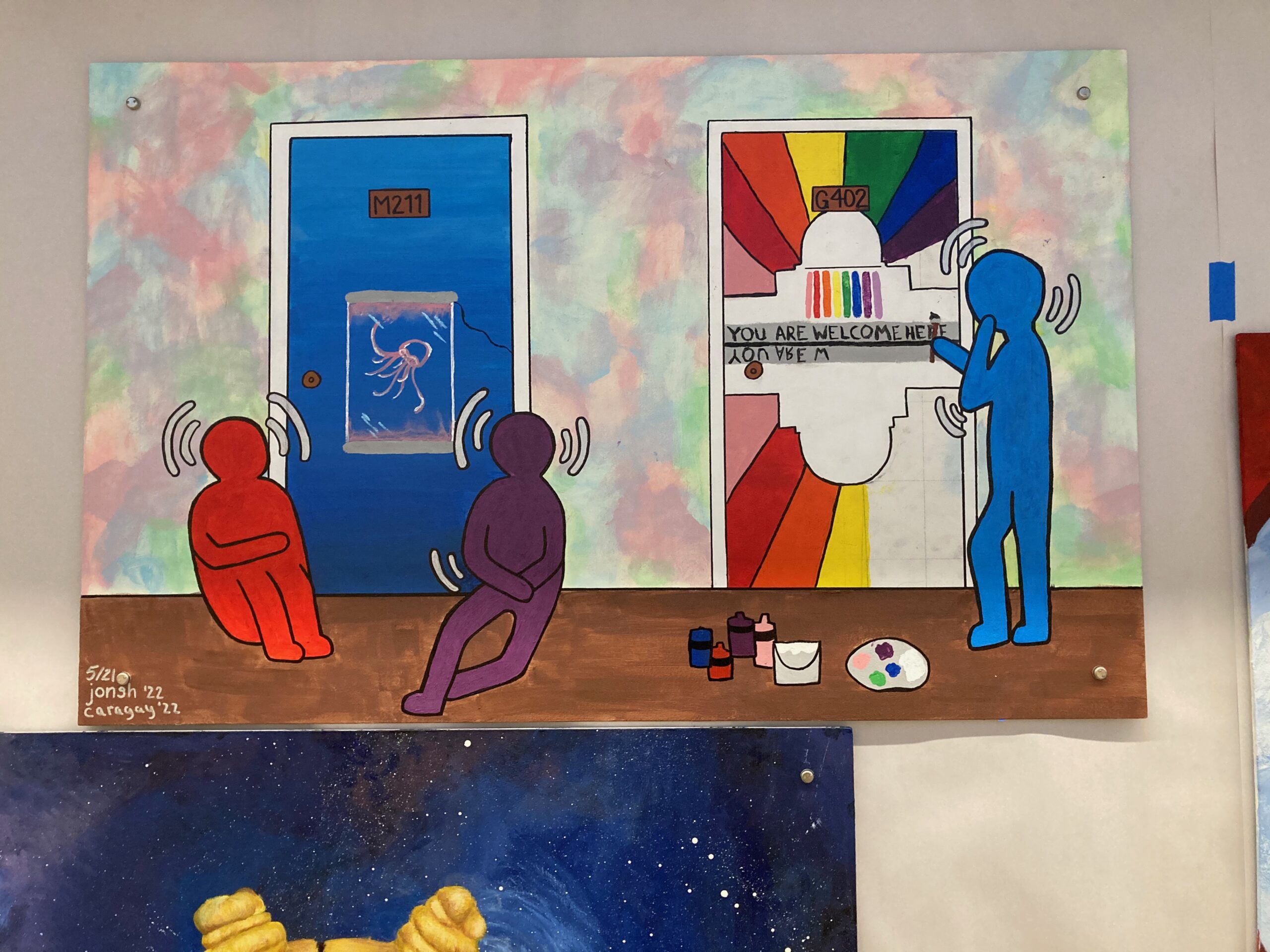 Shuli J. and Emily C. 
One of the things that my friends and I missed the most about MIT is our dorm, East Campus. EC is a unique and wonderful place. Full of student murals painted directly on the walls and doors, there's always a "hall clot" of people just hanging out and talking, and you're never alone if you don't want to be. EC is also MIT's only majority non-straight dorm and is a safe space for LGBTQ students all across campus. We wanted to paint a mural that reflects the vibrancy and warmth of our community as it was and as it will be again.
What motivated you to sign up to paint for the Borderline x Storywall Project (or just Borderline in general)?
Melody W. , Sangita V. , Rachel S.
I really love Borderline and the Borderline murals and the way in which they combine art and technology and interactivity to inspire and explain! My friends and I were excited for the story wall in particular to represent another generation of MIT students that will hopefully come to MIT from a variety of interests and backgrounds as represented by this story wall! We hope they'll be inspired by the art here to pursue their passions and also find it exciting to be here despite all the challenges we face throughout our time here.
Raphi K., Mariela PC
I've painted for Borderline before – and I love painting! So I leapt at the opportunity for more excuses to make art while procrastinating on work, obviously.
Layal B.
I had always been super inspired by the murals in the tunnels, and this was my chance to finally be involved!
Alison F.
I really enjoy art and animation, but I loved that the Storywall Project provides a view into MIT from the student's perspective. I think that creativity and student-driven innovation is a big part of MIT, so welcoming visitors with these murals seems incredibly fitting.
Jessica P., Sruthi P., Shardul C., Jimmy K., Laura C.
I can't speak for the rest of ESP, but I wanted to be a part of this project because I had never really painted anything in a group before. I thought it would be both a really cool way to talk to people within ESP and to be more comfortable doing art with others :)
Margaret Z. 
I've been a part of Borderline exec since my first semester at MIT, and I absolutely love painting murals, Borderline, and painting murals with Borderline! Plus, it has been more than a full year since we could make any in-person contributions to murals on campus, so I have been cherishing every opportunity I get to be hands-on with art!
Vedang L., Raina T.
Seeing the tunnels I also wanted to paint something that would last at MIT – the email from borderline was my chance. I emailed a friend that had a similar vision and we decided to paint the mural together!
Teresa G.
I wanted an opportunity to (literally) leave my mark at MIT, and it was also nice to have an excuse to take some time off from psets to paint.
Shuli J. and Emily C. 
I saw the dormspam from Borderline and thought, hey, that could be fun! Then I forwarded it to my friend Caragay and I was like "hey wanna do this" and she was like "yes!" Honestly, we didn't even have an idea at that point. Both of us just thought it would be really fun to paint something, which we hadn't really done before, and to get to leave a "mark" in terms of sharing our view of MIT with all the visitors to the new Admissions Center.
How did you come up with the idea for your mural?
Melody W. , Sangita V. , Rachel S.
We wanted to particularly highlight the intersection of art and technology with biomaking here at MIT, which inspired our piece! We adapted a previous art piece from one of the BioMakers and included some of the biological objects that have already been engineered– either here at MIT or in the wider scientific community. We hope people get excited about learning from nature but also what we've been able to engineer so far learning from it!
Layal B.
I wanted to make a mural that in some way represented a little bit of what makes MIT MIT, it was going to be hanging in the new admissions building after all.
Alison F.
My mural is pretty much just a painted-on-a-board version of the 2025 tube poster, which I designed with Felix L '23 and Emily H '22 (human embodiments of Talent). We really liked the idea of creating a piece that looks good from afar (given that one likes Stata, which may or may not be a stretch) but gets even better when you look closer and find all of the MIT-themed Easter eggs, sometimes in beaver form.
Jessica P., Sruthi P., Shardul C., Jimmy K., Laura C.
Originally, we planned to have past program mascots sitting in a circle of desks as if they were in class. However, the design ended up looking a little stiff. Someone proposed having snapshots of them having fun around campus and having them doing different activities that people associated with ESP, and the final design was made!
Sohini K., Rucha K.
We thought about areas we missed most on campus and how we could bring out the aspects we remembered about them. 
Rihn
I did not have time to design something new, but I had an existing side project of "journaling" a summer (which then extended to indefinitely as I couldn't finish in time) by drawing scenes of my surroundings or things that I remembered/liked or trying to capture a feeling or imagined thoughts I had at the time. They ended up like maximalist drawings cluttered with a variety of different objects, which I also explored using large pages of paper taped to a wall. I sent some of these images in for the application with a note, and was glad I was cleared to make up my drawing as I went, which made it more natural and in the moment.
Yijun Y.
I love pencil works of art, and I think construction lines are very elegant, so I wanted to incorporate pencil into my mural. Then, I decided to use the symbolism of a student painting herself, with a pencil underpainting, to symbolize the opportunities at MIT that help students make progress towards their goals.
Margaret Z.
My mural is a physical recreation of one of my guest posts on the official @mitadmissions instagram. At the time, the post was made to welcome the class of 2024 to campus and mark their first official day being physically on campus in an extremely disrupted year, whereas in this mural, Wide Tim extends his welcome to everyone coming to MIT's campus, whether for the 1st time or for the 1000th time. As Wide Tim continues to spread more joy among many MIT students and the incoming class of 2025 in subsequent months, I thought it'd be amazing if it can bring more joy to our visitors as well!
Teresa G.
Every instrument has a story and was made by a pair of caring hands. In my mural, I played with the shapes I found on my viola: the curl of the scroll, the strings over the fingerboard, …
Shuli J. and Emily C. 
When we sat down to brainstorm, we both agreed quickly that we wanted something to represent East Campus and everything we love about it. We had a ton of different ideas about how to do that. We went with our hallway idea for two reasons. One was that it was relatively simple. We were both new artists and wanted to make sure we would be able to pull off our idea and have it look good. The other reason was that we thought the "recursive" nature of it was kinda cute: a mural of a person painting a mural! Once we had that idea, it came together really quickly. Both of the doors in the painting are from real murals – we wanted to have an LGBT theme, and the "You are welcome here" mural worked perfectly. We just thought the other one was cool. I had the idea of stylizing the students so that they would be easier to paint, and once I had that idea the Keith Haring-ish vibe just jumped out — the interchangeability of, and obvious connections between, the people in his style seemed perfect to represent what we wanted to say about the social community of EC.
Kidist A., Bukunmi S., Aria K.
We knew we wanted to center the Black experience at MIT, so the main dilemma involved figuring out which aspect to illustrate and how. Our first draft was going to incorporate three elements: Black joy, activism, and identity at MIT. We found three events and images that could symbolize all three, but we realized that the painting would become a bit cluttered and disjointed. We had messaged in the Black Student Union group chat if anyone had ideas and someone had messaged an idea that depicted the way the Black community made them feel like they had a space at MIT. Specifically, they brought up the image of a movie reel as a symbol of a literal continuation of a storyline of Black students and their stories at MIT. At the same time, we knew we wanted to find a way to use the MIT Black History Archive. So, we found that integrating the images from the archive with the painting inspired by Afrofuturism would capture the essence of their idea of a storyline, a living legacy.
How long did it take to paint your mural? What was the process like?
Melody W. , Sangita V. , Rachel S.
Over 3 days or so with initial sketching taking a couple hours and then painting taking a good 1.5 days or so with a bit of collective painting particularly for the finishing touches and objects! Figuring which objects we wanted was rather spontaneous but probably the most important to finishing the piece!
Raphi K., Mariela PC
A couple of weekends, few hours at a time. It was great fun & a bonding experience!
Layal B.
I was hosed for a long time and I was having issues with the blue background paint, and so after painting the background for a week I got the rest of my mural done in about a day 😅
Alison F.
It took me about 3 weeks (2-3 days per week on average) to finish. Walking across campus to the welcome center and painting for several hours was lowkey the highlight of my day, and I'm really glad I did it. I think it's especially easy to forget about taking breaks and making time for hobbies and relaxation during the pandemic, and painting this mural showed me that I was fully able to set aside substantial chunks of time to destress and that it made me much happier.
Jessica P., Sruthi P., Shardul C., Jimmy K., Laura C.
It took probably about 10 total hours combined. (again, can't speak for all of ESP, just myself but) it was my first time having several different people come in and have different interpretations of what color/style elements on the sketch were intended to be.
Sohini K., Rucha K.
The painting took many layers because it was hard to paint on the board, so most areas took a lot of color blocking and effort to blend. It probably took around 10-15 hours. 
Rihn
I actually went in almost every week in the evenings for hours at a time. It took a while since I worked in pencil then inked the work. It was very cathartic, since I would prop the canvas up on the wall and sit on the ground as I drew it, which mimicked the feeling of mural making on the walls of East Campus. I would also listen to music and often be the only person in the area, so I would immerse myself in my own world, which became a thoughtful and introspective escape from dorm life.
Yijun Y.
It took me about eight hours, give or take. I sketched the whole thing in one short session. In the second session, I was up from roughly 12 am to 4 am painting, but I got most of the major painting sections done in those hours. I didn't have to stay up late, but it just felt right at the time! Then in a few more sessions, I finished the details, darkened the construction lines, and outlined the face in a paint marker. Most of my time was spent trying to make the 3D blobs of paint taller. The problem I encountered was that I would make a 3D blob of paint, but when it dried it would flatten, so I had to add more layers to the blobs a number of times. Overall, the process was pretty fun, and I enjoyed combining many media into this mural!
Margaret Z. 
I came into the welcome center to paint on three separate days, and the entire painting process took around 6-7 hours. We sign up for slots to paint; and when we arrive at the welcome center, we put down tarp, set up an easel, and the rest of the time is dedicated to painting! The Storywall space is awesome– it is voluminous, bright, and calming, and because of the COVID restrictions, the painters often had the entire space to themselves. To me, the time spent painting in the welcome center is a much-needed and appreciated break from schoolwork, and it feels beyond awesome to dip my mind deep into colors, palettes, and art-making!
Vedang L., Raina T.
The total painting time took about 15 hours in total. There are many layers and mediums incorporating into the painting.
Kidist A., Bukunmi S., Aria K.
It took around 2.5 weeks to complete. There were many, many late nights of painting and repainting. It's difficult to say how many hours we poured into this painting. At times, I'd tell myself I'd spend a couple of hours of the night painting only for me to realize it was 3 AM, and I hadn't even completed what I'd set out to do. If I had to give a number, I'd say we put in at least 40 hours.
Shuli J. and Emily C.
We mostly painted in a few longish sessions. We kept the canvas in a corner of our living room (thanks to our roommates who put up with this for a month!) and whenever we both had a free hour, we would sit down to paint another "layer". Doing it in layers–the background, the doors, the people, the foreground–kept things pretty organized and helped us track our progress. Towards the end, we did get a bit hosed and started having to work at odd hours without each other. I would just paint like one paintbrush when I had a free minute, then go back to psetting. But we got it all done in the end!
---
We hope you've enjoyed this trip across the Story Wall. You can view it in person in building E38 from 9 am-6 pm any weekday–and if you come, make sure to check out the augmented reality too! You can download an app called Artivive and hold up your phone to the mural with the app open which uses the camera to show the AR. A big thanks from us to everyone, exec, and artists, who helped make this happen.