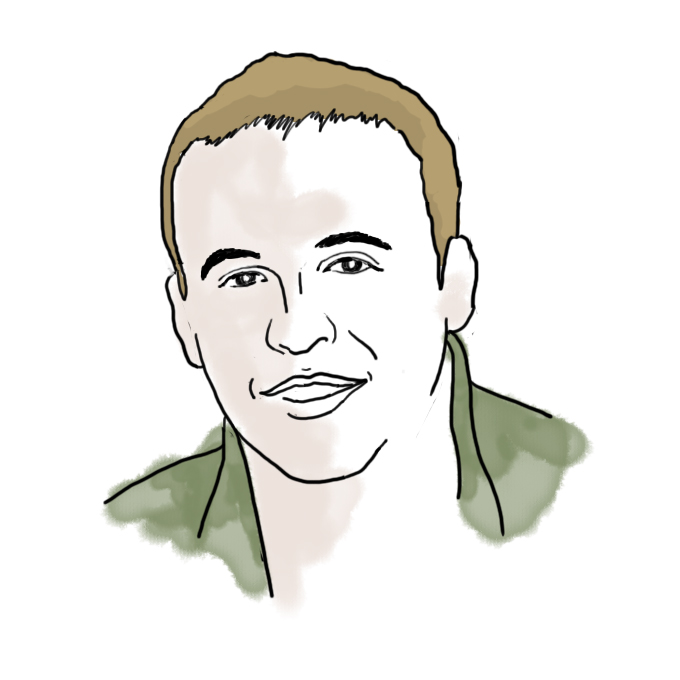 a new home for admissions, and all the institute's visitors
For many years I have written these blog posts from a cubicle in room 3-108, which was part of the complex of rooms along the Infinite Corridor⁠01 Now that we're no longer there, ask me in the comments about the hidden vault in the secret passageway between buildings 3 and 10. that, for decades,⁠02 Former blogger — and enthusiastic amateur MIT historian — <a href="https://mitadmissions.org/blogs/author/dannyfirstnames/">Danny B.D. '15</a> directed me to the <a href="https://archivesspace.mit.edu/repositories/2/digital_objects/1114">1930-1931 MIT Bulletin</a>, which instructs those who wish to petition for entry to the Institute to room 10-100. constituted the admissions office, near the Institute's iconic entrance at 77 Massachusetts Avenue.
Now, however, I am writing you from my new office,⁠03 Overlooking...Chipotle. on the second floor of a new building, E38, which is the new home of the admissions office, as well as the MIT Welcome Center, part of the the Institute's new front door in Kendall Square.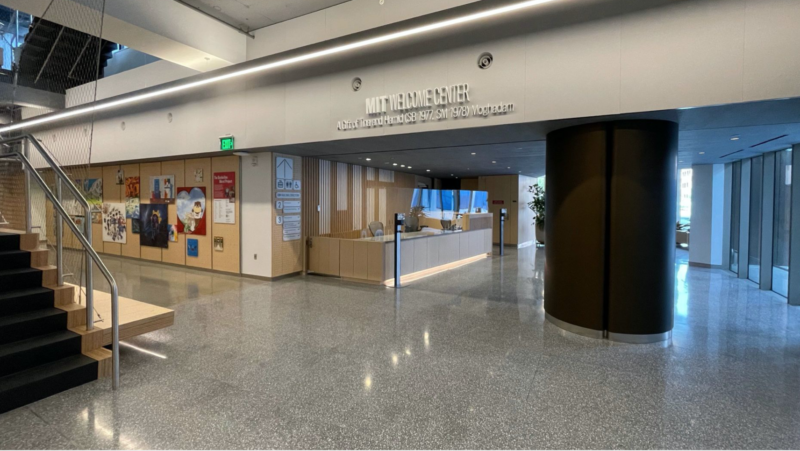 The new admissions office, and the Welcome Center, have been in development since at least 2015, as part of a broader Kendall Square Initiative along MIT's eastern border. For years, the project was known as Site 4, a mixed-use cluster of offices, housing, and retail. We had planned to open in summer 2020, but muffled pandemic noises instead opened to visitors earlier this month.⁠04 As I will explain further later, "open to visitors" currently means "the doors are open, and there is someone at the front desk who can help answer your questions." We have not yet resumed operating in-person information sessions and tours, but hope to do so later this fall, consistent with MIT covid policies and procedures.
There are many strategic advantages to our new location. We have an auditorium for information sessions⁠05 Again, we are currently not offering information sessions and tours! Once we know when we will be, which we hope will be later this fall, we will update the website. —  and other events, once they resume —  on the first floor. We are situated next to a beautiful new open space, and across the way from the new location of the MIT Museum⁠06 The MIT Museum is scheduled to open in spring 2022. and MIT Press Bookstore,⁠07 Which <em>is </em>already open, at 314 Main Street in Cambridge. giving our visitors plenty to do and explore as part of their visit. Crucially, from the perspective of our visitors, we are now directly atop the inbound Kendall/MIT Red Line stop.⁠08 Let me barge like the Kool-Aid man here and tell you: the <a href="https://www.mbta.com/schedules/Red/line">Red Line</a> is almost certainly how you should get to campus! Or you could walk, or bike, or take a <a href="https://www.mbta.com/stops/2231">bus</a>, or <em>maybe </em>a taxi/rideshare, if necessary. The <em>worst </em>option, by far, is to drive to campus. The traffic is very bad, the roads are confusing (and the GPS devices often confused as well), and, although there <em>is </em>public parking next door at the new <a href="https://www.google.com/maps/place/25+Hayward+St,+Cambridge,+MA+02142/@42.3613362,-71.0878244,17z/data=!3m1!4b1!4m5!3m4!1s0x89e370a602b7e007:0x97b874cf56fd211e!8m2!3d42.3613323!4d-71.0856304">25 Hayward Street underground garage</a>, and <a href="http://web.mit.edu/facilities/transportation/parking/visitors/public_parking.html">other public lots in Kendall Square</a>, it is very expensive and limited and generally an enormous hassle. If at all possible, we strongly, <em>strongly</em> encourage you to park further out on the Red Line — at e.g. Alewife, South Station, etc — and ride in from there. In addition to being faster, cheaper, and better for the environment, you can <a href="https://www.mbta.com/guides/student-guide">conveniently visit many other colleges along the way!</a> Note that both the inbound and outbound headhouses for the Red Line in Kendall are currently under construction, but they will be beautifully renovated (relatively) soon. We also share the building with our great partners at Open Space Programming, InnovationHQ, the Office of Sustainability, and the Environmental Solutions Initiative.
However, it's also a big cultural move across campus. I sometimes think of MIT as a living being, where the Great Dome is its heart, and the Infinite Corridor its central artery; by extension, we have now moved out to the periphery of the circulatory system, pumping blood to an an open hand that beckons hello, welcoming people to the Institute. And so a big question, as we prepared for this move, was how to make this new building, at the far eastern outpost of the Outfinite, represent all of MIT in miniature.
For the last few years, a dedicated, talented team from across campus⁠09 This team contained many people from across many offices, as well as student and Cambridge resident interlocutors; too many to list and thank even in a very long footnote. I do want to give a special shout-out, though, to Jess Smith, the Director of Open Space Programming, who was a major partner in creative crime here. The Welcome Center is co-administered by Admissions and OSP, and Jess and her unbelievably friendly team are wonderful to work with. to help figure out how to do that, and today, I want to tell you a little bit about what —  and why —  you'll see when you visit.
Our main goal, with the new Welcome Center, is help our visitors experience some of the kind of things you'd encounter "only at MIT."  To do that, we did about a year of research —  mostly before the pandemic —  including multiple human-centered design sessions with MIT students, faculty, and staff, as well as Cambridge residents, facilitated by Dr. Alexis Hope, who was then a PhD student at the Media Lab. Based on these sessions, and our own internal qualitative research that had previously guided our website redesign, we knew we wanted the Welcome Center to:
amplify many voices: a strength of the MIT community —  like we hope you see on the blogs —  is its polyvocality, the way many different people are always speaking from their point of view beneath the spreading canopy of the World Famous Technical Institute
be participatory and open: in addition to amplifying more MIT voices, we should find ways to include and enrich people who are not part of the MIT community (yet)
be connected to campus: include things you'd see across the rest of campus, especially along the Infinite Corridor
feel analog, organic, messy: to contrast how things organically grow and evolve within the sleek modern confines of the new building, like being inside an unexpected scientific discovery as it happened
be resilient and layered: things that worked on multiple levels, both to provide redundancy against technical failure, and also to provide unexpected moments of surprise
be dynamic and evolving over time: things that will continue to change and grow and refresh, and not remain locked in time
These design principles guided us toward some of the features that we're launching the Welcome Center with, including: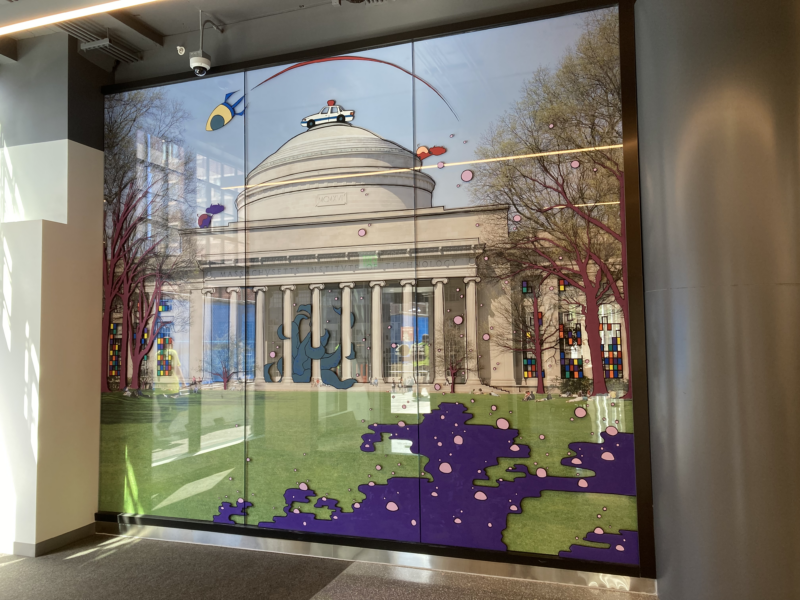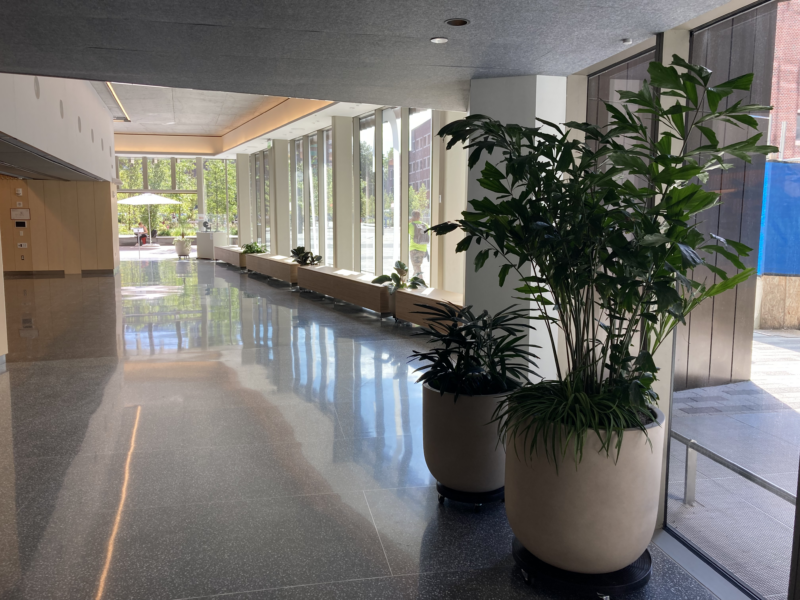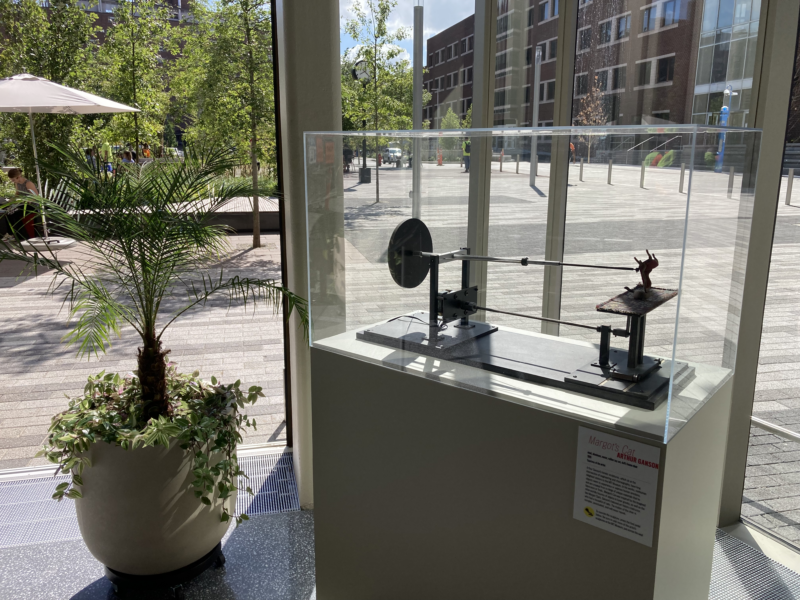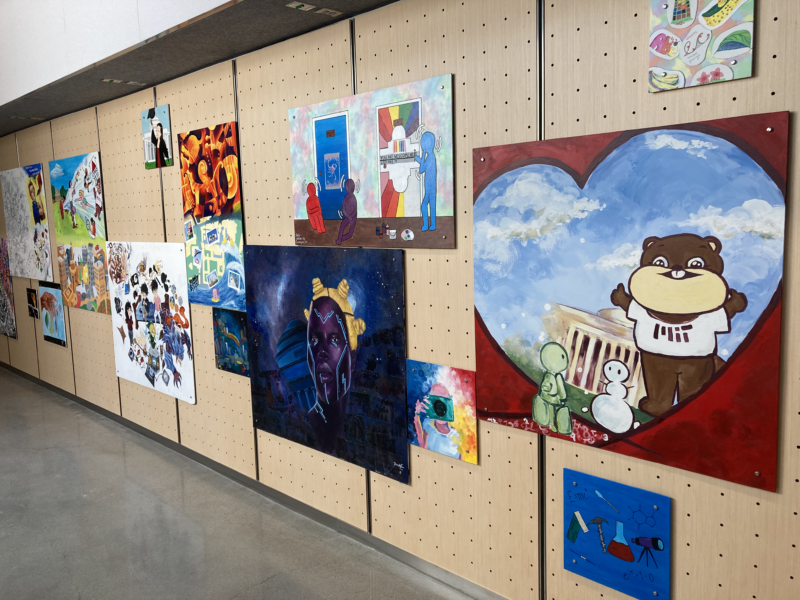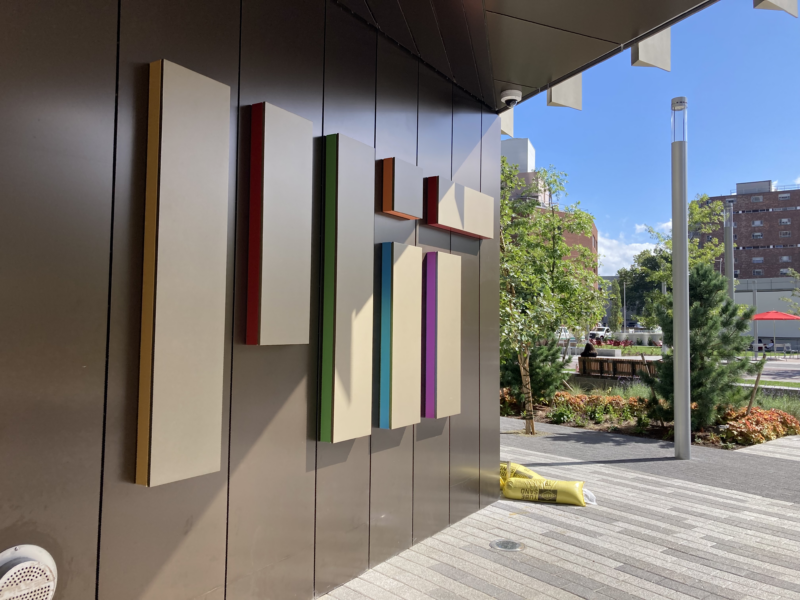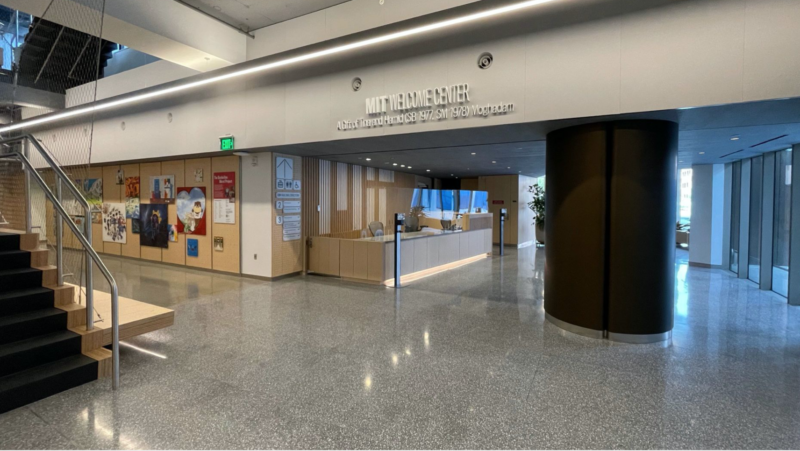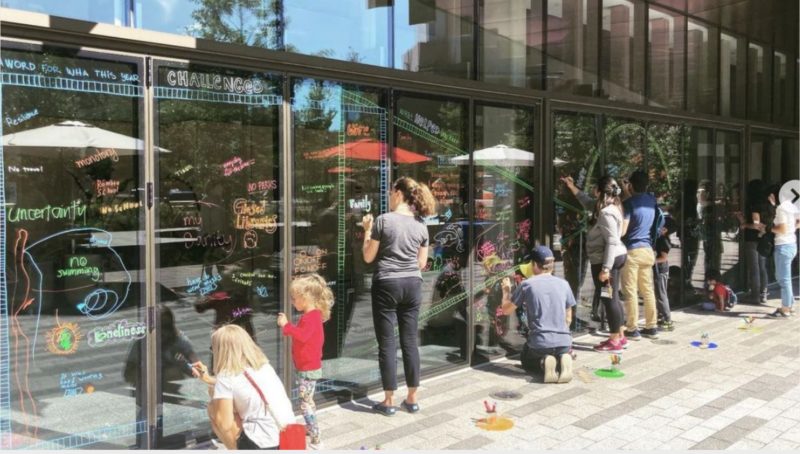 As time goes on, these installations may grow and change, as MIT —  and the humans who make it up —  continue(s) to evolve too. But I hope that it already feels a bit like home, both for the students who are here now, and for you, too.
---
I said this earlier in the annotations, but wanted to say it more specifically in the main text down here: although the Welcome Center is now open to the public, 9AM-6PM, Monday-Friday, we are not offering in-person information sessions and tours at this time. We hope to do so sometime later this fall, but are still working closely with MIT's Covid team(s) to make sure we can do so safely and smoothly. When we begin, we will announce it prominently here, on the website. Until then, please don't call or email us asking when we will begin offering tours; I promise, really, as soon as we know, we will tell you by posting it prominently On This Very Website, The One You Are Reading Right Now. Until then, you can still sign up for virtual information sessions and tours here. 
The Welcome Center being "open" without tours functionally means that you can come by to use the restroom, charge your phone, refill your water, grab a walking/self-guided tour map, and/or ask questions of our team behind the desk. Please note that masks are currently required inside all MIT buildings, including the Welcome Center, regardless of age or vaccination status. 
Additionally, the outdoor open space adjacent to the Center has chairs, tables, grassy areas, water stations, and frequent events open to the general public; masks are not currently required outdoors. To make sure you are up to date on the most recent MIT Covid policies and procedures, I'd suggest should always check now.mit.edu shortly before you visit.