This summer, I lived with some other sophomores from my living community. I went home until the end of the semester and moved in mid-May, so I wasn't involved in the process of finding an apartment. I'm told that it was a hellish six hours involving four tours, lots of walking between properties, and a giant tear in a friend's jeans as she tried to climb over a fence, but even so, it was all done the day we learned we were being kicked out of our dorms. Due to this, I was under the impression that finding a place to live during the school year would be easy. Doable in a week, even.
Little did I know that it would take over a month of struggling to define expectations, going back and forth between properties, arguing with my future roommates, contacting dozens upon dozens of agents, and touring properties both virtually and in person.
The main issue with my group was that we had no idea how many people would able to commit. Five of us signed on, but two others couldn't promise anything since they didn't have their financial aid information yet. We decided to stay flexible and look for places that would be reasonable for between five and seven people, but that was harder than it seemed. For one, 5-bed places in the area are scarce, and those that were good contenders had at least one deal-breaking aspect; a hefty security deposit, a max number of occupants that was below 7, bedrooms too small to turn into doubles, a weird management office located in the basement, only one bathroom, etc.
God, it was frustrating. We spent hours on Zillow looking for places and contacting agents to no avail. Finally, we applied for a 5-bed property that's a 20-minute bike ride from MIT, which seemed decent. After touring it, however, I realized that I didn't like it all that much. My main concern was that it didn't have a great location; it was close to a highway, so I wouldn't feel safe biking to my boyfriend's apartment at night.
My group started our search again with the consensus that we would use that property as a last resort provided we couldn't find anything else. We gave ourselves two days to locate and contact a good 5-bed, and although the expectations for achieving this were hella low, we managed to pull it off; we found a 2080-ft 5-bed, 2-bath located in Central that was just barely within our budget. After touring and negotiating some, we finally, FINALLY signed the lease, bringing our arduous housing journey to a wonderful close.
I'm so, so happy that this is all over. Signing the lease was such a relief; these past six weeks have been immensely stressful for everyone. It took constant communication and frequent Zoom calls to navigate expectations and locate properties, so I'm grateful to my group members for being so easy to work with. I can't even imagine undergoing this process with people who aren't active or communicative…it would probably be traumatic to some degree.
So…I've only been through the clusterfuck that is locating housing once, but I have a few pointers for the terrified amateur. Trust me, everything is going to be okay eventually. You'll figure it out, no matter how frustrating it is!
Questions To Start:
How big is your group?
What's your budget per person?
How many rooms do you need? Aka do people want singles/doubles etc?
What locations are you looking in/what's an acceptable distance from MIT for you?

Options: Allston/Brighton, Back Bay, Brookline, Cambridgeport, Inman Square, Kendall Square, Central Square, Harvard Square, Somerville/Davis Square. Pro & con lists for each of these places are on this page, but keep in mind that they're intended for Harvard Grad School students.

Do you want a house or an apartment?
What's your minimum square footage for a property?
When are you moving in?
How long will your lease be? If you're finding something for the school year, will your group be in town during summer, or will you have to sublet?
In my group, two people wanted singles and the rest didn't mind doubling. As for location, I wanted to be as close to MIT as possible. Theoretically, we don't know for sure if we'll have access to campus in spring, and we can't go back to our dorm dorm,⁠01 rip burton conner so we could live anywhere if we really wanted to. I was invited to live in Hawaii with a few friends, and I know some people who found cheap housing in Texas, Idaho, and Cape Cod! My boyfriend is a grad student living near campus and I wanted to stay near his apartment, though.
In summer, six of us stayed in an apartment that was around 1400 square feet, and it wasn't the most pleasant experience. Taking Zoom calls at random points in the day when there are only three bedrooms and a common area is quite difficult, and it's annoying to not have personal space. Due to this, we decided that was wanted a place that had at least five bedrooms and was over 2000 square feet. Given these constraints, it seemed more likely that we'd get a house than an apartment.
Start Looking
Check Zillow, MIT Off Campus ⁠02 thanks cami! <3 (you can get some sweet deals from MIT alumni), You Got Listings, Pad Mapper, and even Craigslist. Don't be afraid to contact agents to ask questions and get virtual tours since it expedites the process significantly. Calling people stresses me out, but man, does it get the job done.
Some questions to ask include:
What utilities are included in the rent?
Is the property furnished?
What's the property's policy on co-signers?
How long/short can the lease be?
When's the earliest you can move in?
Is there off-street or on-street parking?
Is there an in-unit washer and dryer?
For organizational purposes, make a spreadsheet with columns like location, rent, beds, baths, date the lease is available, square feet, link to the listing, deposit amount, and virtual tour. Start narrowing down places based on your group's needs.
Tour and Apply
Once you tour the place, either in-person or virtually, you'll have the option to move forward with applying. For my house, our application was binding, meaning we had to sign the lease if they accepted our group. This was contingent on us walking through the house prior to signing the lease, though, so there were no issues with touring.
I really liked my house during the tour; it's a unit in a bigger complex with two levels, and the bottom one was used as an Airbnb up until recently, so we got to keep the furniture in it. It has a fridge, laundry machines, two bedrooms, a bathroom, and some couches within the common area, which is dope. Upstairs, there's a full-size kitchen with another fridge (!!), more laundry machines, three good-sized bedrooms, another common area, and a backyard. It's super nice and I can't wait to live there.
Here are some things to look for during your in-person tour:
Do the appliances work?
Is there any evidence of mold?
Do the bathroom fans and windows work?
Are all the locks in good working order?
Does the apartment/house contain lead paint?
If you're touring in-person, make sure you have ample space on your phone to take videos of the entire property. Alternatively, bring someone who doesn't struggle with maintaining space on their phone despite having thousands upon thousands of pictures and videos…
Negotiate With the Landlord
This part seems daunting, but it's necessary. You might not have to compromise on something if you play your cards right. The property my group found had all utilities included at a certain rent, and although the landlord told us we'd still have them even if the rent were lowered, he later went back on it and told us that we'd have to pay for everything except water. That would end up being more than the initial rent, so we pushed back and got him to agree to include all utilities at a lower rent. It's pretty wild how easy it was.
…Then, all you have to do is sign! And boy, does it feel fucking incredible.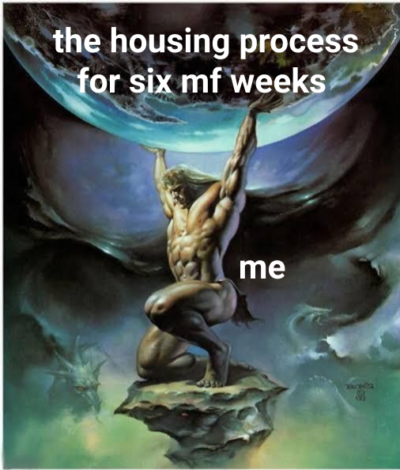 Hope this helped!
rip burton conner⁠

back to text

↑
thanks cami! <3⁠

back to text

↑