I've been breaking the monotony of quarantine and wearing pajamas all day by doing new things! I've wanted to try many of the things listed below for a while but couldn't because I didn't have time or didn't want to risk looking like a mess in a meeting, recitation with ten or fewer people, or really any situation where I can't blend into the crowd. 
Hair Wax 01 I know this was a trend two years ago, let me live.
I've always wanted to dye my hair but not damage it, and this seemed like the perfect solution. Plus, I get bored easily, and I could just wash the wax out if I wanted. I bought three colors, silver, pink, and orange, but the orange turned out more brown and the pink showed as purple. The downside was that there was a lot of transfer; my shoulder was silver/purple/orange for a few weeks and so were my chair, hands, table, etc. But because it's water-based, everything is easy to wash off. After a few days, the paint would flake a bit, so I don't think I'm going to put on hair wax in public.⁠02 </span>It seems like there are ways to avoid this though. But I personally don't want to put in the work lol Still, it was a fun experience, and I took nice pictures which is obviously the only thing that matters.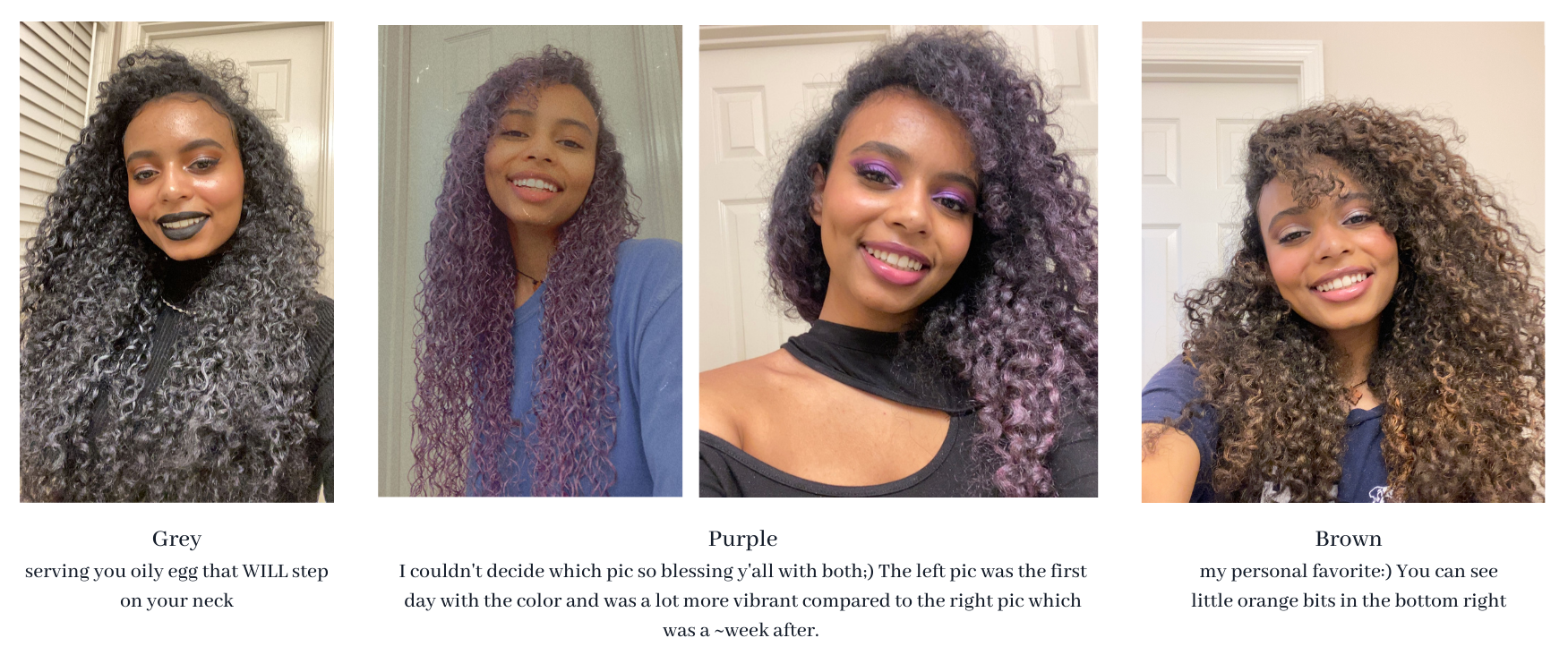 Hair Twists 
I didn't think twists would work on my hair because I thought it would eventually start becoming undone once I let go of the hair but that was not the case. These twists were easy to do and so pretty! Plus my hair was moisturized and remained that way for the whole week I had it in twists, which I have never experienced before. And the twist out was its own hairstyle too! I'm happy I did this and wish I had done it sooner.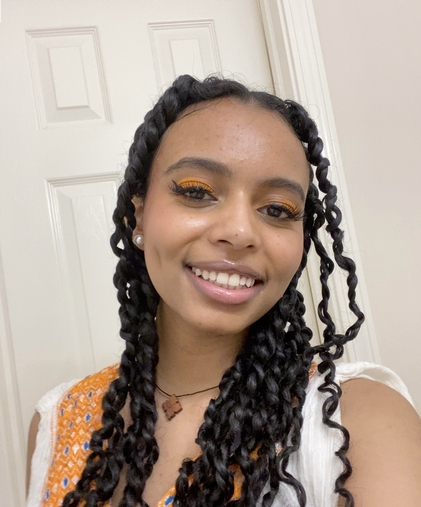 False lashes
The lashes were a pain to apply. The picture above was the first time I did it, and I think it shows⁠03 Yes my eyeshadow is uneven, mind your business😌😌😌. The falsies were hard to put on, and I accidentally got glue on my eyelids and had to rub parts of the makeup off lol. I reapplied it five times before I got it right. Or at least I think I got it right. I ordered them online, so it was hard to judge what they would actually look like on my eyes. In the end, it turned out fine. After that day, I got way better at applying them. Also, fortunately, I have relatively long lashes, so I've been cutting the lashes in half and applying them towards the ends of my eyes, which makes the whole process much easier.  
Faux Locs
Installing these locs took two. full. days. The general process goes as follows: tying the faux loc at the base of my braid, passing a crochet needle up through the faux loc, grabbing and locking the braid in the hook of the needle, and then pulling the braid down through the faux loc such that the loc encloses the braid. Many of the tutorial videos I watched said this style was fast and easy which I took at face value without researching and accounting for my situation. Here's what I failed to consider:
I bought faux locs that were relatively thin. To be fair, my options were limited. My hair is around 28 inches, and the longest and most common faux loc length is 24 inches. I saw some videos of people tying two 14 or 18 inch locs to get longer hair but I thought that wouldn't work for me since I couldn't pass my needle and braid through a knot. Fortunately, I found one brand that sold 36-inch hair and immediately bought that. Once it actually arrived, I realized that the locs were way thinner than I anticipated which meant that I'd have to braid my hair into 50+ thin braids instead of the 20-30 braids I had planned for. 

The 36-inch locs were actually two 18-inch locs tied. Well, I think they were tied. Attached might be a better word because I was somehow able to shove my crochet needle up and pull my braid down, but that hiccup added a few minutes to installing each loc. 

I had 50+ 36-inch faux locs, and I completely underestimated the weight. I would put my hair in a ponytail and place my hair on my shoulders to relieve my neck of the weight. But then my neck and chest would get hot, which was great in the early mornings and late evenings when my heater always fails me. Outside of those times, I was a bit warmer than I preferred.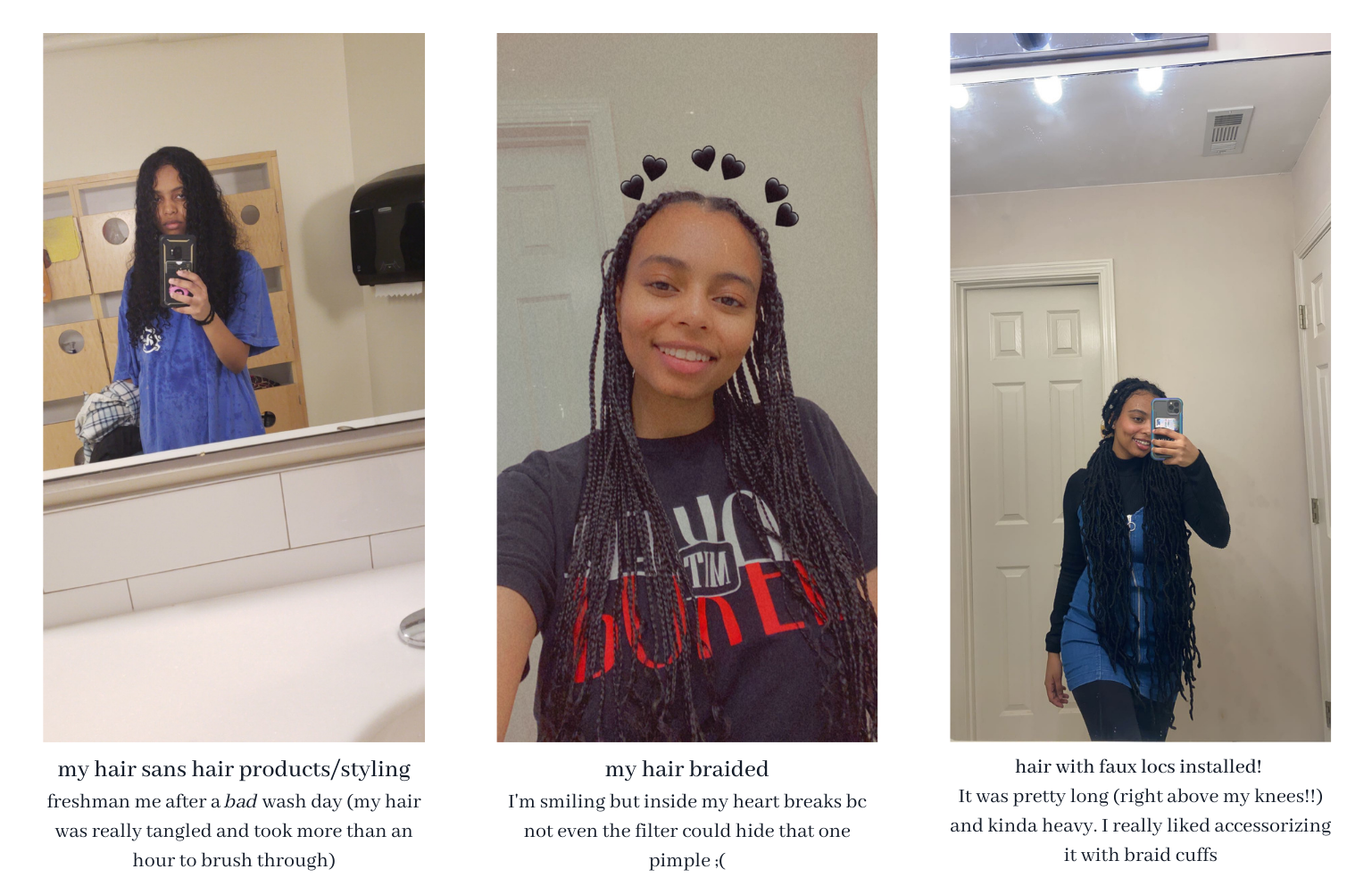 This is why I took off the locs only after a week and a half. On the bright side, it did look good, and it is a great protective hairstyle⁠04 A protective style is any style that keeps the ends of the hair tucked away and minimizes manipulation.  because when I took the locs out, my braids still looked great and untouched.
Ukulele
I bought a ukulele at the beginning of quarantine, and I'm only just getting to it. I have no music background, but I'm determined to change that😤. I foolishly thought playing the ukulele was going to be easy because that was the sentiment I picked up from other people, but I quickly learned that those people were most likely comparing it to other instruments they had experience with. My fingertips hurt, and I definitely didn't consider the strength it takes to even press down on the strings but I know with practice I can get better. What's a lot harder and intimidating is learning music theory. I have a tuner and rely heavily on it, but even I can tell that's not best practice. I'm also relying on YouTube videos to learn, and I'm worried I'm going to pick up bad habits that are going to be hard to unlearn. My current plan is to dedicate as much time as I can in the next year and a half to playing the ukulele⁠05 and maybe even some music theory ahhhhh i don't know why it scares me lol. Every other new thing that I've tried are either relatively straightforward or I have some experience in. I know my hair, so I can experiment with it. I already like art and painting, so makeup is a natural extension of that. I know it's cheesy but it's like my body is the canvas you know. But I don't really have anything to anchor music to. I enjoy the challenge and joy of learning, but that's not really enough, especially in the early stages. With the makeup, I'm not starting at the very bottom. I have some intuition when it comes to colors and holding a brush. More importantly, I have a certain confidence when it comes to art. It's something I've been interested in since I was a child, and though I'm nowhere near the best, I have faith in my ability to grow and become a great artist. Music is an entirely new field, and I feel intimidated by the people who've been playing since childhood. I know that shouldn't really impact my journey, but I'm ashamed to say it does. I feel like the possibility of becoming great is out of reach. I know that shouldn't matter to me but it doesss and I don't want it to so if you have a solution PLEASE let me know. I really like setting goals and achieving them, and sometimes I feel like I enjoy achieving goals more than the action/activity itself. Do I even like art? lol anyways,,,, and then invest in better training and mentoring once I don't have the burden that is psetting.⁠06 seriously, I can't stop fantasizing about a life where work ends at 5PM. If this is not actually the case, please don't crush my dreams:)    
Makeup 
I bought an eyeshadow palette and some brushes during my freshman IAP and used it less than ten times in the year and a half that followed that IAP. But this quarantine I decided to go all-in and get my money's worth. It became enjoyable when I let go of the expectation that every attempt had to be great. Makeup's become another art medium I like. I've made an effort to try different types of eyeshadow makeup like cut crease, smokey eye, etc. Besides that, I've struggled to determine how else to better improve in this art form. For now, I've been asking friends with more experience to judge my looks and tell me what I can improve in my next attempt. Playing with makeup has also prompted me to think deeply about what is considered beautiful and who decides that. I want to delve more into the literature of beauty and beauty standards, so if anyone reading this has book recommendations, please send them my way! 
Press-on nails 
I used to compulsively bite my nails when I was younger and stopped by some miracle. But even after that, my nails rarely grow to a decent length without breaking.⁠07 I think in my heart I know that it's a symptom of my vitamin deficiency but getting into the habit of taking vitamin supplements has proven to be a little difficult for me. I care enough to long for long nails but not enough for it to become an insecurity I want to change. So, I was ecstatic when I learned about acrylic nails which ended shortly the moment I actually got acrylics done. I spend a lot of time typing, and I couldn't get used to typing with the pads of my finger. And every time I pressed on something, the surface would push back against my nails, and that felt like my nails were going to pop off.⁠08 Also, freshman year, I accidentally closed the door on my index finger and broke my nail, and that whole incident was genuinely traumatizing, and that was all I could think about when I had acrylics on. Lastly, acrylics can kinda ruin your nails, which is partially why I think a lot of people continue getting acrylics once they've started. My nails were even weaker and more brittle than before for weeks after removing the acrylic nails.
I had started to slowly let go of my dreams of long nails until Jackie Aina released this video on press-on nails. The hope was reinvigorated! Press-on nails were perfect for me because I could put them on and take them off whenever my heart desired, which is usually only for outings, events, and anything involving pictures. Granted, this depends on the glue you use. I bought nail glue, and I cannot emphasize enough how strong nail glue is. I accidentally got a few drops on my skin when I was trying to open the bottle, and I genuinely thought I had to peel my skin in order to get the glue off. I have burnt myself with hot glue many times, and that was nothing compared to the few drops of nail glue. Needless to say, I did not use the nail glue and instead bought these adhesive tabs/stickers. They weren't as strong/sticky as I'd hoped, but at least they were temporary, didn't ruin my nails, and could last a few hours, which is really all I needed. 
Bangs
I cut my own bangs at the beginning of my sophomore year and kept them at a consistent length. But once we were all sent home, I pinned my bangs back, and by the time I let them down, they had grown past my eyebrows (left pic). Since I knew I was staying home for the summer, I decided to cut them shorter than usual to see what they'd look like (right pic). If it looked weird, I knew I had the summer to grow it out, though I think it actually turned out fine. I'm glad I tested out the two lengths because now I'm just going to cut my bangs to the shorter length and let them grow out to the long one and continue the cycle.