The first time I ever stepped on a skateboard was in 2015, which was also the year that Marty McFly time-traveled to from 1985 in Back to the Future Part II. I was in seventh grade. It was a week before Halloween, and I had just finished my McFly costume with a cheap skateboard from the local sports store. It was supposed to be a prop.
I was subscribed to every nerd club at my school, but I was still a stupid teen. Don't be a poser, my 13-year-old brain said. Ride that skateboard around on Halloween like a champ and be the coolest kid in the neighborhood.
Two hours later, I came back home with a cast around my left arm. I didn't consider getting on a skateboard again for the next six years.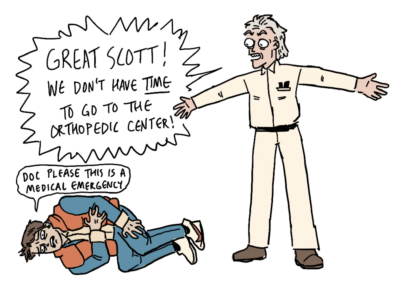 It wasn't until a few weeks ago that it caught my interest again, when I realized that I told all of my friends that this was going to be the summer that I was going to pick up a new hobby. I haven't started that goal, and I was getting really bored.
Besides, I wanted a faster way to get around campus. I ran through several options and settled on learning how to skateboard.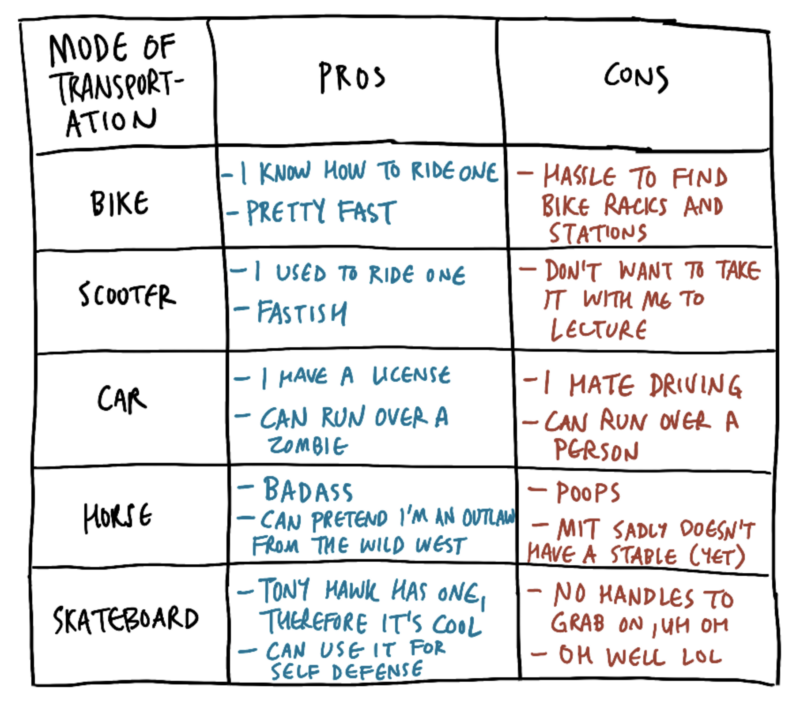 Getting the board
After asking some friends in the Class of '25 Discord server for recommendations, I headed over to Orchard Skateshop. I told the guy at the counter that I want to learn how to skateboard and if he could help me get a board for cruising around Cambridge and Boston instead of doing tricks.
He got excited at the prospect of a fresh new skater and led through the process of picking out the different parts for my skateboard. Let me tell you, I really underestimated what skateboarding entails. Like, I had no idea that skateboards could actually bend from side to side, or that the size of the wheels actually mattered.
Getting on the board
Before I get into the rest of the post, I need to emphasize this: bending the knees made the process a lot easier than it could've been. Seriously.⁠01 You see this in some other sports, too. Taekwondo sparring, tennis, volleyball—in all three sports, our coaches kept telling us to bend our knees for the same reasons. It lowers your center of gravity, which increases your stability and also makes falling a little safer, since you're closer to the ground.
I got a safety-certified helmet approved for skateboarding, wrist guards, elbow pads, and knee pads. I already had a pair of flat-soled shoes that I could use for riding without worrying about it getting scuffed up by griptape.
Actually getting myself to step on the board was a physical and mental struggle. Rationally, you know that the board is going to move when you step on it because the laws of physics exist. Underneath the depths of rational thought, though, lurks a primal instinct that strongly prefers not to be on a hazardous rolling strip of wood. That's what you gotta overcome.
I put my board on the grass first so it wouldn't slide back and forth while I got used to the footing. From there I figured out my stance was regular-footed. That's good, because then I didn't have to decide which foot I wanted to push off with.
Second milestone was getting onto the board on concrete ground while holding onto support. I used this brick wall that runs along the sidewalk behind Baker House and Kappa Alpha Theta, and it works really well because there's these bricks that jut out of the surface every so often that I could use as grips.
Was it scary? Very. My primal instincts were pretty much screaming at me to get off the board every time it inched forward.
After thirty-something tries, something clicked⁠02 Specifically, I figured out where to place my right foot towards the back of the board so that it would stabilize and not move any further. and I stopped freaking out. Before I knew it, I'm in front of the Samuel Tak Lee balancing on the board without any support at all. I bet Sam would be proud.
Riding the board
Now the fun part! This was pretty much learning how to shift my front foot whenever I wanted to give my board a push. I knew how to balance on a stationary board, but now I had to balance on a moving board.
It took a while to get used to it. Pivoting my front foot on the board every time I wanted to shift between riding and pushing was nerve-racking, as well as getting my back foot on the board and re-establishing my balance while the board's in motion. I've said it already and I'll say it again, but bending the knees really, really helped.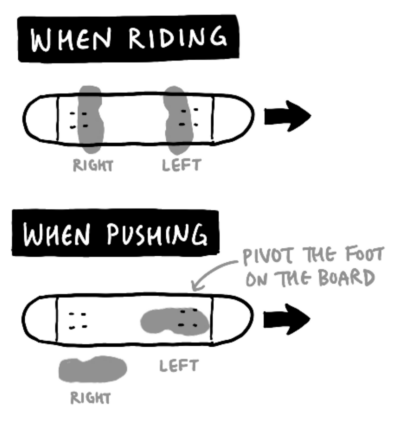 Cambridge Common was where I got more comfortable with riding on the board for extended periods of time. It's a great place to practice if you're starting out. There's a lot of space, the paths are flat and straight (which was great because I didn't know how to steer), and there's grass flanking either side of the paths if you need a soft place to fall.
I spent three afternoons there⁠03 I also skateboarded in Harvard Yard a ton because I liked the paths there, but I don't...know if I was allowed to? getting more comfortable with pushing and balancing on the board. I fell once while I tried to cruise and swore out loud in front of a family with two kids, but other than that it went pretty well. I spent some time picking up speed along the flatter paths before rolling down the more sloped ones so I could practice keeping my balance.
The best thing about skateboarding probably is that anywhere (that isn't explicitly prohibiting skateboarding) can turn into a riding spot. It doesn't matter how pretty or fancy a place is; as long as it's relatively smooth ground, it works. The world's your playground.
You see this in some other sports, too. Taekwondo sparring, tennis, volleyball—in all three sports, our coaches kept telling us to bend our knees for the same reasons.⁠

back to text

↑
Specifically, I figured out where to place my right foot towards the back of the board so that it would stabilize and not move any further.⁠

back to text

↑
I also skateboarded in Harvard Yard a ton because I liked the paths there, but I don't...know if I was allowed to?⁠

back to text

↑