If you go visit www.mit.edu right now, you'll see this has been set at the homepage Spotlight as of Friday and continuing through the weekend.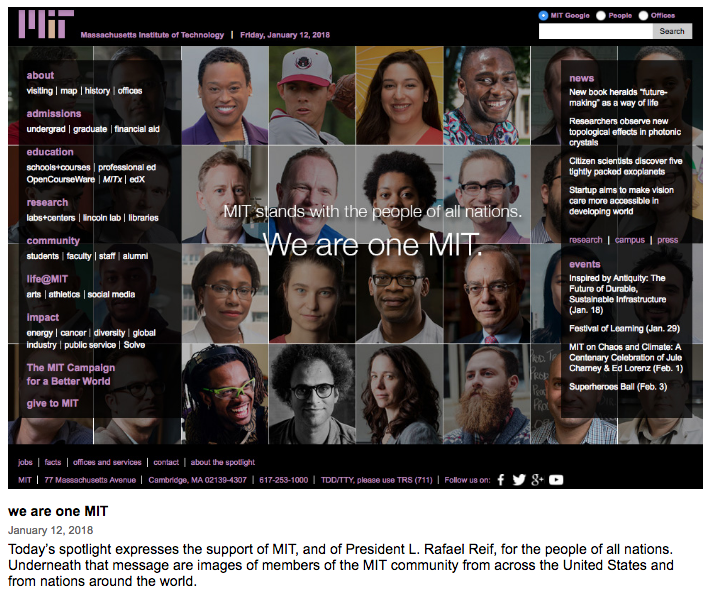 The purpose of this homepage is to reaffirm MIT's support for international students, whatever country they call home, no matter what "some people are saying."
It also reminded me of Yuliya's blog post on the early history of international students at MIT, particularly the introduction:
MIT accepted its first international student in 1866, only one year after its first classes were held in a storage warehouse. By 1895, 39 from a total of 984 students were international. Three times more students came from Turkey than from Texas.
In 1909, President Maclaurin began his tenure at MIT with a vision to build a more diverse and inclusive Institute and "build a better understanding between countries." Through his efforts, the number of international students doubled in just ten years. 1 in 15 students at MIT came from a foreign country, possibly the highest proportion of international students in a U.S. institution.
In a 1917 Boston Daily Globe article, the President of the Latin-American Club at MIT stated that "Every Latin-American student at the Tech is just another link between North and South America. … If North and South America stand together they can insure the future peace of the world." To achieve this ideal, MIT provided admissions pamphlets in Spanish and Chinese, and President Maclaurin traveled the world to recruit foreign students.
Current MIT undergraduates come to MIT from more than 120 countries, and we're happy to have them all. The MIT homepage has been reminding people of that all day, and I wanted to take some time away from reading applications to remind everyone on our homepage the same thing.