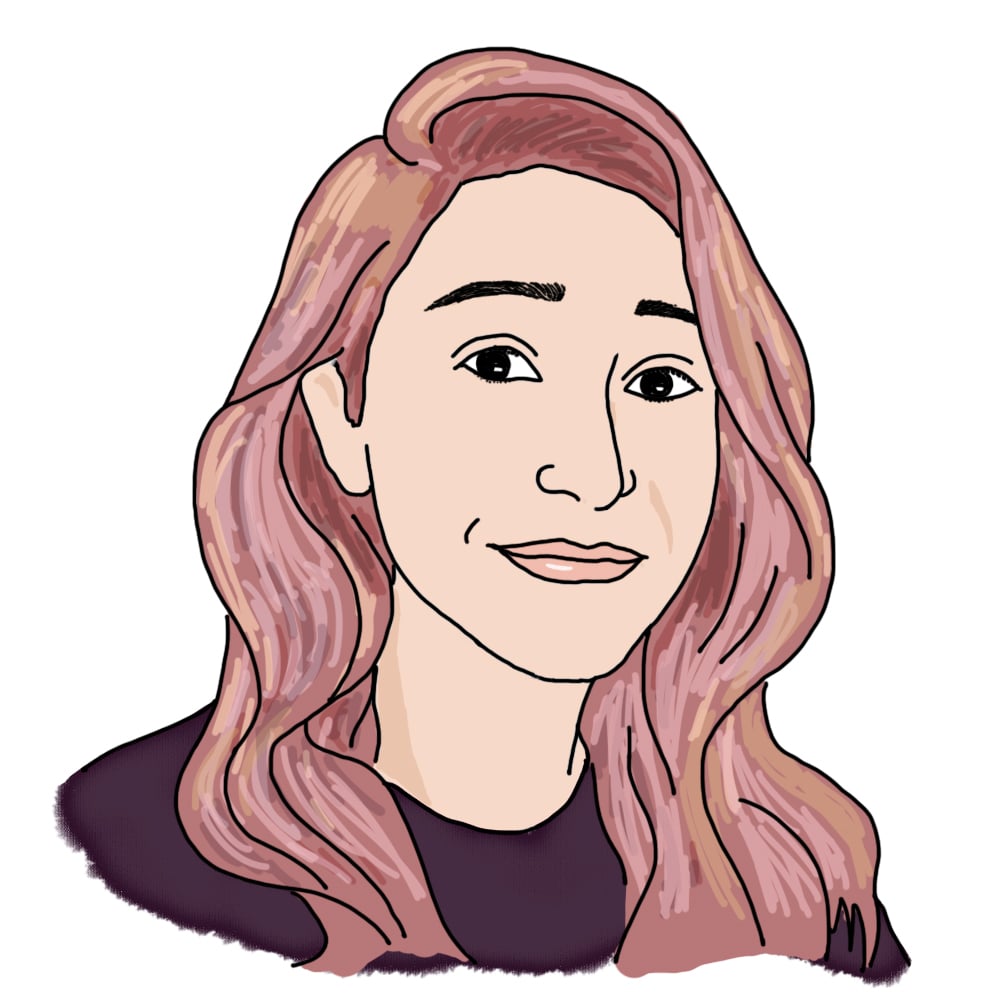 The Boston Festival of Indie Games

by Ceri R. '16
In which I geek out on campus with a bunch of gamers
Boston Festival of Indie Games! The 2nd annual convention hosted here in Boston to celebrate gaming, and it is completely free to the public.
(But actually it was awesome, and much like a baby-PAX – a video game conference started in Seattle that now has a Boston branch. I went last year and plan on going this year. It's freaking awesome.)
I woke up at around 10am, got my pass and a guidebook around 10:45, and headed over to 10-250 for the keynote. The lanyard has The Behemoth logo on it—the company that created one of my favorite arcade games, Castle Crashers.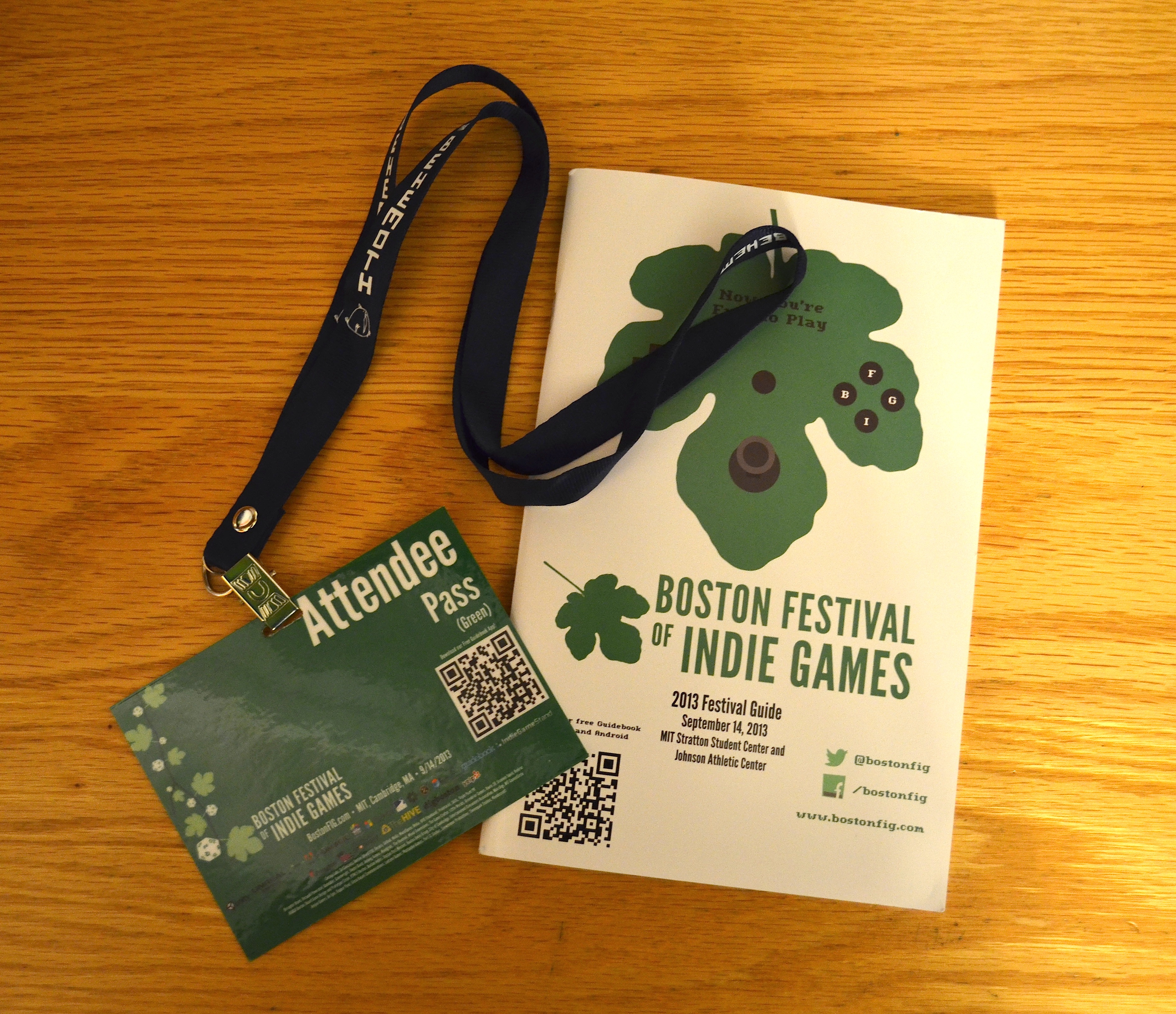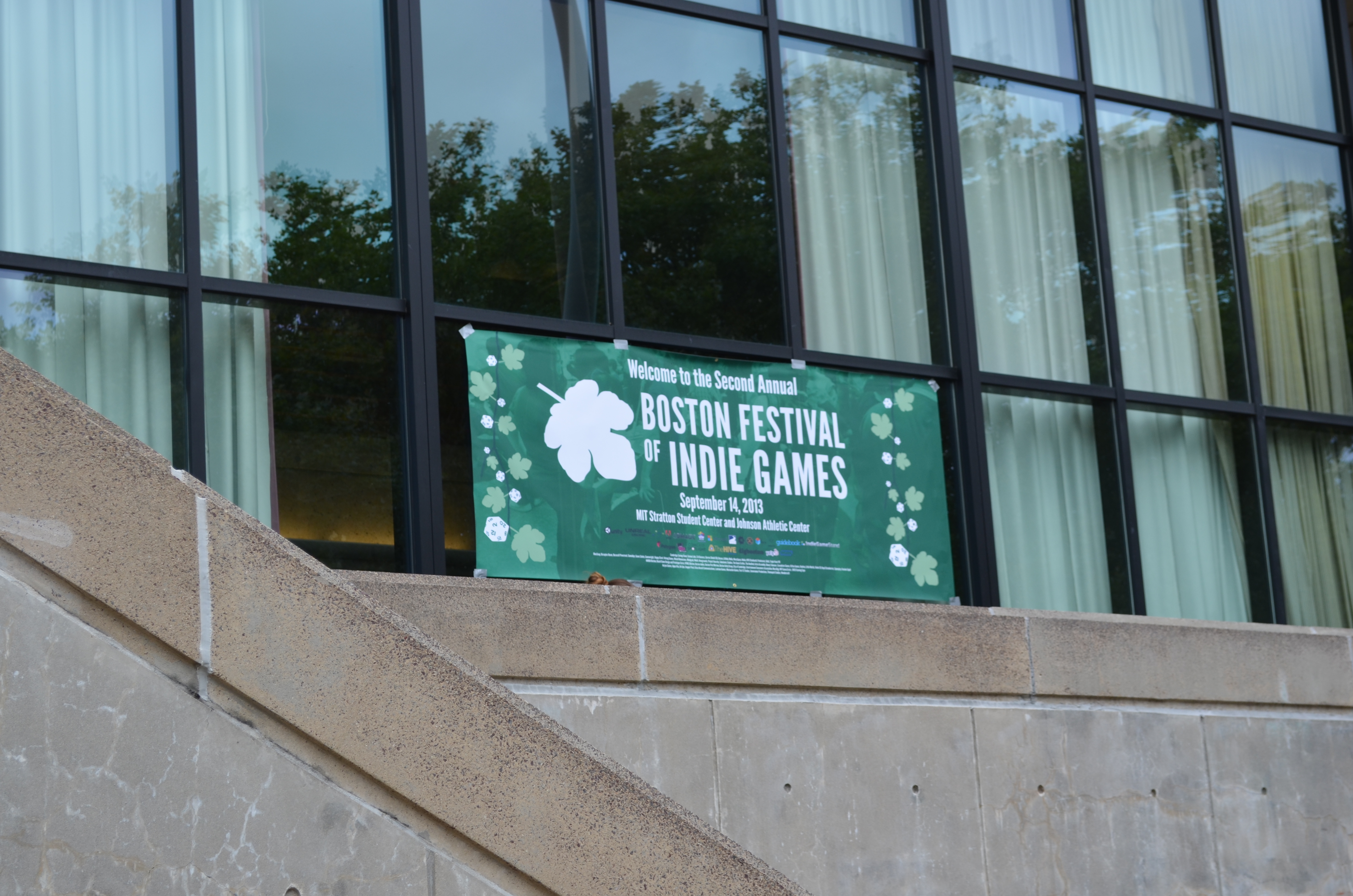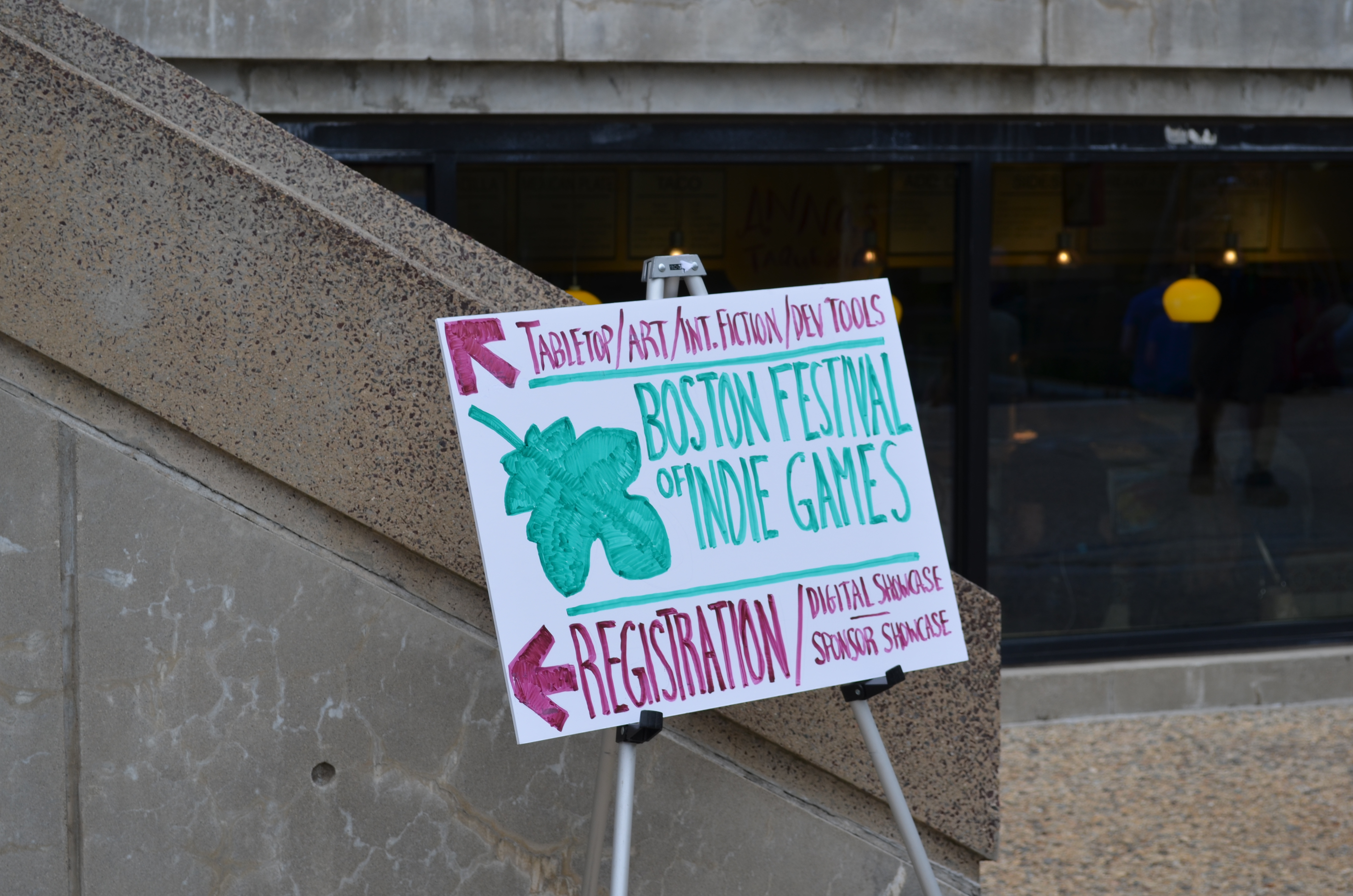 The Videri String Quartet, a local group, played music from the games Dear Esther and Journey. Live video game music is one of my favorite things. (Also kind of humorous how the remnants of an 18.02 lecture are on the chalkboard.)
The keynote speaker was Robin Hunike, the designer and executive producer of the game Journey. Her talk reminded me how much meaning I derive from video games, and made me question whether I should abandon the biological sciences and devote my time to animation or drawing concept art.
Yeah… I guess I get inspired pretty intensely by media.
But how can you not with promos like this?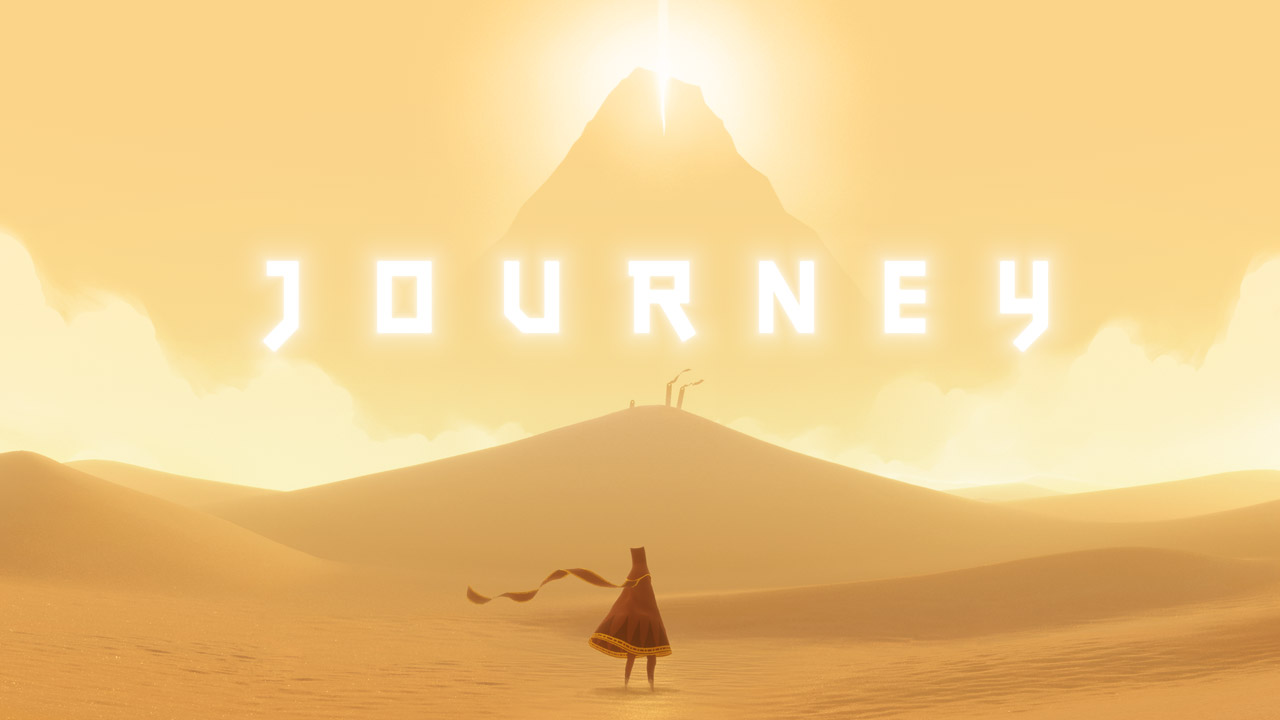 She discussed the rise of independent games as a product of wanting to make something you're proud of and being totally in control of that process. All great games come from a feeling inside a person, something beyond just finding a niche market or putting previously successful ideas together.
And she went on to advise how every developer ought to:
Concept their idea like crazy—in notebooks, artwork, etc.
Test on family and friends and real gamers and accept honest feedback, rather than being insanely protective of the project
Throw some stuff away, even though we live in a culture that emphasizes saving things beyond
Prototype and repeat the testing/tossing process, all whilst staying true to the original feeling that inspired you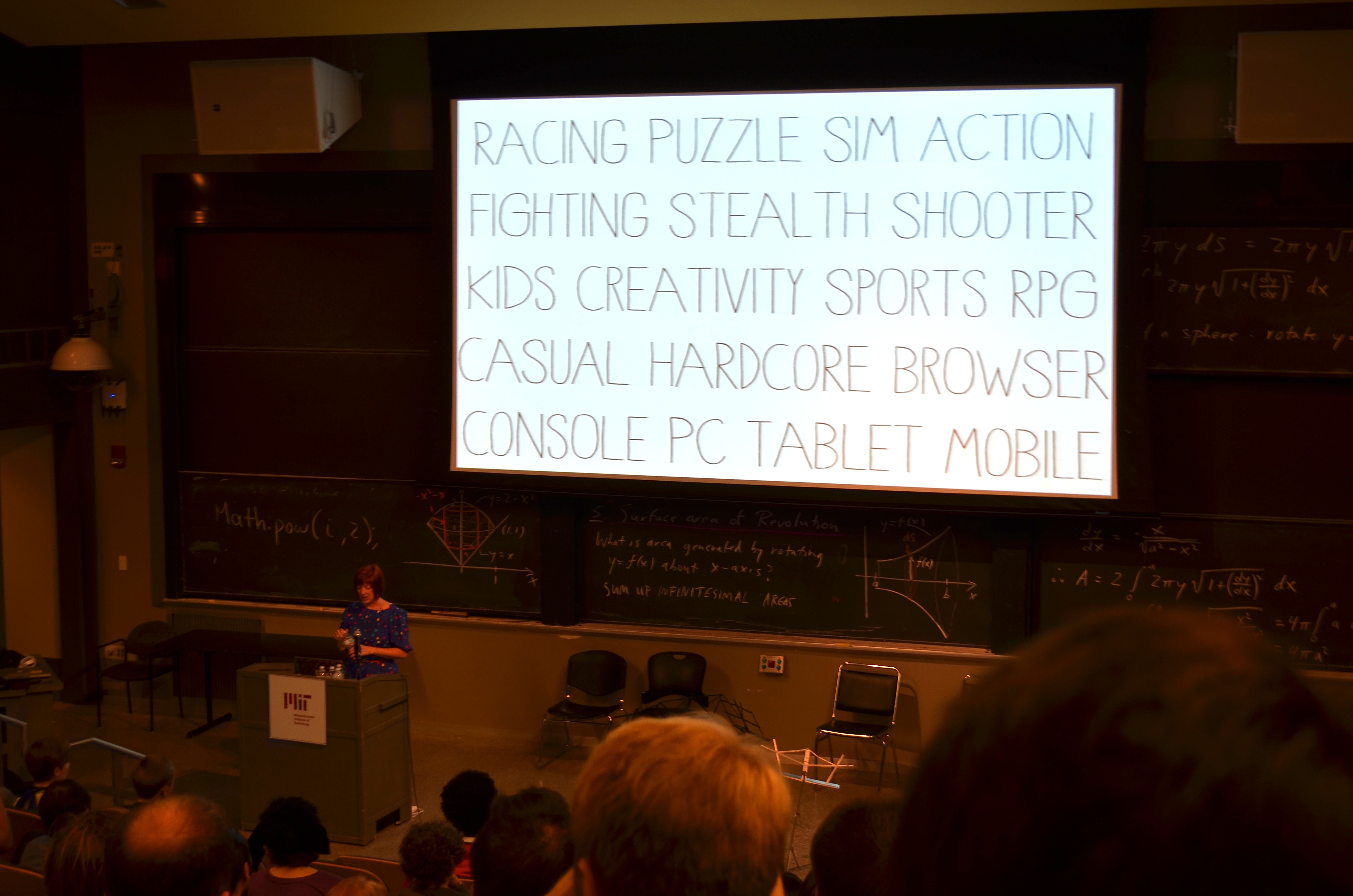 After being filled with warm fuzzy creative feels, I met up with my friends Jamal E. '13 and Dalton H. '13 and wandered both the digital and tabletop expo floors. Both rooms were a montage of indie gaming goodness, with a mixture of students, independent designers, and small companies exhibiting.
The digital expo floor included all console, PC, and android/iPhone games, as well as other independent gaming platforms. I think this may be my favorite transformation of the Johnson ice rink so far.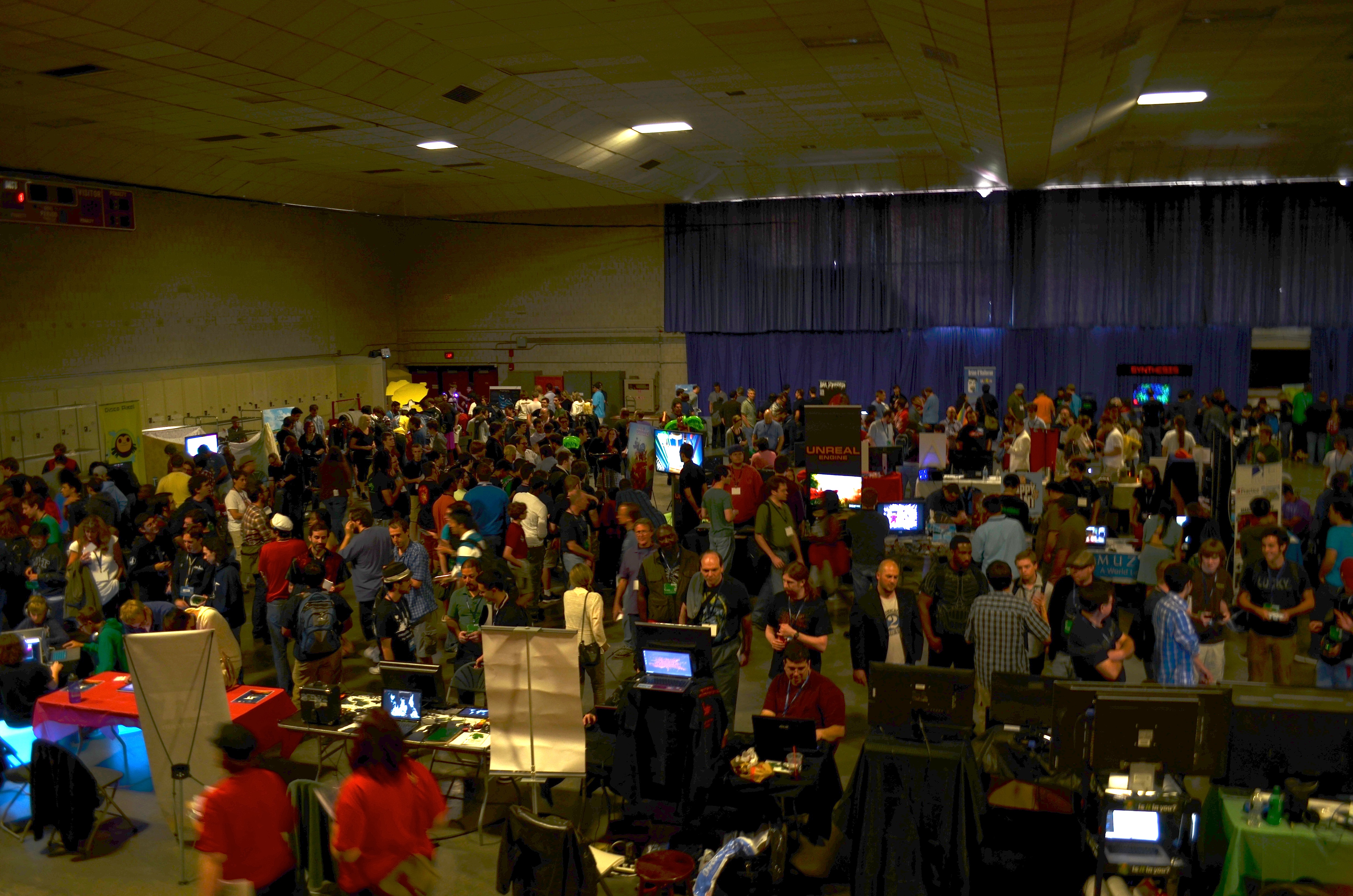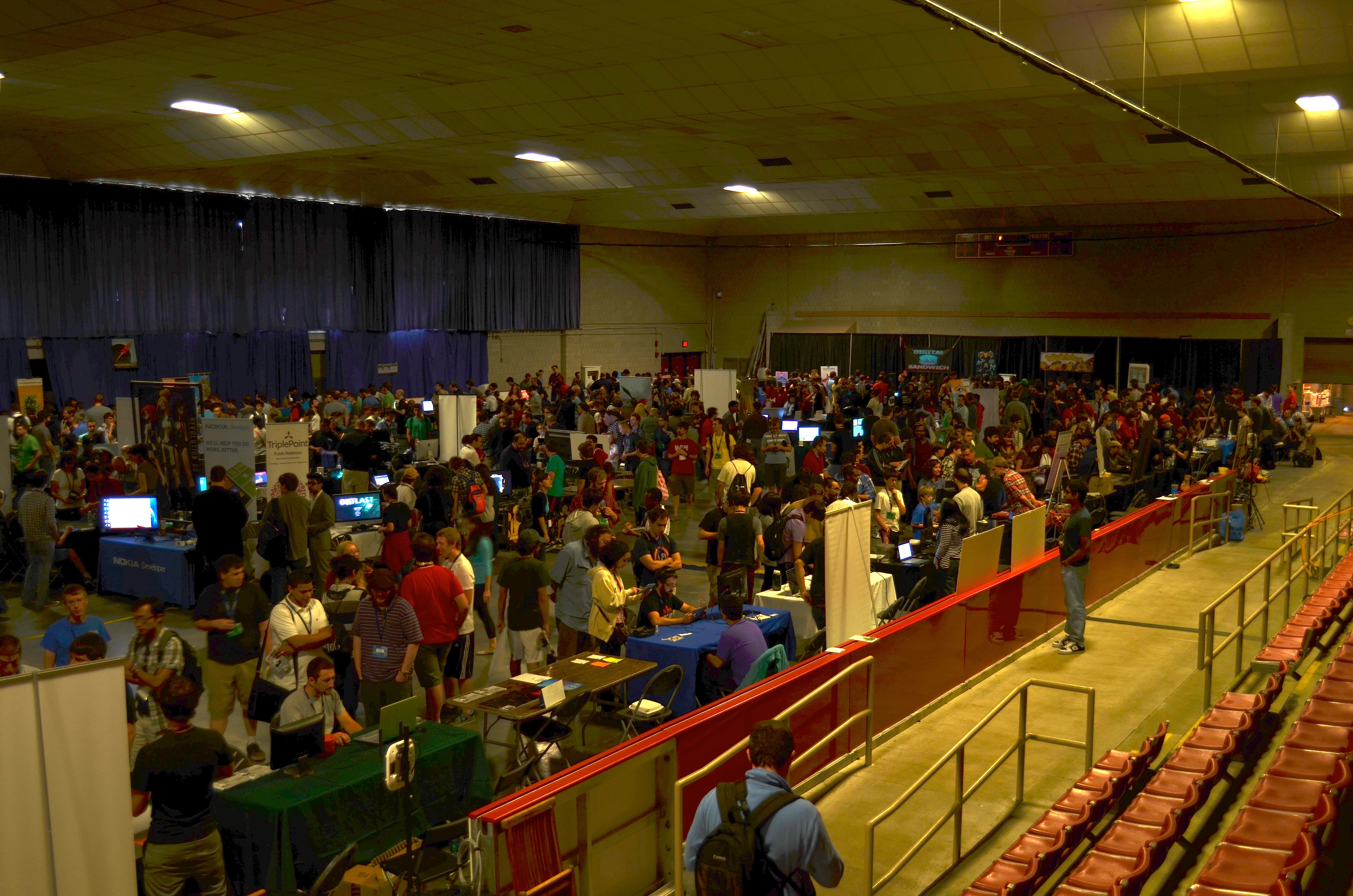 And now, for a montage of games:
Tiny Brains, a co-op puzzle game being released for PS4 and Steam. You play as small mice trying to escape a lab and defeat little mutant chicken enemies—super fun.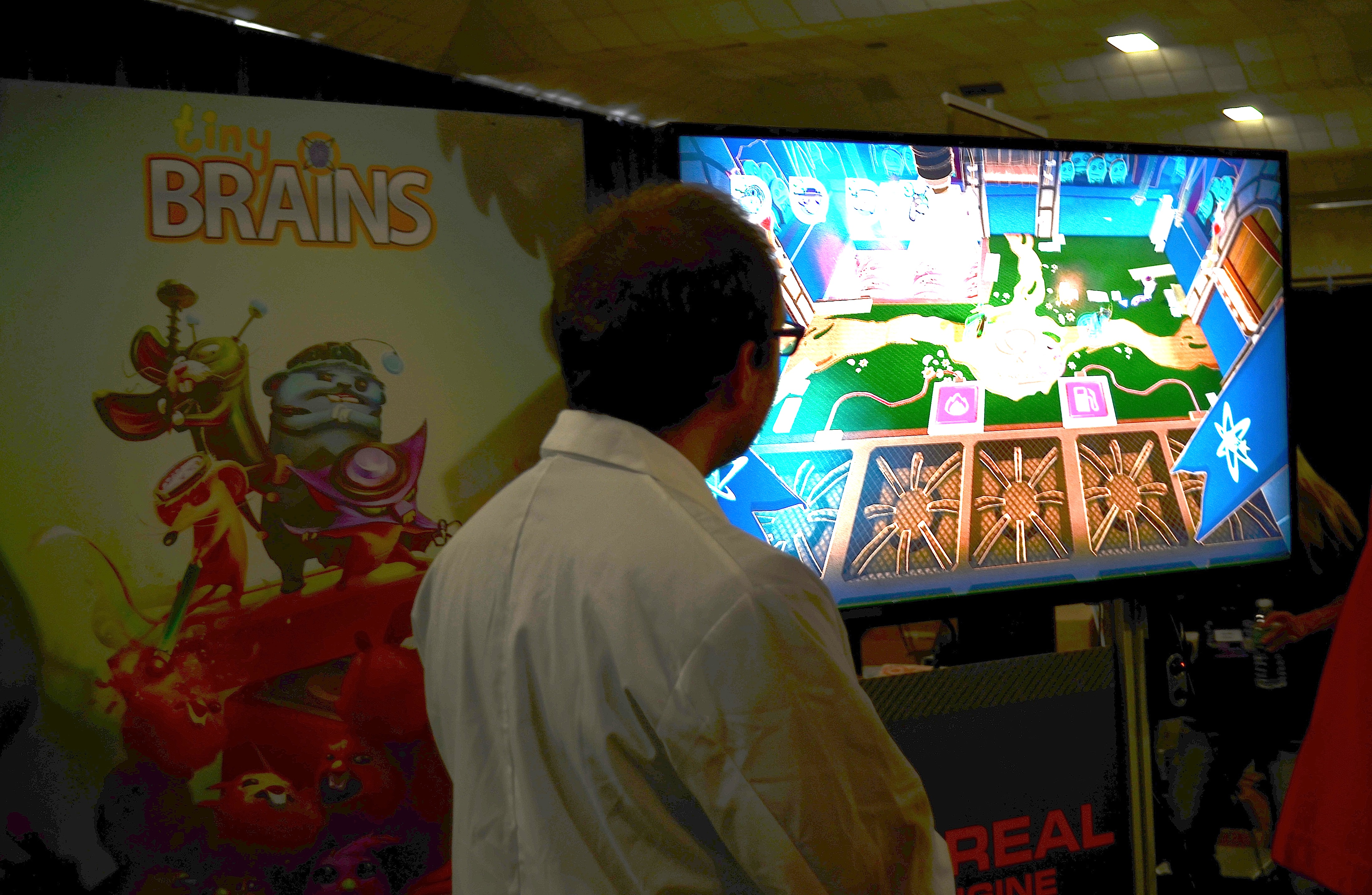 Dalton playing with Sifteo Cubes, a new type of touch-screen gaming that allows you to play pattern/memory-based competition games with other people.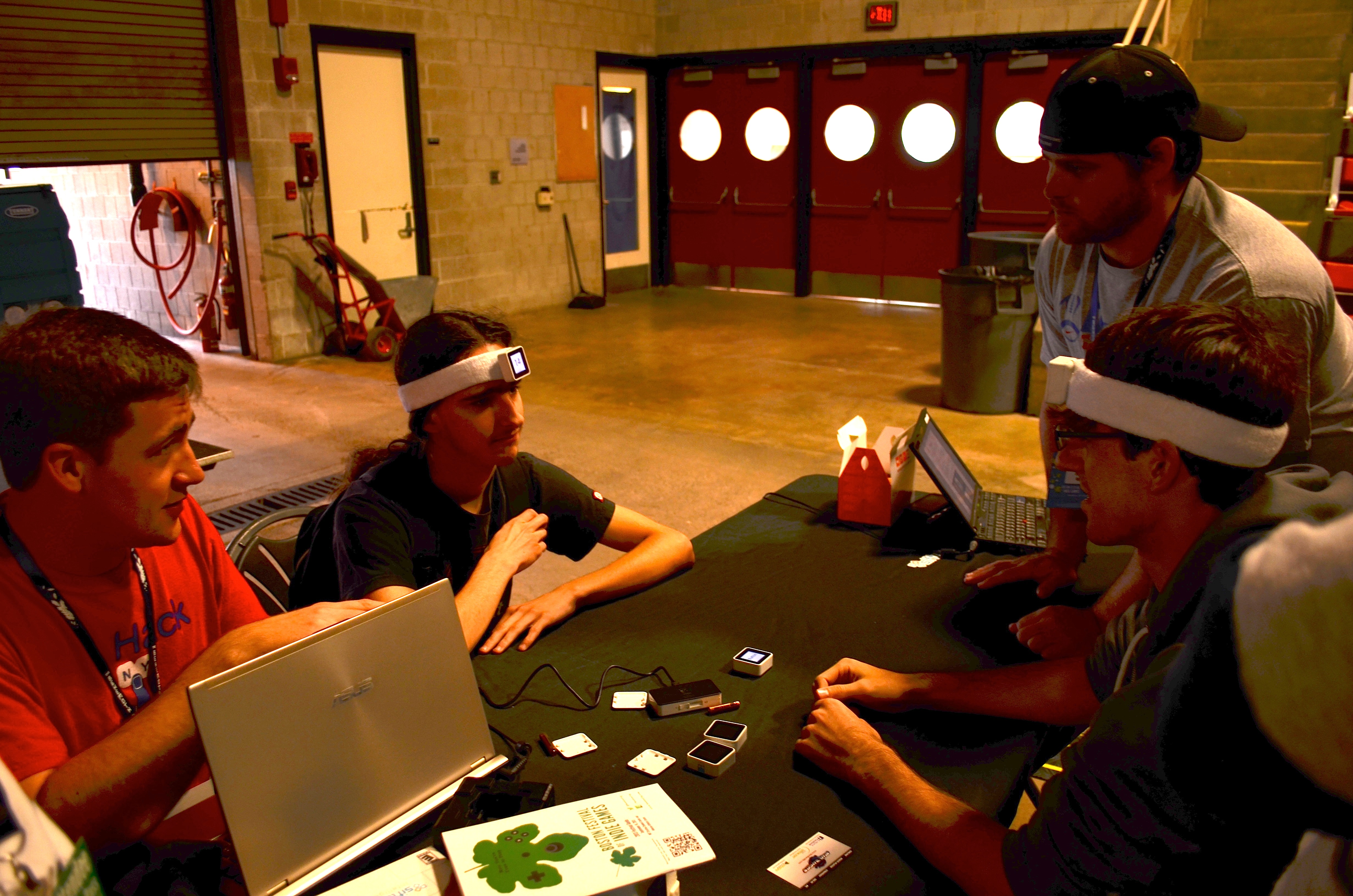 Dalton and Jamal puzzling through Color Zen, an android/iPhone game where you match colors in a specific order to clear levels. It's really easy to play one level or twenty, and very low pressure.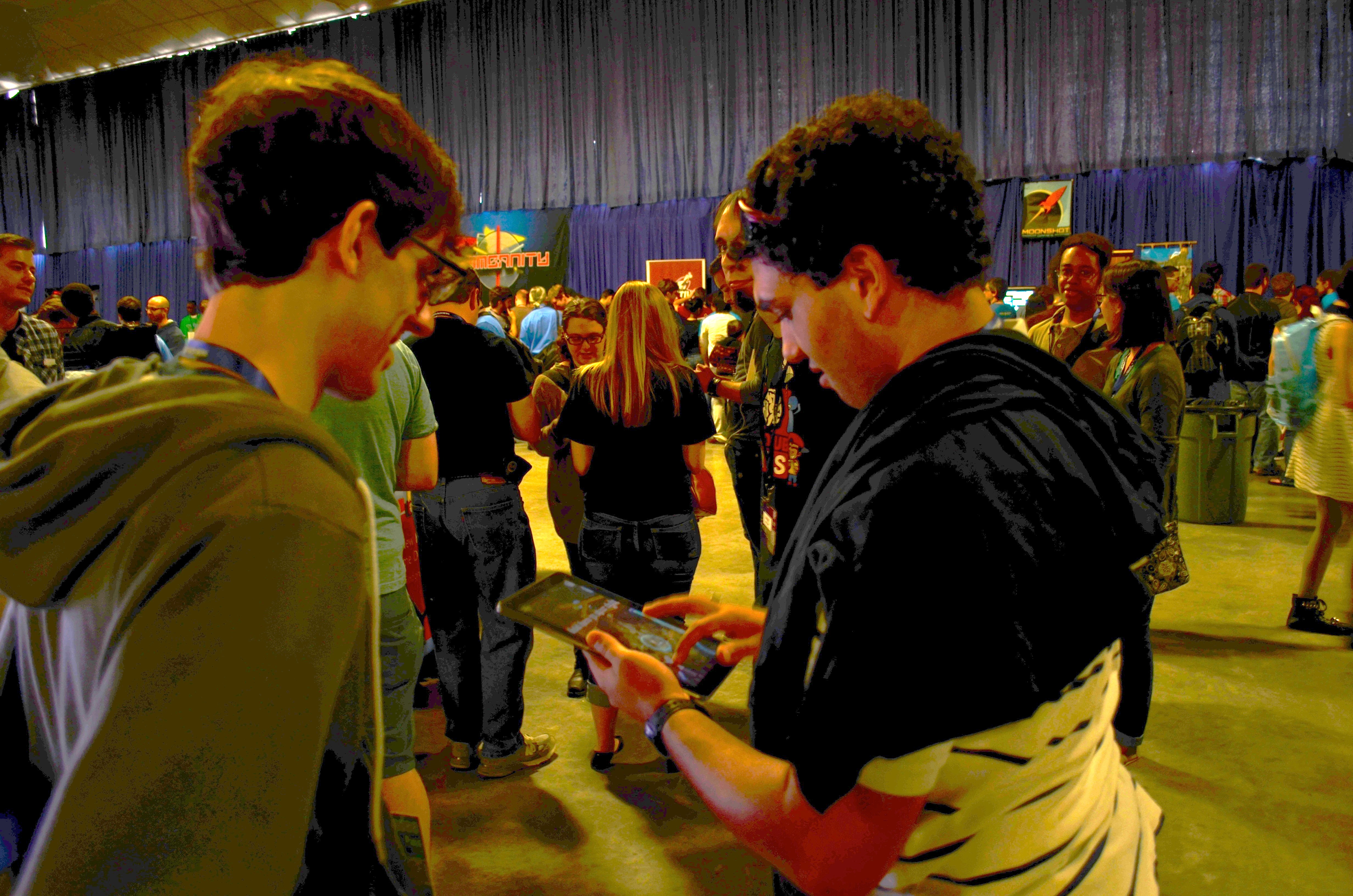 And then, here's the tabletop expo floor, on the 2nd floor of the student center. This includes board games, card games, and possibly some RPGs—basically anything that doesn't involve a screen.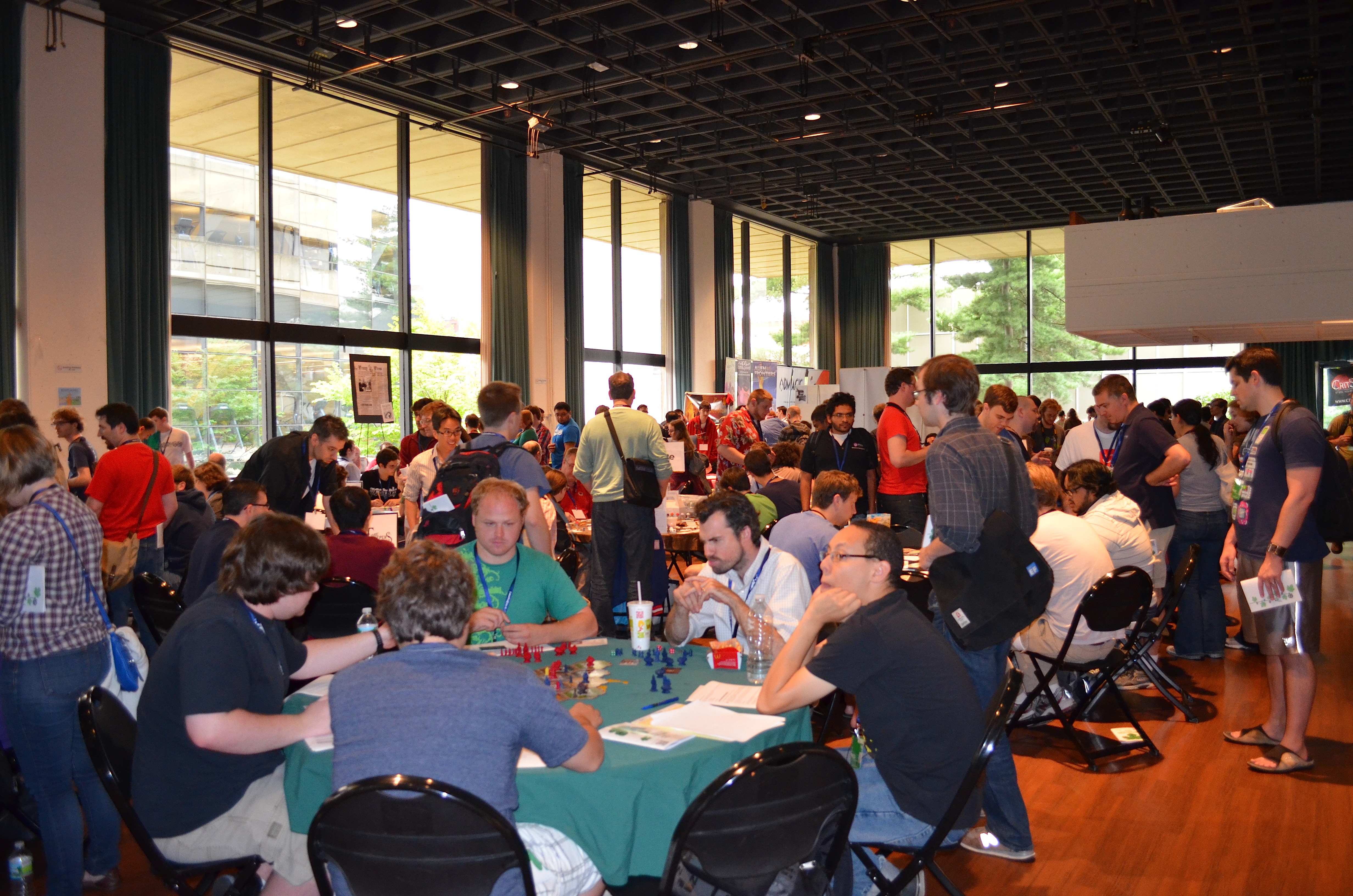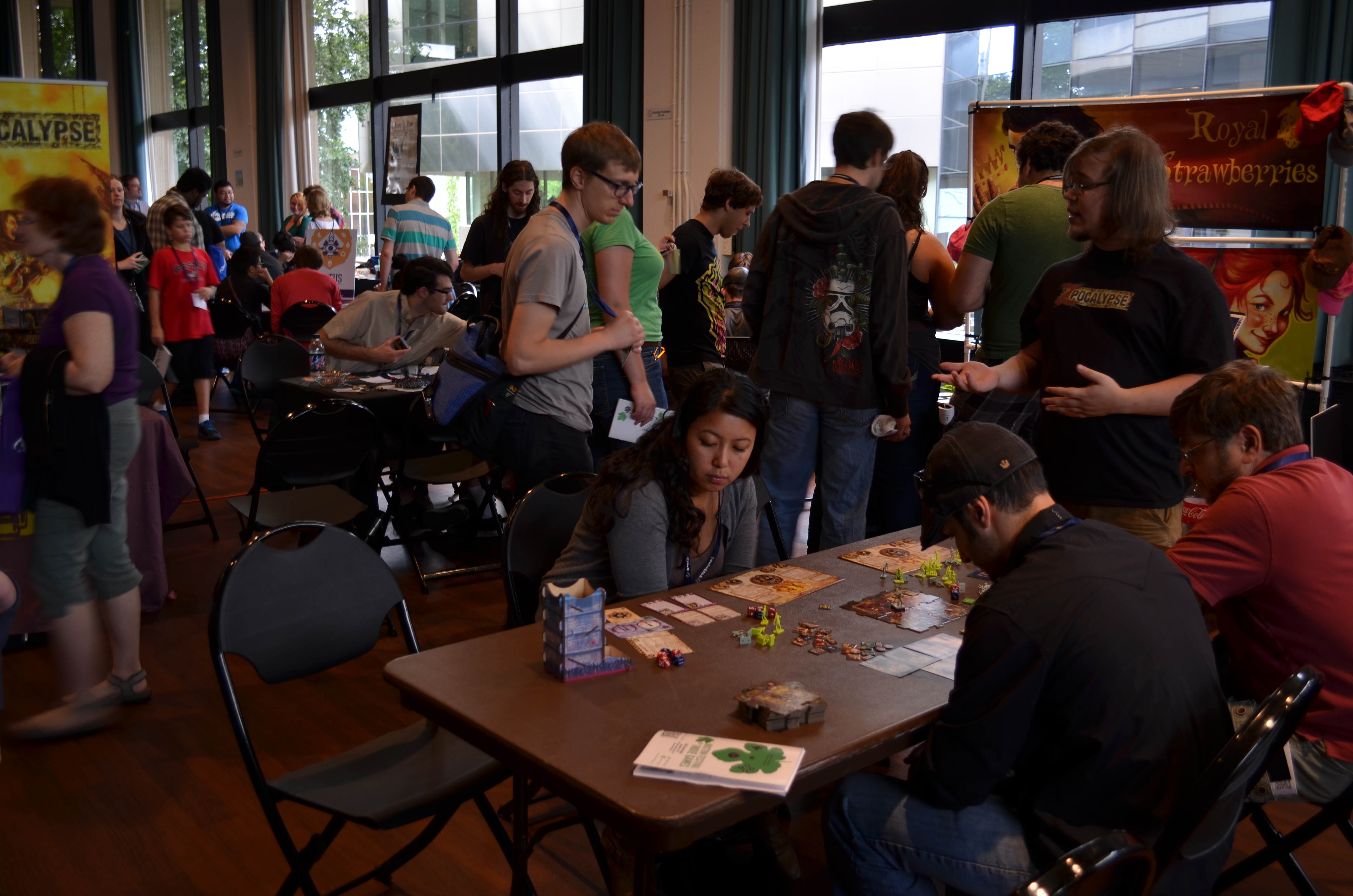 Ice cubris! It's like Tetris/reverse-jenga but with ice cubes. Kinda messy, but it looks easy to set up anywhere.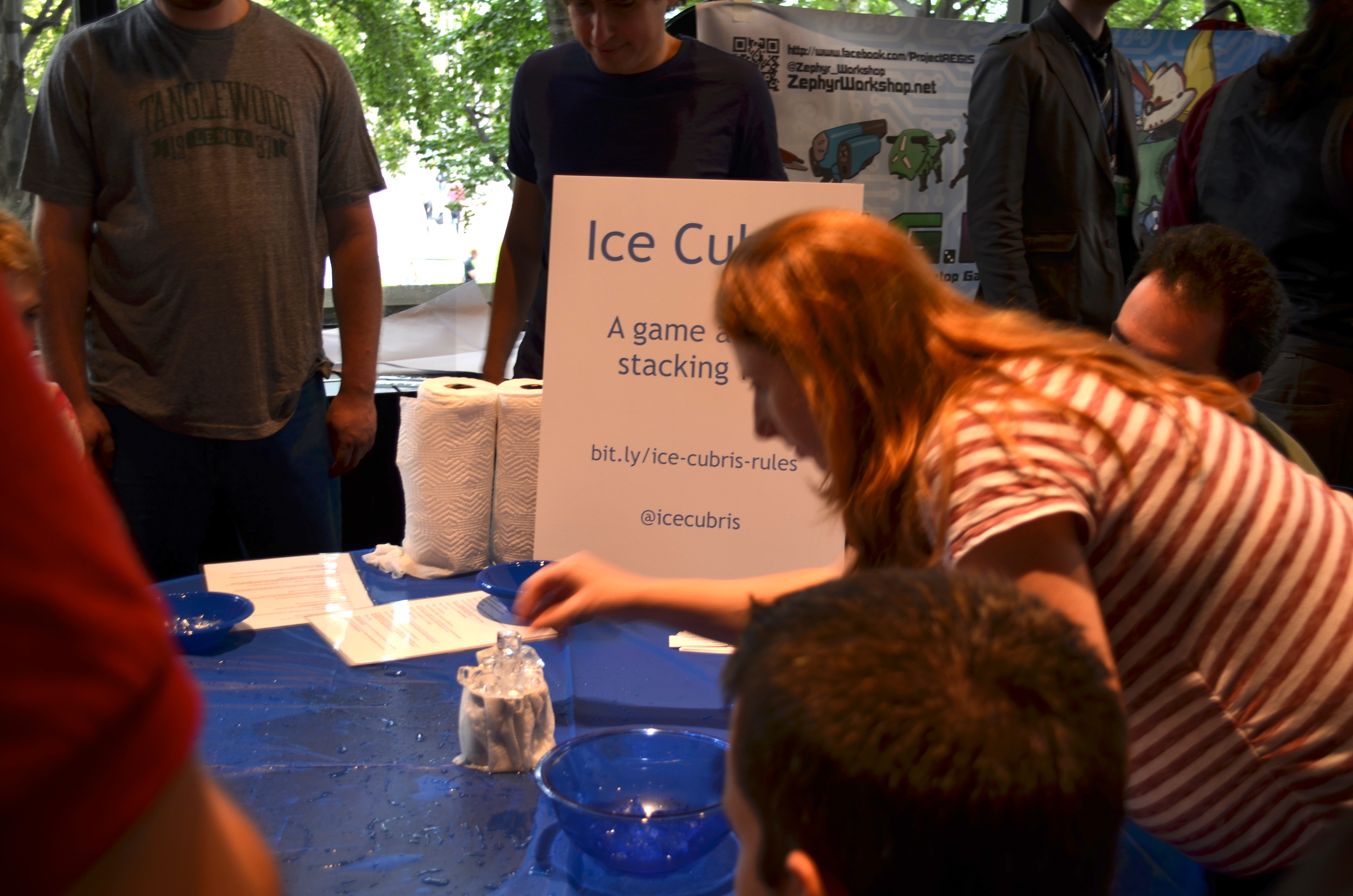 Time Keepers, a board game in which you're trying to restore major events to their proper locations in the timestream. (Side note: I really enjoy the happy expressions of all these people; where learning to play a new game is an incredibly positive experience no matter what your background is. I'm a true proponent of the idea that gaming brings people together. Cheesiness over.)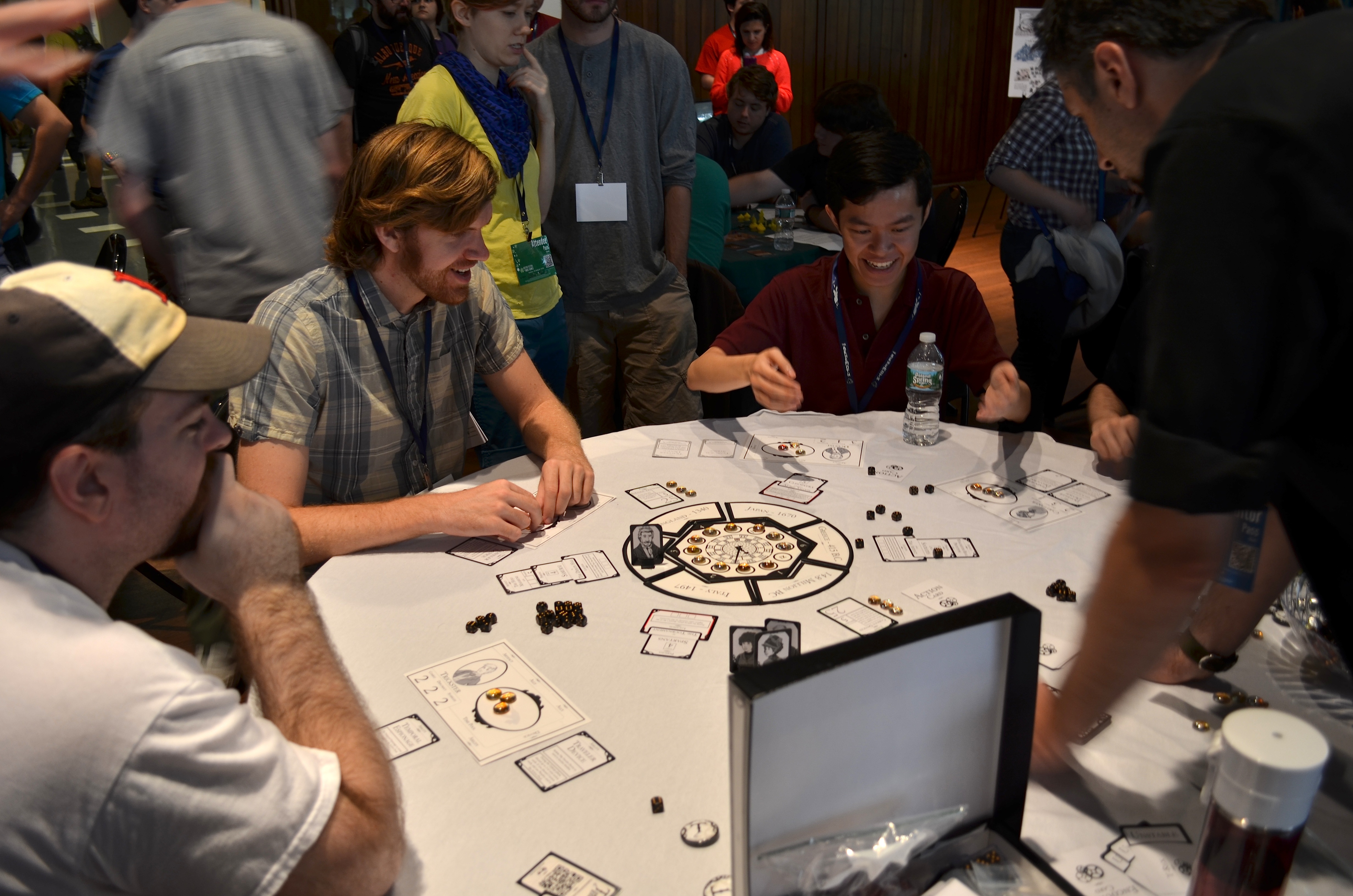 And to finish off my day, I headed back to 10-250 to listen to Ethan Gilsdorf, the author of Fantasy Freaks and Gaming Geeks, and Brian O'Halloran, an actor most prominently known as Dante in the Clerks movies who is also a gamer, talk about how Dungeons and Dragons changed their lives.
It was a pretty lighthearted talk, both of them emphasizing the fact that D&D helped them find nerdy friends instead of being outcasts in middle/high school, fostered creativity through character development, world building, and story creation, and held such gravitas during their young-adulthood but now has an uncertain future due to the advances in technology.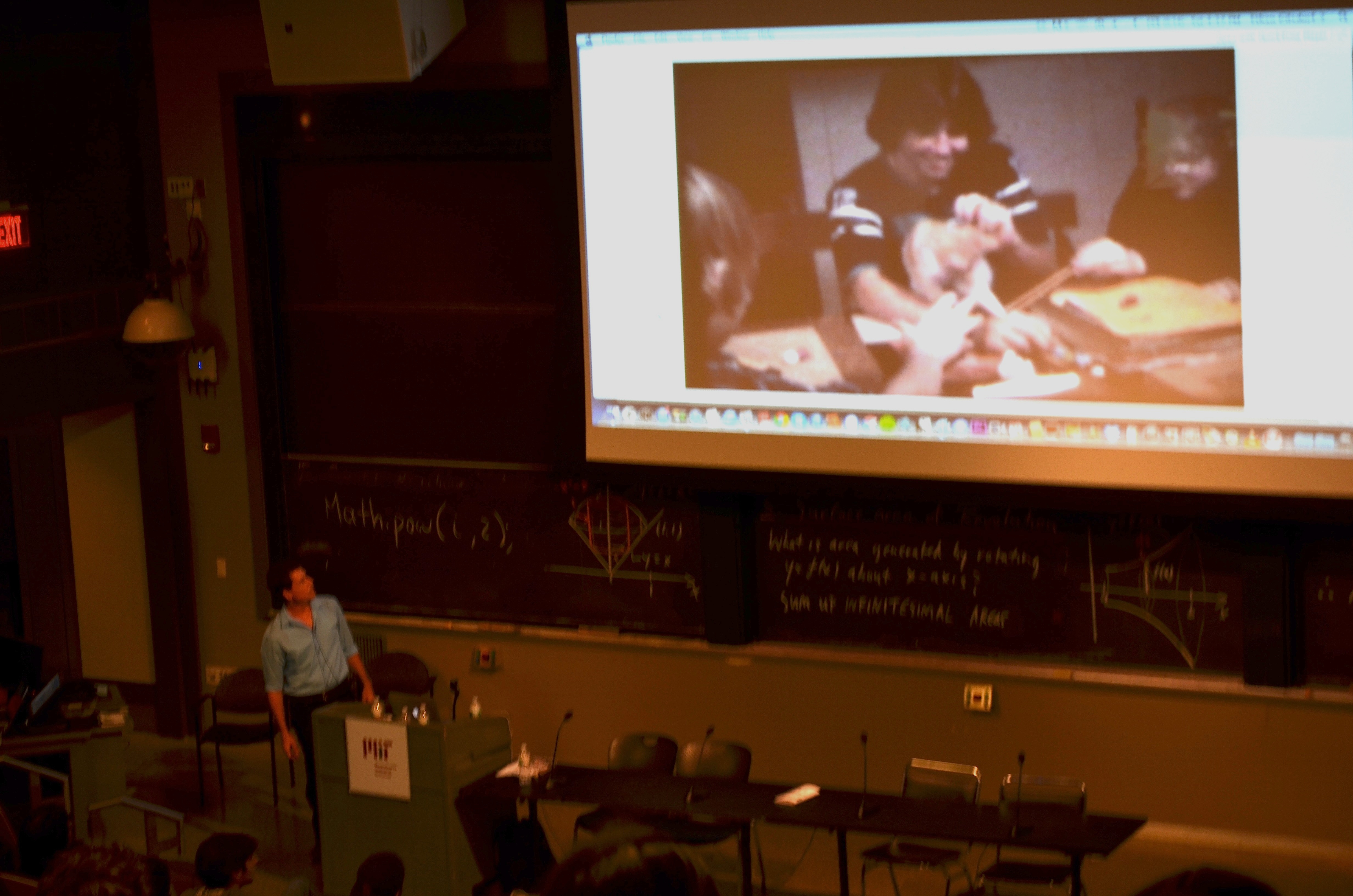 Ethan Gilsdorf showed a Super 8 film that he shot of him and his friends playing D&D in 1981. Very cool and kinda surreal for me, because it was actual footage of a scene that my dad had described to me so many times—of him and his friends just goofing off in a basement and gaming.
And one of the most random coincidences was that Brian O'Halloran actually gamed with the current MIT professor Junot Diaz back in high school, and, in fact, played story modules that he wrote.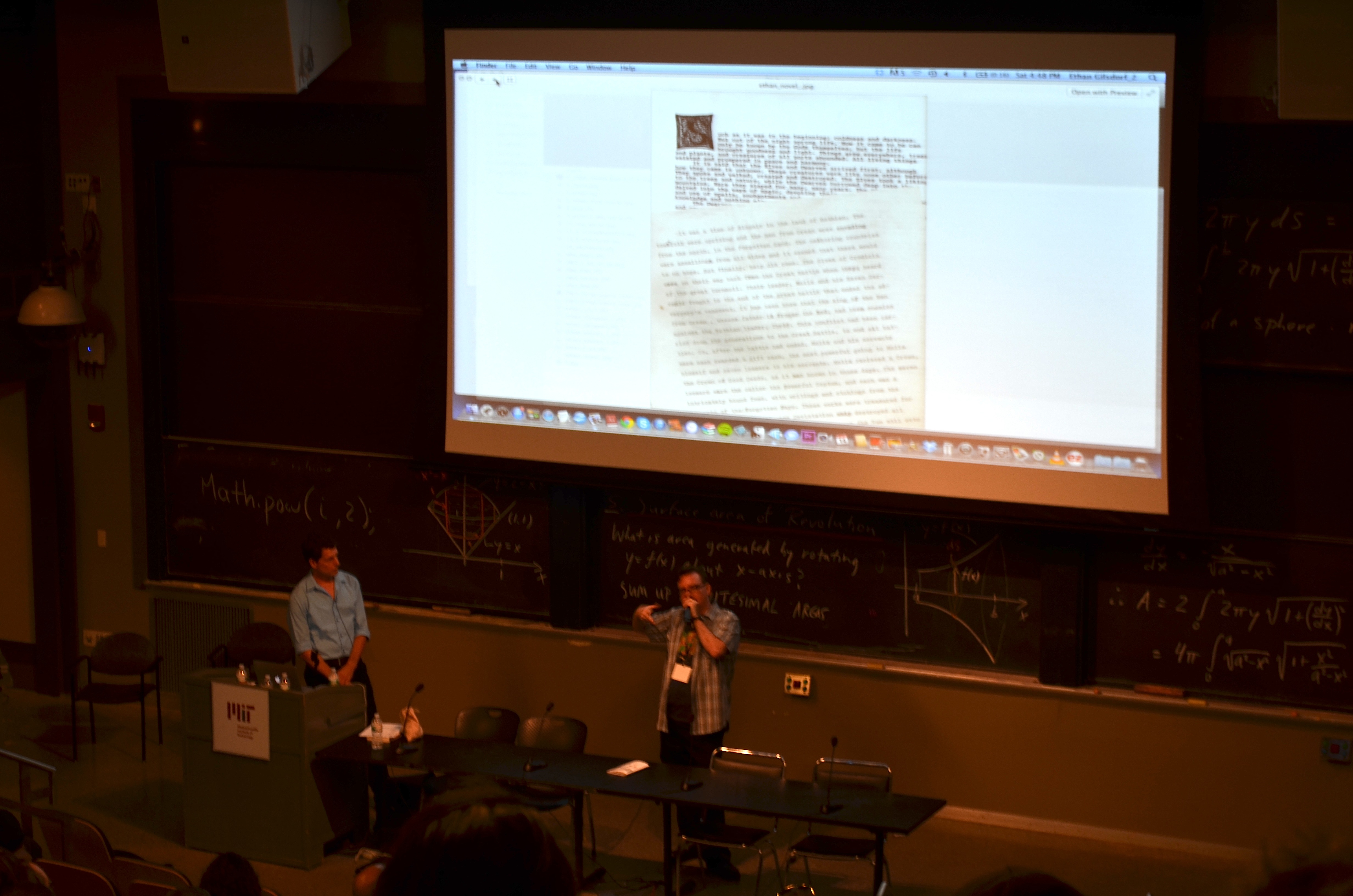 If you even have a mild interest in video games, tabletop, or gaming culture, and are in the Boston area, definitely check this convention out. At the very least to experience an environment where so many people who are passionate about something dorky gather together to just celebrate it and collaborate.
And, if you want more information about people playing video games or tabletop, try checking out some of these YouTube channels: HankGames, Tabletop (by Geek and Sundry), Team Hypercube, or TheRunawayGuys.