A brief happy post amidst the chaos and confusion of existence:
Hi everyone, I just wanted to come in with some quick updates about what's been going on with me and my life.
For those of you who don't know, I just moved all the way across the country, from Southern California to the DC area, to live with my five friends. We moved not for any job opportunities specifically in DC, but more for a dedicated living space away from our households that may not be the best for studying and working.
We were originally supposed to move to my uncle's house upon arrival on the 13th, but in a funny sitcom-like manner, his house ended up flooding that Sunday before we arrived.
As a result, we arranged to stay in two hotels, as his insurance wouldn't arrange a hotel room for us until that Wednesday, the 17th.
Day 0 – 6/13:
I woke up at 5:00, threw on some clothes, and headed to LAX, mask on and bags packed. My mom and grandma accompanied me to the airport, along with my dog, Snickers.
At this point, I was pretty emotional, although I didn't show it as much. In the weeks before I left for DC, I started to doubt whether or not I actually wanted to leave. My grandparents are pretty old. My dog is old. My mom recently quit her job. This summer would've been the perfect time to bond with all of my family members and spend time with them, as this summer would probably be the only "free" summer I had since everything was remote.
Regardless, though, I ultimately decided that working in the same house as my friends, who were also working throughout the summer, would be the best decision. Also, it would force me to grow up and seek out that independence I had just barely gotten a taste of in my freshmen year.
Mariia was already waiting for me inside the airport with her boyfriend and his mom. It was absolutely surreal to see my friends since I hadn't seen them in person since March. As we waited for Emma, I checked in my bags and caught up with Mariia.
Soon, Emma arrived with her mom and dad, and we snapped some pictures before heading through security and into the shiny gates of LAX.
We bought Starbucks before heading to our gate and caught up on everything that we had missed in these past three months. Immediately, all of those doubts I had in those past weeks disappeared with each word exchanged. I forgot how much I missed talking and interacting with people who were non-family members.
We had a quick two hour flight to Seattle before flying to DC. I started reading Little Fires Everywhere by Celeste Ng. I'm only about a third of the way through, but it's the first book in a while that I've been captivated by. I've realized that I don't really care about the plots of books that strongly, as long as the characters are interesting. Luckily, LFE has both an intriguing plot and super cool characters that I've fallen in love with.⁠01 Lookin' at you, Moody. Hopefully you don't turn into an asshole in the next couple of pages.
We had about an hour layover in Seattle, where we just talked a bit more, used the bathroom, etc. Then, we boarded our flight to DC. I spent my time on the plane mainly just sleeping, checking my Animal Crossing,⁠02 And quickly realizing I hadn't sold all my turnips and it was Saturday and I wouldn't have wifi on the plane at all... and reading a bit more of LFE.
We then landed, ate some food, and called our hotel shuttle so we could drop off our stuff at Hotel #1 before Aiden arrived.⁠03 He was flying out of San Diego, so his flight arrived 2 hours later.
Our hotel room was nice and spacious, with two separate bedrooms on either side of the main living area, complete with a kitchen to cook. We would stay in this hotel until Wednesday.
After dropping off our bags and meeting with my uncle and talking with him briefly about the house, we rushed back to the airport to meet with Aiden.
We then stayed up and chatted, before all of us obnoxiously called our significant others since we missed them dearly. Watched a lot of HGTV (shoutout Property Brothers and Love It or List It). Realized we needed to buy an HDMI cable.
Day 1 – 6/14:
The hotel offered free breakfast, but only from 6am to 9am, which I…was not awake for. We all started the day by working out together (shout out Chloe Ting) and eating some omelettes, since Emma had gone out on a run earlier that day and the grocery store was a 14 minute walk from our place.
After working out, my uncle picked us up to drive us to Best Buy for our HDMI cable and to the grocery store. We got scammed by paying $30 for an HDMI cable (fuck you Best Buy) and bought lots of fruits to tide us over until we switched hotels.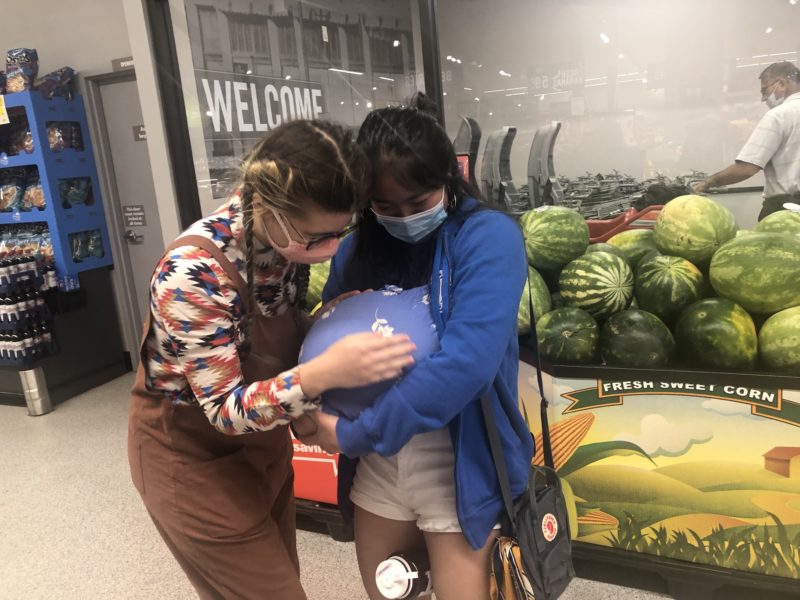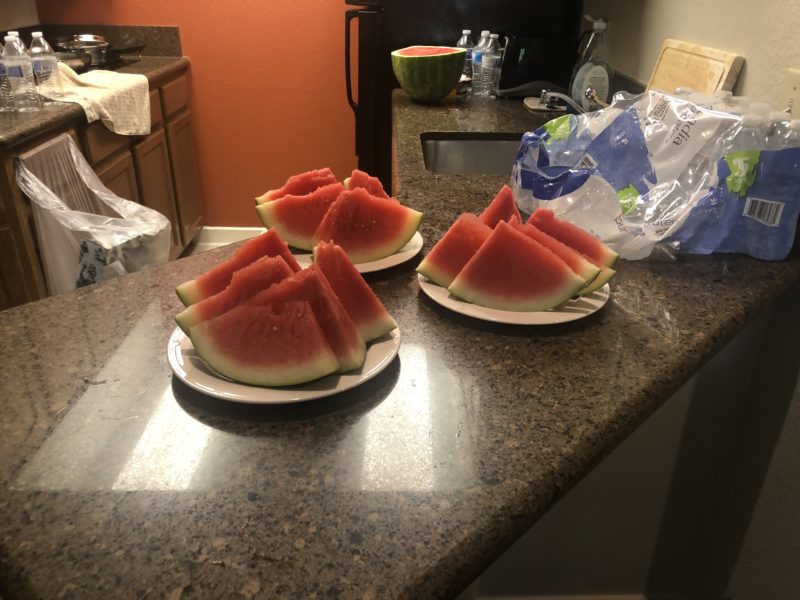 We then just spent the day lounging around, or I guess, I did, while Emma, Aiden, and Mariia actually got work done for their UROPs. My internship didn't start until the 22nd, so I didn't have much to do. I did codingbat exercises to brush up since I usually just forget coding basics since I haven't been coding for a very long time. I read more of LFE before getting too scared to continue since there was building tension and I can sense something bad TM coming.
Day 2 – 6/15:
In the evening, we ordered Domino's and decided to watch The Internet's Own Boy: The Story of Aaron Swartz. The movie actually had such a large impact on us that we felt the need to record a podcast about it, and I'm going to blog about it some time in the future. I highly recommend it to anyone reading this blog post, honestly. After recording the podcast, we called our friends and s/o's from back home again.
Day 3 – 6/16:
Typical morning: We insta-stalked our old high school classmates and showed embarrassing photos of ourselves from pre-MIT. We also decided to watch the absolute fuckshow (literally and figuratively) that is Seth Rogen's Sausage Party. Fun fact: That was my second time watching it. They hated it. I hated it. It was painful.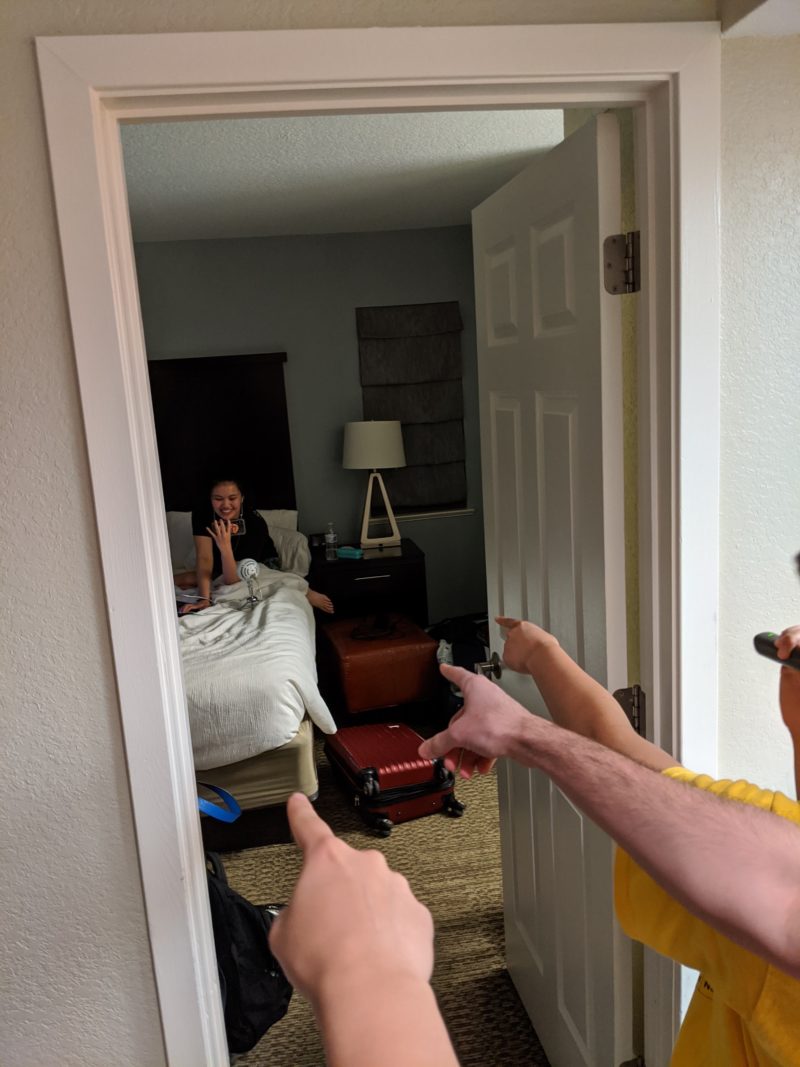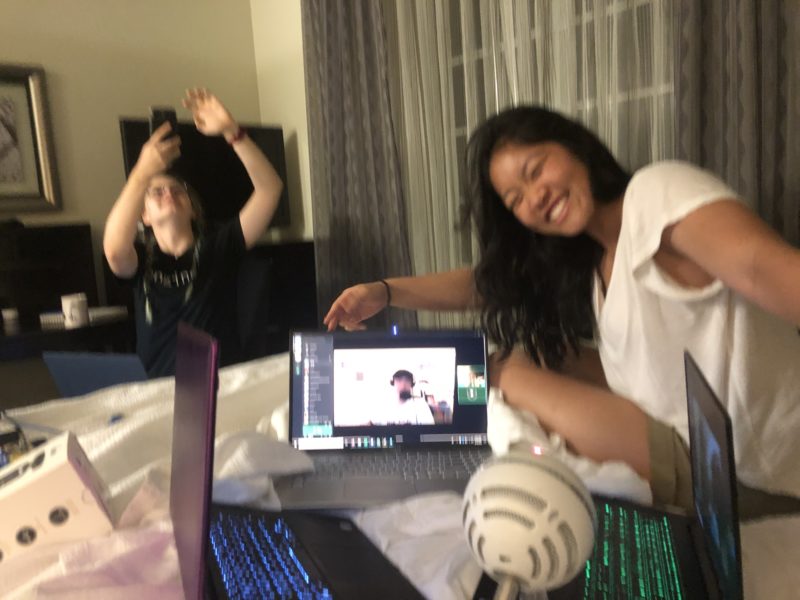 Day 4 – 6/17:
We woke up slightly earlier to pack our stuff. We checked out of the hotel by noon and are taxied over to the new hotel with the help of my uncle. We're on two different floors since the insurance had a mix up and gave us two different rooms rather than one room with two bedrooms. Emma and I took the room with the king bed, where Aiden and Mariia took the two double beds on the lower floor. Each room came complete with a living area and a kitchen.
We ordered food from a nearby Thai restaurant, walking over and eating there. We also stopped by CVS to pick up some stuff.
Later, we worked out in Aiden and Mariia's room. I started messing around with my Linux dual boot (currently running Ubuntu) since I've had it since January but never touched it. I discovered the magic that is tiling managers. I discovered the slightly more cumbersome magic that is vim. I was feeling like a real CS bro TM.
We also watched Boss Baby and ordered wings at 1 in the morning from some bar we found that delivered. Super tasty.
Day 5 – 6/18:
Lazy day. My package from my internship arrived, giving me free Bose noise canceling headphones, t-shirts, and a Macbook Pro we would be using for the rest of the internship. I excitedly set it all up. Mariia and Aiden ended up going to the grocery store again. Emma worked endlessly on her UROP. We watched a shit ton of Queer Eye.
Day 6 – 6/19:
I had a pretty loose meeting with the NT people, talking about setting up our accounts. There was a slight hiccup with my account, so I have to take some extra steps, but that's not all too important. I'm currently typing up this entire blogpost on the 19th, hence the sudden shift in…grammar? or tone? maybe? But Emma's currently in a Zoom call for her UROP, I just took a shower after doing another Chloe Ting workout, and it is currently sprinkling here in Virginia. It is a Friday night, though, so we plan to play some Jackbox and maybe watch some more Queer Eye. Kylee's supposed to drive up tomorrow, so we'll have 5 out of 6 of our house all together. Soon enough, we'll have the full house.
Overall, just wanted to quickly update people on what I'm up to :o)
Crab Cave Profiles:
Emma
Emma is a 2A-MatSci and is UROPing for Conformable Decoders at the MIT Media Lab. There, she is researching wearable piezoelectric devices for motion detection and energy harvesting. In addition to this, she's also is designing a two-stage rocket with MIT's Rocket Team. In her free time, she is currently watching as much Queer Eye as possible and practicing self-care!
Mariia
Mariia is a 2A-Energy and a full time UROP with the EAPS department. She is currently working on the solar wind prediction model for the NASA Psyche Mission. In her down time, she is trying to improve her cooking skills, increase keyboard typing speed, and learn how to yo-yo.
Kylee
Kylee is a Course 8 and a UROP in the biology department, studying the factors that affect the function of stem cells and working with bioimaging. She is also teaching a physics class to high schoolers, taking 24.133 (a summer ethics course offered by MIT), writing for The Tech, and taking classes on OCW.
Cami
Cami (hi!) is a Course 6-3 (or 21E) and is a New Technologist intern, where she'll be learning the software development cycle and working jointly for Microsoft and Cyborg Mobile. Along with this, Cami is also an admissions blogger for MIT (hi!!! that's here!! that is this) and hopes to learn how to cook for herself so she can be fully prepared to Adult.
Aiden
Aiden didn't submit to me his portfolio in time so I'm punishing him by posting this until he sends it to me.
Lookin' at you, Moody. Hopefully you don't turn into an asshole in the next couple of pages.⁠

back to text

↑
And quickly realizing I hadn't sold all my turnips and it was Saturday and I wouldn't have wifi on the plane at all...⁠

back to text

↑
He was flying out of San Diego, so his flight arrived 2 hours later.⁠

back to text

↑