This isn't about cross-registering at Harvard. I was thinking about cross-reg, but I didn't want to overload myself this semester.
It's about a running joke between Fatima and me that started about a week before Orientation, when I decided on a whim to get a Harvard library card, which is free for MIT students. I filled out an online application and reserved an appointment at Widener Library, where they checked my government-issued ID and proof of vaccination. Appointments like these usually make my social anxiety shoot up, but the lady at the counter was pretty nice to me the entire time.
Because the campus center was closed by the time my appointment ended, I had to go the next day to pick up my card. Fatima, who also wanted to get a library card, came with me and we both got our cards fresh out of the printer.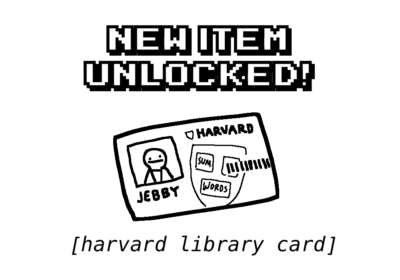 Everything seemed too easy, so we went to the Cabot Science Library to make sure our cards worked. They did! It was going great.
There was an event for freshmen going on that day, so it looked less like a library and more like a mini convention center. People gathered around numerous booths set up along the walls of the library, chatting with the organization leaders there and taking free items from the tables.
At the very front of the venue was the chief of all the booths—a shiny prize wheel in front of a heap of good prizes. A Harvard athlete, this big guy who was probably taller than both Fatima and me combined, closely guarded the treasure. We approached the booth with the apprehension, yet bold curiosity, of two thieves crawling into a dragon's den. Our objective was to walk out of that library with something from that prize wheel in our hands.
The athlete smiled at us and held up a QR code. He made us download some app called the "CrimZone," the whole purpose of which is for getting students to go to Harvard's sports events. We had to fill out a profile and check-in to the event before we could spin the wheel, so Fatima and I made up fake identities on the spot. Our guises somehow worked, or the guy just didn't care enough to stop us. We got a tote bag and a cup.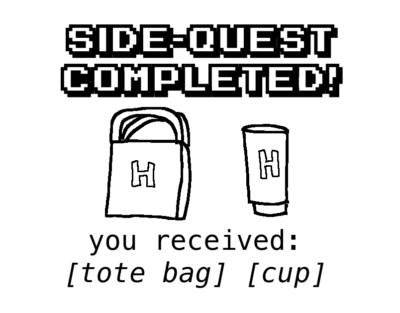 Afterwards, we got busy with REX⁠01 Residence Exploration. MIT Freshmen explore the different dorms and go to student-hosted events to figure out which dorm they want to live in. and eventually forgot about the app for a bit. We didn't even bother deleting it from our phones.
A week ago, Fatima and I both received this notification at approximately 5pm. I had just woken up from a nap and was greeted by this cryptic message.

We opened the app again. In the midst of blazing through the profile section to spin the wheel last time, we didn't get to see the other features the app had.
First, we played around with our profiles. Whether or not we still look like legit Harvard students is up for contention.
Some of the other features the app has to offer:
When you check into a sports event, you receive reward points that you can redeem for free sports merch. We had ten meager points from the spin-the-wheel booth we went to.
You could follow someone else's profile to become their "fan." Fatima and I followed each other and then ourselves, so we each had a total of two fans.
There were leaderboards dedicated to the people who had the most number of points, as well as the most number of fans.
The leaderboards caught our attention. We were far from making it on the leaderboard for reward points, which wasn't a surprise since we haven't gone to any of Harvard's sports events in the first place. But the kicker was that nobody else on this whole app has ever used the "Follow" feature but us. We were the only users who had any fans at all.
So we're the only people on the leaderboard specifically for people with the most fans on the app.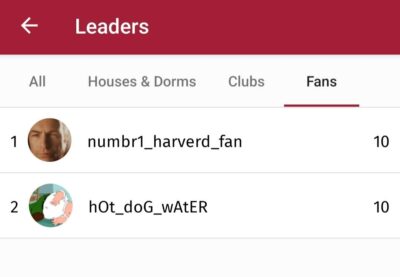 And that's how we started off our school year: winning a competition that nobody else cares about.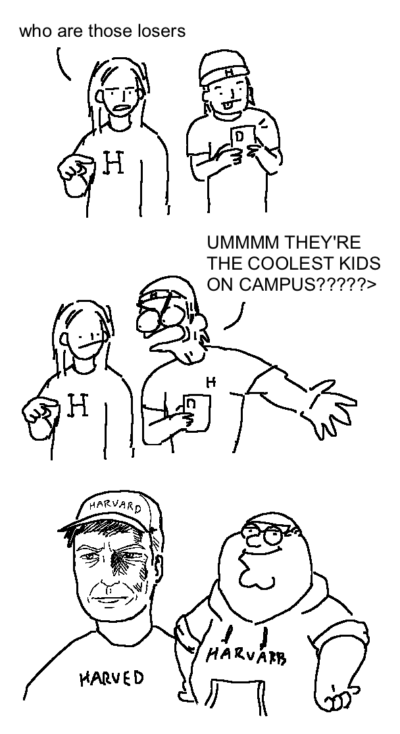 Residence Exploration. MIT Freshmen explore the different dorms and go to student-hosted events to figure out which dorm they want to live in.⁠

back to text

↑